Nick Parker, corporate vice president of the OEM Division at Microsoft, said:

"We are pleased to add these new partners to our expanding Windows Phone ecosystem. They will be key contributors to continued growth across price points and geographies for Windows Phone."

The new hardware partners join the existing Windows Phone 8 hardware manufacturers Nokia, Samsung, HTC, and Huawei. Collectively the partners make up 56% of the global smartphone market and 7 out of 10 of the top global smartphone manufacturers.
Microsoft and the new hardware partners did not make any announcement about any specific devices. Indeed, while it can be assumed that all the new companies are actively working on Windows Phone devices, there is no guarantee that they will all release devices to the consumer market.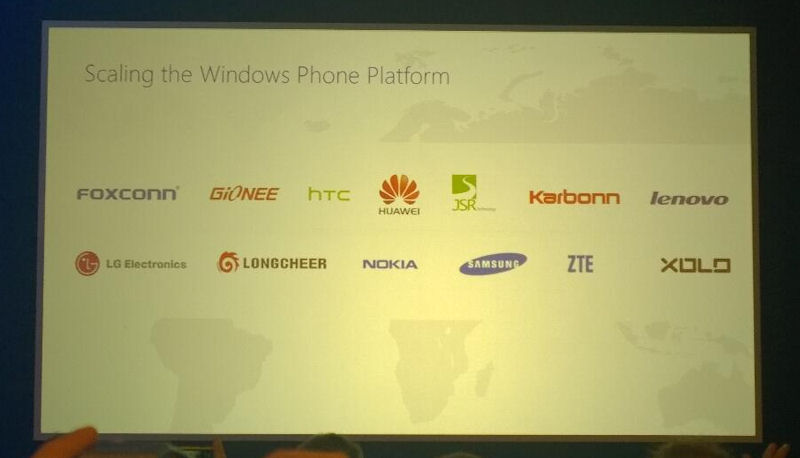 From the Windows Phone blog:
This is exciting news for phone buyers around the world. With seven of the top 10 global OEMs—in addition to some of the leading brands in China, India and Taiwan— now collaborating with Windows Phone, you can expect to see an incredible new range of devices across screen sizes and price points. And of course we're committed to delivering this device diversity without compromising the consistent, designed-around-you Windows Phone experience our users have grown to love.

Some of these partners are names that might not be familiar to you, but they're leading the global expansion in the smartphone category. They bring competitive products to market because of their knowledge of the local markets, channels and consumers. They are important partners that will help broaden availability of Windows Phones to new and emerging markets.
Many of the new partners are likely to be building devices though the Qualcomm Reference Design (QRD) program, which enables manufacturers to bring devices to the market faster and at a lower cost than when designing a device from the ground up. As part of its MWC announcements Microsoft also said that it was collaborating more closely with Qualcomm to give OEMs and ODMs that are working with the various Qualcomm Reference Designs for Snapdragon 200 and 400 processors direct access to Microsoft tools, content and adaptation kits to build devices on the Windows Phone platform (i.e. better Windows Phone support for QRD).