The larger screen of the 1520 is arguably better suited for use a mobile retail terminal, with the added screen real estate making finger touch interaction easier. That's something that going to be particularly relevant in the hustle and bustle typical of a typical flight.
More importantly for Microsoft, the upgrade is also a priceless example of a major company not only adopting Windows Phone (and other Microsoft technology) for a business to consumer service, but also an example of a company that has found the initial returns justify continued investment and confidence in the system.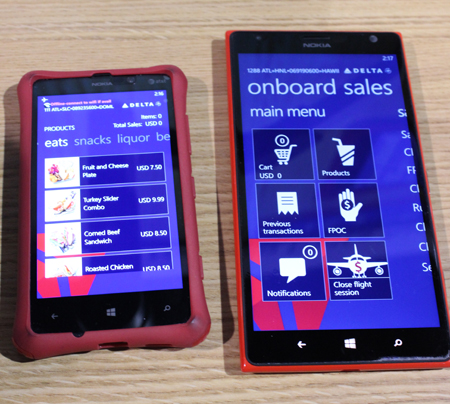 Image credit: IT Business
Delta's Windows Phone based system is built on top Microsoft's Dynamics AX product, which provides a range of services for retail operations. A custom Windows Phone app allows flight attendants to easily carry out retail operation in-flight, ranging from relatively simple food purchases to more complex flight and service upgrades.
The Lumia devices are connected to Delta's online systems via WiFi network, backed by a Ku-band satellite Internet connection provided by Gogo. The connection also means credit card transactions can be carried out in real-time, instead of after the flight has touched down. This is both more convenient for the customer, but also helps Delta avoid retail losses from invalid or cancelled cards.
The new system is expected to be used by 22,000 Delta flight attendants.
Via: Neowin