The license deals are reported to be specific to the Indian manufacturers and were cruicial in securing their agreement to experiment with Windows Phone devices. However, it is likely that Microsoft will extend similar terms to other manufacturers in an effort to grow it sales in emerging markets.
From the Times of India:
Multiple industry sources with knowledge of Microsoft's negotiations with Indian phone companies told TOI that it was in talks with local firms to produce affordable Windows Phone devices since last year. But the agreements were clinched only when Microsoft agreed to remove the licence fee it charges from phone makers for its OS.

"For our planned Windows Phone handsets, we are not paying Microsoft a licence fee. The company is obviously exploring new models for Windows Phone. It must have realized that the older model where it licenced the OS did not work out well, even with Nokia's support," a senior executive with an Indian phone company told TOI.

Traditionally, Microsoft has charged manufacturers a license fee for using Windows Phone, the same business model it has used in the PC market. Microsoft has never disclosed the license fee it charges for Windows Phone, but it is currently thought to be between $5 and $15 per handset, dependent on volumes and other factors. That has put Microsoft at a disadvantage when competing with Google, which does not charge a license fee for its Android platform.
Microsoft has been mulling over a reduce or zero license fee for Windows Phone some time, but the Times of India report is the first indication that the Seattle based company has signed an agreement to this effect with a smartphone manufacturer. An underlying assumption of this scenario is that Microsoft will seek to offset, to some extent, the loss of revenue from licensing by gaining revenue from advertising (e.g. in search results) and the promotion and sale of associated Microsoft services (e.g. SkyDrive space, Office apps, and more). Microsoft is also likely cut back on the co-marketing agreements that have traditionally been part of the licensing agreements with its hardware partners.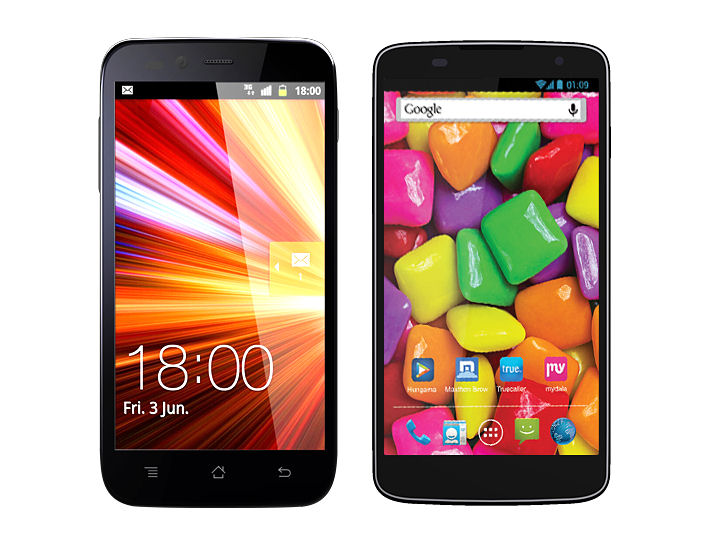 Two of Karbonn's current Android devices.
In a recent editorial we speculated that "going free" might be "the best way forward for Windows Phone" and suggested the financial hit involved would be worthwhile if it gained Windows Phone additional partners and device sales:
Every single Windows Phone creates a new user of Microsoft's cloud services, or intensifies the relationship of an existing user. If that cost of acquisition has to include a free Windows Phone licence, then it should be a cost worth paying.
The primary aim here would be to increase the volume of Windows Phone device being sold, something that Microsoft needs to do if it is to sustain Windows Phone's momentum in 2014.
It is worth emphasising that by removing the Windows Phone licensee fee, even in a limited way, Microsoft is effectively acknowledging the failure of its previous license-fee based business model. It's very hard to see how Microsoft might shift a manufacturer back to a fee paying arrangement.
It's also worth noting that the Windows Phone license fee, in addition to covering the software and operating system itself, is thought to include patent licensing and protection provisions. While the exact terms of the "free" Windows Phone license are not clear, it is assumed that this patent component remains in place. Given that device manufacturers are increasingly facing significant patent licensing fees when producing Android devices, not least from Microsoft itself, this could mean that it could theoretically be cheaper for a manufacturer to use Windows Phone than Android, a reversal of the current situation.