From Trusted Reviews:
"With Windows Phone, one direction for us – and one that we are now following – is dual OS. Dual OS as in Android and Windows together," he told us.

The Huawei exec added: "If it is Windows only, maybe people will not find it as easy a decision to buy the phone. If they have the Android and Windows together, you can change it as you wish and it is much easier for people to choose Windows Phone. We think the dual OS can be a new choice for the consumer. It will be on sale in the US in Q2."

It is unclear whether the Huawei device will truly be dual booting (i.e. a choice of operating system when you turn on the device), but the report would suggest that consumers will be able to choose between Android and Windows Phone and switch from one to the other after buying the device.
Other manufacturers are also thought to be planning devices that run Android and Windows Phone on the same hardware, but at least some of these would have the software configuration set at the factory, before the consumers buys the device. Such devices would be sold with identical hardware, but in Android or Windows Phone software variants (i.e. W and A models).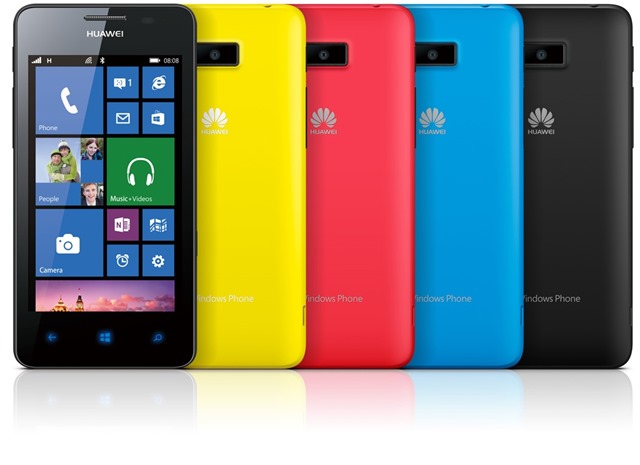 The prospect of dual operating system devices became a possibility after Microsoft softened the hardware requirements for the Windows Phone platform. For example, from the next version of Windows Phone onwards Microsoft is allowing the use on-screen navigation buttons, rather than physical / capacitive navigation buttons, effectively removing the Windows Phone specific hardware requirements.
The next version of Windows Phone will also support a wider variety of chipset, screen sizes, and other hardware components. We expect most smaller-scale manufacturers to opt to used hardware derived from the Qualcomm Reference Designs (Snapdragon 200 and 400 variants).
From a technical point of view, and leaving aside question of ROM size and licensing terms, loading two different operating systems on to a device at the same time is theoretically possible. However, a true dual boot solution, with each respective operating system able to read from the device's internal memory is very unlikely given the differences in the way the Android and Windows Phone operating systems format and organise internal memory.
The more likely scenario is the provision of a PC-based tool that allows a user to load their choice operating system on to their own device. In this instance the user would have the choice between running an Android or a Windows Phone device. Swapping from one to other would involve reloading the software and would result in the loss of all personal data, equivalent to resetting a device.
Such devices do have the potential to provide consumers with a level of reassurance when switching from one platform to another, with the underlying consumer thinking being "if it goes wrong I can go back to my old operating system", but explaining this proposition to consumers in retail channels and supporting the switch from a customer service point of view would not be straight forward.