The key piece of app functionality in Dayzee is the creation of events and associated todo items. Each event has a short name, optional description, and event date. The date is what Dayzee uses to provide its countdown (i.e. days to go), which feature prominently in the user interface. For each event, it is also possible to create a series of associated todo items, with the idea being you can specify things you need to do before the event takes place. It's worth noting that while Dayzee does use Windows Phone's standard alarm functionality, the todo items are specific to the app (i.e. no Calendar integration).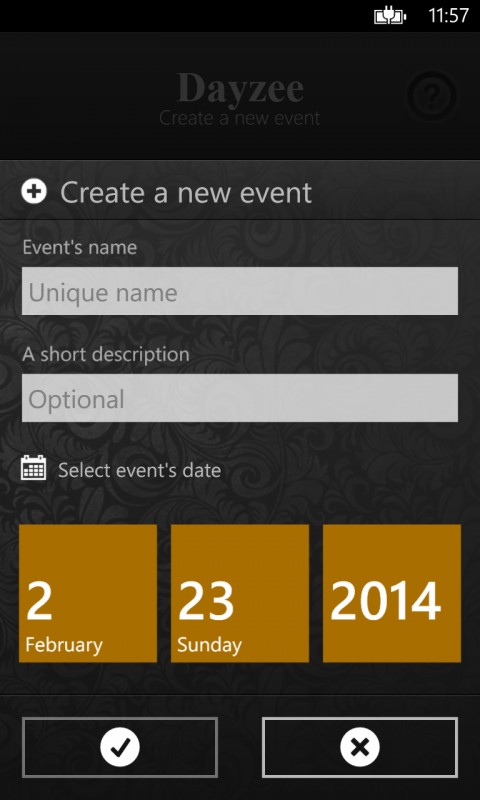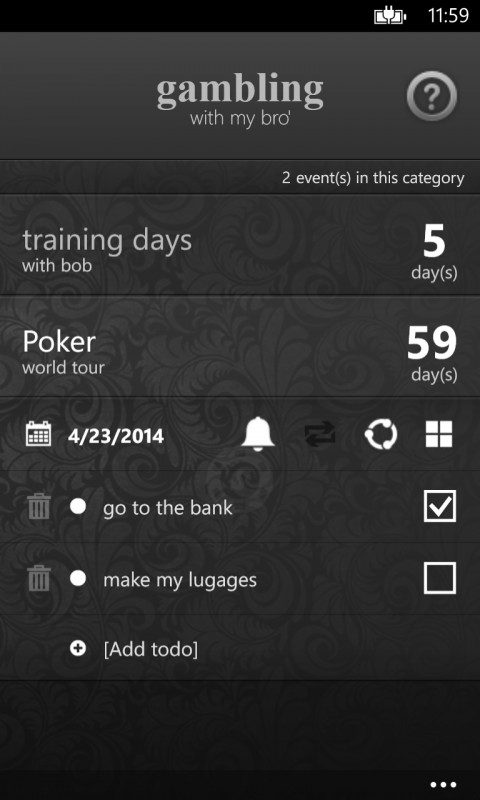 Events created in Dayzee are organised into different categories, with two categories pre-defined (Birthdays and Holidays) and other categories able to be created by the user. This helps avoid having a long list on unrelated events, but is a bit unnecessary if you're all looking you are looking to create just a couple of events.
Each event can, optionally, have a Live Tile pinned to start screen. This provides a visual reminder of how many days there are to the event, but does not provide a shortcut to the event listing within Dayzee app, which feels like a missed opportunity. Nonetheless, the Live Tile do cover the essential at-a-glance how many day to go usage scenario. By default the Live Tiles are created at the medium size, but they can be reduced to the small size, though there's no support for the double wide Live Tile size.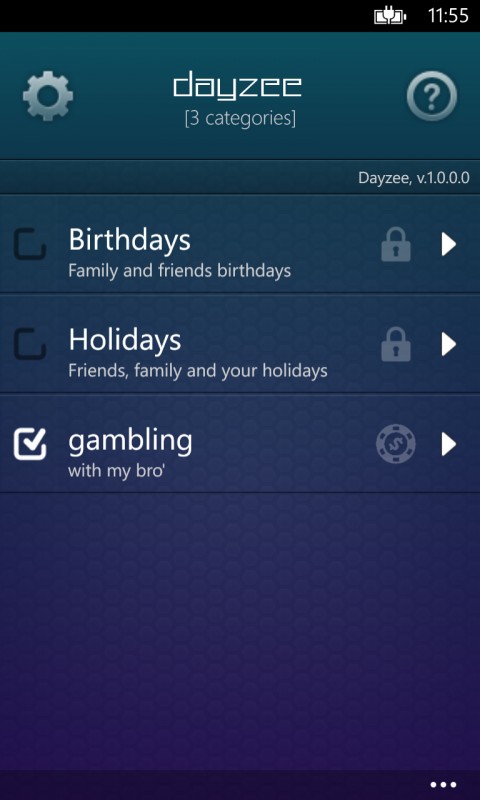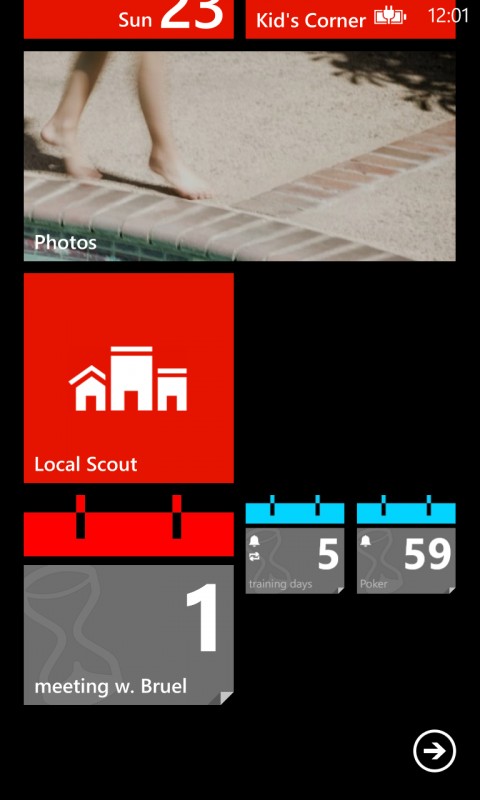 The overall design of Dayzee is something of a departure from Windows Phone's usual expression of modernist design principles, but it's clear the developer has put considerable thought in to both app layout and functionality. Most of the time this works well, making the app easy to use, but on occasion it can feel a little jarring (e.g. looking at the over-designed "hanging" Live Tiles on the Start screen. Nonetheless if you looking for an app that combines both event countdown and event to dos then Dayzee is well worth a look.
Windows Phone Store description:
With Dayzee, make your days easy!

Dayzee is an elegant designt to manage your events countdowns in a few clicks!

Dayzee is a free download from the Windows Phone Store, but an in app purchase (£0.79) lets you get an "unlimited pack", which allows you to create an unlimited number of categories, events, and todos, provides 4 additional skins (themes) and allow for a gold style Live Tile.