Adobe ExportPDF and Adobe PDF Pack are online services that require a monthly or annual subscription. These subscriptions can be purchased fom within the Windows Phone app, or via the Adobe website. The current pricing is £19.82 per year for ExportPDF and £63.49 per year for PDF Pack.
Once purchased the services can be used from within the Windows Phone app. The key benefit of ExportPDF is that is saves time by avoiding having to retype documents (i.e. turns PDF into editable Office documents), even if they have been scanned in (i.e. includes support for OCR). For PDF Pack the key benefit is the addition of the ability to create PDF files, something that may be a requirement when sharing documents with third parties.
Adding support for PDF export and creation to app means additional PDF workflow tasks to be carried out directly on a Windows Phone device, rather than having to rely on a PC or cumbersome web-based tools.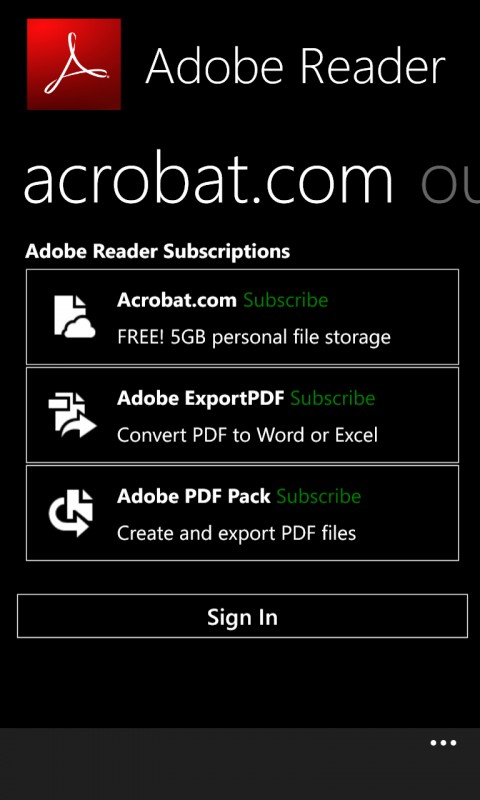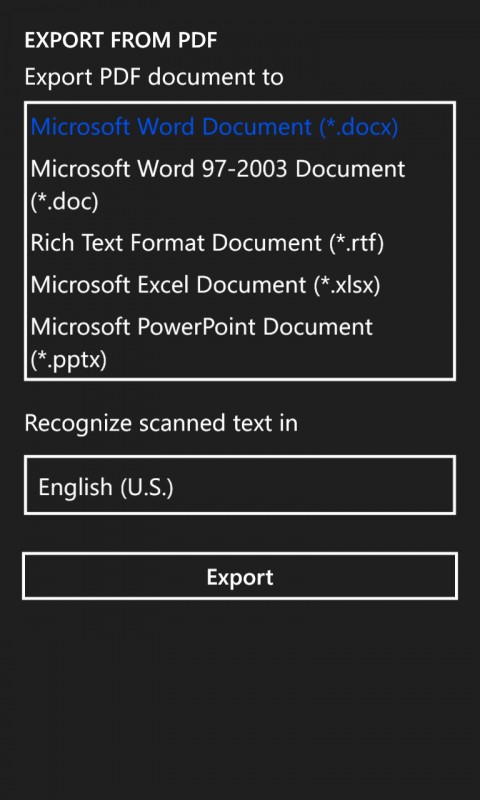 The addition of support for Microsoft's OneDrive is a sensible addition to the Windows Phone app and provides a useful tie in with the Microsoft ecosystem. Once signed in using your Microsoft account, a OneDrive icon is added the main document list section in the Adobe Reader app. This provides a shortcut to a listing of files and folders stored in your OneDrive, with options to open and/or convert files.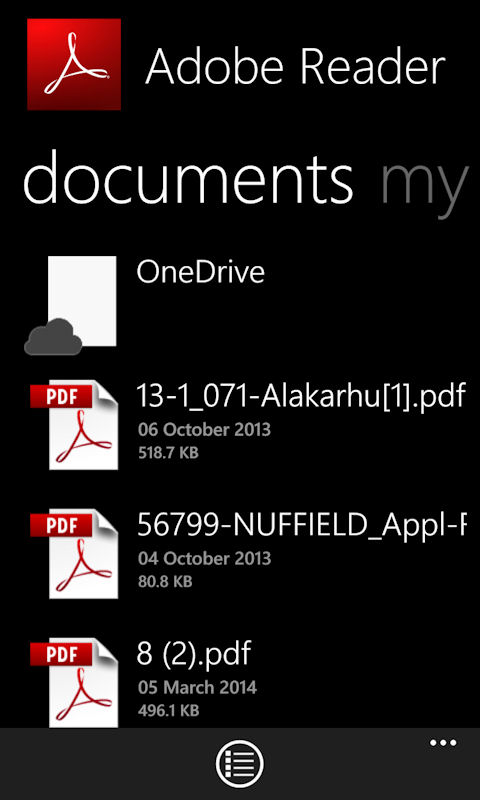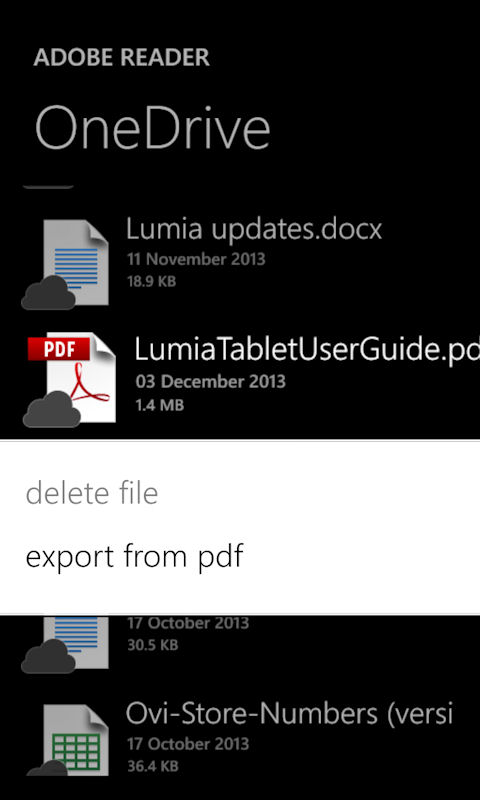 Adobe first released a Windows Phone 8 optimised version of their Adobe Reader app last June, which was then updated in October to add support for the Acrobat.com cloud service.
Windows Phone Store description:
Adobe Reader is the free, trusted leader for reliably viewing and interacting with PDF documents across platforms and devices. Install the free Adobe Reader mobile app to work with PDF documents on your Windows Phone devices. Easily access a wide variety of PDF types, including password-protected documents.

Export PDF files to Word or Excel using the Adobe ExportPDF online service
• Convert PDF files to DOC, DOCX, XLSX or RTF formats for easy editing
• Purchase and use ExportPDF from within Adobe Reader

Create PDF files using Adobe PDF Pack online services
• Create PDF files from Word or Excel or Powerpoint
• Convert images to PDF for easy sharing
• Purchase and use PDF Pack from within Adobe Reader

OneDrive Integration
• Access files on OneDrive from Adobe Reader

Adobe Reader is a free download for Windows Phone 8 from the Windows Phone Store. The Windows Phone 7.5 version remains available for older devices.