Skim is a useful utility for Windows Phone owning Pebble users to install, but in all honesty Pebble isn't a good match with Windows Phone at the moment. That's because, due to Windows Phone platform API limitations, there's no way to integrate with the notification system (e.g. no way to send notification about incoming calls or emails automatically to the watch). A Pebble smartwatch can be used as a remote control for music, but even this is a somewhat limited experience because it requires a specific companion app (i.e. no integration with system controls).
The good news is that there's an excellent chance than updates and additions due in Windows Phone 8.1 will change this situation. While there are no guarantees, we do expect changes to Windows Phone's notification system to include support for third party handling and integration of system and app generated notifications.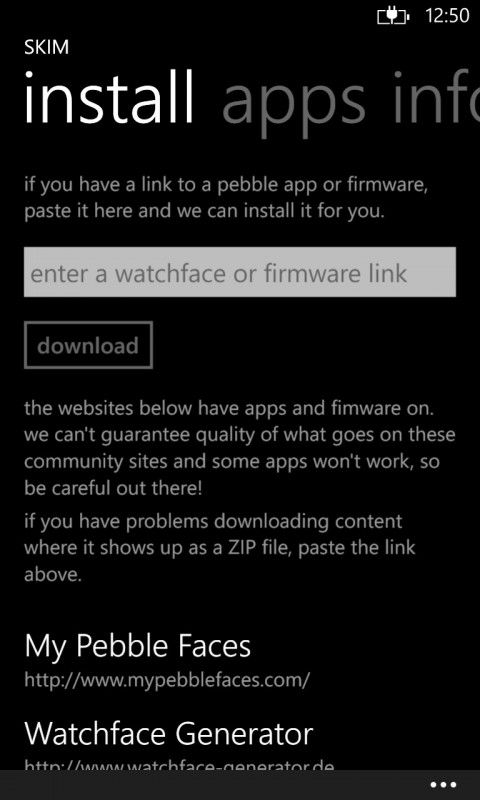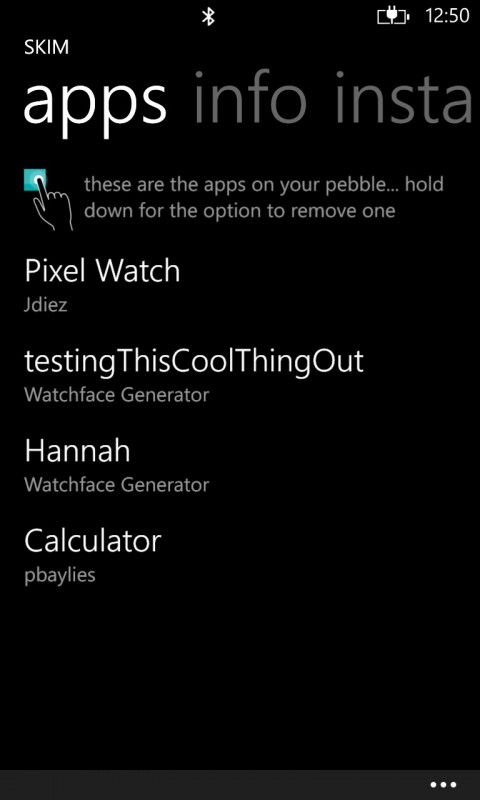 Skim's developer, Steve Robbins, has also released an open source package package P3bble, which provides a framework for connecting to Pebble SmartWatches from Windows Phone 8. The package, which is available via GitHub and NuGet, makes it easier for other developers to add Pebble related functionality to their own apps.
Windows Phone Store description:
Skim lets you manage the apps and firmware on your Pebble smartwatch, providing the ability to install / remove apps and install firmware. Skim also automatically syncs the time from your phone each time you connect.

File associations for Pebble app and firmware bundles are included to allow downloading from community websites.

Version 1.2 attempts to fix some of the connection problems with Pebble firmware 2.0.2

Skim is a free download from the Windows Phone Store