As we described in an earlier story, Nokia has developed a new back end to enable the provisioning of the new imagery.
The new high definition image uses significantly more data that the previous imagery. As part of the update process, and in order to support sustainable future updates, Nokia has undertaken a major engineering effort to re-architect the back end systems supporting the aerial imagery (e.g. image formats and storage architecture). As a result Nokia has reduced storage and operating costs by a factor six. The new system is being tested first on here.com, in order to gain an understanding of real-world performance of the new system, before it is deployed into Nokia's other map channels in due course.

The updated aerial imagery is part of Nokia's on-going mission to build the world's "best digital map", something that is increasingly looks like becoming a two horse race between Google and Nokia.

This pair of screenshots illustrates the difference between the two satellite imagery data sets (old on the left, new n the right). It shows the area surrounding a railway station in rural Sussex (UK). It is this kind of area that has the biggest difference between the two data sets.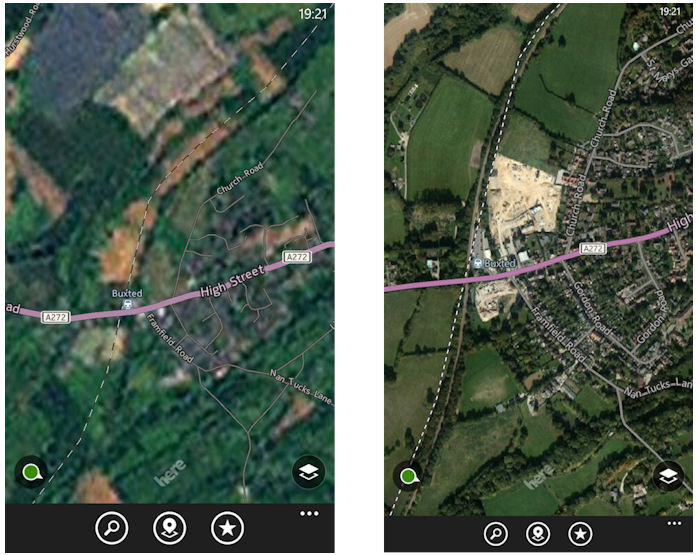 Zooming into a higher level in the same location makes the difference even more apparent. In the new data set it is possible to pick out not only the car park next to the railway station, but also the individual cars and even the lines dividing the car parking spaces.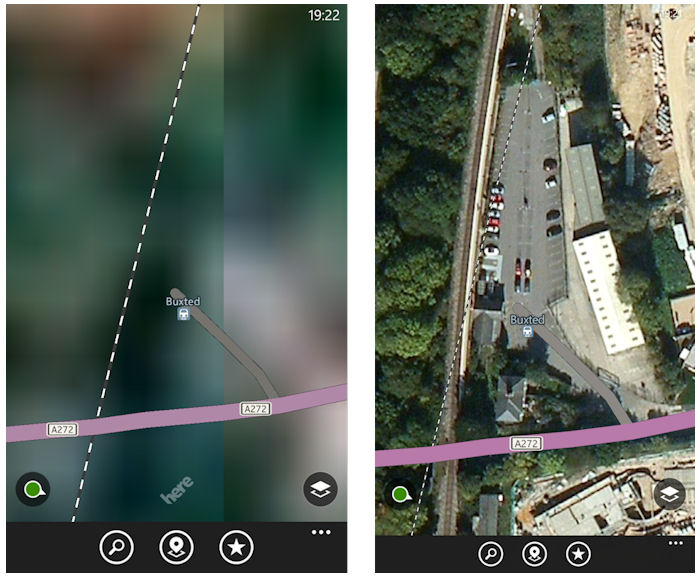 In areas that already had high resolution imagery (mainly select urban areas) the new data set makes less of a difference. For example, the screenshots below the Tower of London. The details are slightly better in the images from the new data set, but this is only really discernible at higher zoom levels.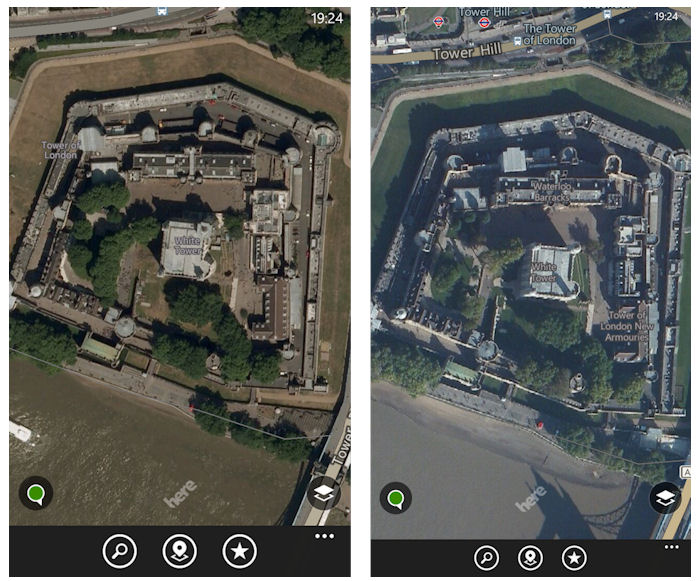 The new satellite imagery data set is linked to the updated version of HERE Maps technology that is part of the Windows Phone 8.1 platform. The same data set is also currently being used in the HERE Maps Windows 8 app and on here.com.