Word of the arrival of the update came via Joel Belfiore's Twitter feed, though we expect Microsoft's more formal channels to have the details in the next few houurs,
HEY DEVS... COME AND GET IT! #wp8.1 pic.twitter.com/EcBzkm9xta

— joebelfiore (@joebelfiore) April 14, 2014
There's an enormous amount to discuss around Windows Phone 8.1. Keep an eye on the site as we'll be offering in depth coverage of this milestone update over the next few days, weeks, and months.
Update: The official post on the Windows Phone Developer Blog is now live:
Starting today, you can update your personal dev phone(s) to run Windows Phone 8.1 using the Windows Phone Preview for Developers program . Along with the tooling delivered in Visual Studio 2013 Update 2 RC, developers can now get everything they need to start building and testing Windows Phone apps and universal Windows apps. Even better, Windows Phone Store is also starting to accept app submissions and to enable app linking today – enabling you to bring the universal Windows app experience to your beta users and consumers.

To update your Windows Phone 8 device to 8.1, you will need to download the app and opt into the program (the process isoutlined on the Windows Phone Dev Center); if your phone is already opted in, then all you should need to do is head over to your phone's settings and check for an update.
Windows Phone 8.1 Developer Preview Program details
The Developer Preview Program is the mechanism by which Microsoft provides access to Windows Phone releases to interested parties ahead of general consumer availability. Updates are delivered over the air, using Windows Phone's standard update mechanism.
While the program is targeted at developers, with the idea that they ready their apps for the consumer release, in practice the program is open to anyone who is interested, thanks to the relatively lax entry "requirements". The requirement is to have access to a Windows Phone developer account (or rather have this status added to your Microsoft account), something that can be done by signing up for access to Microsoft's free App Studio.
Once you have done this, you will need to download the Preview for Developer app, and enroll in the program (sign in, on your device, using your Microsoft account).
There are some terms and conditions that you should read through before downloading and installing any update. The gist of this is that you will almost certainly void the warranty that comes with your phone, that Microsoft has only limited liability if something goes wrong, and that the release may not be of commercial quality.
That said, the previous Developer Preview releases went without a hitch and you'll be updated to the general release automatically, once it becomes available. Still, you should proceed with caution, especially if you have access to only a single device. It is also worth noting that the Developer Preview release contains only the Microsoft platform components. It does not include any manufacturer or operator specific components.
Downloading and install the Windows Phone 8.1 Developer Preview
Now that the Windows Phone 8.1 Preview Program is available, you can perform a manual check by going to Settings -> phone update. The update will only be available if you have enrolled into the Developer Preview Program, as described above. It is advisable to have plenty of free space (1GB+) and a full battery before installing the update.

In some cases you will need to install a pre-update update, which is described as making "it easier to update your phone to Windows Phone 8.1". This update (8.0.1.10532.166) must be installed before installing the Windows Phone 8.1 update.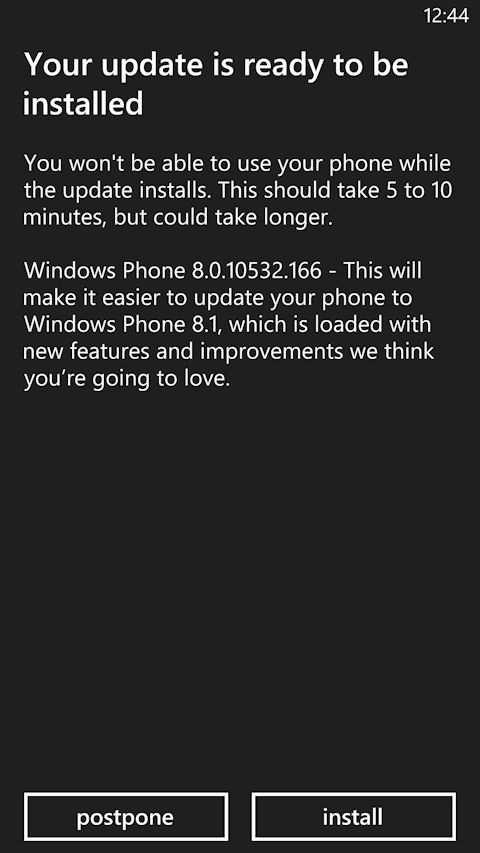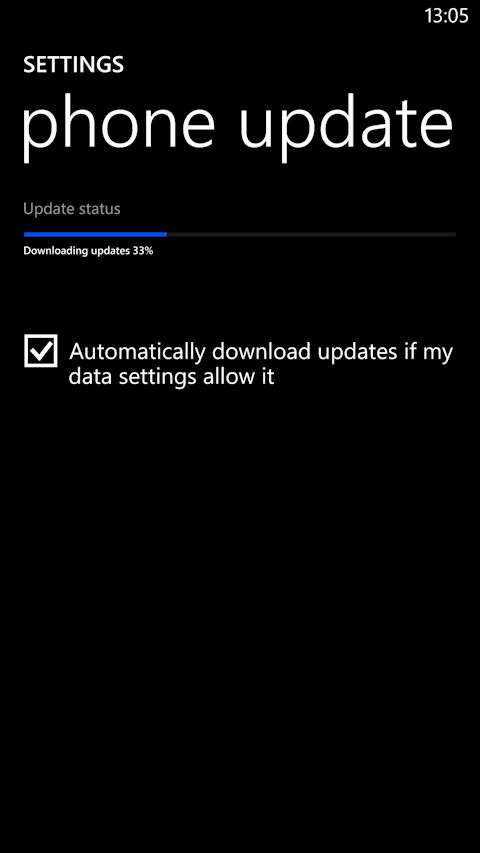 After installing the pre-update (if applicable), you will need to check for updates a second time. This will be the main Windows Phone 8.1 Developer Preview update (8.10.12359.835), which is described as being "packed with cool new features and improvements to the things you love most".
Depending on your download speed and current state on your device, the Windows Phone 8.1 update will take roughly between 30 and 60 minutes to download and install. The longest period of patience required is for the spinning cogs, which appear when the update is being installed. Once the update has been installed you will need to confirm some new settings related to new features in Windows Phone 8.1 (WiFi Sense, automatic app update, advertising settings), after which you are free to explore the new software.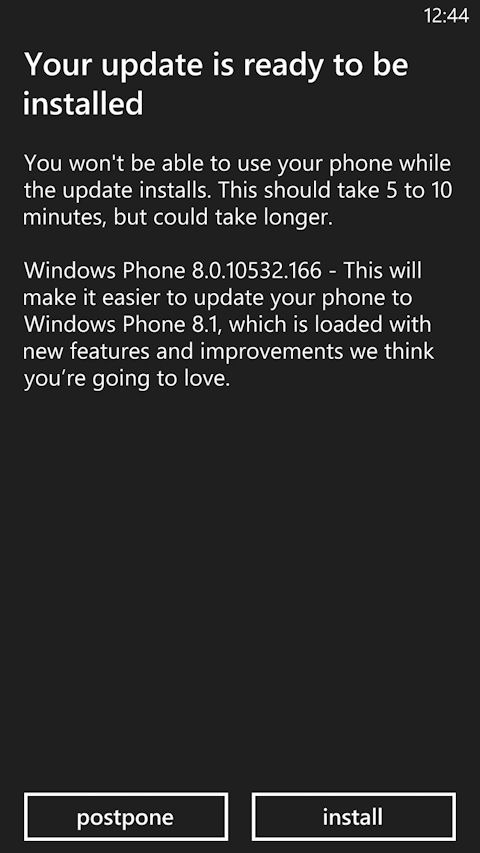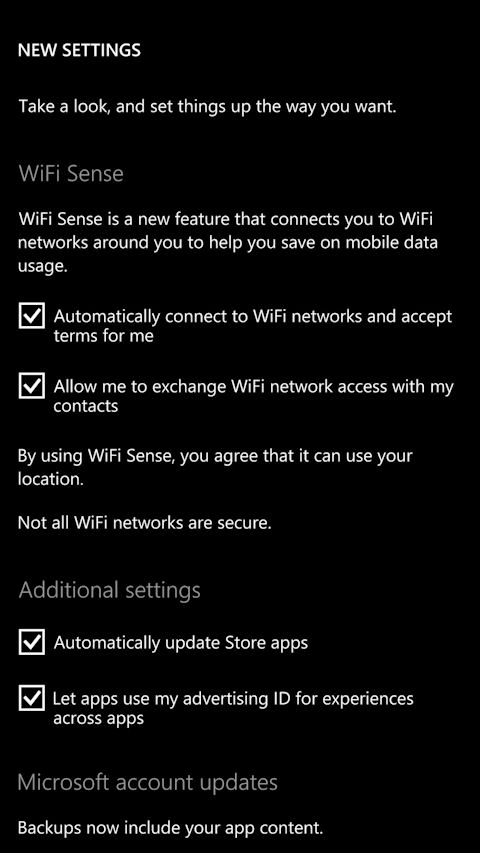 We'll be covering many of the new features, highlighting our own favourites, and providing additional analysis in subsequent coverage. However, if there are any specific questions you want answered please get in touch, or leave a comment below.