[Update: this is all now live, so check your phone for updates if you've fulfilled the steps below]
During its Build 2014 conference, various Microsoft speakers suggested that the Developer Preview Program was set to arrive in the first half of April. While various dates have been rumoured, the consensus is that the most likely arrival date is April 14th (i.e. this coming Monday).
A tweet by Joe Belfiore, who responsibilities include leading the Windows Phone Group at Microsoft, provides confirmation of a sort, suggesting that those eager to download Windows Phone 8.1 relax this weekend and/or enjoy downloading the recently released Windows 8.1 Update release.
Yowza, you're going nuts 4 #WP8.1 dev preview. Everyone relax thru weekend, check in early next week. Enjoy Win8.1 update, write apps! :)

— joebelfiore (@joebelfiore) April 10, 2014
Windows Phone 8.1 Developer Preview Program
The Developer Preview Program is the mechanism by which Microsoft provides access to Windows Phone releases to interested parties ahead of general consumer availability. Updates are delivered over the air, using Windows Phone's standard update mechanism.
While the program is targeted at developers, with the idea that they ready their apps for the consumer release, in practice the program is open to anyone who is interested, thanks to the relatively lax entry "requirements". The requirement is to have access to a Windows Phone developer account (or rather have this status added to your Microsoft account), something that can be done by signing up for access to Microsoft's free App Studio.
Once you have done this, you will need to download the Preview for Developer app, and enroll in the program (sign in, on your device, using your Microsoft account).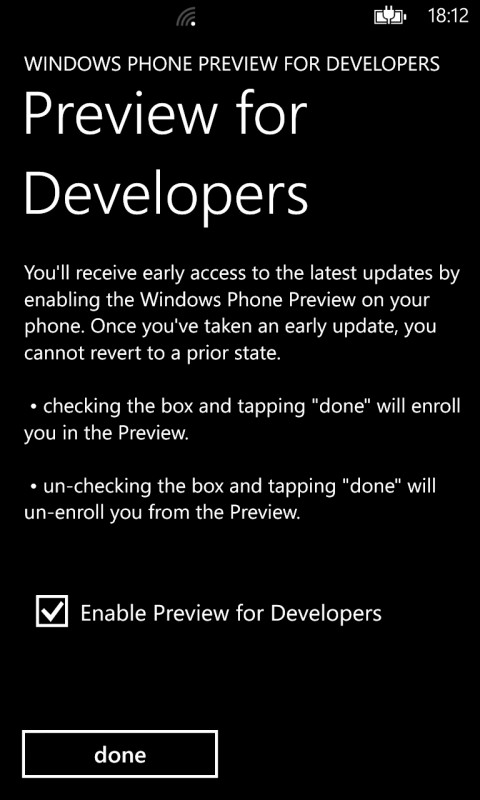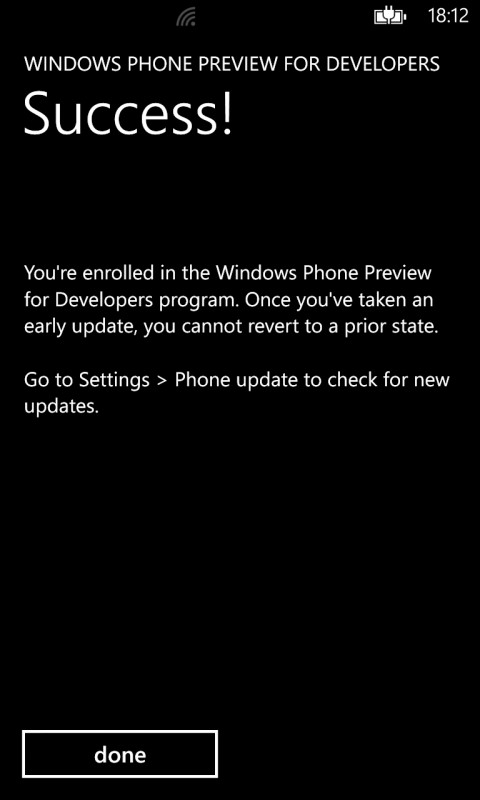 Once the Windows Phone 8.1 Preview Program update becomes available, you will automatically be prompted to download the update. You can also perform a manual check by going to Settings -> phone update. It is advisable to have plenty of free space (1GB+) and a full battery before installing the update.
There are some terms and conditions that you should read through before downloading and installing any update. The gist of this is that you will almost certainly void the warranty that comes with your phone, that Microsoft has only limited liability if something goes wrong, and that the release may not be of commercial quality.
That said, the previous Developer Preview releases went without a hitch and you'll be updated to the general release automatically, once it becomes available. Still, you should proceed with caution, especially if you have access to only a single device.
It is also worth noting that the Developer Preview release contains only the Microsoft platform components. It does not include any manufacturer or operator specific components.