From the press release:
Microsoft Devices today announced that the new Lumia 630 will become available in the UK on 29th May 2014. The most affordable Lumia smartphone to date delivers an unrivalled smartphone experience, boasting a quad-core processor and large screen at an exceptional price point of only £89.95. The Lumia 630 also features the award-winning design and experiences found on high-end Lumia smartphones and is the first device to launch with Windows Phone 8.1.

A quad-core Snapdragon processor to deliver a lightning fast experience with Word Flow, Internet Explorer and social apps like WhatsApp, WeChat and Instagram.
The Lumia 630 showcases a new matte polycarbonate design with changeable shells available in a range of fashionable and bold new colors.
Better entertainment with Xbox games, free music streaming and unique picture applications like Storyteller which really come to life on the 4.5" screen. The ClearBack screen offers great viewing angles and visibility - even in bright conditions.
Simple features make the phone a joy to use, for example, just one swipe will show notificationsfrom email, social apps, texts and calls. There is also the new Microsoft Enterprise feature pack, Microsoft Office, OneDrive, Camera, and HERE Maps and Drive+, all of which work seamlessly to make the Lumia 630 a great tool for both the boardroom and the lounge.
New SensorCore technology also brings low power motion sensing to accessories to help people track their activity - perfect for exercise and exploration using apps like Bing Health and Fitness.
A large 1830mAh battery means the Lumia 630 can keep up with you all day.
A wealth of storage is available, with memory expandable by up to 128GB via memory card, supporting easy saving and the ability to switch locations where you keep your pictures, videos, music, maps and apps.

The Lumia 630 goes on sale in the UK with Carphone Warehouse, EE, O2, Tesco and Amazon. It will be available in a range of colours including bright orange, bright yellow, bright green, white and black.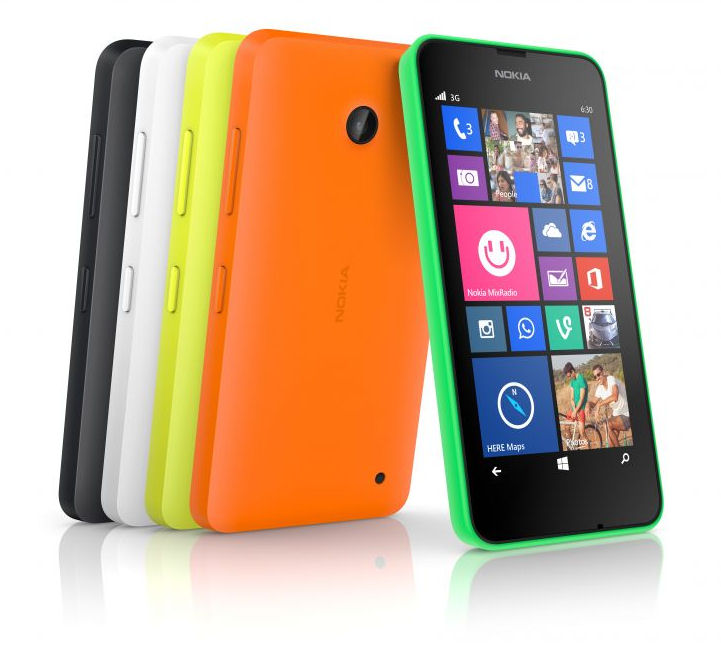 The budget end of the smartphone spectrum appears to be hotting up, with the Moto E and Lumia 630 fairly evenly matched in terms of specification, right down to the puzzling omission on both of a front facing camera. Given that such a camera (usually of fairly low spec) can only add a dollar or so to the bill of materials, it seems very strange that it's absent on both, what with the social phenomenon of 'selfies' and increasing use of video-over-IP calls (Skype, Hangouts, Facetime, etc.)
Regardless, the Lumia 520 was the best selling Windows Phone of 2013 and I fully expect the 630 to sell as well.
We expect to have a review retail device shortly.