Once in on this availability page, there's a choice of continents/markets and then you're down and dirty with every network variant of every model in every country: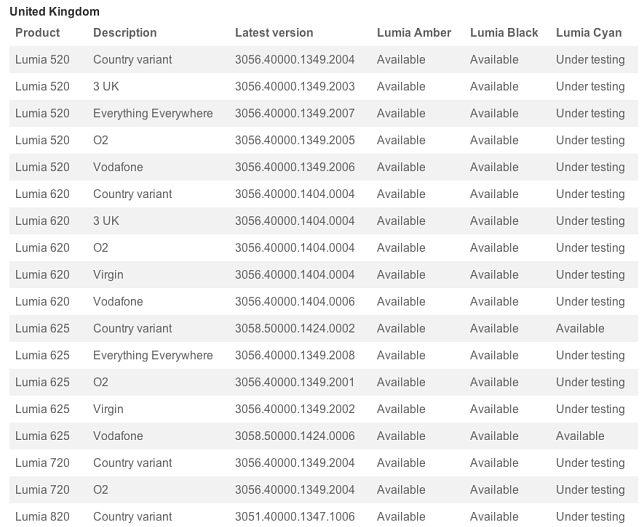 There's some debate over how up to date the model pages actually are. They don't look completely machine-generated and my guess is that they're updated at least partly by hand, daily, based on input from Microsoft. So there's a slim chance that you'll spot an update before it's actually listed on these pages. On the whole though, availability should be mainly correct. It's certainly better to check these pages once a day than to sit on your phone pressing 'check for updates' every hour!
As a reminder as to what's in Lumia Cyan, see our main news post here.
Interestingly, we've been saying for months that anyone whose phone was on the Developer Preview track won't have to worry, that their phone will pick up Lumia Cyan along with regular 'stock' firmware devices. This was Microsoft's own advice and is still largely true. But there was a small caveat (not the use of the word 'might') in a Nokia blog post today:
If you are registered to Windows Phone Developer Preview Program, you might need to use the Nokia Software Recovery Tool to return your Lumia to a normal commercial software before downloading the Lumia Cyan update. More information about the tool can be found here.
The circumstances of 'might' aren't exactly clear yet. But as a rule, we'd always recommend doing as many backups of captured media and documents, as many data syncs (etc.) as possible, making sure you know any critical passwords, all before a major firmware upgrade. Hopefully everything will go OK and you'll keep all your apps and data - but you never know. As usual, better safe then sorry!
And if something does go wrong then there's the Nokia SRT to fall back on, safe in the knowledge that you're prepared.