Previously with the 'Nokia' prefix, of course, things are now ever-more under the wider 'Microsoft Mobile' brand and the update itself is just 'Lumia Cyan' for the Nokia smartphone hardware released from 2012 onwards. Here's a summary of what the update will bring, over and above functionality in Windows Phone 8.0:
An extra column of double-wide tiles, giving a flexible layout, up to six small tiles wide, as demonstrated in my recent Start screen demonstration:



Live tiles can now be made transparent, allowing a selected image to show through, also shown above.

The Lock screen is now more customisable, with a range of "Lock Screen Themes" that allow for a range of different visuals and animations. (Disclaimer: this hasn't been included in the Developer Preview of 8.1 so far, but word on the street is that these themes are imminent.)

The Cortana voice assistant (though actual availibility of this feature will depend on market, as the rollout continues through 2015).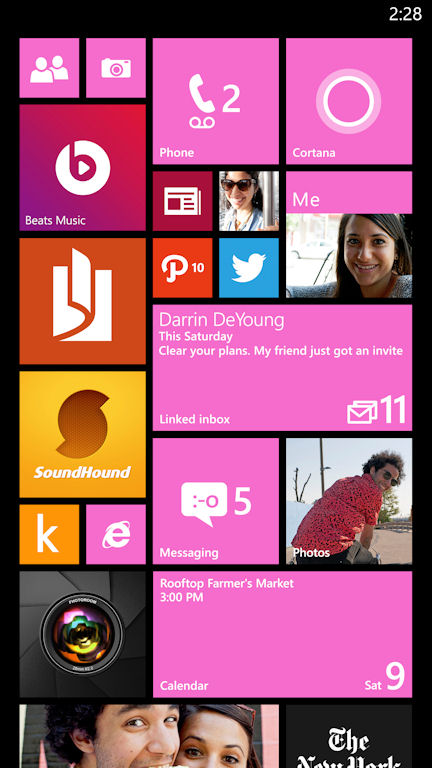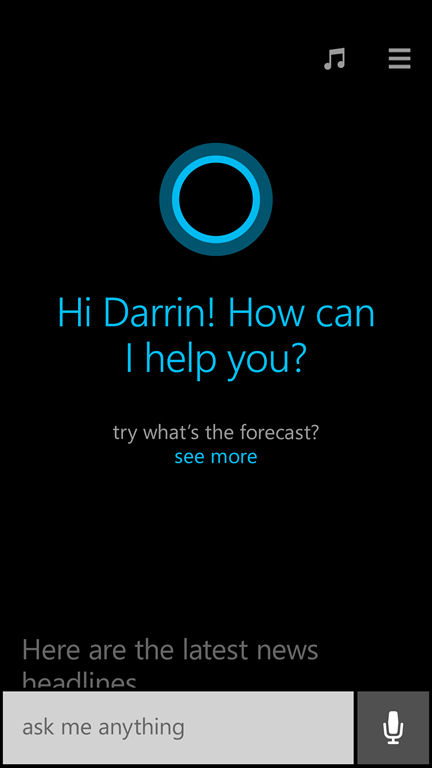 Action Center, which provides a fast way to view notifications and toggle key system settings from any app by swiping down from the top of the screen. Notifications are grouped by apps and can be updated, modified, or deleted by the originating app, thus allowing for a much more sophisticated notification experience than Windows Phone's previous disappearing toast notifications.

Windows Phone's 'wizard' user hand-holding settings features, such as Data Sense and Battery Saver, have been extended in the new release. Data Sense will now attempt to more aggressively offload data to WiFi and limit cellular usage as you approach your defined data limit. The new WiFi Sense feature brings more intelligence to the platform's WiFi usage. Where possible, it will automatically log you into a WiFi network automatically.

Also new is Storage Sense, which aims to help you get the most of the memory and storage on your device. On devices with a microSD card slot, it can be used to move content between built in and memory card storage. Although not mentioned directly, the demo shown in the Build keynote suggests that apps can now be stored on an SD card, an important change from earlier versions of Windows Phone.

Battery Saver has also been updated and will now show a clear breakdown of how apps are using your device's battery, allowing you to identify battery hungry apps.

Updates to the Photo hub include going straight to the Camera roll, and support for third party albums.

Xbox Music and Xbox Video are now split out into separate apps and will be updated via the Windows Phone Store (i.e. independent of platform updates).

A new Podcasts app lets you subscribe to any RSS feed directly and provides a Bing-powered podcast search for every country where Windows Phone is available (previously US only).

The Email client gets support for S/MIME email and there's broader service support, including Apple's iCloud.

There's a rewritten Calendar application, with support for a new week view and a design that now looks a lot more like Outlook.

Windows Phone's volume controls have been improved, with separate sliders for ringer / notification and apps / media.

The default Windows Phone Camera application has an improved UI and support for burst images

'Nokia Camera' gets better image processing, continuous auto-focus (on some devices) and support for "living" images" (short animations, video taken just before the shutter was used).

Nokia Creative Studio gets a big update (new filters, non-destructive editing, and more).

Nokia Storyteller also gets updated, with support for "living" images (see above).

Nokia's updated HERE Maps app for Windows Phone 8.1, as detailed here, can also be considered to be part of the Lumia Cyan update. The key new features here are updated aerial imagery, extended support for 3D buildings, and HERE Maps specific gestures for map browsing and rotation.

Cyan also includes the enablers for the new SensorCore SDK / technology (always-on motion sensor, available on select devices).

For enterprise users, there's the introduction of VPN support, deeper enterprise MDM functionality (enrollment, content management, app management), improved certificate support, enterprise (EAP-TLS) WiFi support, and support for encrypted signed email (S/MIME).

Support for extended third party applications, with Bluetooth LE, geofencing APIs (location triggered alerts), new multi-tasking and background task enablers, improved Live Tile functionality, notifications APIs, user data and file APIs (app to app sharing, accessing PIM data, backup and more).

Quite a list for a humble update, of course, and bringing Windows Phone right up to date.
I realise that most of this isn't new to those who have been playing, along with us, with the 8.1 Developer Preview. However, comments welcome if you spot this all rolling out to devices in your country.
You can check your own Windows Phone 8 phone for the update by going into 'Settings/phone update/check for updates'. As with previous major OS updates, try to clear some disk space ahead of time (2GB would be ideal) and allow plenty of time (around an hour, during which your phone can't be used).
At the time of writing, no editorial devices has received the update. However, we're checking the 1520 and 1020 hourly...!
Nokia's blog has a brief overview of the new features you might notice: