From the Conversations article, and featuring several new applications that I hadn't heard of:
miCoach Train & Run Not many of us can afford a personal running coach — but with Adidas miCoach, you now have access to one 24/7 — for free! Track your indoor and outdoor workouts; useful data include pace per mile or interval, overall speed, distance, and elapsed time. Get daily workouts and voice alerts/coaching feedback by select Adidas athletes, such as pro soccer player Omar Gonzalez, and schedule workouts from the app to your Lumia's calendar.

In addition, miCoach has 400 exercises and instructional videos to help you get stronger and more flexible, and the app gives you quick access to your Music playlists. One feature I especially like: Gear Section helps you track the mileage on your running shoes.
Very nice, reviewed by us here.
Health and Fitness This all-in-one fitness and nutrition app should be on your smartphone if you want to get in better shape, whether it's via running, biking, or other sports.

The app tracks steps, distance, elapsed time and calories, among other data, and has a plethora of helpful information, from exercise videos with step-by-step instructions to articles on health to a nutritional database of more than 300,000 food items.
Yep, covered as part of our recent Bing apps roundup, this is a first party Microsoft solution, too.
Now for some winter sports action, and noting that app links here all go to the relevant page in our AAWP application store, for your convenience:
Nordica If you're a skier, you know Nordica, one of the top brands for skiing. Now with this app, you can track your runs, speed, vertical feet, mileage, and achievements via clear charts and analytics. Just switch on GPS tracking, stash your Lumia in a secure pocket, and zoom down the mountains! The app has some of the most battery efficient GPS tracking of any app. Use it all day, and you'll still have a third or so of your battery left at the end of the day!

In addition, you can check the snow conditions for thousands of ski resorts, get a closer view of various runs by zooming into resort maps, as well as access ski lessons from some of the top ski instructors in North America. One neat feature: The app's user-interface is designed especially for cold climates, so no need to take off your gloves to maneuver the app!

Fischer Sports Like Nordica, this free app tracks your ski or snowboard runs, vertical feet, distance, speed and even approximate calories consumed.

Compete with your friends on the Active network and set goals, seek to become King or Queen of the mountain, as well as access training plans to help get you in shape to tackle the snow-covered slopes. And snapping photos and listening to your Music playlists is easy via the in-app's camera and music buttons.

RollerBlade Inline Skates You don't need skis or snowboards to go really fast. With the right inline skates and a steep hill, you can feel as if you're going Mach 5. This free app is the official app for inline skating, and it will track your strides, distance, speed and calories burned.

The app will also help you connect with friends via social networks and offer friendly competition with a leaderboard. And if you're new to skating, Rollerblade Inline Skates also offers free learn-to-skate videos and training plans to get you in better shape.

Track Runner Take this award-winning app with you whether you're running on an oval track, the road, or the trails. Designed for runners training to get faster and stronger, Track Runner gives you customizable heart-rate zones for more effective training; a Cardio Map, which shows the zones you trained in according to GPS location and terrain; and voice notifications on split times.'

If you want to be pushed on your run, the app's Pacer feature gives you options such as negative splits to help you reach a personal best in your next race. And Performance Genius crunches your running data to estimate your potential finishing times for race distances ranging from 5K to the marathon.
All decent picks and several titles that are very new to the Windows Phone Store. Here, for example, are screenshots from Nordica and RollerBlade Inline Skates: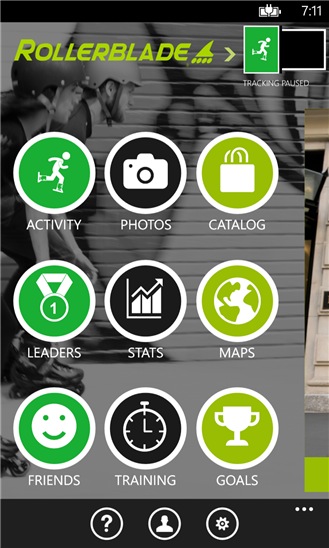 Track Runner is something we'll be reviewing as a standalone title shortly.
Provided you have a compatible Windows Phone, there's now no excuse not to get outside and get active!