Start with a new Windows Phone 8.1 device - or hard reset an existing one - and you get some, but not all of the applications and goodies that Microsoft and its partners are trying to gift you. It's not clear whether Microsoft started its 'Bing' suite of applications in order to try and gain extra brand recognition or because it genuinely recognised a few application gaps in the Windows Phone ecosystem - my guess is a little of both, but the end product is a range of applications which - after many updates in the last 12 months - is now very impressive indeed.
Taken as a whole, the applications available on a modern Windows Phone go beyond what even Samsung provides in its popular 'Galaxy' Android phones. Just to make the point, here's the breakdown of the main free, Microsoft/Nokia-written applications on (or available to) all Windows Phone 8 handsets, in two lists, deliberately:
The obvious ones, then, headline benefits for Windows Phone as a platform:
HERE Maps and Drive+ (the ability to use fully offline maps with no time expiry and full offline route calculation is still unique in terms of software and data supplied with a mobile platform)
HERE Transit (a pretty useful public transport navigator, with surprisingly good coverage now)
MixRadio (rightly lauded and possibly to spin off as a third party product in the future, but working well and built-in for now to provide
Nokia Creative Studio (and Nokia Camera, etc.), essential parts of the imaging workflow on all Lumia phones
Office (and OneNote and OneDrive), amazing to have all this built-in from day one and not have to go looking for business and cloud functionality. Though if you do go looking, don't forget Office Lens, too!
Skype (under Microsoft's control now for three years, this is virtually part of the platform - though not perfect yet, annoyingly)
In addition to the usual smartphone core PIM, social and communication applications, you'd have thought that the applications above already made a pretty good starter pack for a smartphone OS, with the user having to go looking in a Store to get everything else. But no, Microsoft has been steadily adding to its first party (often with subtle Bing branding) suite of applications for Windows Phone and improving each component. Take another look at each one, as I've done here - I think you may be surprised at their breadth and depth. Many new Windows Phone users may not need to head into the Store for anything but a game or three, since in terms of information, both offline and online, Microsoft's applications are impressive.
It's worth noting that only a handful of these are built into the firmware of most Windows Phones, as at August 2014, but I'd expect the others to be gradually shoehorned in, as the OS evolves. And each application, if not built into your specific device's firmware, is only a tap or click away - I've hyperlinked each application below, just in case - I'd hate you to miss out.
Last updated in May, and of the few applications here to retain the explicit 'Bing' branding, this is in need of a refresh in terms of UI (it's very Windows Phone 7.x), but most of it works. A little luck is needed with live camera translation, and voice recognition kept erroring out for me, but text translations were excellent, offline voice packs are a great boon when travelling, and you can get voice playback of difficult foreign phrases.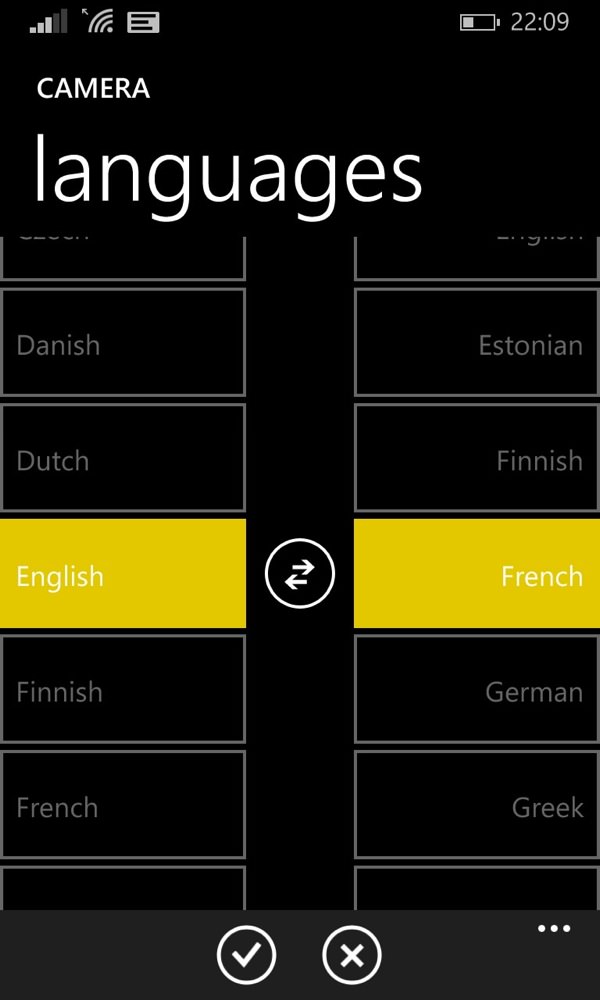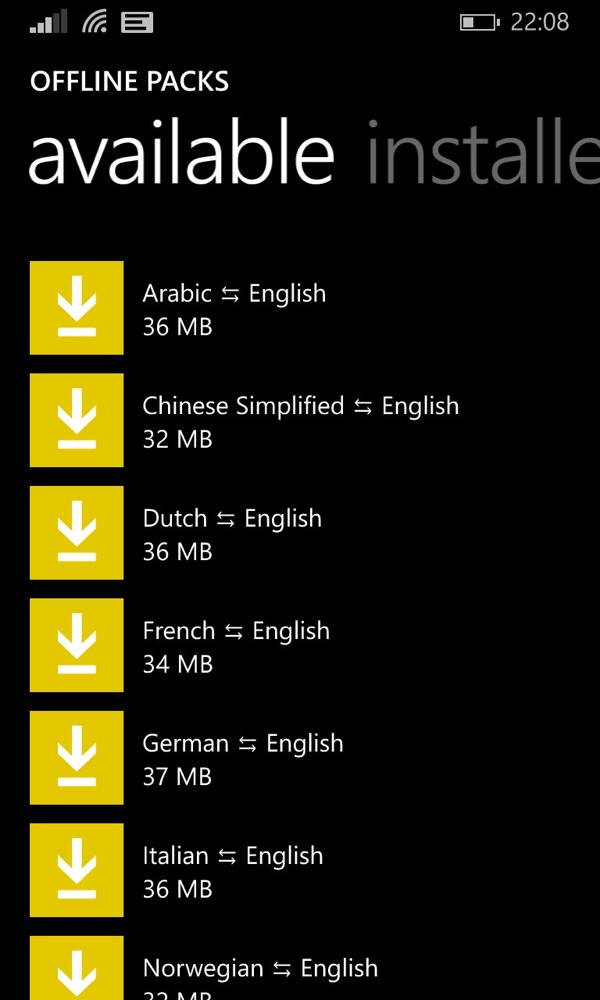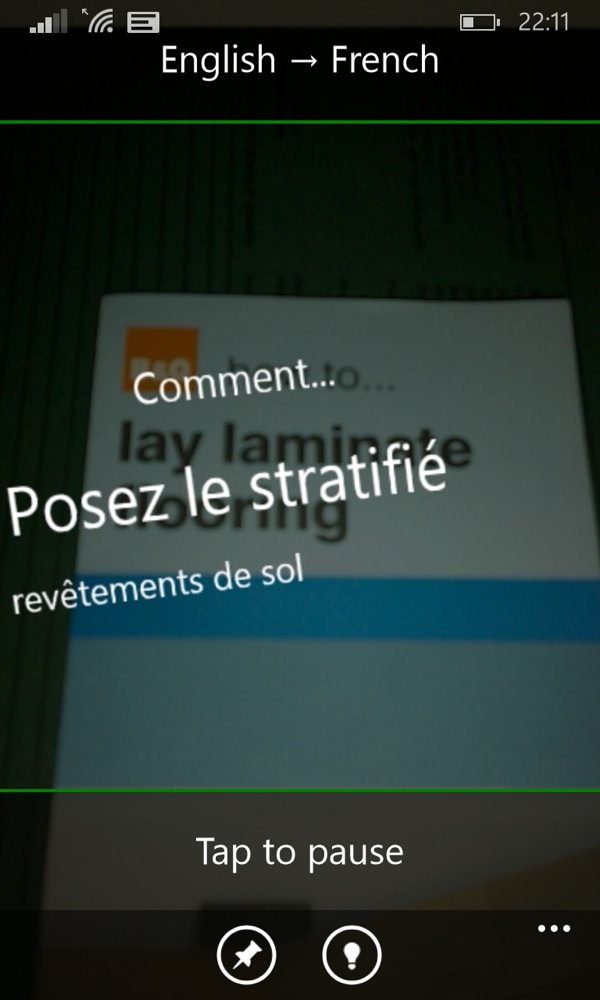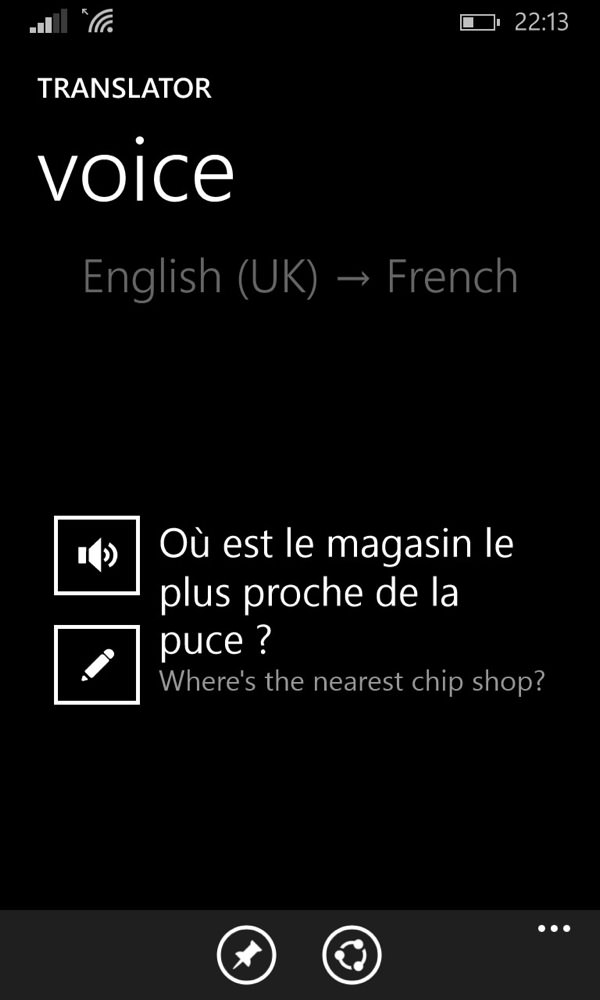 Also last updated in May, Files isn't expressly part of the Bing suite, but is a utility that forms part of the extended Windows Phone 8.1 application set and may well not be installed in many firmwares - hence the link here. Files is a little basic, plus there's not actually much to do on devices without a microSD slot, since the internal storage in WP is heavily sandboxed, but this is still a must-have and means that you don't really need to look elsewhere for basic file management.
Last updated in April this year, Finance is surprisingly comprehensive, from keeping track of the stock market to local business stories of interest to a currency converter. Recommended.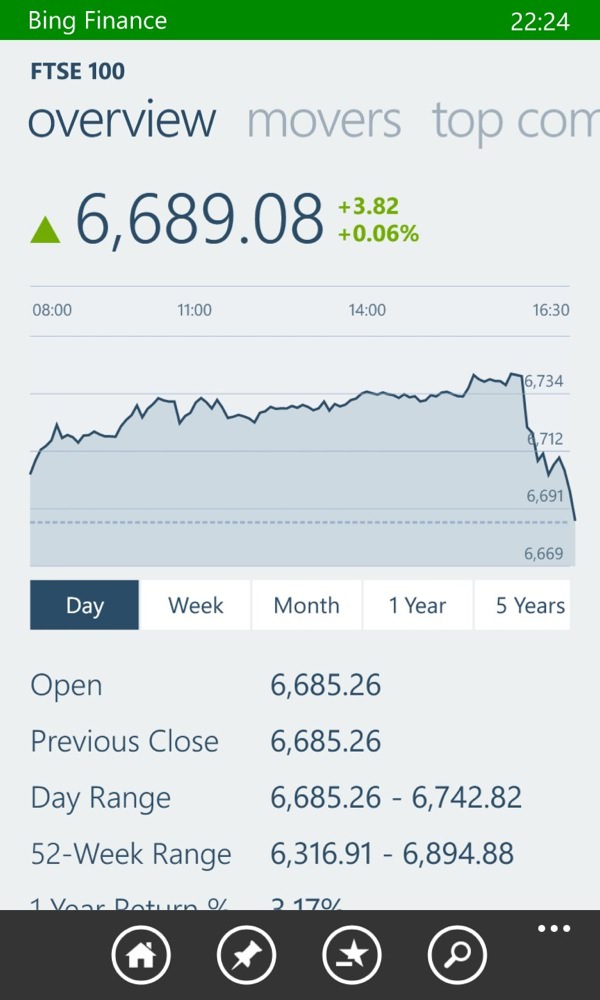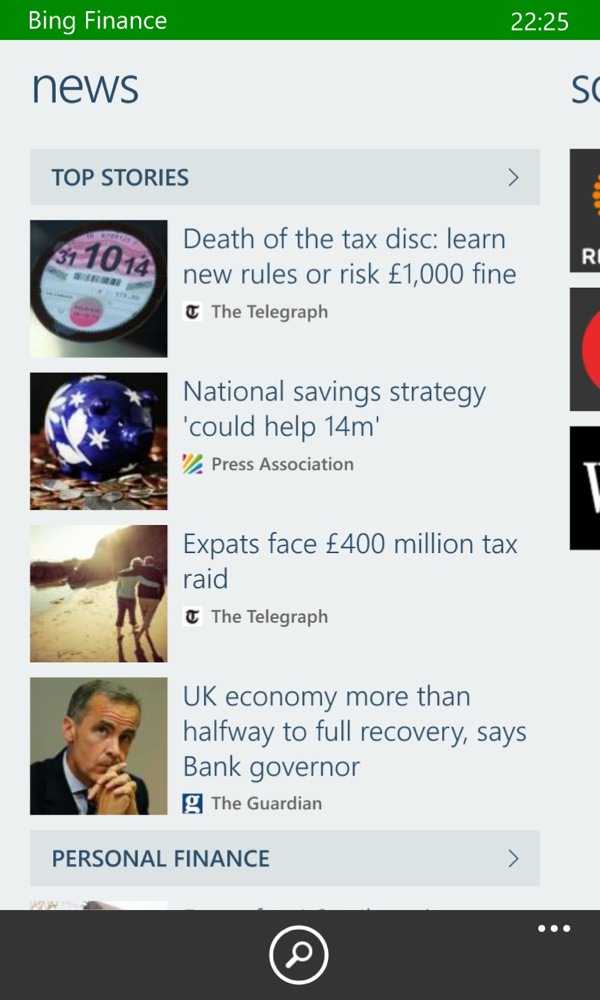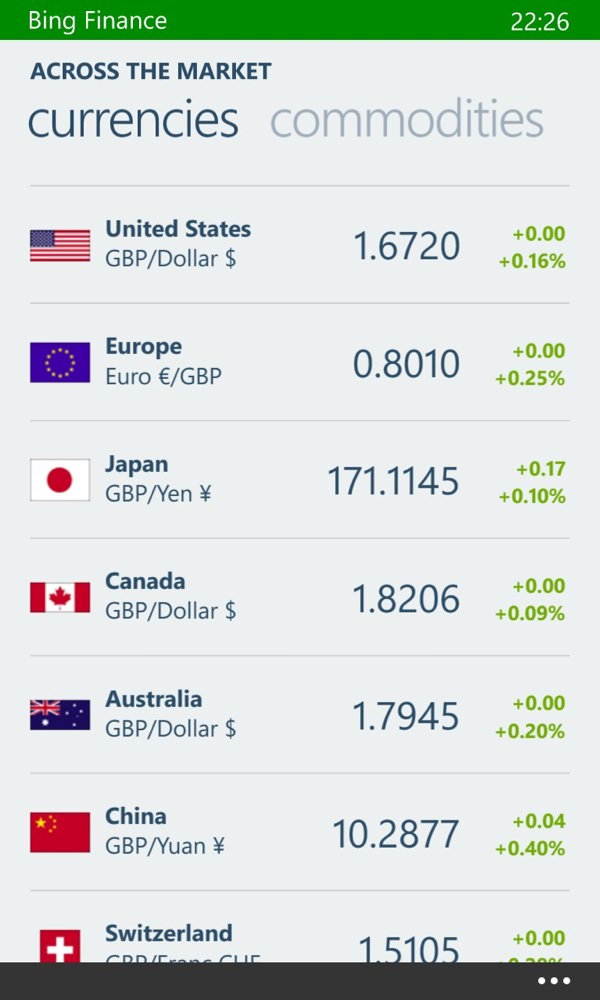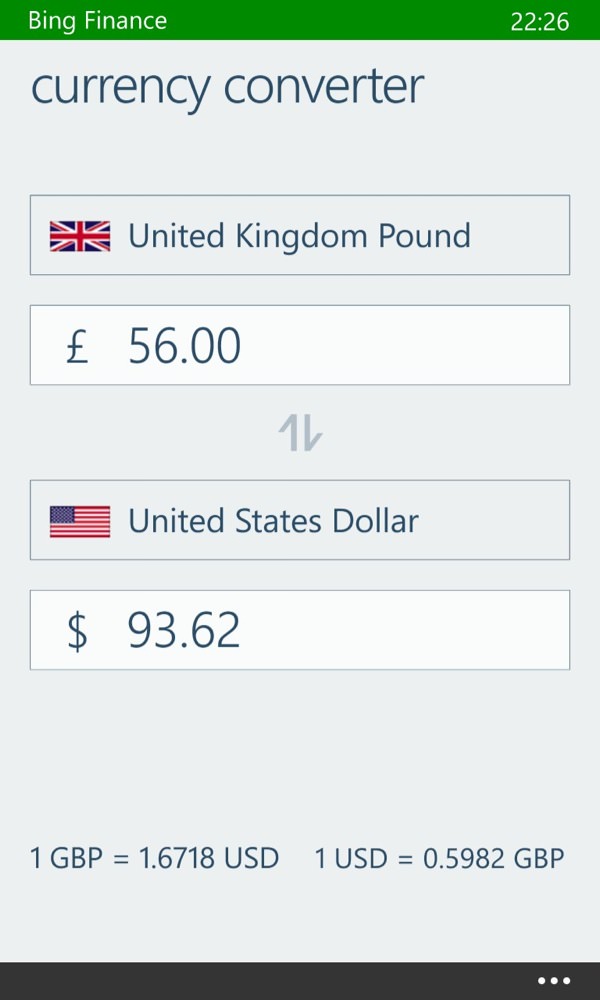 Also last updated in April, Food & Drink also holds some surprises. Ostensibly just a chef's aid (it's all haute cuisine - trust me!), with auto-shopping list function for serious cooks, there are also cocktail and wine guides included, with huge databases behind each. So if you can't face all the cooking, at least you can pick out a great wine and have a few glasses while ordering in....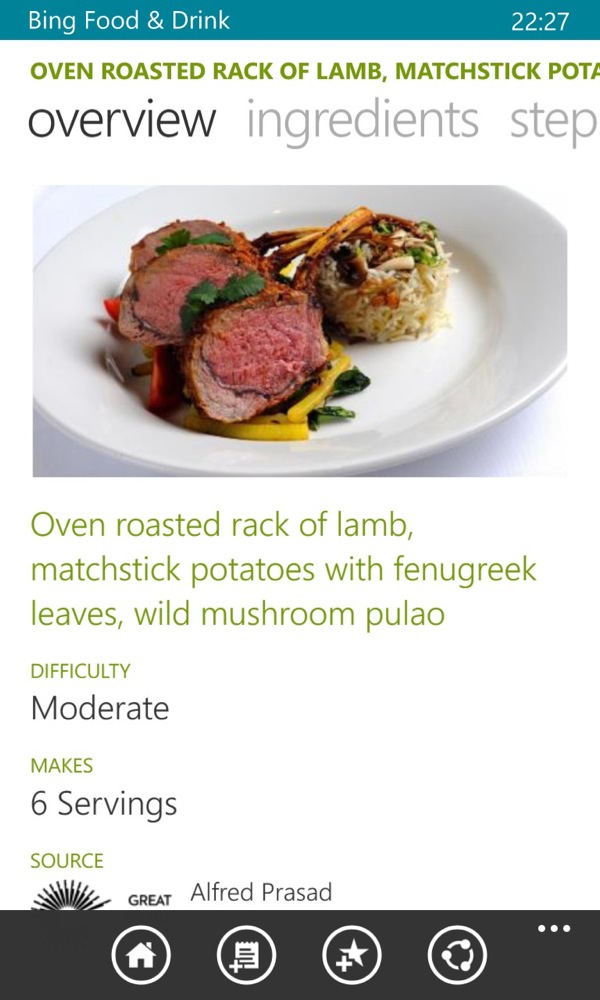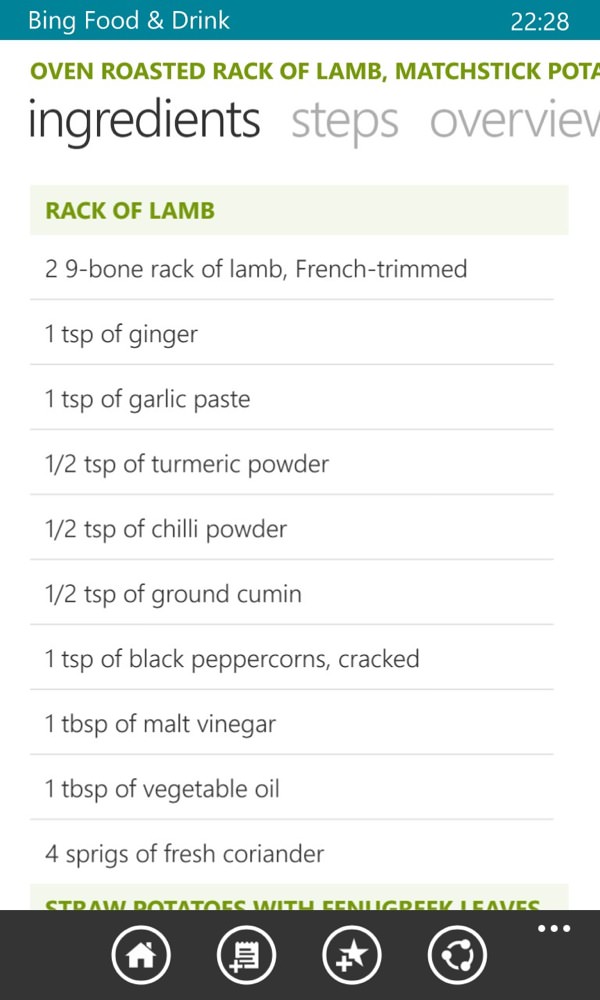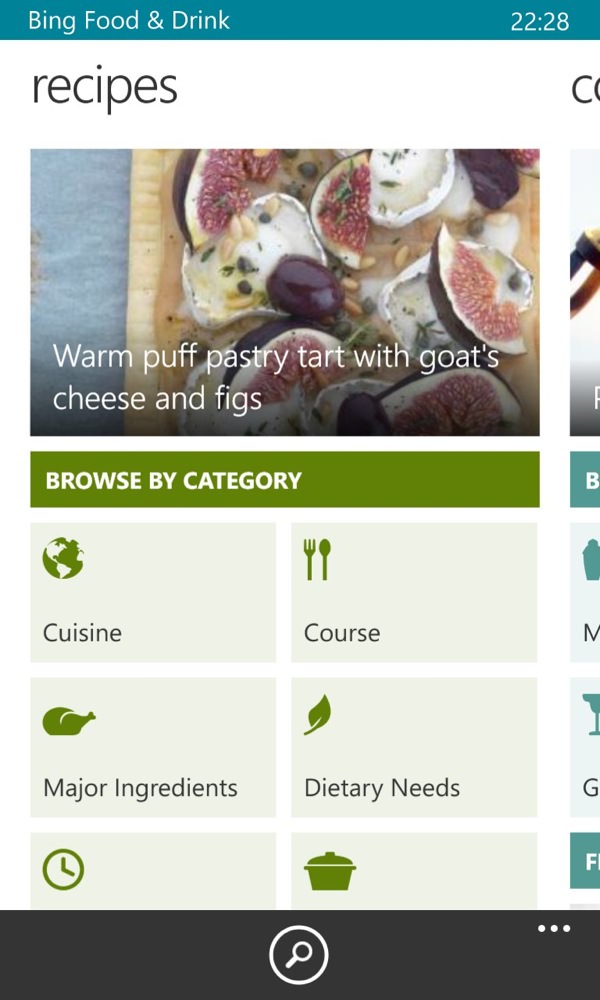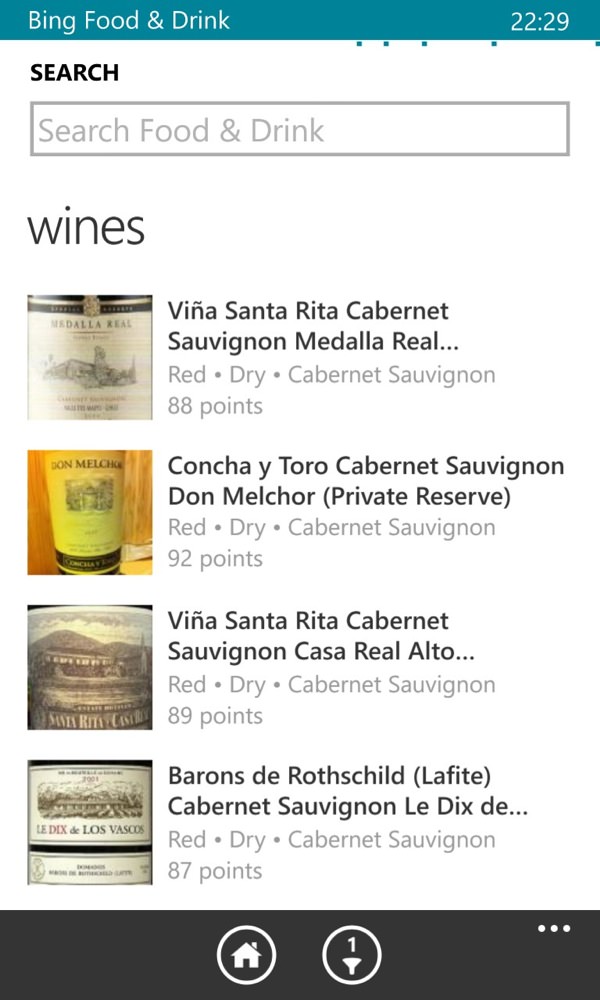 Also part of the big April joint release, Health & Fitness is a huge suite, fitting in well with the current trend in the mobile industry for 'health/fitness'-related software. There's a GPS tracker, cardio/workout logging functions, exercise advice and recording, advice on nutrition and a surprisingly comprehensive symptom checker - for hypochondriacs!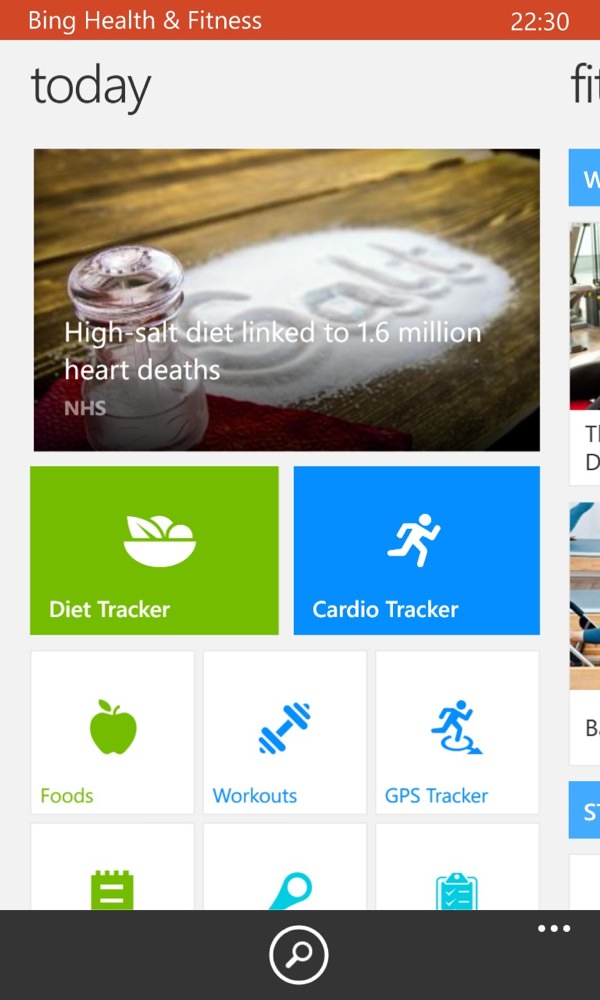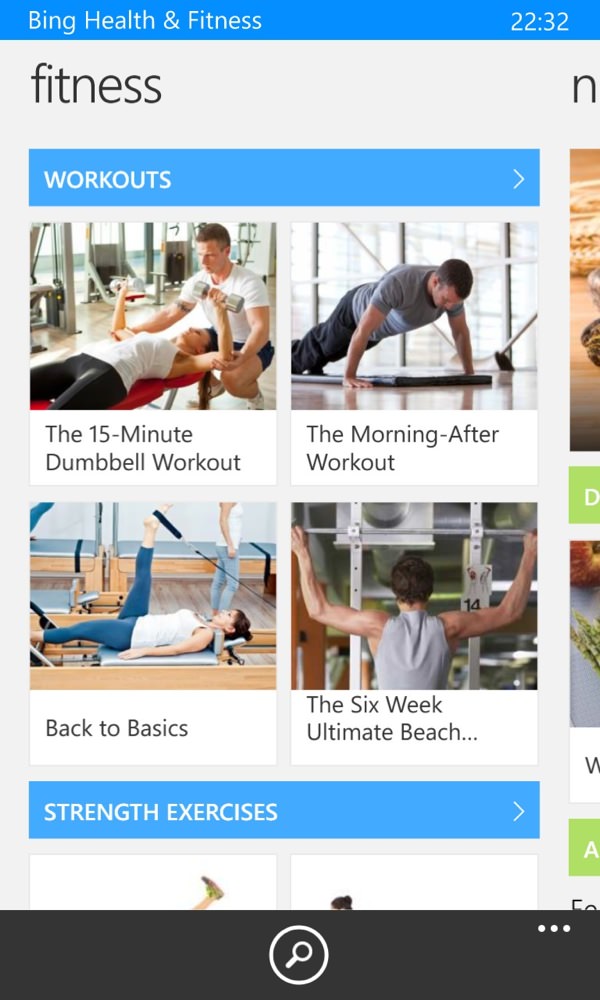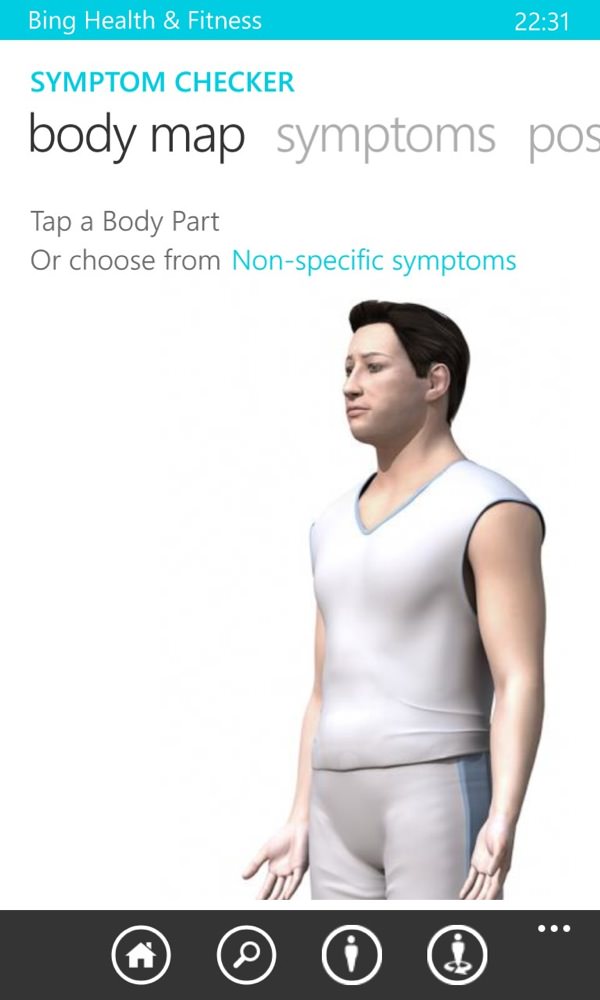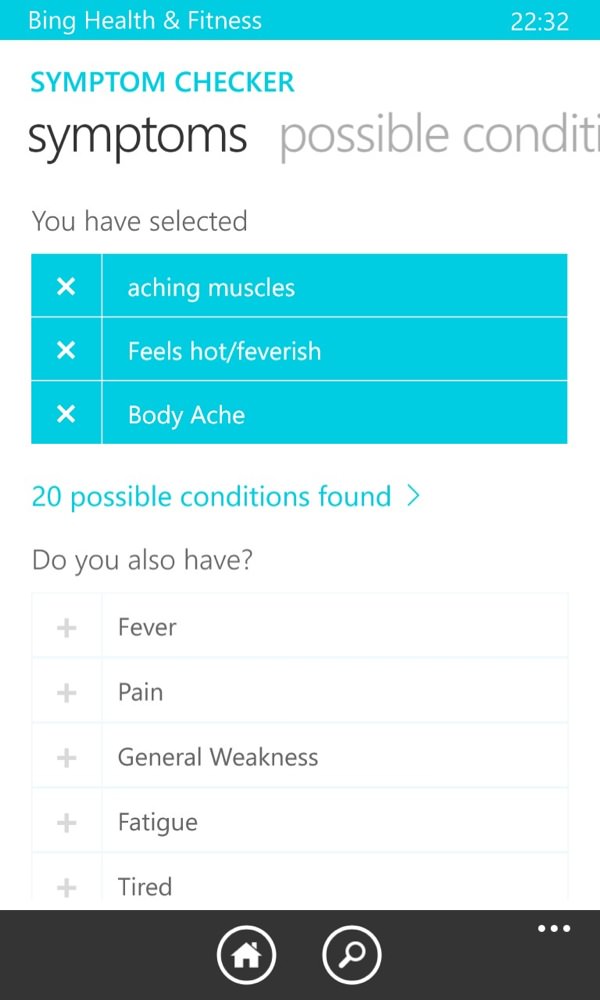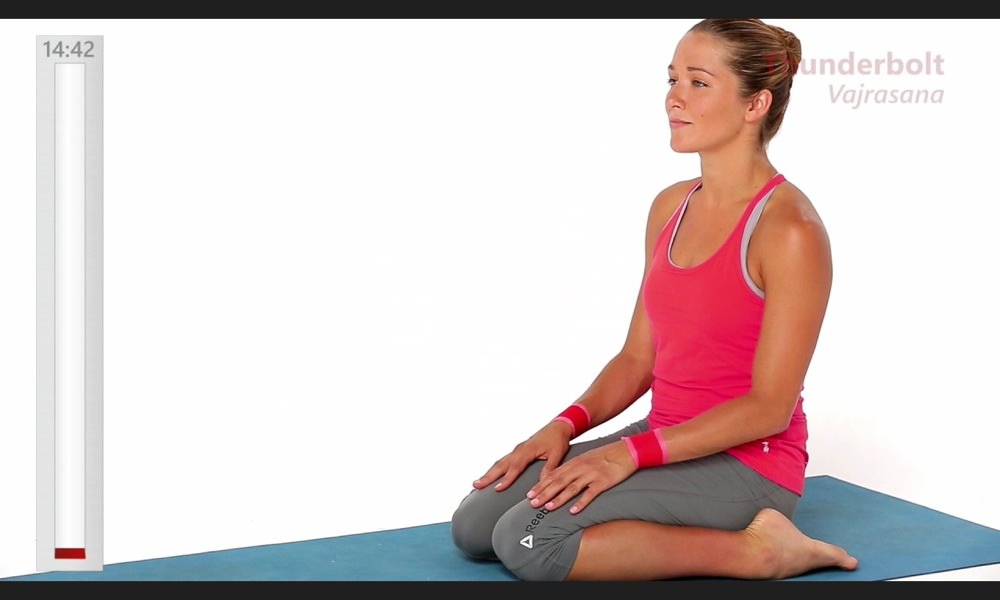 Yet again updated last in April, this is a superb news aggregator, with a fully customisable set of sources, custom news filters, mobile friendly content at every stage. A videos section is an afterthought, with quirky content mainly, but don't let that dent your enthusiasm for the rest of (Bing) News.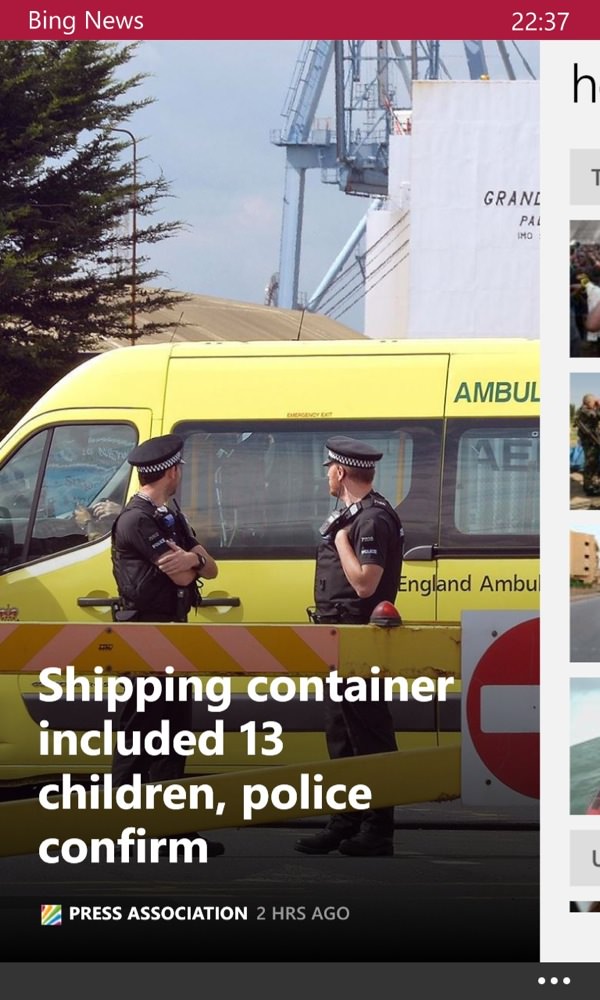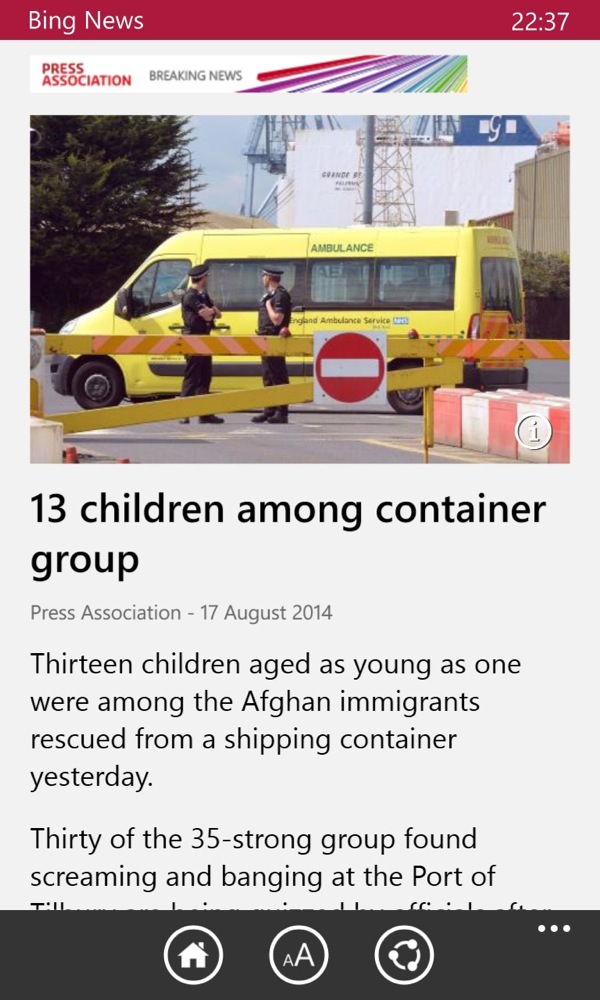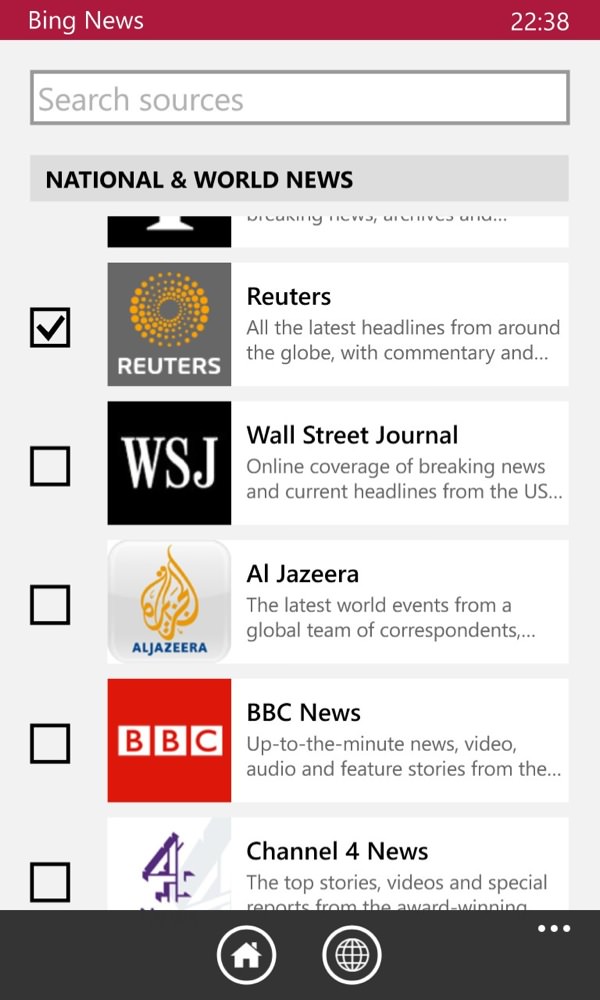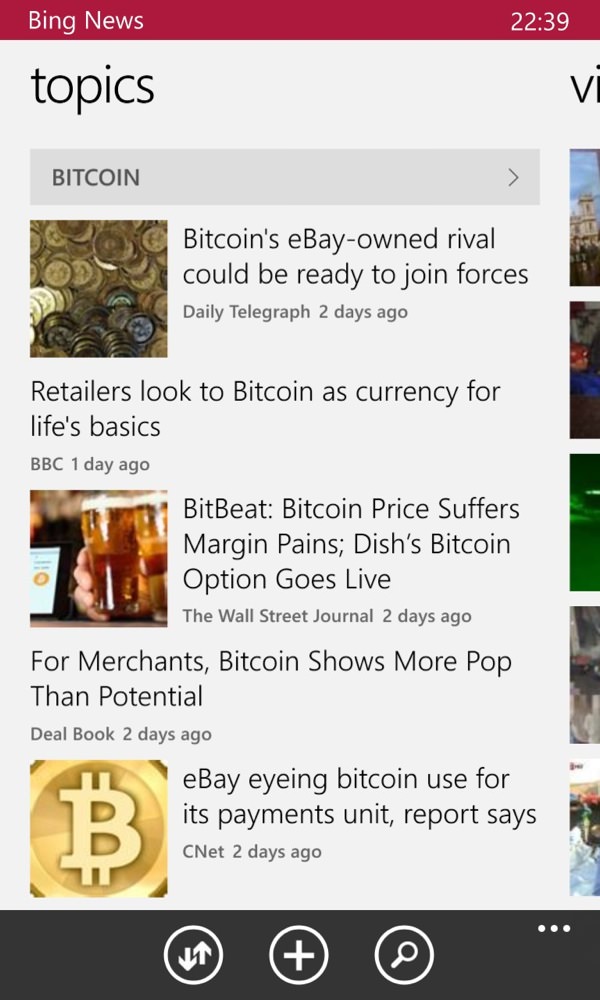 April, again, no doubt timed to work well with Windows Phone 8.1, which was being finalised about that time frame. PDF readers are an essential part of any platform these days, but are rarely built-in. Depending on device, this may or may not be already in your firmware - if not, then grab it with our link. There are third party PDF readers too, but the Microsoft one works fine, aside from a quirk where you have to kick it into action to listing documents in the first place, i.e. by opening them from email or Files or similar.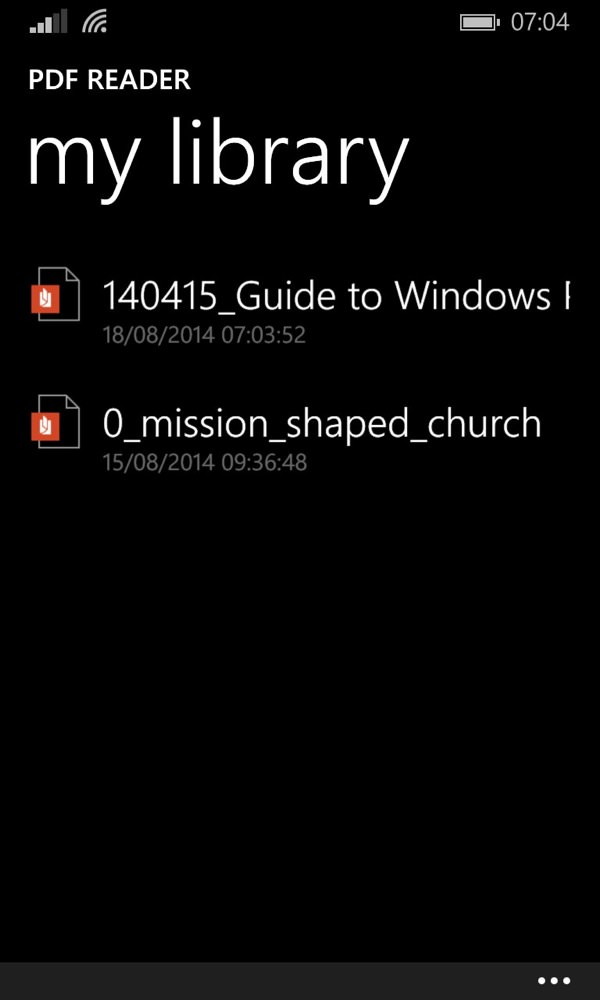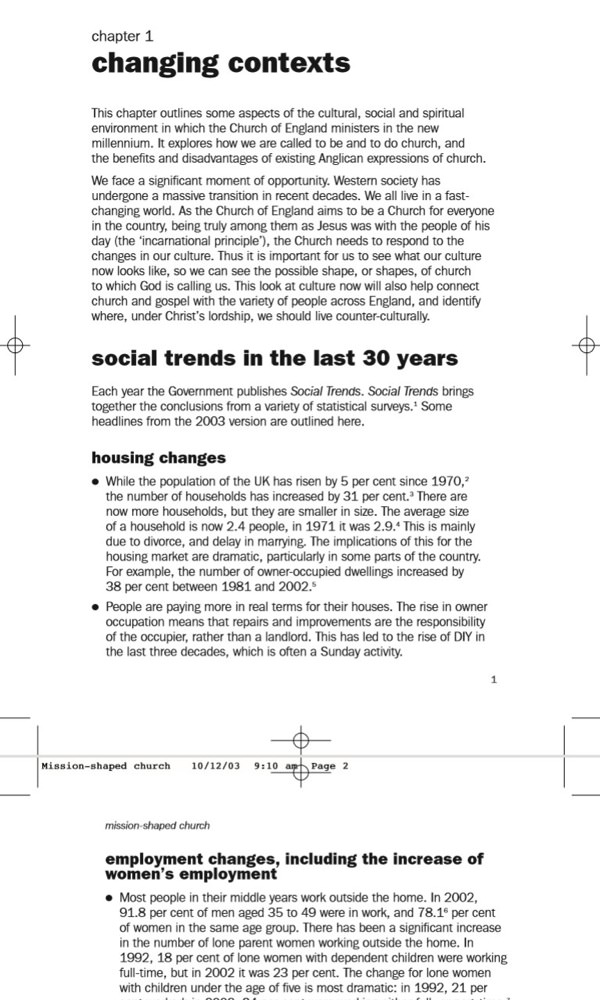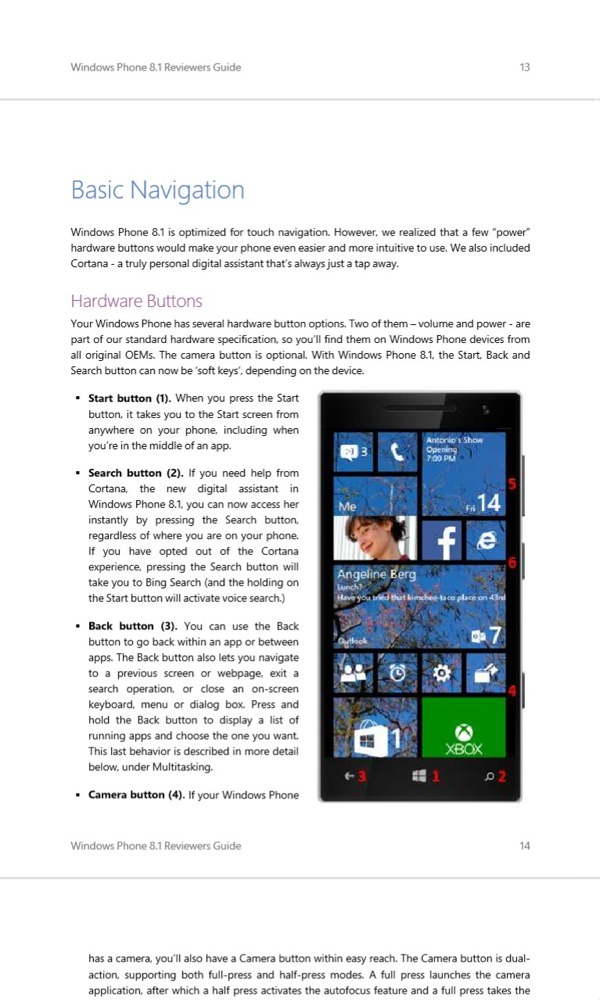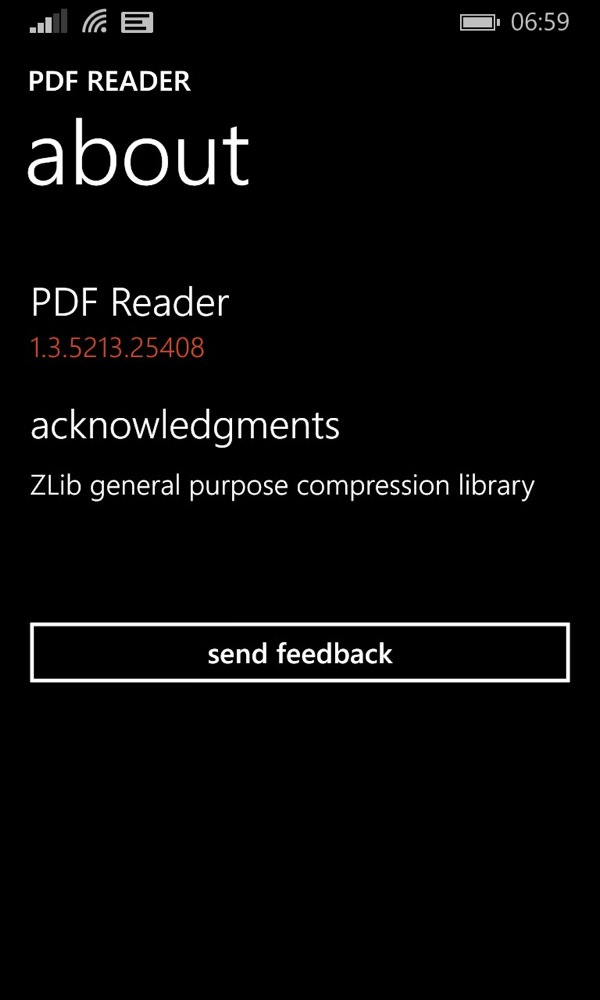 Podcasts
Not downloadable, as far as I know (please let me know a link if I'm wrong), and so part of Windows Phone 8.1's core applications. But, as I've reported many times before, podcasting clients are perennially popular and so it's good to see a first party client join the fray - no need for many people to even venture into the third party scene. The Microsoft application is limited, mind you, with annoyingly poor fast-app-resume, with no time-sorted programme list across all podcasts, and with no import/export facilities, so power users will still want to search elsewhere.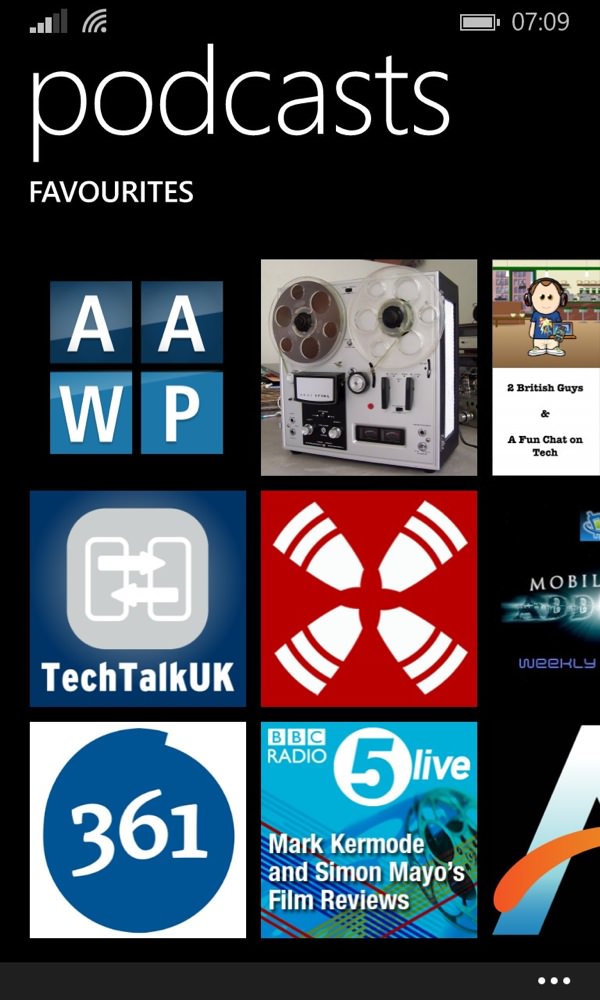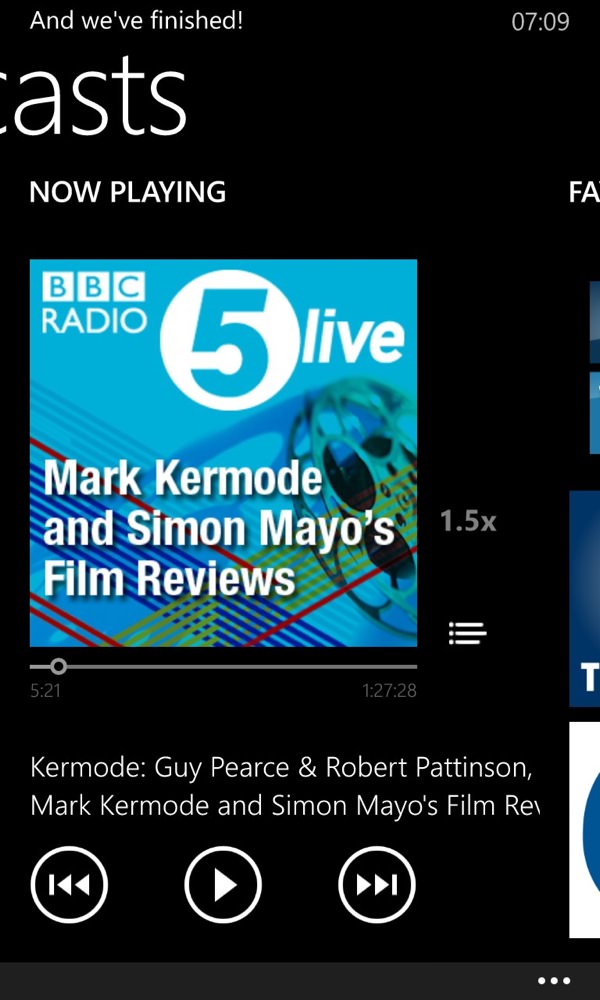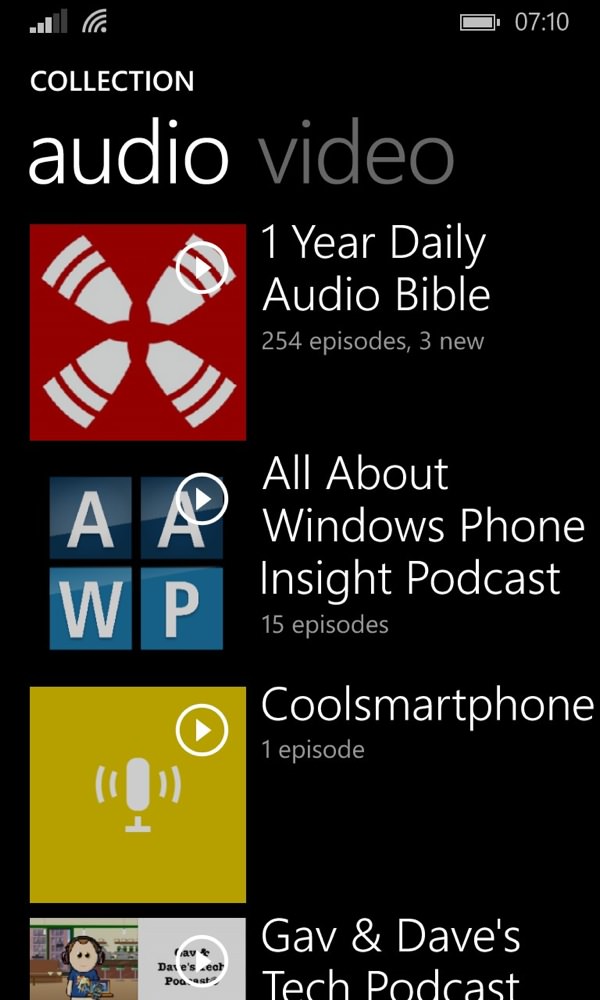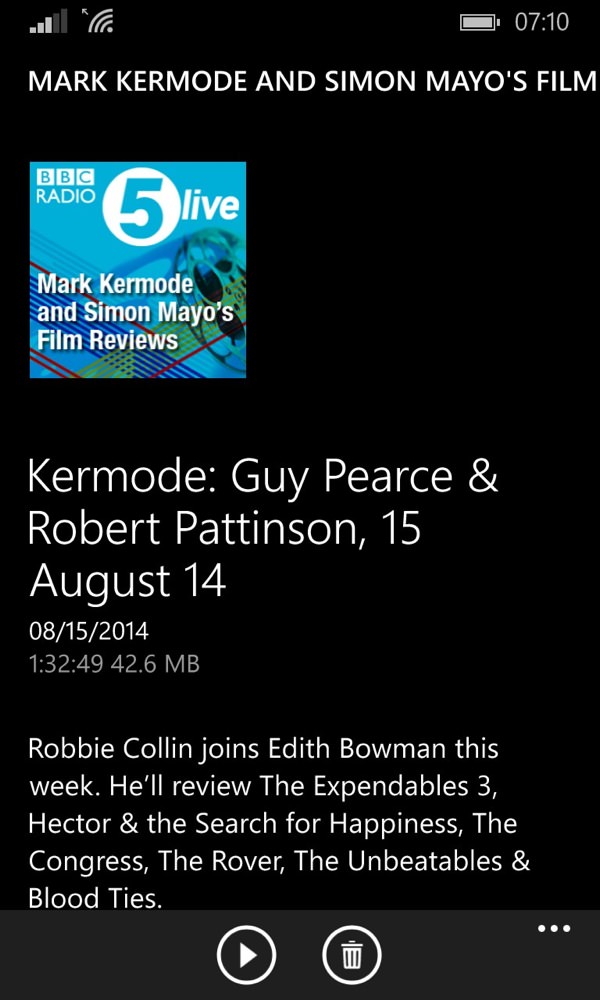 Last updated in July, this is slightly more shallow than some of the other Bing suite apps - there's a welcome facility to choose your own teams and favourite sports, with the nice touch of showing a different custom background for each sport, but the depth to which you can tap through to see results differs according to the sport concerned (e.g. huge detail for football but very poor cricket coverage). Still a good resource overall though, especially if you're just after the headlines.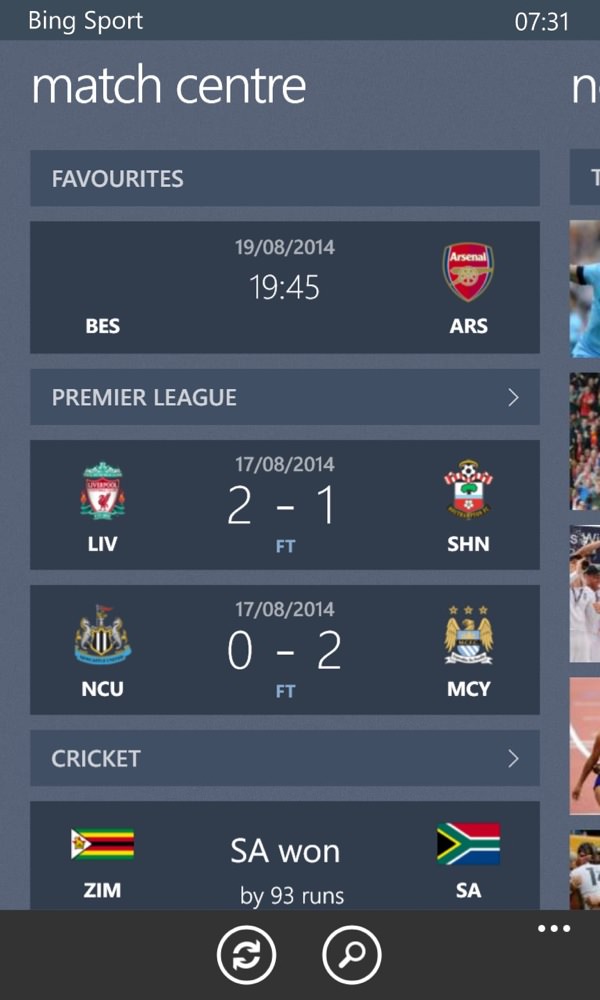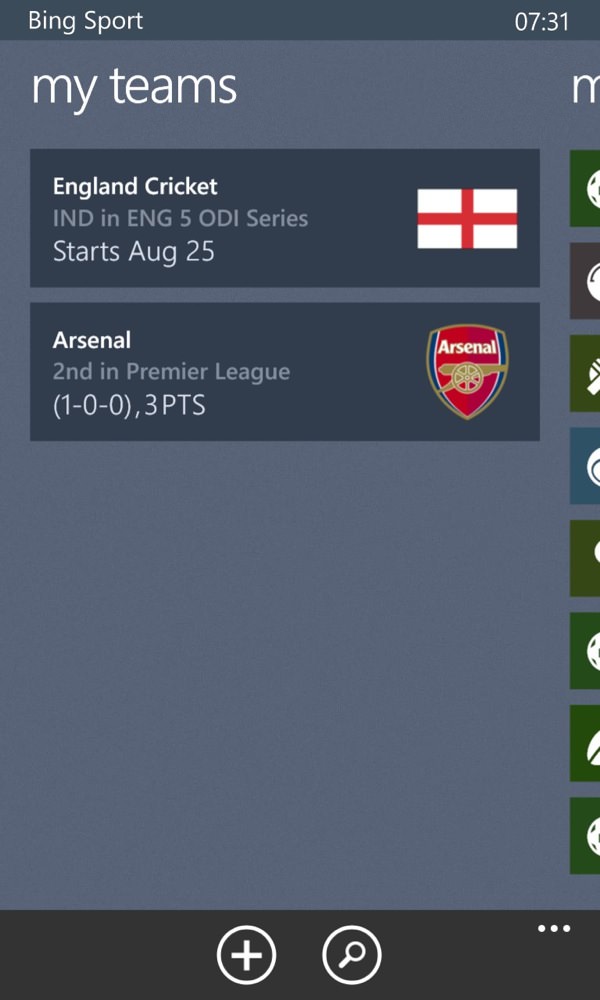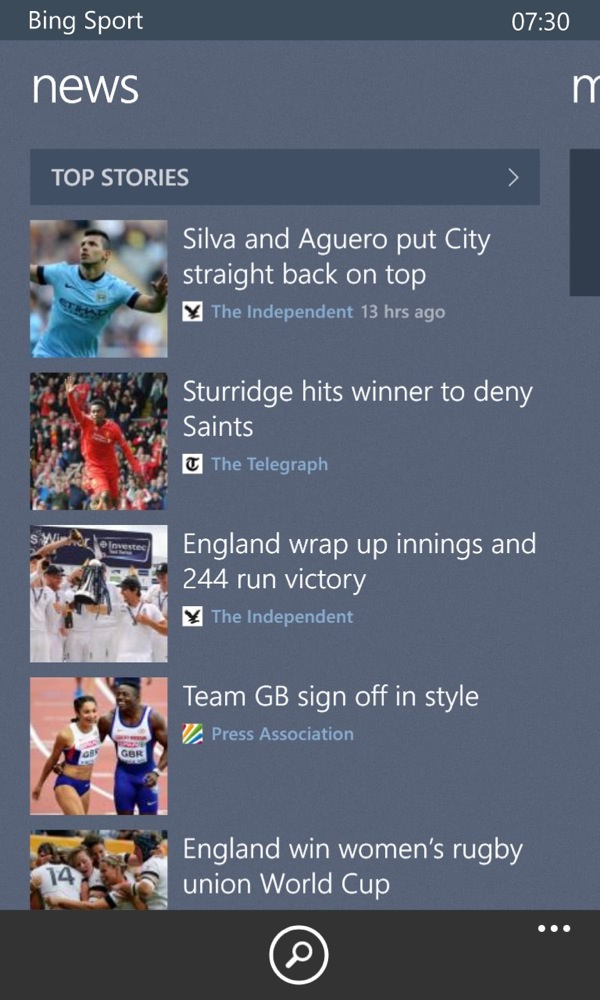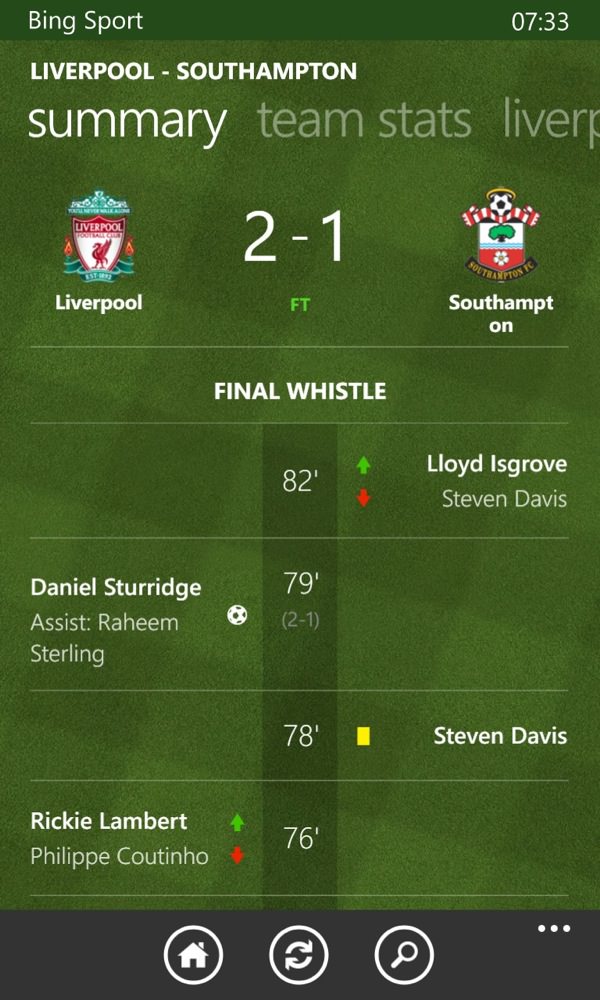 Last update in August, and still labelled beta (maybe Microsoft just forgot to remove the flag?!), (Bing) Travel is a great resource, with a full flight database for every country, every airport, plus a pretty good selection of attractions wherever you are in the world, and hotel suggestions/search, with links through to book, of course.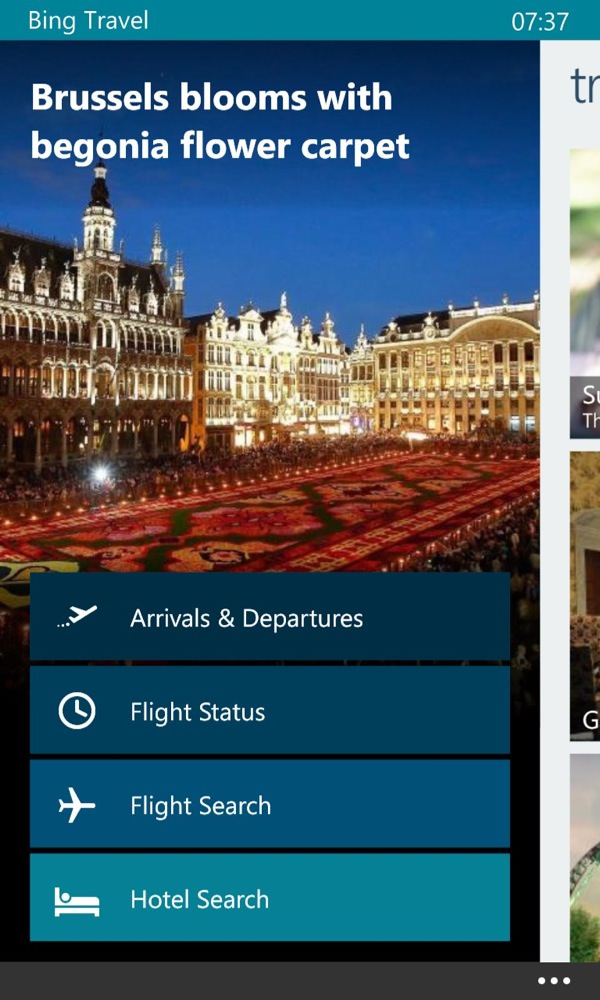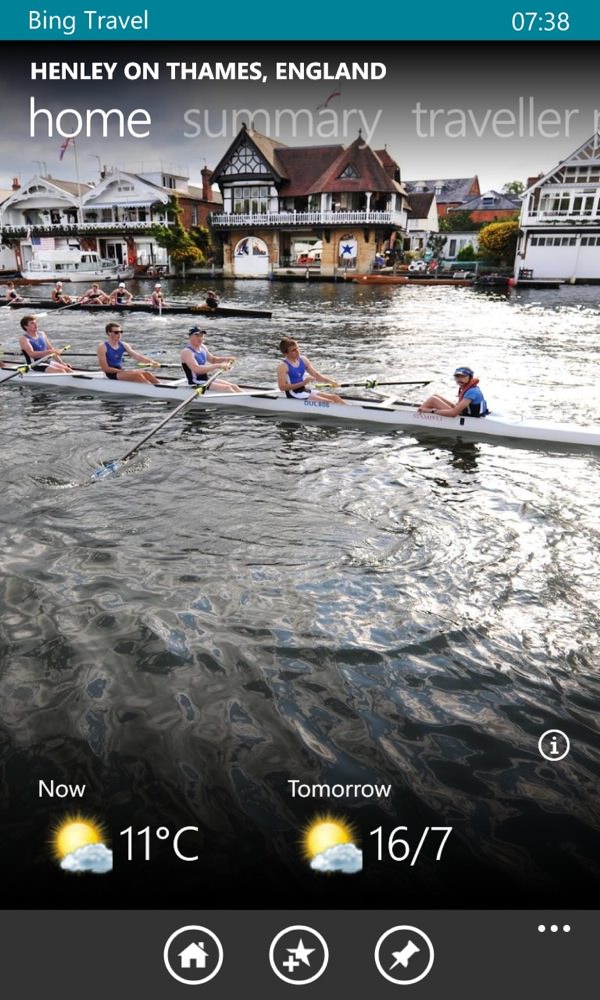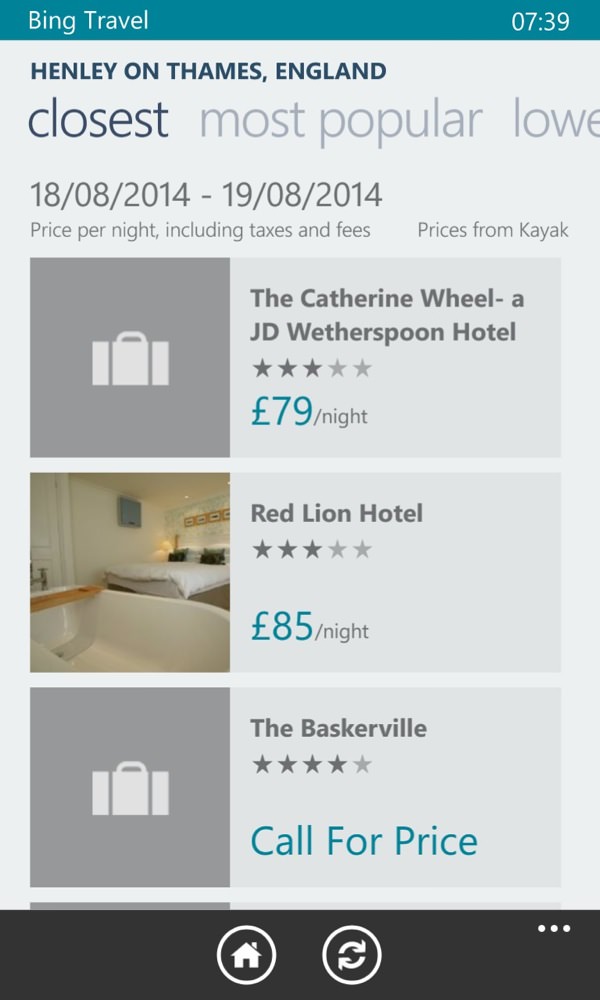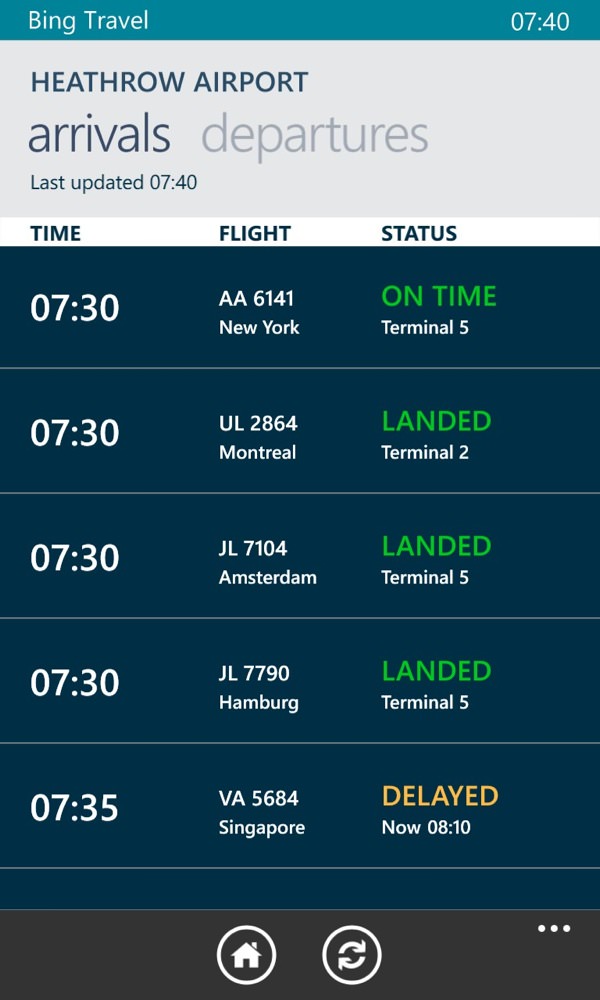 Another April update, (Bing) Weather is pretty fully featured, with a live tile that flips between a 'real feel' graphic and a three or five day forecast, with a variety of weather maps and support for multiple locations. Yes, there are dozens of third party weather applications for Windows Phone, but why bother when the Microsoft version is good? My only complaint would be the slight delay when heading into Weather for the first time for a while, as the updates can be a bit slow.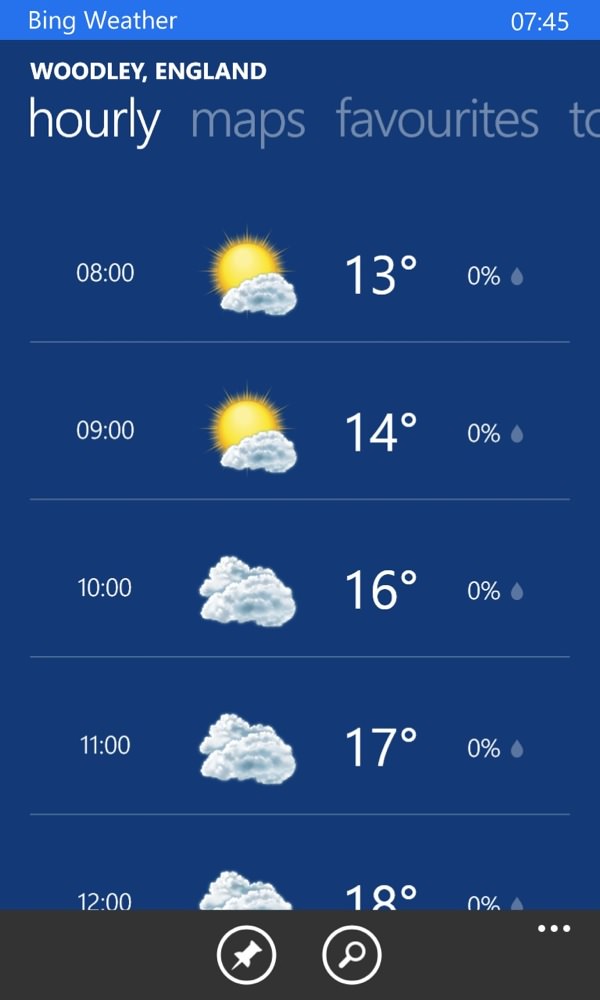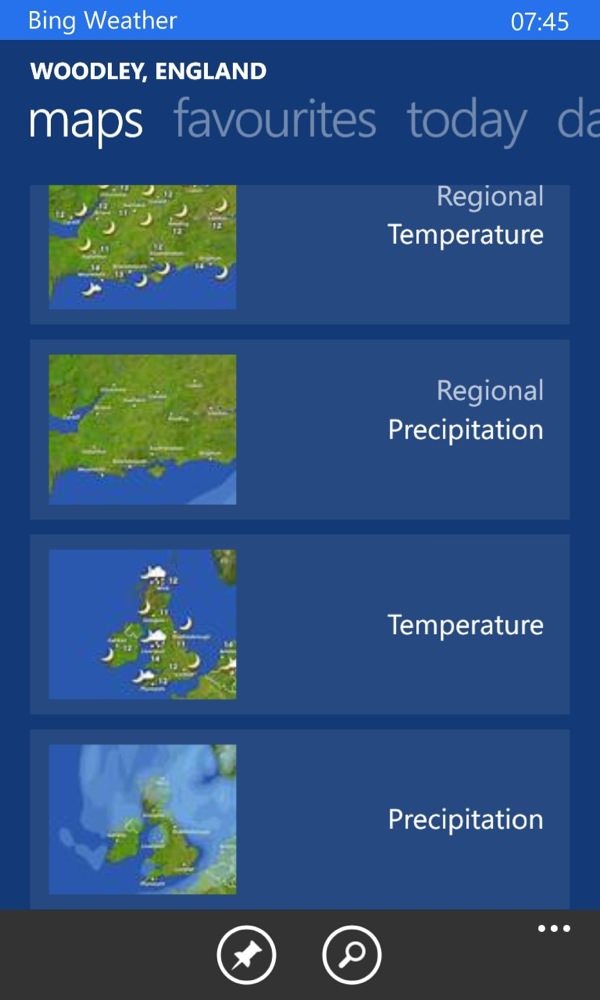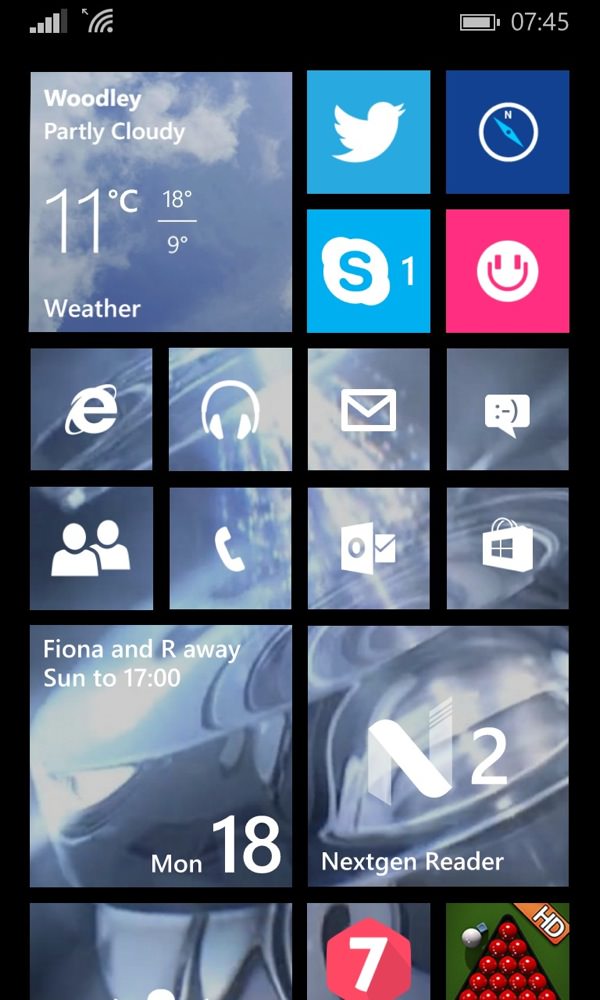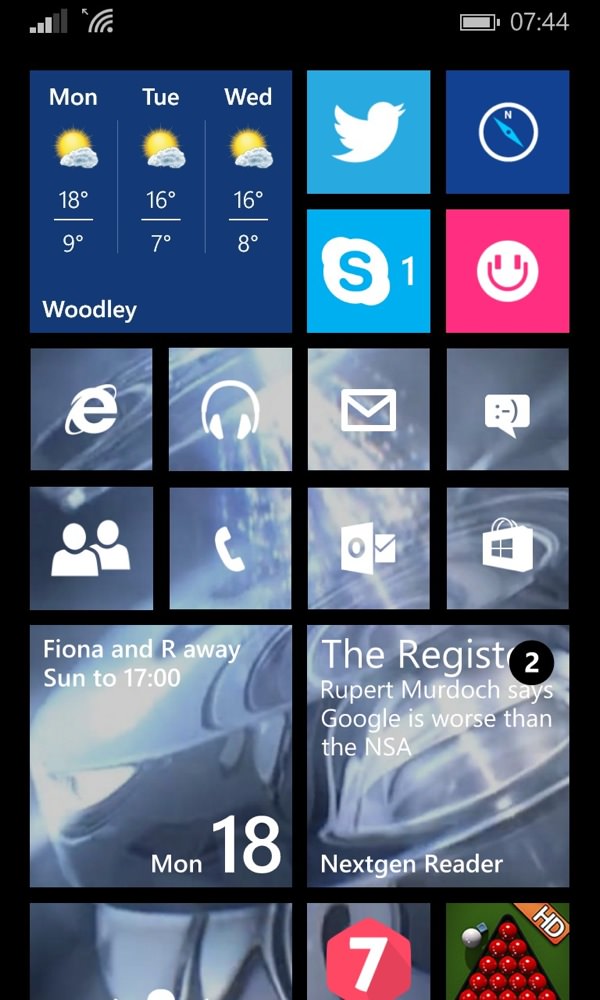 Dating from October 2011, this seems to have been forgotten by Microsoft, but it's still available and, despite the minimalist WP7 design, still useful to keep track of multiple international locations.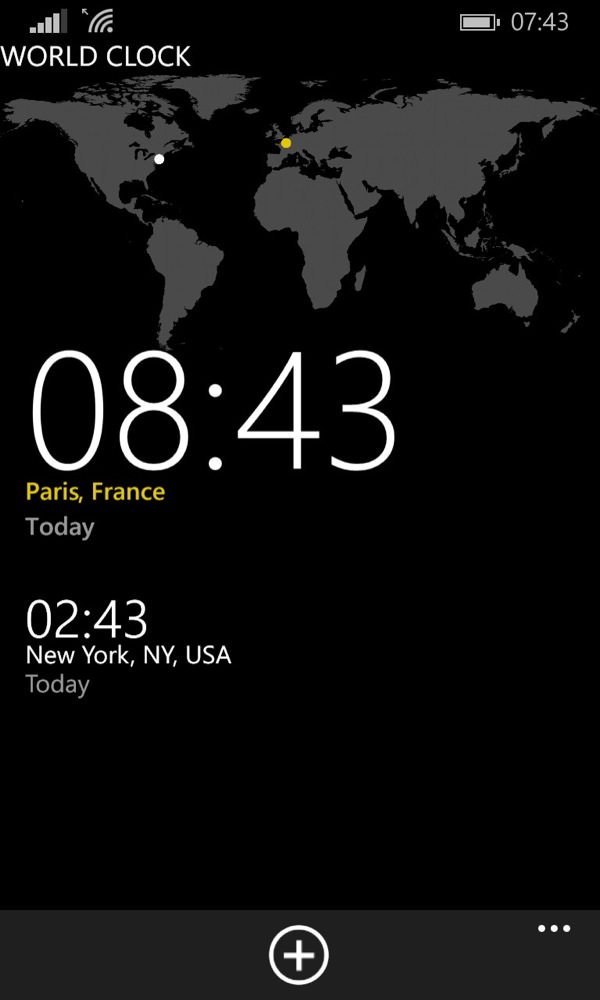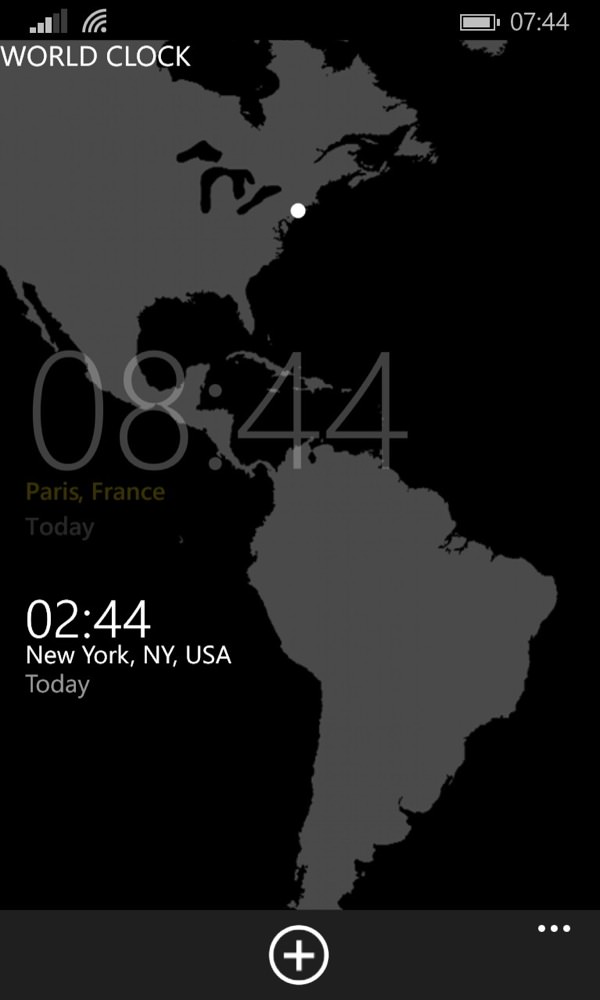 ____________________
Impressive, on the whole, eh? I'll bet that at least one of the above caught you by surprise, too.
Microsoft hasn't played up its suite of 'extra' applications enough, I reckon - it's a strong extra advantage to Windows Phone, to know that every user has everything above to hand and completely for free.
Comments?