From our original review:
Carcassonne has been a long time coming, and it is not a disappointment. It's not perfect, as anyone trying the online multiplayer will see, but everything you would expect is here. A faster AI implementation might be nice as it can get quite slow when playing a five player game against the strongest AI versions, but the AI's are beatable at each level, although not easily so. That's a great feeling to have when playing.

Carcassonne looks great, plays very well, and brings the board game to Windows Phone without any silly little tweaks, animations, or 'developer driven improvements'. It does have initial difficulty, and that may put some people off this title, but if you can get past that moment you'll find a rich and rewarding gaming experience.
The reworking by the developer has several points of note, other than the dropping of Xbox Live support/achievements etc. Firstly, the price has gone up by 60p (in the UK), though this isn't that big a deal considering the potential tens of hours of gameplay.
Secondly and more notably, what was originally a commercial expansion pack, "The River II", is now free from within the game (in theory - some people have had issues with this - comments welcome!) There are in-app purchases, but these are to new expansion packs, namely 'Inns and Cathedrals', 'Traders and Builders', 'Crop Circles' and 'The Festival'.
Plus new languages are supported. Here's the full Store bullet list:
• Windows Phone version of the award-winning tile-based board game "Carcassonne"
• Free Add-On: The River II
• Online and local multiplayer mode for up to 6 players
• Clever AI opponents with individual strategies
• Tutorial for beginners
• Expansion packs available as in-app purchases
• Language Support: English, German, Spanish, French, Italian, Japanese

Here's the new version in action, in some promo images, showing their has been some reworking of the UI since the Xbox Live original: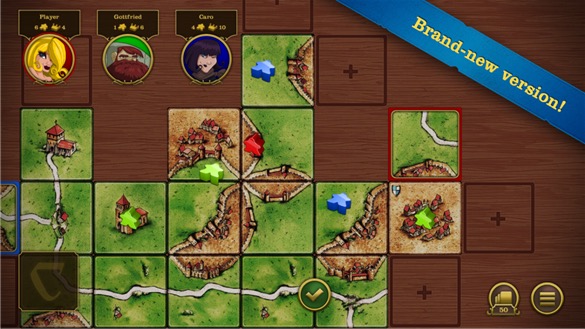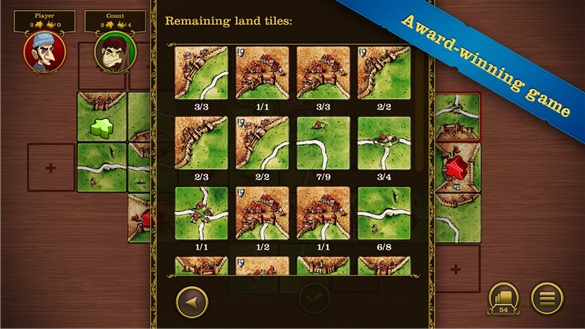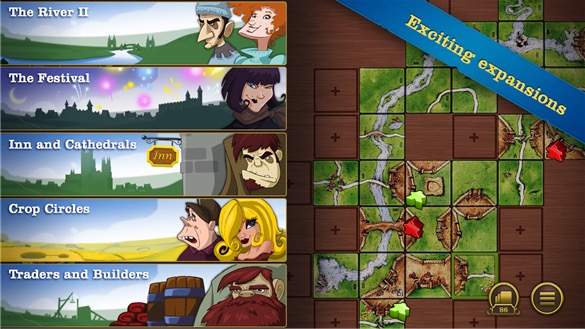 The only bad news is that this is a totally different application, in terms of ID, to the original, and so anyone who bought the Xbox Live original can't just grab this new version - you'd have to buy it again. Which sucks, but that's life, it's just the way the Xbox Live ecosystem worked out and is, along with a few other games, collateral damage.
Anyway, it's still recommended, you can download the trial version or buy Carcassonne outright here in the Store. Let us know what you think of it.