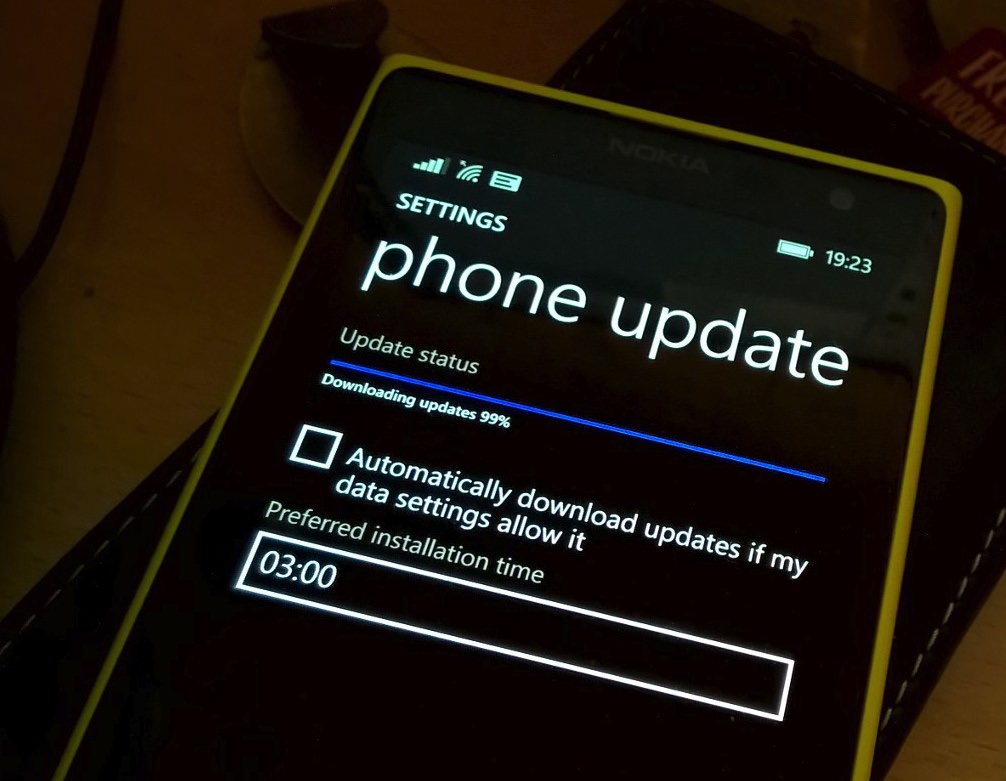 The latest Preview for Developers version of Windows Phone 8.1 was 8.10.14219.341, with manufacturer specific firmware 3051.50009.1424.x - today's official update to Lumia Denim takes the Lumia 1020 (UK Country Variant, at least) to 8.10.14226.359, the exact same OS version as in the latest firmware for the Lumia 930, 1520 and 830. Manufacturer firmware version is now 3051.50009.1451.x, if you're interested.
Apart from under the hood fixes, tweaks and optimisations, all of which are welcome, the headline features for Lumia Denim for the 1020, over and above Lumia Cyan, back in the middle of 2014, are:
Folders. Folders let you organize your Start screen the way you want. Just push one Tile on top of another one to create a folder and get going.

Messaging. Combine multiple text messages into one, and then forward them to someone else.

Selection. With improved selection, you can now delete multiple calls, messages, or contacts.

Apps Corner. Apps Corner lets you specify apps other people can use on a Windows Phone. Great for individuals and any-sized organizations who want to provide only the essential apps for others to use for work, school, or any other reason.

Store. The new Live Tile for Windows Phone Store helps you discover new apps and games. Just pin the Store to Start and you're ready to go.

Internet Explorer. Improvements to Internet Explorer 11 for Windows Phone give you a better browsing experience on your phone. Spend less time panning and zooming and more time enjoying some of your favorite websites.

Alarms. Now you can customize the snooze time for an alarm, and then enjoy a little more shuteye for the time you want.

Accessory apps. Use accessory apps to get notifications from your phone on your smart watch, active phone cover, fitness tracker, or other kinds of accessories.

Internet sharing. Now you can share your cellular data connection over Bluetooth, so you can get an Internet connection on more kinds of devices.

VPN. VPN now supports L2TP, which lets you connect to more VPN services. Whether you connect to a VPN for work or personal use, you can do it on your Windows Phone.

Narrator. Narrator now has touch typing and a way for you to turn off hints for controls and buttons if you don't want them read aloud. Some other improvements to Narrator help you unlock your phone a little more quickly, find and use the Back, Start, and Search buttons more easily, and tell you when your phone screen is on or off.
Plus other extras of note:
Cortana support in more regions of the world
Password support in Office
USB improvements
Even if the main feature list includes a lot enthusiasts already have, the under the hood improvements to the OS since the last Preview for Developers alone make this a must-have update. I'll be keeping an eye on the 1020 over the next few days to see if I can find anything else that's new or different. Comments welcome if you'd like to chip in.
PS. If you're wondering where Denim is for your device, check out the official checker!