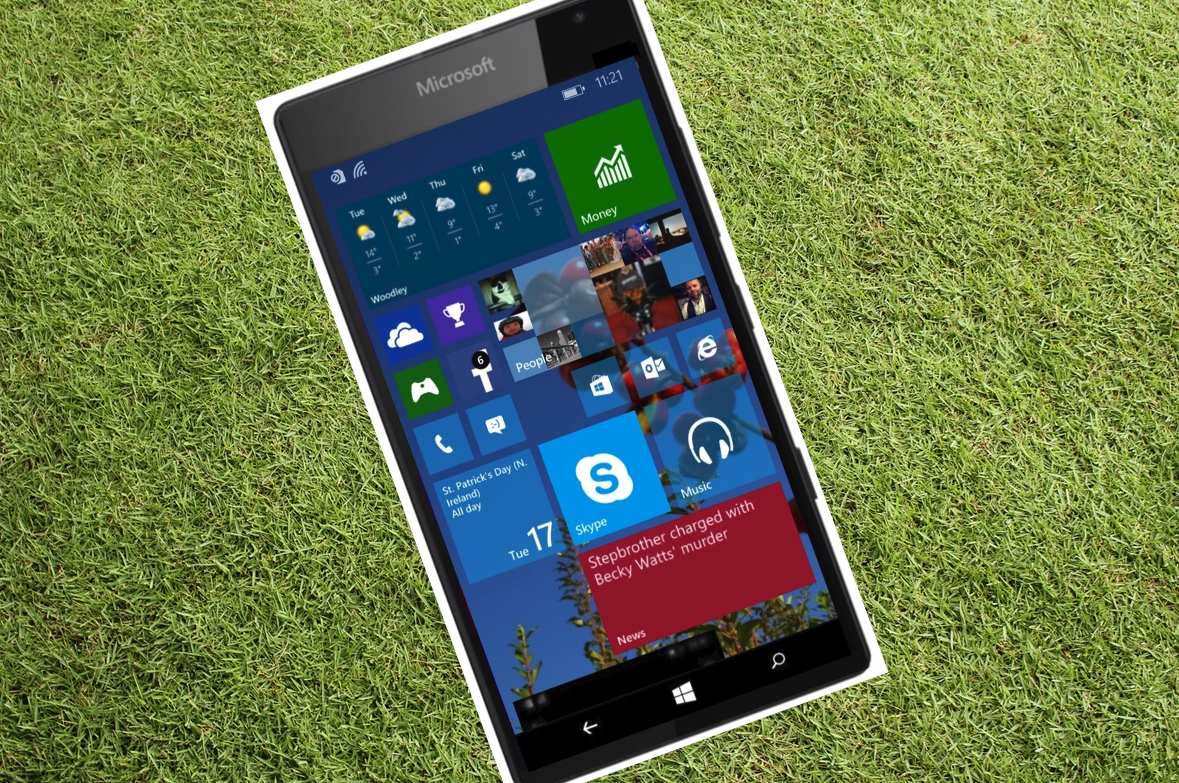 From the GSM Arena write-up:
Today we get a very good idea about what to expect from the Lumia 940 XL in terms of specs, because it's been put through the paces of a benchmark that thankfully lists the most important hardware information in its online database.

And it mostly confirms past mumblings about the device. So, the Lumia 940 XL (model number RM-1100) will sport a 5.7-inch QHD (2,560x1,440) touchscreen, as well as a rear camera featuring a resolution of at least 17 MP - but certainly more, since this benchmark always underrepresents these values. So we assume there will at least be a 20 MP lens in there. It will shoot 4K video.

Moving on, we've got a 5 MP selfie snapper, 16GB of built-in storage, and at least 1.5GB of RAM (but more likely 2GB, again because the benchmark under reports such values). Running the show will be Qualcomm's Snapdragon 810 SoC, which is confirmed by the presence of the Adreno 430 GPU. This will have an octa-core CPU in ARM's big.LITTLE configuration as always.
In graphical form, here's the breakdown: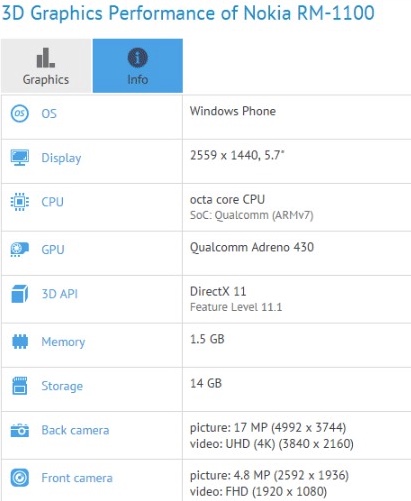 Here's my best guess at the full Lumia 940 XL specs, in more detail:
Windows 10 Mobile
140 x 73 x 9mm, 176g
5.7" QHD RGB LCD screen, including 'display memory' (and therefore Glance capability).
Virtual Windows controls that swipe away when not needed.
64-bit Snapdragon 810 chipset (perhaps slightly underclocked to alleviate overheating).
3GB of RAM
32GB internal storage plus microSD
Octaband 4G/LTE, nanoSIM.
20MP 1/2.3" sensor with f/1.9 wide angle ZEISS optics and oversampling to 8MP, next-gen 3-axis OIS, 2.5x lossless digital zoom.
Pulsed triple LED flash.
Up to 4K video capture and 'Moment' extraction to 8MP later.
5MP f/1.9 wide angle front-facing camera, 1/4" sensor.
Accompanying the decent FFC and sensor cluster, an iris recognition system for unlocking and authentication generally. It probably won't work that well (or with glasses wearers), but Microsoft has to try, at least! This will be part of the Microsoft 'Hello' authentication system across its properties.
Stereo speakers on the phone's bottom edge.
NFC
Qi charging built-in, plus 3400mAh sealed battery, USB Type-C cable connection, and Qualcomm QuickCharge 2.0-compliant charging.
All pretty exciting, though I wouldn't expect an official launch for a month or two yet.