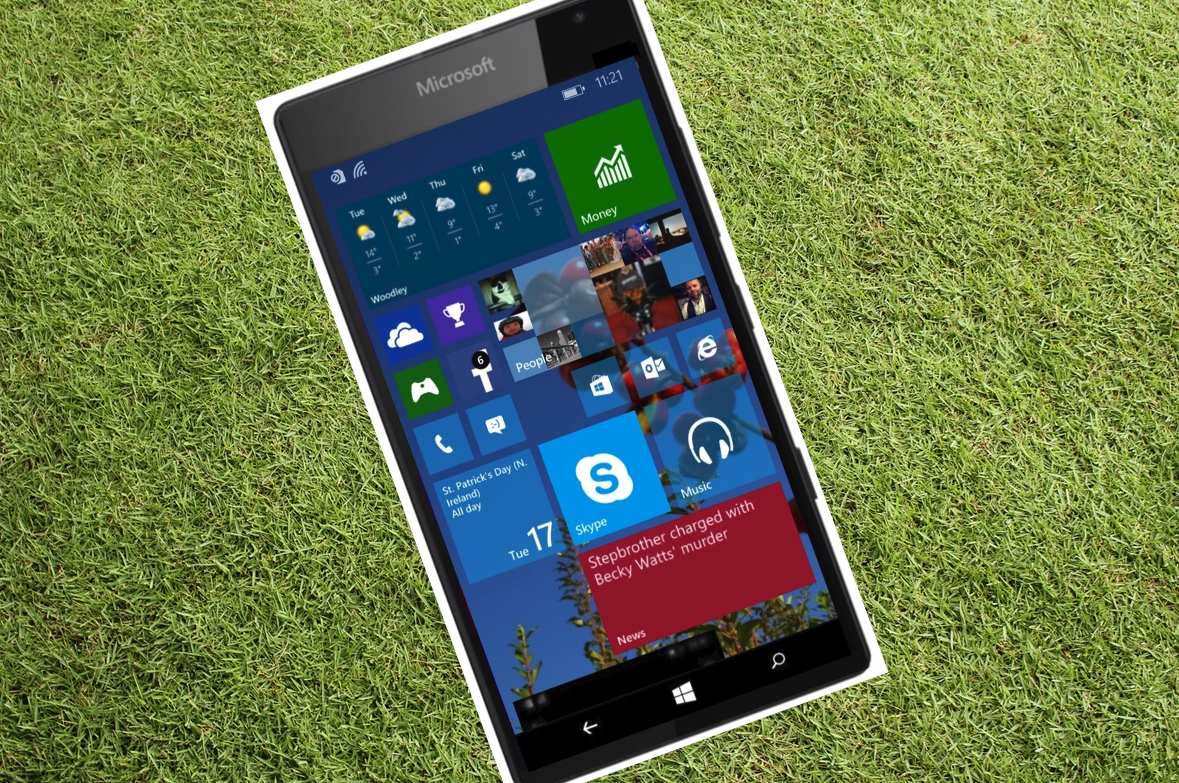 The Lumia 940's specifications then, here's my best educated guess. Note that this isn't a 'fan boy wishlist', but more what I really, truly think will arrive, everything below is grounded in reality.
Windows 10 (for phones) out of the box (of course).
135 x 71 x 9mm, 167g
5.3" 1080p pentile screen, including 'display memory' (and therefore Glance capability).
Virtual Windows controls that swipe away when not needed.
64-bit Snapdragon 810 chipset (perhaps slightly underclocked to alleviate overheating).
3GB of RAM
64GB internal storage.
Octaband 4G/LTE, nanoSIM.
24MP 1/2.3" sensor with f/1.9 wide angle ZEISS optics and oversampling to 8MP, next-gen 3-axis OIS, 2.5x lossless digital zoom.
Pulsed triple LED flash.
Up to 4K video capture and 'Moment' extraction to 8MP later.
5MP f/1.9 wide angle front-facing camera, 1/4" sensor.
Accompanying the decent FFC and sensor cluster, an iris recognition system for unlocking and authentication generally. It probably won't work that well (or with glasses wearers), but Microsoft has to try, at least! This will be part of the Microsoft 'Hello' authentication system across its properties, announced yesterday.
Stereo speakers on the phone's bottom edge.
NFC
Qi charging built-in, plus 3200mAh sealed battery, microUSB data/MHL and Qualcomm QuickCharge 2.0-compliant charging.
Note that I don't think a microSD option will be present - flagships across the rest of the smartphone world are eschewing microSD and Microsoft and Nokia have the 930, 925 and 1020 as precedents. The biggest issue is that a card slot breaks up the clean lines of the chassis. 64GB should be the quotient, though maybe a 32GB model will be launched in some regions.
Also absent is a Xenon flash - a marginal call, no doubt, but seen by Microsoft as too large, too power hungry, to my probable disappointment (though I'd love to be proved wrong). Also 'missing' are front-facing speakers (à la HTC One, Motorola Nexus 6) - the compromises for frontal estate are too severe.
I'd expect this to be launched at 550 Euros plus local taxes and so on. In the UK, it'll start off, SIM-free, at £499, but will quickly come down to £449 within three months, while on contract it'll start at the £35/month mark on a nominal £100 purchase.
The Lumia 940 will enter a very competitive market, of course. The Galaxy S6, with largely similar specifications but in the Android world, will have been out for three months or so, while the HTC One M9, and Sony Xperia Z4 will both be on the streets too. In the iOS world, the Apple iPhone 6 and 6 Plus, which bracket the 940 in size, if slightly slower in spec, will have been out for the best part of a year and the iPhone 6S will be due to be launched in a couple of months.
The kicker for the 940 will be in its camera, in the usual way, though the competition does seem to creep closer and closer these days - maybe that Xenon flash should have been included after all? Plus the use of Windows 10, ostensibly exactly the same OS as will have been shipping on the desktop and as an upgrade for a couple of months, and running essentially the same applications and services. With the full Office experience, for example, all baked in, and with Microsoft marketing trumpeting the same commonality across phone, tablet and laptop at every turn. Maybe this could be Microsoft's year after all?
Comments? If you'd like to hear how close Rafe thinks my prediction is, tune into the next AAWP Insight podcast, coming to a podcast player near you very soon.
________
PS. The Lumia 940 will be available in white, black, cyan and green. Here's a view of the latter(!):