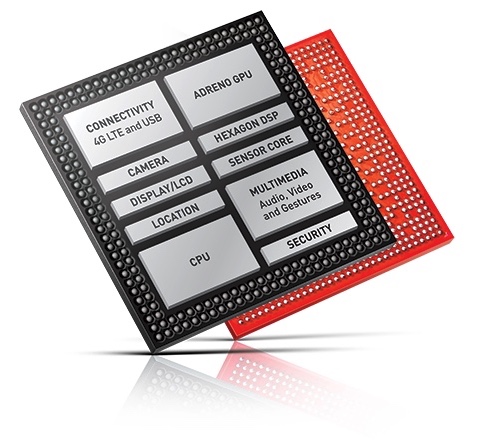 From the Qualcomm press release:
Qualcomm Incorporated (NASDAQ: QCOM) today announced that its subsidiary, Qualcomm Technologies, Inc. (QTI), has a growing customer design pipeline in excess of 60 premium tier mobile devices based on the Qualcomm® Snapdragon™ 810 processor. New devices based on Snapdragon 810 include the LG G Flex2 and the Xiaomi Mi Note Pro, with many more expected in the coming weeks and months...

..."Microsoft and Qualcomm's long standing collaboration has allowed the two companies to offer compelling business, imaging, and entertainment experiences with Lumia smartphones running on Windows Phone," said Juha Kokkonen, general manager for portfolio and product management at Microsoft. "We look forward to continuing this relationship to deliver best in class Lumia smartphones, powered by Qualcomm's Snapdragon 810 processors, and offer an unprecedented combination of processing power, rich multimedia, high-performance graphics and wireless connectivity for our customers."

"The smartphone experience at the premium tier will be defined by products that don't compromise on performance, connectivity and entertainment, and Snapdragon 810 will be at the heart of enabling these features," said Murthy Renduchintala, executive vice president, Qualcomm Technologies, Inc., and co-president, QCT. "With a growing design pipeline currently in excess of 60 devices, we're excited about the innovation our OEM customers will unlock for consumers who demand superior mobile experiences in 2015."
Which is both completely official and competely ambiguous in terms of details and timing (of course). I'd guess on an 810-powered Lumia 940 being announced in June/July, but your bet is as good as mine here.
The 810 does offer a very impressive set of native capabilities (anyone else remember when most of this stuff was on separate chips scattered around a motherboard?):
Fast LTE connectivity

: based on a next generation integrated LTE Advanced modem with Cat 9 support for speeds of up to 450 Mbps

Enhanced image quality and clarity

: with high-performance dual 14-bit ISP that supports up to 55 megapixel camera capabilities

Connecting to LTE

: enabled by Qualcomm RF360™ Front End Solution Antenna Tuner which increases coverage, throughput and reduces dropped calls

Console quality gaming in up to 4K resolution

: based on the new Qualcomm® Adreno™ 430 GPU with 30 percent more performance and 20 percent lower power than previous generation

High-performance 64-bit processing:

with quad core ARM A57 CPUs running up to 2.0Ghz and quad-core ARM A53s running up to 1.5Ghz

Fast available Wi-Fi

: supporting the new Qualcomm® VIVE™ dual-band, 2x2 802.11ac Wi-Fi with Qualcomm® MU | EFX (MU-MIMO) technology and the newest 60 GHz 802.11ad Wi-Fi for proximal connections up to 5 Gbps

Comprehensive 4K support:

including 4K video recording with playback on device and to external display, utilizing leading color enhancement and power-saving technologies

Professional quality audio:

with support for the latest Dolby Atmos, and up to 24-bit/192kHz music playback using our Qualcomm® Hexagon™ V56 DSP

Comprehensive LTE coverage:

Broad support of LTE/3G modes and bands that support LTE speeds when roaming and fall back to 3G when LTE is not available
Of course, you heard it first, I did recently report from the start of 2016 after a trip in a time machine. Though I got the chipset for the '940' wrong, I guessed the 805! Plus 'Lumia Emerald' has been vaped, I suspect, in favour of a direct route to Windows 10.