From the official release:
REDMOND, Wash. — July 21, 2015 — Microsoft Corp. today announced that revenues for the quarter ended June 30, 2015 were $22.2 billion. Gross margin, operating loss, and loss per share for the quarter were $14.7 billion, $(2.1) billion, and $(0.40) per share, respectively.

These results include the impact of a $7.5 billion non-cash impairment charge related to assets associated with the acquisition of the Nokia Devices and Services (NDS) business, in addition to a restructuring charge of $780 million. There was also a charge of $160 million related to the previously announced integration and restructuring plan. Combined, these items totaled $8.4 billion or a $1.02 per share negative impact. Excluding this impact, operating income and EPS would have been $6.4 billion and $0.62, respectively.

During the quarter, Microsoft returned $6.7 billion to shareholders in the form of share repurchases and dividends. Devices and Consumer revenue declined 13% (down 10% in constant currency) to $8.7 billion, with the following business highlights:

Windows OEM revenue decreased 22% as revenue was impacted by PC market declines following the XP end-of-support refresh cycle
Surface revenue grew 117% to $888 million, driven by Surface Pro 3 and launch of the Surface 3
Total Xbox revenue grew 27% based on strong growth in consoles, Xbox Live transactions and first party games
Search advertising revenue grew 21% with Bing U.S. market share at 20.3%, up 110 basis points over the prior year
Office 365 Consumer subscribers increased to 15.2 million, with nearly 3 million subscribers added in the quarter

Commercial revenue increased slightly (up 4% in constant currency) to $13.5 billion, with the following business highlights:

Commercial cloud revenue grew 88% (up 96% in constant currency) driven by Office 365, Azure and Dynamics CRM Online and is now on an annualized revenue run rate of over $8 billion
Server products and services revenue grew 4% (up 9% in constant currency), with stable annuity performance offsetting declines in transactional revenue
Dynamics revenue grew 6% (up 15% in constant currency), with the Dynamics CRM Online install base growing almost 2.5x
Office Commercial products and services revenue declined 4% (up 1% in constant currency), with continued transition to Office 365 and lower transactional revenue due to declining business PCs following the XP end-of-support refresh cycle
Windows volume licensing revenue declined 8% (down 4% in constant currency), driven primarily by transactional revenue declining following the XP end-of-support refresh cycle with annuity growth on a constant currency basis
In addition to the release above, there was also an official set of slides, including: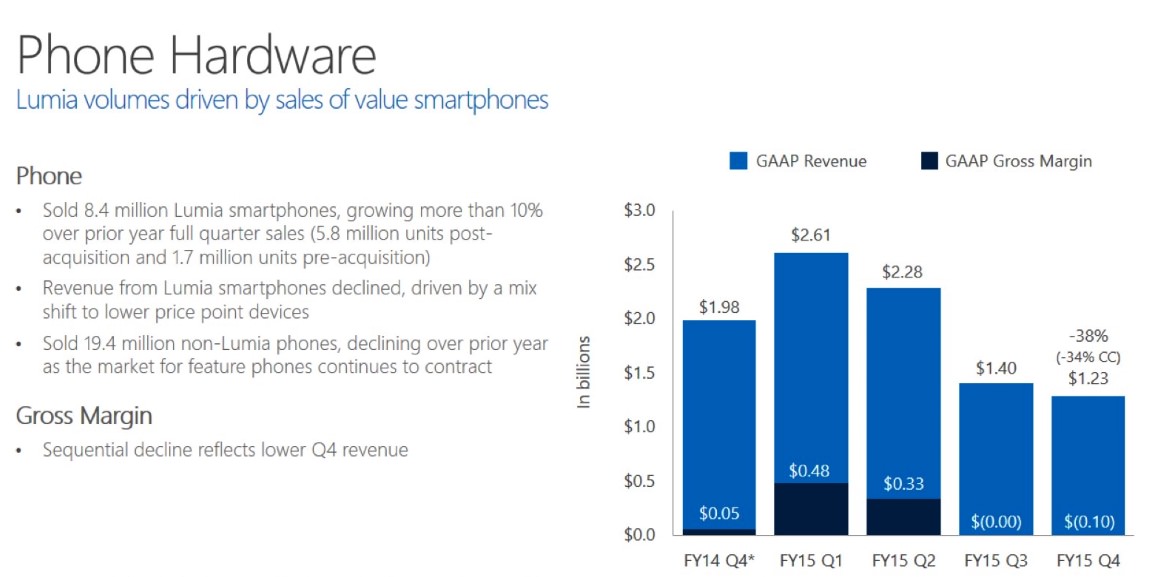 So the Lumia Windows Phone volumes were up year on year, at least, though still running at only 20% the numbers of the Apple iPhone range, by way of comparison. The proliferation of budget Lumias has been a source of confusion and frustration in many markets and Microsoft is hoping that, with the new rationalisations and refocussing, along with the arrival of Windows 10 across the board, at least its position on mobile can be significantly clarified.
"Our approach to investing in areas where we have differentiation and opportunity is paying off with Surface, Xbox, Bing, Office 365, Azure and Dynamics CRM Online all growing by at least double-digits," said Satya Nadella, chief executive officer at Microsoft. "And the upcoming release of Windows 10 will create new opportunities for Microsoft and our ecosystem."
See also a very interesting interview with Satya by Mary-Jo Foley here, outlining the vision for the company, including some interesting quotes on the future of Windows 10 Mobile. Satya said (and with my emphasis):
If anything, one big mistake we made in our past was to think of the PC as the hub for everything for all time to come. And today, of course, the high volume device is the six-inch phone. I acknowledge that. But to think that that's what the future is for all time to come would be to make the same mistake we made in the past without even having the share position of the past. So that would be madness.

Therefore, we have to be on the hunt for what's the next bend in the curve. That's what, quite frankly, anyone has to do to be relevant in the future. In our case, we are doing that. We're doing that with our innovation in Windows. We're doing that with features like Continuum. Even the phone, I just don't want to build another phone, a copycat phone operating system, even.

So when I think about our Windows Phone, I want it to stand for something like Continuum. When I say, wow, that's an interesting approach where you can have a phone and that same phone, because of our universal platform with Continuum, and can, in fact, be a desktop. That is not something any other phone operating system or device can do. And that's what I want our devices and device innovation to stand for.

Last week's announcement was not about any change to our vision and strategy, but for sure it was a change to our operating approach. The way we're going to go about it. I'm not going to launch a phone a day. I'm going to focus on a few phones that actually grab share that, in fact, showcase our uniqueness. When you have three percent share of that (phone market), but you also have a billion desktops, you have Xbox, you have innovation in HoloLens; you have Band. It's a graph. It's not any one node. It is the entirety of the device family. And I want to be able to think about our strategy, our innovation, and progress as one.

...That's why whenever I talk about Windows 10, I talk about mobility broadly across all of those devices. For sure there is a form factor today which is the below six or seven inches, which is powered by a very specific operating system instance of Windows 10, which is Windows Mobile. But what do you call that (device) when you use Continuum and then you're using applications on a big screen with a mouse and keyboard? It's Windows 10.