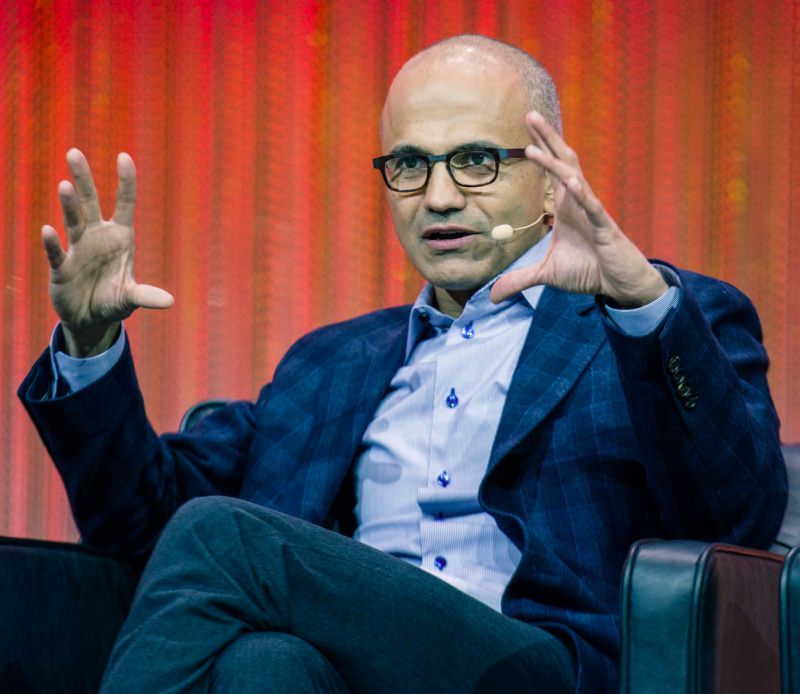 From the press release: [editorial note - the hyperlinked article has been added to several times, with Satya and Microsoft PR adding clarifications! What I quote below is the text as it was when the release first went out]
REDMOND, Wash. — Microsoft Corp. today announced plans to restructure the company's phone hardware business to better focus and align resources. Microsoft also announced the reduction of up to 7,800 positions, primarily in the phone business. As a result, the company will record an impairment charge of approximately $7.6 billion related to assets associated with the acquisition of the Nokia Devices and Services (NDS) business in addition to a restructuring charge of approximately $750 million to $850 million.

Today's announcement follows recent moves by Microsoft to better align with company priorities, including recent changes to Microsoft's engineering teams and leadership, plans to transfer the company's imagery acquisition operations to Uber, and shifts in Microsoft's display advertising business that enable the company to further invest in search as its core advertising technology and service.
Today's plans were outlined in an email from Microsoft CEO Satya Nadella to Microsoft employees:
"We are moving from a strategy to grow a standalone phone business to a strategy to grow and create a vibrant Windows ecosystem including our first-party device family," Nadella said. "In the near-term, we'll run a more effective and focused phone portfolio while retaining capability for long-term reinvention in mobility."
Given the savage cutting Nadella has been doing all round since he took over from Steve Ballmer's bloated-and-getting-bigger enterprise, all this isn't that surprising, with the usual caveats that it's hard not to feel very sorry for the employees concerned. Manufacturers across the world are learning the lesson that a device portfolio that's too weighty is unsustainable in 2015 - just look at HTC, at Samsung, and others. And there's far too much phone hardware (mainly at the bottom end) for Satya's liking.
Add to that the considerable overlaps and inefficiencies that were still hanging around from one enormous company (Microsoft, 120,000 employees before today?) integrating another big one (Nokia Devices and Services, about 25,000 employees originally mentioned for transfer), and in the competitive world of 2015, more jobs had to - sadly - go.
The mention of 'first party family' and 'focussed phone portfolio' both imply, of course, that there will still be Lumia smartphones running Windows 10 Mobile, but from a confusing range of over 20 models at the moment, I'd expect things to be simplified to just a handful.
In the revised (see above) release text, Satya and the team added:
We'll bring business customers the best management, security and productivity experiences they need; value phone buyers the communications services they want; and Windows fans the flagship devices they'll love.

Which is interesting, only necessarily guaranteeing Windows 10 Mobile hardware at the top end. Certainly the current mass of budget offerings isn't bringing in huge success. My best guess at a simplication of the range would be, at the budget end (think 640), lower-mid range (think 640 XL) and top end (think 940 and 940 XL, these are dead certs in my opinion), all complementing other first party hardware such as the Surface 3 hybrids and tech oddities like Hololens and Surface Hub. And hopefully less phone variants and less pandering to networks around the world. Just produce some no compromise great hardware to run Windows 10 Mobile on and let the market decide.
Further clarifications came from Microsoft's COO Kevin Turner:
Going forward, we will focus on building the very best Windows phones on a quicker timeline. We will also focus on the channels and markets that offer the best returns. This is a similar approach to the one we have taken with Surface, which has been very successful. Phones remain a critical component of the Microsoft device portfolio and an important piece of our mobility strategy, but a restructuring is in order.

Phrases like 'the very best' and 'a restructuring' do lend more credence to a smaller range of smartphones that's biased, if anything, towards the top end, rather than the current mélange, which is budget-heavy. And, as a bonus, with less outright budget Lumias around, there may even be a chance for other Windows 10 partners to come up with decent sales, since they sit more naturally at the bottom end of the specification scale.