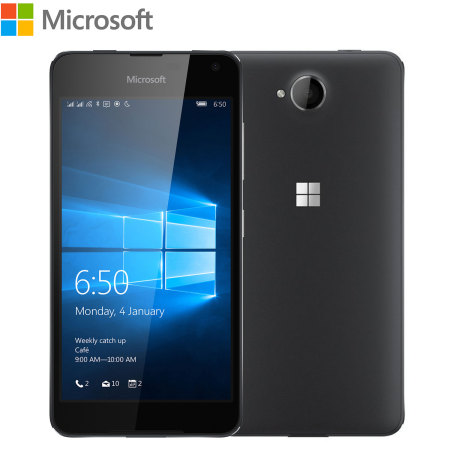 From the Mobile Fun page:
Crisp 5 inch, super-sensitive HD display

The Microsoft Lumia 650 features an impressive 5 inch HD IPS LCD capacitive touchscreen display that has great readability in sunlight. The Microsoft Lumia 650 is the perfect canvas to tell your story on. Its HD display combined with a wide range of vivid colours make this the perfect phone to play games and watch smooth video on for longer.

Superb 8MP camera

Take amazing photos to share with the world thanks to the Microsoft Lumia 650's 8MP rear facing camera. Ideal for taking scenic landscapes and fun group photos, the Lumia 650 can capture your favourite moments and then keep them safe by backing each photo up to OneDrive where you'll be provided with 30GB of free storage.
'Super-sensitive' touch is probably just marketing speak, not the glove-friendly version seen on previous top end Lumias. 30GB free storage? Either this is a special offer for Lumia 650 owners, or last year's OneDrive change intentions haven't yet rippled through to the various marketing teams. Hmm.....
Technical Specifications

Weight: 150g
Display: 5" 720 x 1280 pixels (~294 ppi pixel density)
Memory: 8GB (expandable up to 128GB)
RAM: 1GB
OS: Microsoft Windows Phone 10
Processor: Quad-core 1.1GHz
Connectivity: Wi-Fi, Bluetooth 4.1 with A2DP, Micro USB, GPS
Main camera: 8MP
Battery: Li-Ion 2000mAh battery
The use of the term 'Windows Phone 10' is typical of marketing people not understanding how to talk about tech. There are no surprises in these specifications, by the way, it's a typical lower-mid range Lumia.
I dare say there will be a post about the device on the Windows blog in due course, probably this Friday or next Monday. Hopefully accompanied by more details, photos and videos.
It has been rumoured that the Lumia 650 will be the last to bear the name and that future Windows 10 Mobile devices will have different branding. I'm sceptical about this, certainly at the low end of the market, though it's a shoe-in that a Surface-branded phone will arrive later this year.