For situations where it's a question of sheer connector/port numbers, I still recommend the Tronsmart Titan, with its five Type A ports, but for a use case where less devices are in use, this new Lumsing gadget could be just the ticket. The headline feature is the power throughput, at 48W, with the USB Type C port able to power and charge an Apple Macbook - this is over the top for AAWP readers, probably, but it does give confidence that high current charging (3A) of Microsoft Lumias (for example) is really not going to be an issue.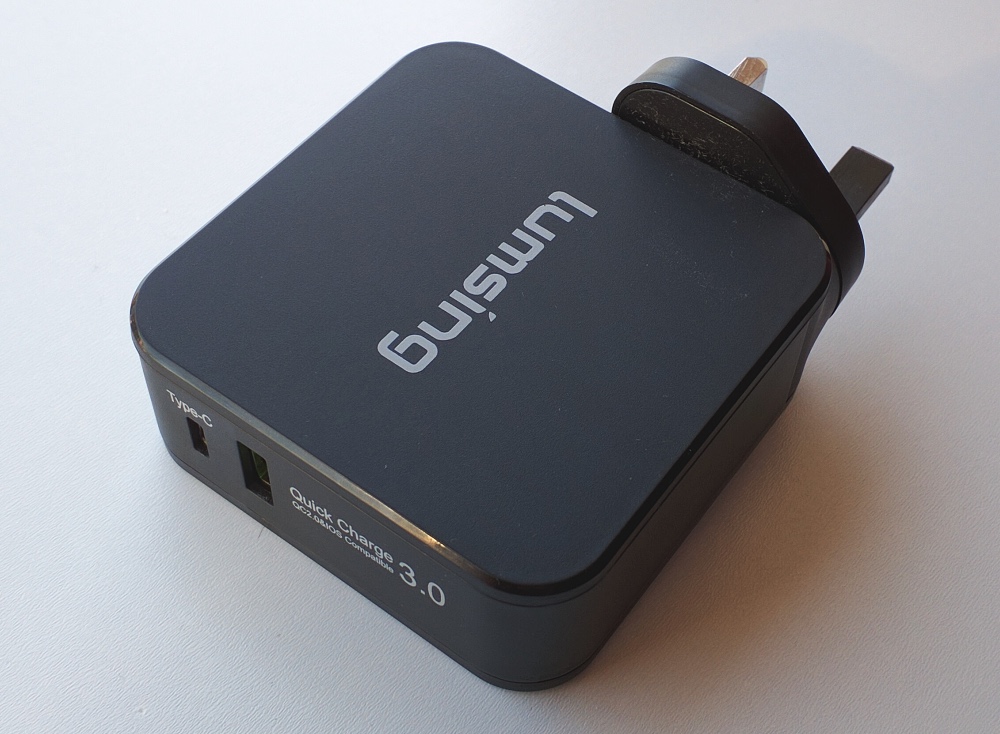 In terms of output then, there are two jacks here:
USB Type A (green) Quick Charge (up to) 3.0, rated at up to 1.5A at 12V, but for general purpose (non QC 3.0) USB charging it maxes out at 2.5A at 5V, which is almost as fast as the dedicated Type C output below, so if you've only got a 'standard' USB Type A to Type C cable to hand then you can absolutely use this jack as an alternative.
USB Type C rated at 3A/5V, 2A/9V or 2A/14.5V, the first being the only relevant one for smartphones and the latter two for other types of device using USB Type C, including the newer minimalist Apple Macbooks.
The idea, as you'll have gathered from the wide variety in output possibilities, is that you can plug in any USB Type A or Type C cable and hang any device on the end and charging will happen as quickly as possible and as safely as possible.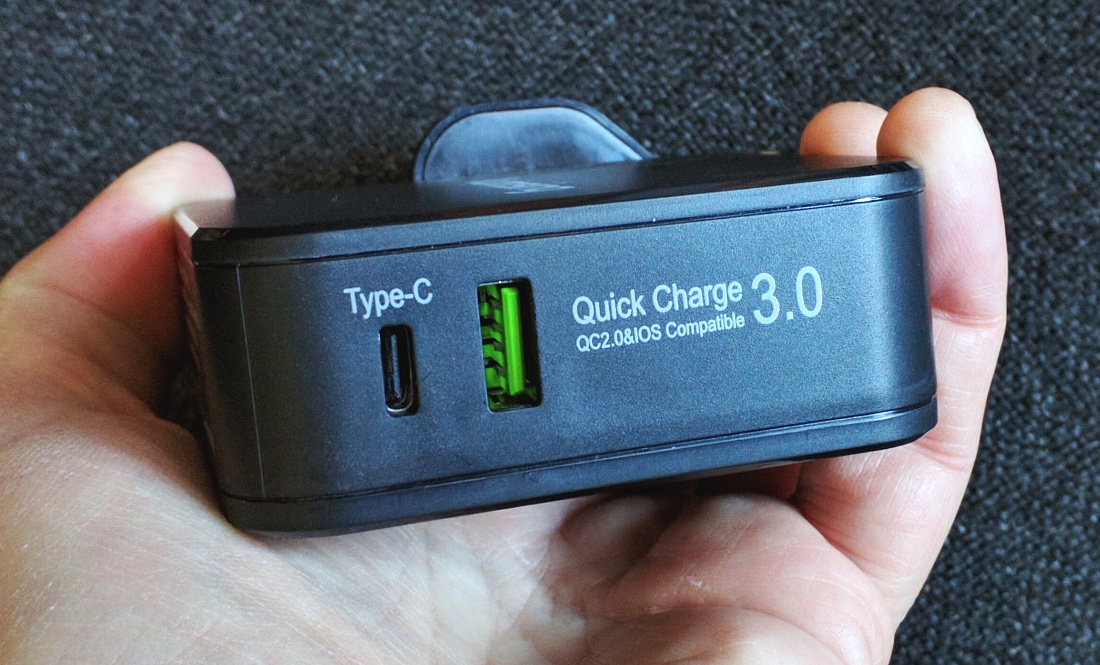 And it all works exactly as advertised, I had a smartphone charging on the QC 3.0 port and a Lumia 950 XL charging on the USB Type C port (via a C-to-C cable) and both charged very quickly. The Lumsing 'brick' only got vaguely warm, all this was well within its capacity.
My only worry, in terms of a smartphone-relevant accessory (as opposed to a Macbook) is that it's all a little over the top. Essentially an 8cm x 8cm x 3cm block, it's made even bulkier by the physically attached UK mains plug - I think I'd have rather had a short flying lead to one of these, which would have made this easier to pack and store. The selling point is that this solution is supposed to be smaller and lighter than manufacturer USB mains chargers, but I'm not so sure - this is much heavier and bigger. On the plus side, the extra bulk and power capacity should make this Lumsing accessory very safe indeed.
Assuming that a travel 'brick' like this might still be the solution to your mobile woes, I only have two concerns. Firstly, the QC 3.0 (green) port was a little wobbly in the casing. This might be me being picky, I do like my accessories to feel like they could withstand a lifetime of insertions. If you do grab this then comments welcome on whether your USB Type A port has any 'play' in it too.
Secondly, this is somewhat pricey, at £30 in the UK, though the folks at Lumsing have kindly given us a promo code to quote: enter LUMSING6 at the Amazon UK check out to get £5 off (ends 21st Oct 2016), taking this down to £25 inc VAT.
Maybe a premium price equals premium safety? With the Samsung Galaxy Note woes resounding around the globe as I write this, what price a gadget which doesn't 'catch fire'?
If you're looking for a (literal) wall charger for most of your gadgets and that can be slipped into a suitcase then give this your consideration.