Review:
Tronsmart Titan
Score:
90%
You have to hand it to the Chinese when it comes to naming things on product pages, with the aim of better Google page rank. In this case, as sold on AliExpress, it's the (deep breath) 'Qualcomm Certified Tronsmart Titan UC5F 5 Ports Quick Charge 2.0 USB Smart Desktop Charger QC2.0 90W Turbo Charge Fast Charging'. More snappily and usefully, Tronsmart itself just refers to the charger as the 'Titan' and it's not hard to see why when you look at the specifications - the key part is the 'Quick Charge 2.0' bit, across all ports, making this accessory, handling almost a tenth of a kiloWatt, rather special.
Buy Link | Download / Information Link
Perhaps the ultimate evolution of the humble multi-port USB mains charger, the Tronsmart Titan scores by being able to supply Quick Charge 2.0-compatible (note that this includes the two new Lumia flagships, the 950 and 950 XL) output across five ports, with each supplying 18W, or to put it another way, 90W across the whole batch of 5 ports. At 5V, it tops out slightly less, at 2A, for a non-Quick Charge 2.0 device, for compatible phones it goes up to 1.5A at 12V, part of the magic of the Quick Charge 2.0 system and which lets devices charge their batteries much more quickly than is traditional.
Typically this would be a couple of phones and a tablet, plus a few other miscellaneous bits of electronics, all charging at the same time to the limits of their input capacity. Plug in empty Lumia 950 and 950 XL phones and their batteries will be at least 80% full in under an hour.
The Tronsmart Titan itself is a relatively large black obelisk (cue the 2001: A Space Odyssey music....), but with sculpted top and four rubber feet on the bottom, to stop it sliding around on a desk. Front and centre are five USB ports, spaced out (for easy access and, presumably, to allow cooling around the internal components) and with green connector blades, a rather interesting stylistic touch: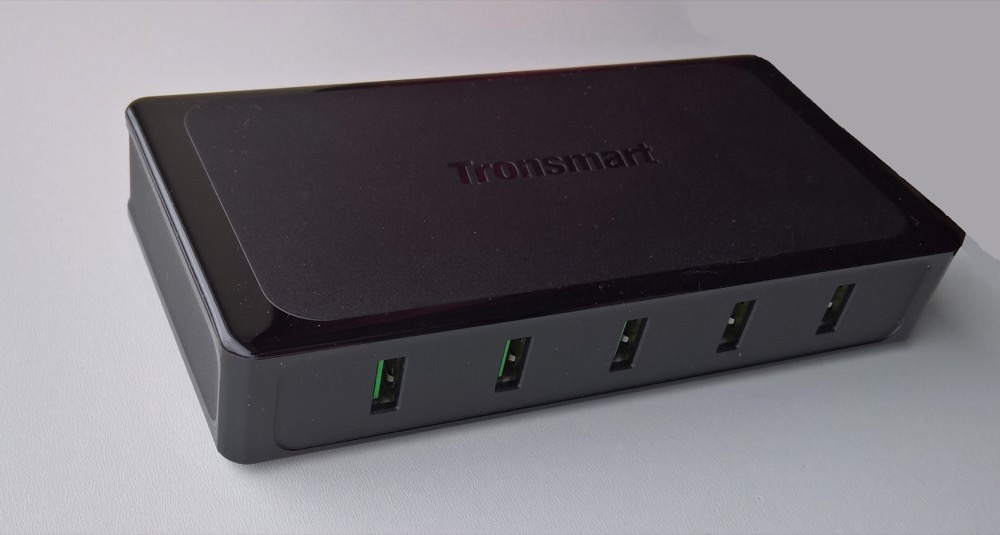 The construction is all plastic, but it's very tough plastic, and well made overall. Here's the view with the unit upside down, showing the feet as well: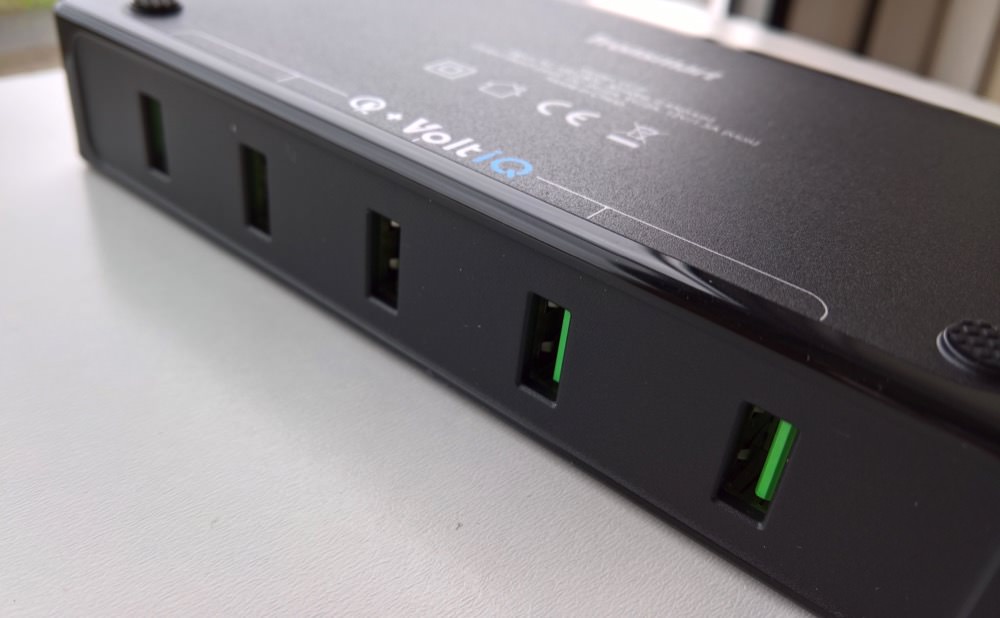 The key thing to focus on then is the way 90W of power can be handled across all five USB ports, with full 5V/9V/12V Quick Charge 2.0 compatibility. As you know, QC2.0 is based on using higher voltages (than the usual USB max of 5V) in order to push higher amounts of charge into a device more quickly. Here's the official confirmation of the ratings, as printed on the Tronsmart's bottom face: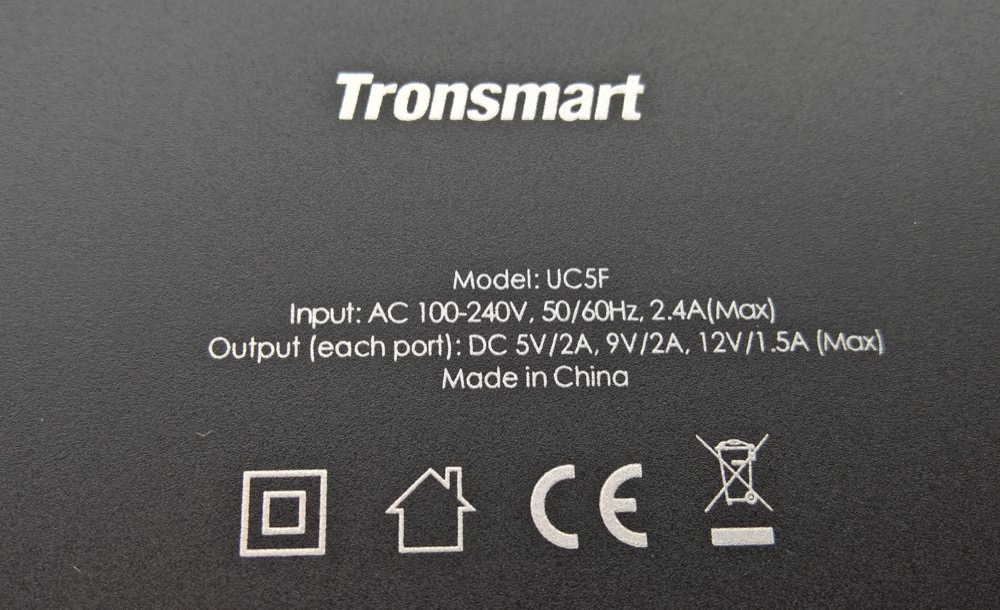 If you do the maths, and allowing for a little trickle charging as the battery starts to become full, my figure of around an hour to mostly fill a typical 3000mAh cell in a smartphone sounds about right. I tested it with both the Lumia 950 and 950 XL connected at the same time, and with a few other lesser devices as well, and the Titan didn't get much more than a little 'warm'. I've been using it for around two weeks now and it's performed completely as advertised.
The most I've had connected at any one time is four devices, but this did include an iPad and at least one Quick Charge 2.0-compatible phone every time. I do have one minor issue and that's the brightness of the green status LED on the Tronsmart Titan's top corner. Stick one's phones and devices on charge overnight and then the 'bat signal' appears on the bedroom ceiling: It's surprisingly bright, but a small patch of black electrical tape solves the issue in seconds, of course. Still, you'd have thought that such an LED didn't really need to be that bright?
Also of note is that there's a master on/off switch on the Titan's back, giving absolute control of whether charging's taking place across all connected devices without having to physically unplug everything. I found that this wasn't necessary in my use case, an all-purpose bedroom charger for all my family's gadgets, but perhaps it will be more relevant in an office environment or when charging dumber (or more potentially dangerous) devices? Still, nice to have a switch.
My Titan came with a full UK plug, though note that it's also available with USA and EU mains blades, so be careful what you order.
The biggest problem you'll have with the Tronsmart Titan is buying it at all - certainly you'll have to buy from outside Europe, which means waiting a few days for delivery. Here's the original product page, with some pointers. If you're in the USA then there's Amazon, plus AliExpress will ship worldwide and a typical price is about £20, delivered, which is excellent value for money considering the internal specs and smarts.
Reviewed by Steve Litchfield at