Here's the summarised changelog (for v4.5.1.39811) from the version of Microsoft Launcher featured in my October article:
Settings enhancements – including a transparent theme with visual effects and full control over opacity, etc. (think Fluent Design)
Home App Grid – now you can create a grid with up to 12 columns and 12 rows, with a maximum of 36 icons offset by a 'half' relative to each other
On the welcome page, you can import the layout from another Android launcher or restore a Microsoft Launcher backup.
Redesigned fonts used for apps and folder names, changed the shape and look of folders on the home screen
The dock now supports more than 5 icons (up to 7)
The search bar can now be placed top or bottom
Long pressing an icon now pops up options rather than having to guess where to drop the icon
You can now let meeting attendees know you're running late from the calendar card
Added support for Microsoft Intune's data protection policies and viewing corporate data
Added compatibility for Android 8 (Oreo)
You can now select multiple items at the same time, across different pages, via the long-press pop-up menu. Move, remove, drag and drop or even create new folders with selected icons
You can now turn the dock off completely if you like
Extra animations - there's a lovely explosion as you exit the application drawer
Improvements for notifications from Line, BBM, Instagram, Yammer, Textra and WhatsApp
Fixes to the Weather / Time widget to improve refresh times
You can choose which contacts to display on your People card
You can now place widgets in the dock area
You can pin an individual contact to the home screen
Some screens of the new version in action on my test device: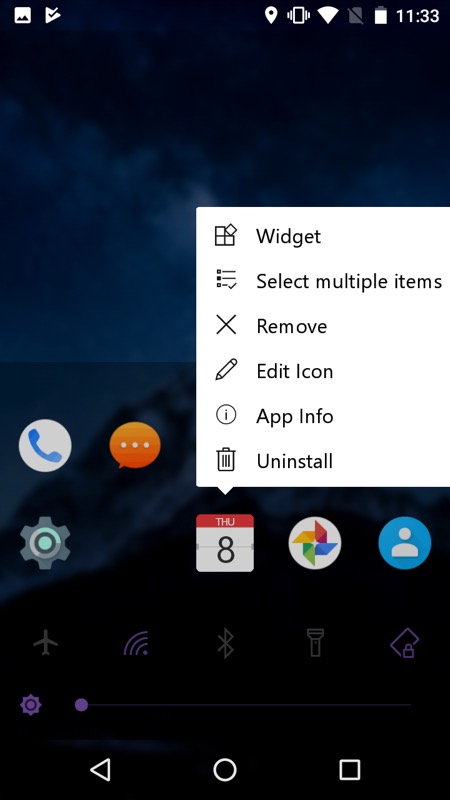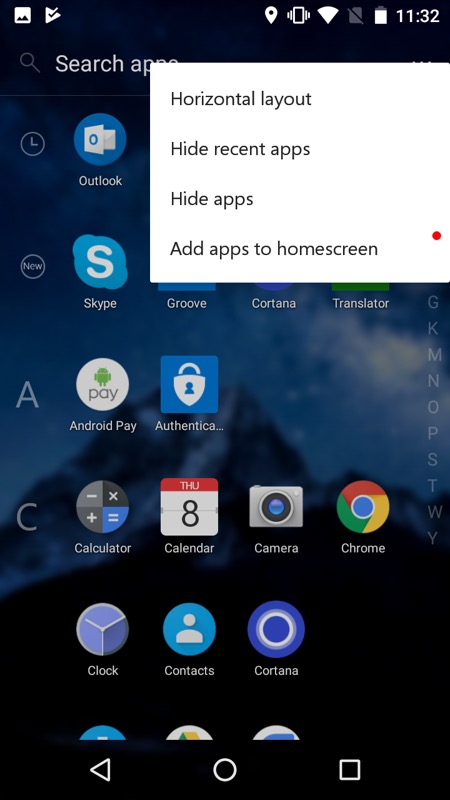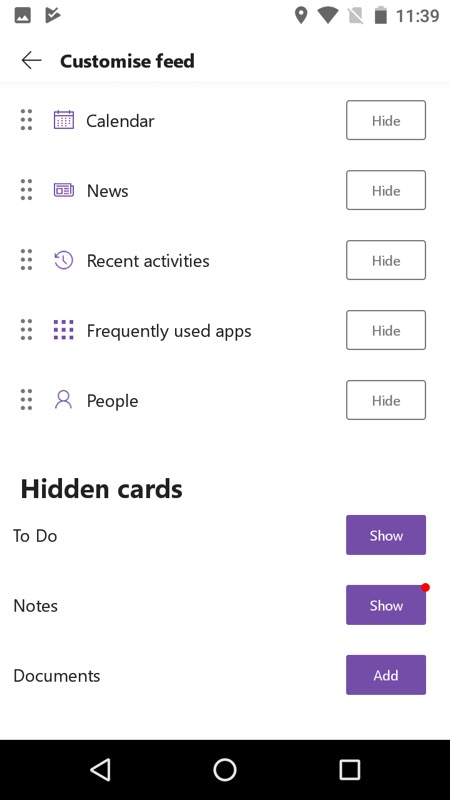 Interestingly, the Microsoft Launcher for Android has now reached a million active users - tiny compared to the wider Android market and much smaller even than people still actively using Windows on phones, but it's a start. And the pace of development is fast. I wonder how long it will be before a manufacturer does a deal with Microsoft to ship this launcher with phones out of the box?
If you have an Android phone kicking around then try all this for yourself - it doesn't need a powerhouse flagship and is readily available in the Play Store. If you do download it, you might as well grab Cortana too and have a play with that, it's very functional.
Don't panic - this is just a 'for interest' item. And now back to our regular Windows content....(!)