From the Windows Latest story:
Today, we have discovered that Microsoft US Store has once again started selling the Lumia Windows Phones, including the flagship Lumia 950 for $399, Lumia 950 XL for $499, Lumia 550 and Lumia 650 for $139 and $199 respectively.

A Microsoft Store sales agent confirmed to us that Lumia phones are back in the store on February 4 after a long gap. "They are recently back this early February. Specifically, on February 4th 2018," Microsoft sales team told us.

Rumour had it that Microsoft wanted to sell as many Lumias as possible until stores ran out of stock, but it looks like the plans have changed or the company is selling the remaining stock which they recently discovered.

You can buy Lumia 950 from here and Lumia 950 XL from here. Microsoft is also offering a special discount on Lumia 650 for students, while for everyone else, it's available for $199 from here and Lumia 550 from here.
Fascinating - and the phones appear to be real, in that I could add them to a shopping cart and go right through the 'Buy' process: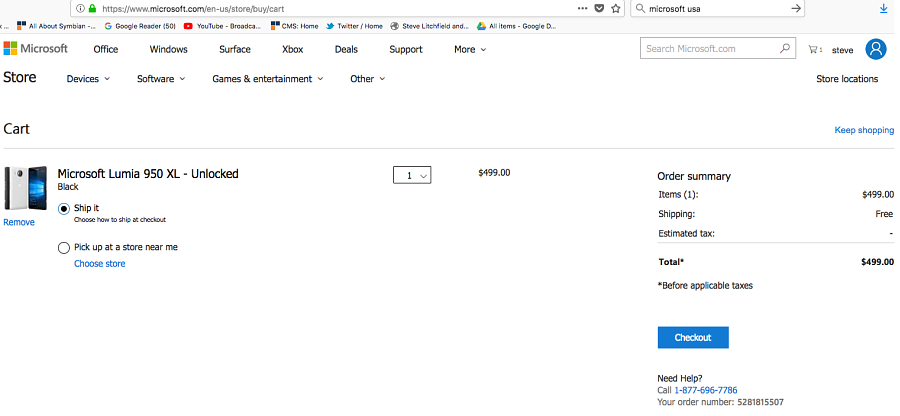 Although this is partly Microsoft USA getting rid of some inventory (and they'll have to drop prices if they're serious - this is 2018), I do wonder whether there's a point being made in some behind the scenes here. Could it be that in discussions with some big North American companies, the latter are complaining that Microsoft dropped the Lumias too quickly and are expressing doubt as to the company's commitment to whatever comes next (Surface Mobile, etc.)? Being able to point towards these buy pages, to existing stock, and to continuing update support until Spring 2019 at the earliest, might be something that's politically important in the boardroom?
Any thoughts? And do shout if you spot similar sell-offs in other Microsoft world sites.