Changes since the first open beta, 10 days ago:
• Fixed problem where OPML import with a blank rssurl field would cause an import failure.
• Added OPML filename association to launch and import
• Changing favourites sort mode in settings was not being respected in configure view under favourites page
• Fixes for adding RSS by URL and subsequent deletion which was causing an exception
• Added support for PCAST:// URI launches and podcastlounge://subscribe URI launches
• Added ability to configure global sort/filter options within layout settings. Adjusted individual podcast settings to act as an override.
• Fix for episode multi-select "none" function breaking
• Adding a favourite from the episodes view now asks for category
• Buffering now visible when player playlists blind is open
• Adding favourite by URL now asks for category
• Adding favourite by URL now checks if a duplicate exists
• When an episode is deleted, or marked as played, it should disappear in certain views. Fixed.
• Elevating an old playlist as current, then attempting an episode download caused a crash. Fixed.
• Added message on startup to allow exception log files to be sent to Igneous
• Toned down the listview accent colour
There's a lot here that comes under what I call 'fit & finish', the little touches that make it seem like the developer has thought of everything.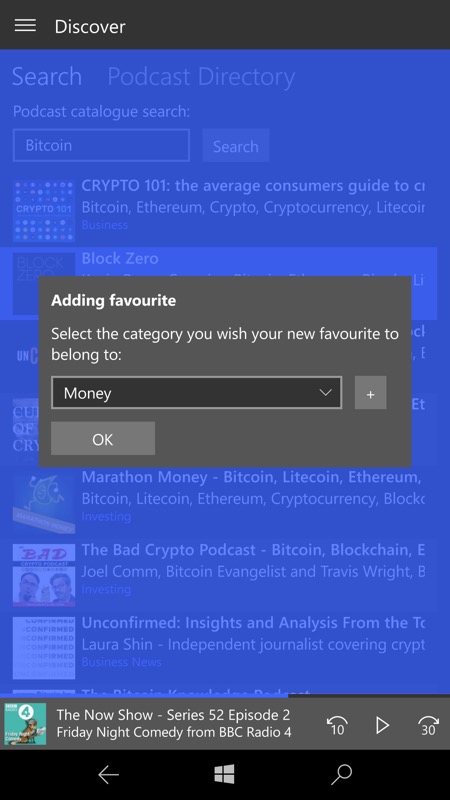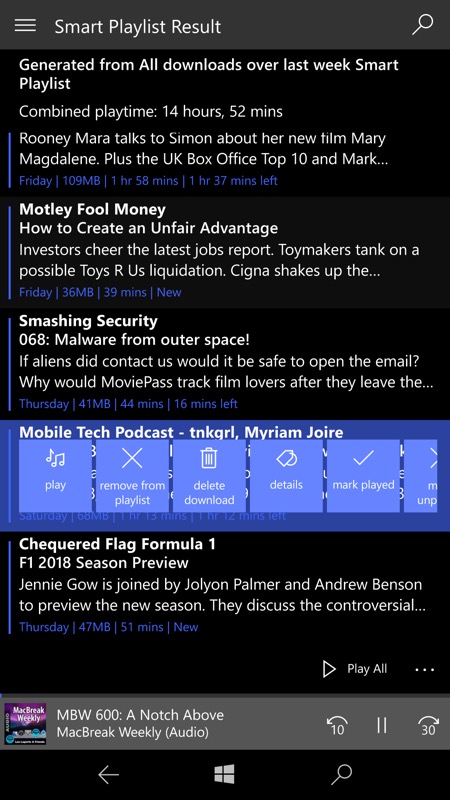 The beta is here in the Store. Go to it, and make sure you use the built in Feedback section to report any issues or make any suggestions.
PS. It's true that I've already done a big podcatcher round up for Windows 10 Mobile, so at some point I need to update it to add Podcast Lounge. And do see my top picks there, for comparison against this new contender.