So, where can you still buy the Alcatel IDOL 4 Pro?
Not at Microsoft UK, they sold out a few weeks back. And, technically, you can still pick the IDOL 4 Pro up at Microsoft France here, and at Microsoft Germany here, though both show the full price of 480 Euros, which is a little crazy in 2018.
More interestingly, and continuing the trend that the IDOL 4 Pro was first spotted in Germany back in the day, there are two German suppliers which still show significant IDOL 4 Pro stock and at the same, much lower price.
First of all, Cyberport: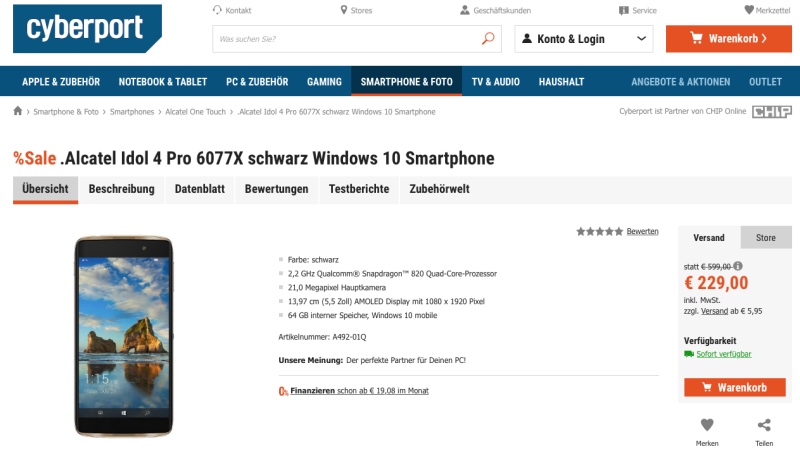 230 Euros (about £201) looks much more realistic at this stage in the IDOL 4 Pro's life and is something of a bargain, though that original RRP of '599 Euros' is misleading!
Secondly, there's also Sotel: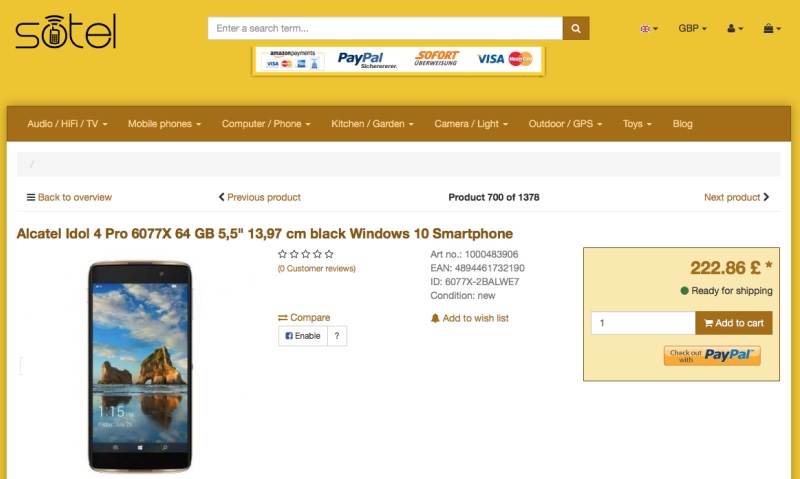 So another £21 or so, but still a great price for the phone.
Whichever German supplier you go for, I can't see why it wouldn't be a 100% fit anywhere else in Europe - all the relevant languages are in Windows 10 Mobile and language selection is the very first thing you do when setting up the phone, plus it's trivial to download the appropriate keyboard and voice packs in Settings.
Just over £200, then, is perfect for the Windows 10 Mobile enthusiast looking to get a reasonably-chipped and super-speakered smartphone for 2018. Each of the German companies have good stock, so what are you waiting for?
PS. See also my review, verdict and other links here.