From my original Windows Phone 8.1 article:
You know that thing, at a club, where tracks are seamlessely blended into each other, with no break in rhythm? This is the aim of MeeDJ, available for a few weeks as a universal app on Windows Phone 8.1, and updated very recently. MeeDJ essentially brings all (and I mean all) of the logistical and 'musical' skills of real world DJs to the smartphone. Quite why you'd want to do track mixing and output on a phone screen and operating system isn't clear, but one presumes that busy DJs want to be putting stuff together in the back of taxis, etc.? Or maybe it's for amateur DJs to have fun while learning the skills on a long journey?

From the Store description:
MEEDJ is a DJ mixing console we created for people who want to easily interact with the music they love and to mix tracks like a DJ, having a simplified interface at their disposal. MEEDJ's value is the interface itself (developed with a professional DJ), the social features tightly integrated within the App and the strong social engagement metrics (GetAll bundle).

You are the DJ! Just load two audio tracks from your music library (or from OneDrive) and start mixing them, by jogging, pitching and applying audio effects, loops, samples… All key features are at your fingertips! If you want you may also upload your work to the cloud and share it on social media. Once shared you can track (GetAll bundle) the feedback coming from social media for your mixes and playlists, thus getting an idea on how much they have been appreciated by your friends.

MEEDJ is FREE for ever with Ads. Paid version (GetAll bundle) removes Ads and 15' recording limit, includes detailed social metrics, an amazing Sample Pad, additional audio filters, cool skins and much more.

Independent turntables with one-stop access to advanced audio features
Splitting: use one of the Out-channels for the preview
Free sound effects: Cue, Loops, Equalizer, Reverse, Flanger, Echo, Low Pass Filter, Band Pass Filter, High Pass Filter
Scratch / Pitch
Innovative and simplified DJ-interface, designed by a professional DJ, with a one-stop DJing experience
Unmatched sharing and upload capabilities
Channel splitting with preview on the device (pre-cueing)
Amazing Sample Pad: use up to 12 cool samples at a time, for your mixes, without leaving the app
Create, manage and organize your playlists
Integrated player for your tracks
Text to speech and voice recognition features to create effects and save them as samples
Load your tracks from your local Music Library and from OneDrive
Upload your playlists and mixed tracks to Microsoft OneDrive
Share your playlists and mixes on Facebook and Twitter
Share mixes on Sleeve Music and have the opportunity to showcase your work to a worldwide community of music lovers
Get the social engagement level (global visits, likes, reshares, favourites, retweets), for each of your shared playlists and mixes (Get All bundle)
Cool Skins
Here are some screenshots of the UWP app in action: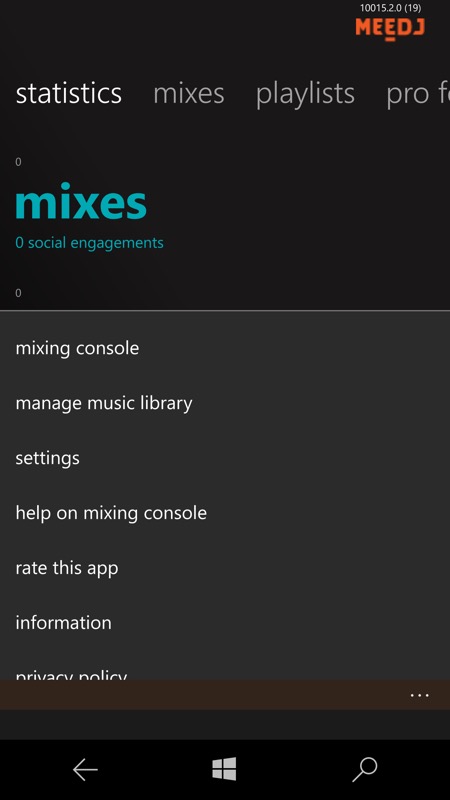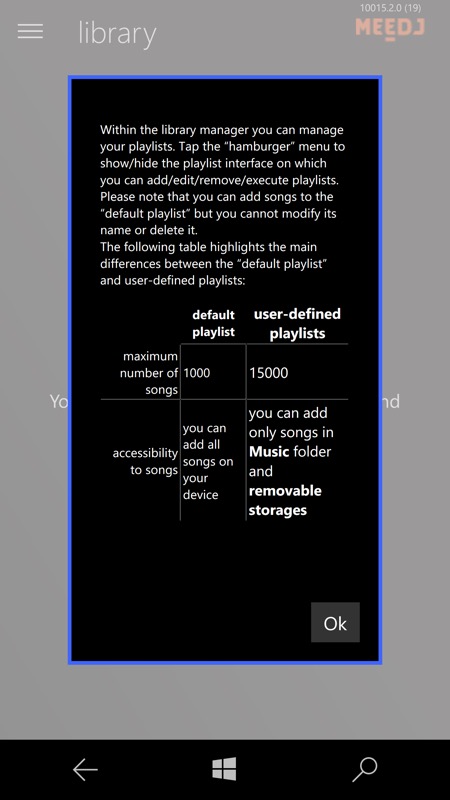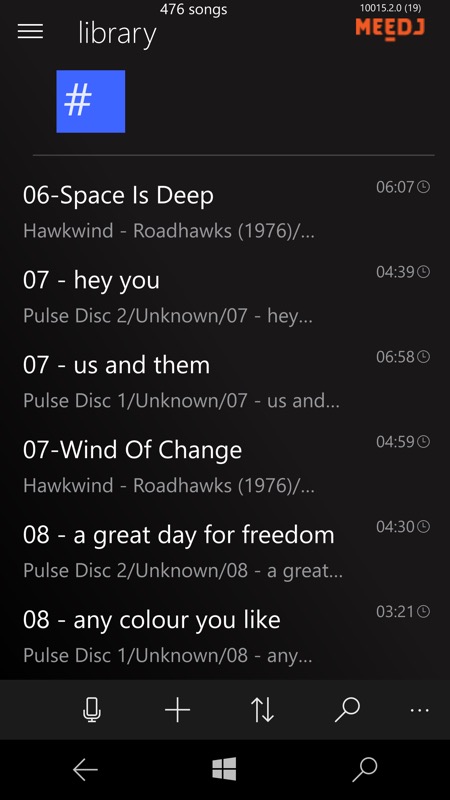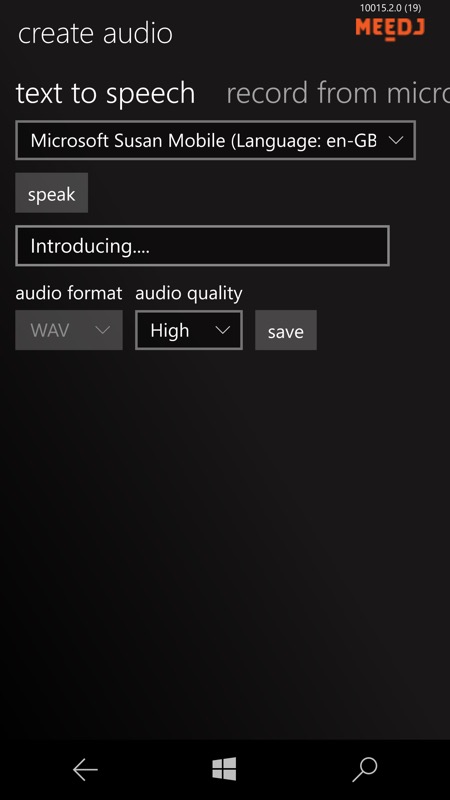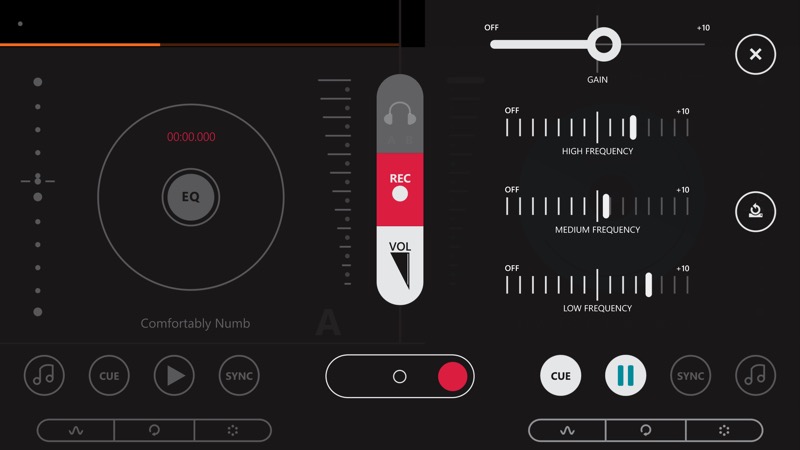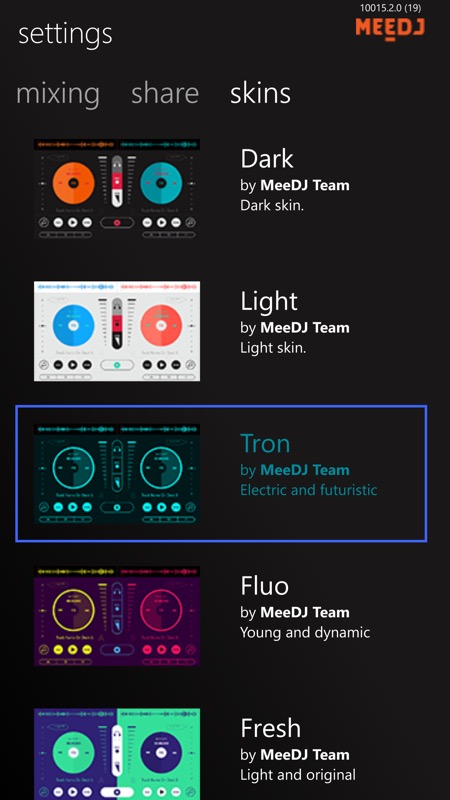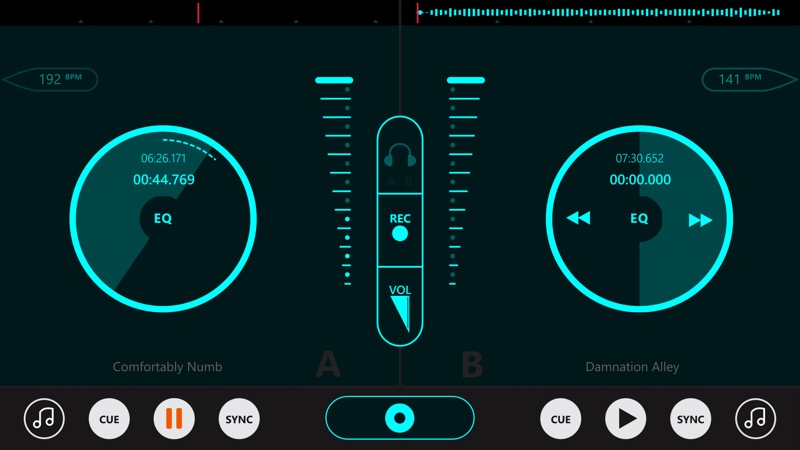 MeeDJ isn't perfect - there's a UI bug where you can get 'stuck' recording your own audio samples, plus tracks are very slow (on the phone) to analyse as you load them up. So if you're a DJ then you should definitely have a more powerful computer to hand. Or plenty of patience.
It's a very slick music processing system, anyway, and you can get started in the Store here. And yes, that still includes the old 'universal' version for WP8.1 - so knock yourself out!