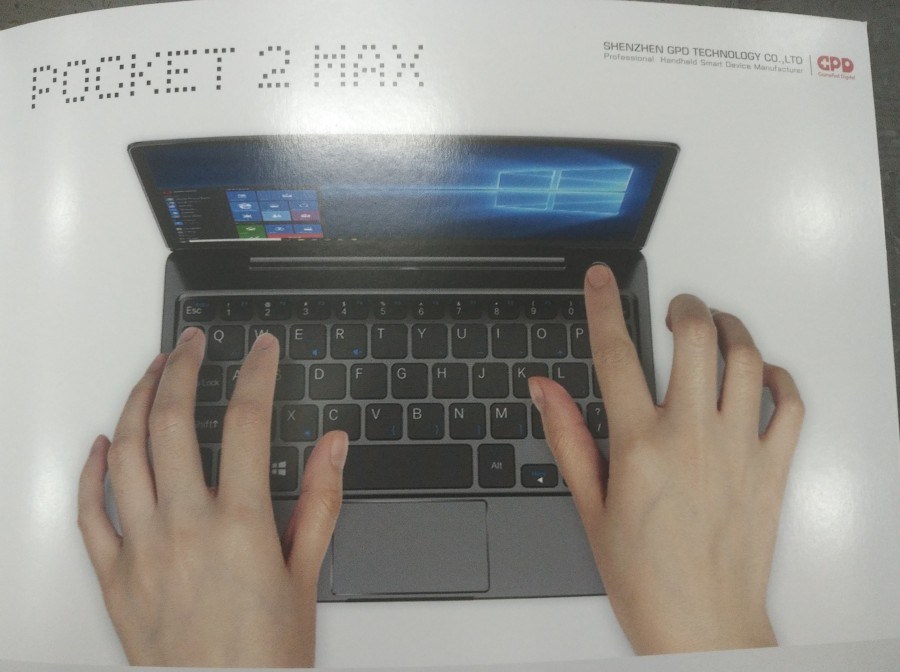 From Liliputing:
Enter the GPD Pocket 2 Max. With an 8.9 inch display, it's still tiny by modern laptop standards. But there's room for a larger, more comfortable keyboard and touchpad.

GPD has also bumped the screen resolution and equipped the computer with the most powerful processor of any GPD device to date.

The GPD Pocket 2 Max sports an Intel Core m3-8100Y Amber Lake processor, 8GB to 16GB of LPDDR3 RAM, and a PCIe NVMe solid state drive with storage options ranging from 256GB to 1TB.

The computer features a 2560 x 1600 pixel display and it should ship with Windows 10 Home 64-bit software… GPD says the laptop has a magnesium alloy unibody chassis, a fan for active cooling, a 9200 mAh battery, and a 2MP camera, making this the first GPD Pocket device to have a webcam. It's also expected to have a fingerprint sensor.

The computer measures 8.1″ x 5.8″ x 0.7″ and weighs about 1.5 pounds.
As a lover of all things ultra-mobile, I'm quite excited by this, though there's no word when it might come to Europe - or pricing. Just me? The continuum of devices from smartphones through Bluetooth keyboards to mini-laptops and touch hybrids, to full on laptops continues to impress from hundreds of manufacturers.
PS. I'm also trying to get hardware such as the Surface Laptop 2 in for review on AAWP. For interest-sake!