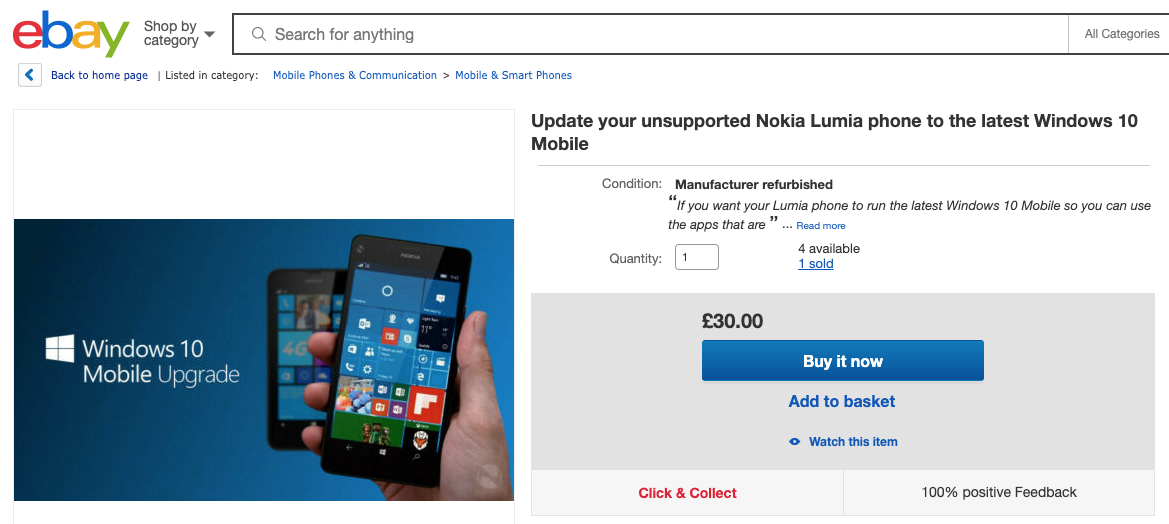 From the seller's listing:
***Service to Upgrade your unsupported Windows Phone 8 or 8.1 to Windows 10 mobile***




If you want your Lumia phone to run the latest version of Windows 10 Mobile so you can use the apps that are not supported anymore on Windows Phone 8 or 8.1 then send it over so we can update it! We use Tracked and Signed deliveries so your phone will not get lost!




After the update to Windows 10 Mobile you will have access to all apps like: Whatsapp, Viber, Skype, Instagram, facebook, etc. (some of them might be alternatives). This is an offer for anyone who wants to get updated their old unsupported Windows Phone 8 or 8.1 to the latest Windows 10 Mobile - then you have a chance to do that!




It can be done for the most Nokia Lumia or other Windows phones, including Nokia Lumia:

Microsoft Lumia 430

Microsoft Lumia 435....
He then lists every Lumia ever made! I'll spare you the full list...
...Nokia Lumia 1020




Make sure you take off you screen lock passwords before you send it as we won't be able to update it.

Also we recommend to save all your information before you send it as for the phone's better performance we prefer to factory reset it. But if you would like we can keep your data - just let us know how you wish your phone to be updated.
Which all sounds fair enough for mid-range to flagship Lumias. I myself have said that the likes of the Lumia 930 and 1520 positively thrive on Windows 10 Mobile, so why not take them to the latest branch of the OS. And the Lumia 735 and 830 (and maybe the 920) are viable, with some RAM concerns. In which case if you always wanted to have your Lumia on the latest supported branch of the OS then this service might save you a lot of fiddling around and technical heartache.
But I'd wave serious red flags about performance for the rest of the models on 'iagupuk's list. Trying to get a Lumia 430 running well with Windows 10 Mobile 1709, for example, is an impossibility. If the seller is reading this then I'd suggest limiting the models listed to the ones which actually make sense.
I'd echo the seller's advice to include a system reset as part of the upgrade, so that the OS branch starts from scratch, and then you restore from backups or via data sync and installs from the Store. In extreme cases, trying to go from Windows Phone 8.1 through to W10M 1709 with all data and settings intact is unrealistic!
(Hat tip to AAWP reader Mark Gooby)