Here's an attempt at a summarised changelog for Neutron Player v2.12.5, over and above v2.06.1, covered here last summer, so a year's worth of updates!
Notes:
the items are terse and acronym heavy, but you'll get a feel for exactly how serious the developer is about audio!
some items apply to Windows on the Desktop. Some may even apply to Android or iOS versions. It's not immediately clear which, I've tried to filter out most of these, so again just take away a general sense of comprehensive improvements to the core audio handling code and UI.
in addition to the items below there are another hundred or more bug fixes(!)
Here we go then:
Added:

PCM To DSD options: DSD128 (for fast CPU only!), Multithreaded Processing (to lower interruptions if slow CPU), Dithering affects quality.
Support ID3 tags in DTS WAV (rescan sources if you have such files).
Hi-Res output for HDMI/SPDIF.
Mono is applied before DSP and Balance.
Support for output of all contents to DSD (to activate: Audio Hardware - DSD, DSD over PCM - All to DSD, output device must support DSD64):
+6 dB headroom for EQ;
higher processing precision due to Oversampling.
New Dynamic/Auto-start Queue behavior: if playback active and track from another tracks list is enqueued, it will start playing and once finished the playback will switch back to the previous list.
Autoconvert between BW and Q when changing filter setup.
Setup - Sort By - Time (File): to sort tracks by file time;
support Hi-Res Audio on FiiO M6 - M9 DAPs (only PCM, native DSD absent due to fw - to-do).
iBasso DX220: Filters and Gain support in DSP Effect (Device);
FiiO M6-M11: hi-res & DSD support;
App icon shortcuts;
Fast switch to media category inside the media library tree;
Touch-based filter response tuning.
Shoutcast radio directory (Streaming);
Streaming options: to disable/enable radio directory
Play Track List Once - Rewind: to manage rewinding to the 1st track behavior;
ISO (SACD/DVD) format;
Setup -> Album Artwork option for: Artists, Composers, Albums, Genres, Playlists, Folders;
source album art from art-only folders (like Artwork);
global search by folders and filenames inside Folders -> 1-st level;
invoke Global Search by long pressing the Lookup (magnifier icon);
Network -> Preload Buffer: to improve stability of streaming radios over unstable network;
ability to manually edit normalized Replay Gain from the settings dialog.
Performance optimisations;
Capitalize track name, album, artist of CUE if corresponding option is set in Media Library settings;
Audio Hardware -> Oversampling option: to oversample tracks by 2,4,8,16 ratio.
Follow Source Frequency for: Output To devices, UPnP/DLNA renderer;
toggle track format button to show Output format;
show track number in front of title in notification and widgets;
options UI - Playing Now - Shuffle Mode & Playback Mode: to enable/disable buttons in Playing Now panel;
option Shuffle Mode;
write relative paths to playlist files.
Audio Hardware -> Direct USB Access -> Volume Limit, Ratio (<=): to limit max volume.
replaced STA with crossover-like Speaker DSP (per channel: delay, attenuation, filter);
group multiselect;
Wake-Up Timer: volume control, ability to choose wake playlist;
Audio Focus options: Stop Always, Volume;
support multi-track Musepack (CUE);
gain parameter for Band-Pass/Stop filter.

Improved:

PCM To DSD algorithm: better sound quality, lower CPU usage;

iBasso DX160 support;

UPnP/DLNA Renderer compliance to UPnP specification;

endless streaming of WAV;
All To DSD audio quality due to more sophisticated algorithm;
Hi-Res driver compatibility with Xiaomi devices;
performance of DST decoding;
guessing metadata from the filename when album/artist info is present in metadata already;
Audio Hardware -> Audio Focus sub-settings not persistent;
streched/compressed album-art in widget/notification.
SACD ISO seeking precision;
hi-res driver compatibility;
Idle notification can be silenced now.
Direct USB Access: release USB device to the OS when focus is lost.
selection of PCM frequency for DPCM tracks when Oversample is active;
natural sorting to put _[... prefixed filenames on top of the list;
autostart Queue playback if its Autostart option is On and it was empty even if playback is already active.
spectrum Log scale: flat for pink noise to show low and high bands with equal power;
respect UI -> Playing Now -> Playback Timer setting in widgets;
Pitch/Tempo DSP precision;
stability and performance.
avoid duplicate mount points of external SD (recreate source to SD if it became inactive!);
USB DAC volume control;
apply Album replay gain to the album folder too;
playlist management;
APE: duration, seeking;
voice search handling;
Speaker DSP: preserve old behavior of STA DSP for frequencies below 150 Hz (soft mode);
reading non-Unicode metadata (especially Asian languages);
guessing of Various Artists from tags.
DSD to PCM decoding speed;
Hi-Res output driver compatibility (mostly ASUS Zenfone);
AGP processor's detection latency to 10-20 msec granulation;
gapless trimming of AAC according Apple's docs;
database integrity tolerance to process kill;
extract year from album name if missing.
Phew! Neutron Music Player in action on my IDOL 4 Pro, already a stunning media playback device: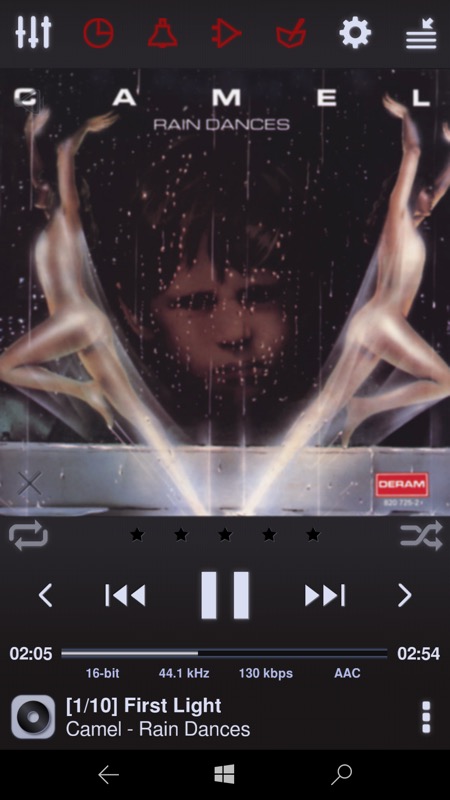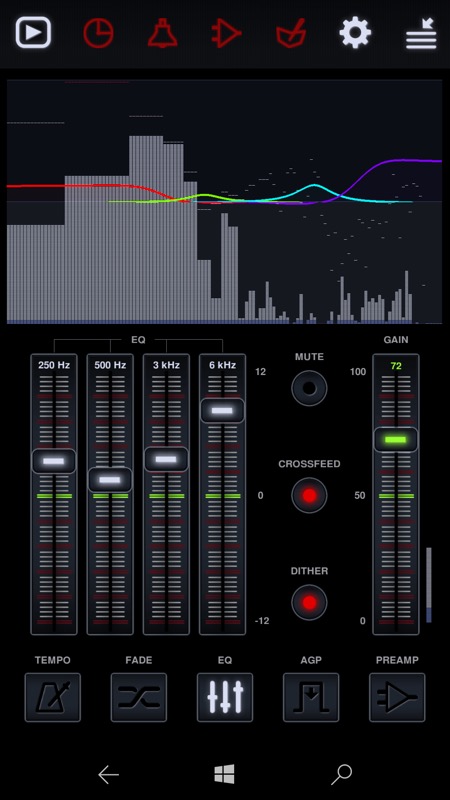 You can buy or update Neutron Music Player in the Store here.