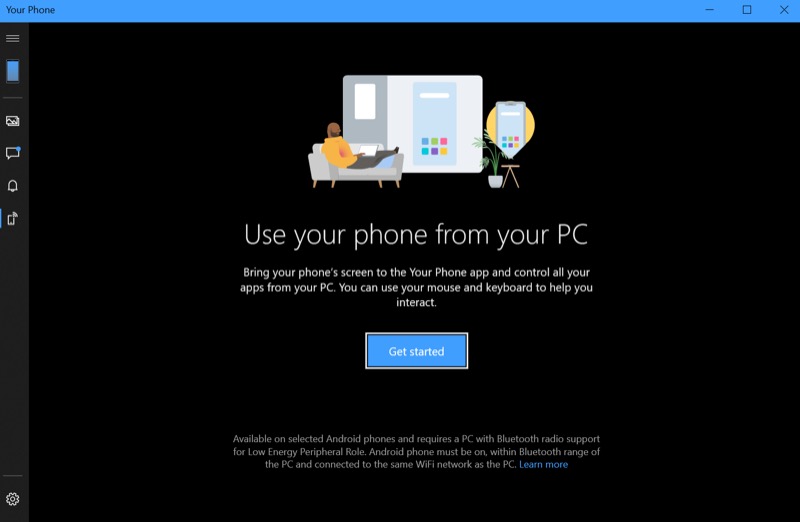 From the Insider blog post, referring also to the big tie up with Samsung, which we reported on a while ago:
Windows Insiders, we heard your feedback about the Phone screen feature's dependency on Bluetooth Low Energy connectivity. To address your feedback, we partnered closely with Samsung to bring you a more streamlined experience across all Windows 10 PCs by removing the peripheral role dependency for Phone screen, which will expand the overall reach of this feature.

Samsung Galaxy Note 10 was the first device to introduce this feature in August. After a positive response, we've recently enabled this feature across Samsung Galaxy Fold, S10, S10+, and S10e smartphones. You'll need to update your supported Samsung devices with the recent software update that enables the 'Link to Windows' feature. To continue offering this experience to other smartphones, we're expanding this feature support to Samsung Galaxy A30s, A50s, and A90 smartphones, and we'll continue to add additional devices in the coming months.

With the new experience rolling out, we'll be removing the Bluetooth connectivity option, effective immediately. If you were previously enjoying Phone screen over Bluetooth and you have a phone model that doesn't yet support Link to Windows, the Phone screen node will disappear automatically within the Your Phone app. We recommend that you unpair your devices by going to the Bluetooth settings on both your PC and your Android phone, so that you don't have a connection that is no longer in use.

Phone screen requirements:

Select Android phones running Android 9.0 or greater
PC running Windows 10 October 2018 Update or later
Android phone must be on and connected to the same network as the PC
You will need a supported device to use this feature:

Samsung Galaxy Fold
Samsung Galaxy Note 10/ Note 10+
Samsung Galaxy S10/S10+/S10e
Samsung Galaxy A30s/A50s/A90
There's an online Your Phone FAQ page if you need additional information from the horse's mouth.
PS. Alternatively, if you want the big screen experience with your phone apps, you want it now (well, soonish), and you want it with Windows 10 Mobile then look out also for the NexDock 2, which many of us are on tenterhooks for.