* of course, there's also Spodicast Music, but that's something of a kludge around YouTube, so isn't quite the same!
From the huge changelog for the new v1.4, now as an update in the Store.
Native streaming for free users with the Web Wrapper (Experimental) -

This is a stripped down version of the Web App that is used only for audio playback. Everything else gets removed / blocked to keep memory usage as low as possible

Free users can now control other devices

Player updates automatically and in real time

See your song Queue

Get song lyrics with a single click

Redesigned now playing page

Live tile shows what is playing/paused

Filter and sort songs in playlists, search, or your library

Arist bios now use official data from Spotify, and LastFM as a backup

By right-clicking a track, you can now:

- Add songs to the queue

- Share songs

- Start song radios

- Share YouTube links for songs

Refreshed styles for playlist, album, and artist cards

The default landing page is now Library, which has been renamed to \"My music\"

You can now see your saved artists

Start Artist radios from the context menu and artist page

Follow and unfollow artists from the Artist page

From now on, every big Spotimo update will have 1 hidden feature that can only be activated by doing a certain thing. When another big update is released, the last easter egg will become a normal feature, and I'll tuck away something new to find.
All good stuff, though see below about disabling the web wrapper player, which won't work under Windows 10 Mobile. Introducing v1.4, the developer says:
New features are here! But you'll have to log in again... We promise it's worth it. Due to some big changes behind the scenes, your existing login data can't be reused after this update, meaning you'll need to log in again.

Spotimo is still in beta. Bugs are to be expected as the app evolves, and will get fixed over time. You can report bugs to me on Twitter @Arlodottxt, in the UWP Community Discord server or via email to spotimo@outlook.cui

This update is a huge step towards feature parity with the official client, and what I've managed is no small feat. Since Spotimo first launched with v1.3 in June, I've spent 150 hours on development. It's been a lot of fun, and a lot of work. Spotimo is completely free and ad-free (except for Spotify's audio ads), and I'd like to keep it that way. No fees, no popups, and no pay wall. That said, I enjoy working on Spotimo and put real passion behind it, but I can only get so far on my own. If you love using Spotimo, consider supporting me with a one-time donation, or by becoming a Patreon (which has perks!). Feature update 1.5 is already being planned. It'll be as big as 1.4, but it'll be several months before its ready. The more support I get, the faster I can make it happen. Until then, enjoy everything that 1.4 has to offer, and thanks for being a beta tester!
Here's the app in action, along with the vital playback tweak for W10M: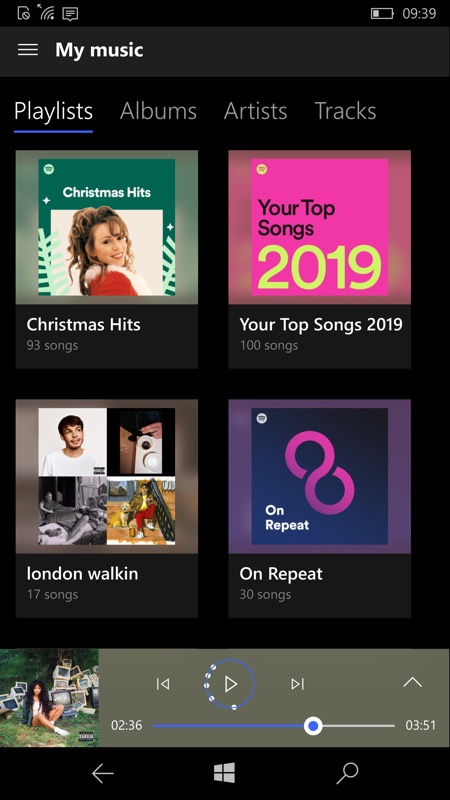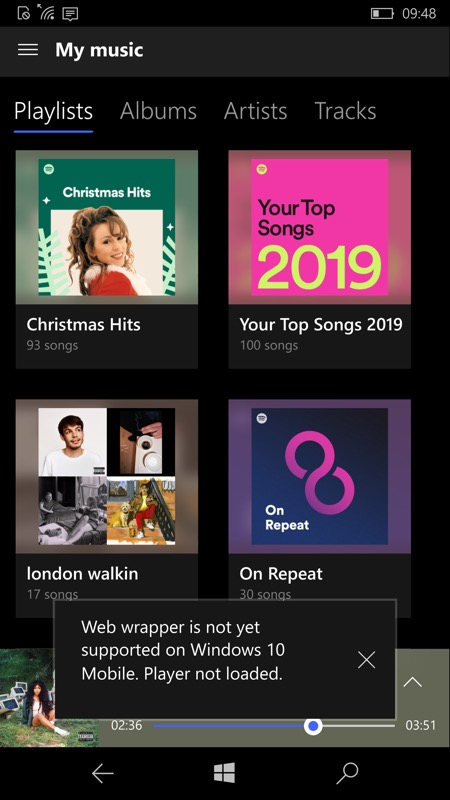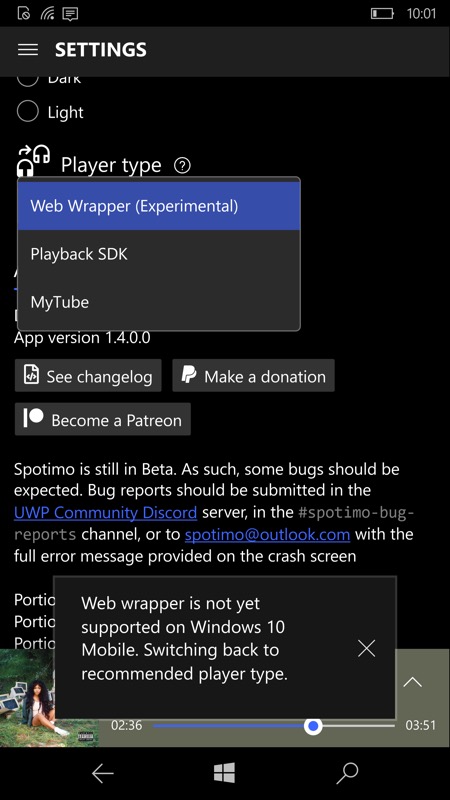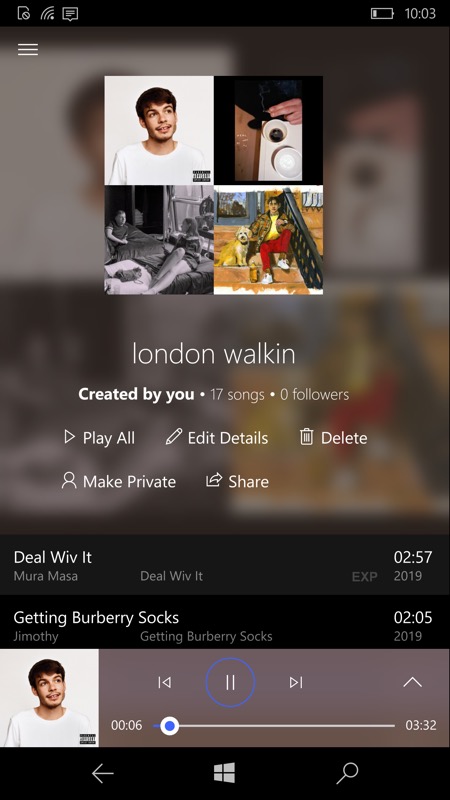 You can grab Spotimo here in the Store. And you can support the developer here on Patreon.