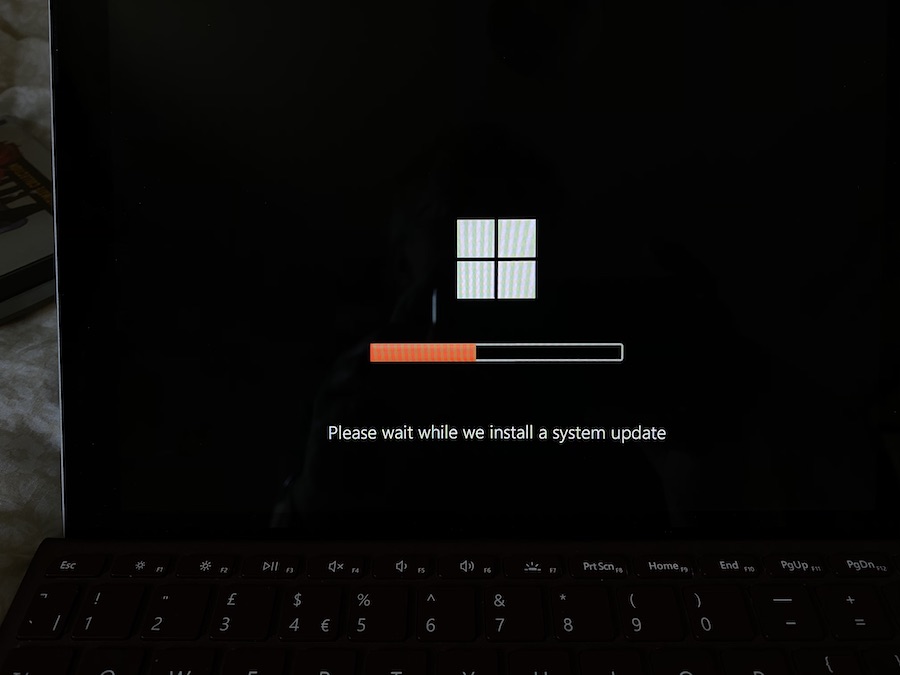 The new updates arrive by the usual 'Settings / Update & Security / Windows updates' mechanism but look different from the usual affair since most are from 'Intel', with an official combined changelog of:
Improves camera experience and resolves associated system bugcheck.
Improves battery Smart Charging reliability, and addresses security updates.
Addresses security updates and improves system stability.
Improves Surface Dock 2 reliability and addresses system bugcheck.
Facilitates power and thermal related data analysis.
I don't know about you, but all that sounds important and well worth having. The updates apply to both the LTE and standard Wi-Fi models.
Of note is that graphics/progress bars like the one shown above (on my Go) appear - this was the first time I'd seen this on the device. And, perhaps unsurprisingly, there were a few worrying moments:
the 'Restarting' phase took ages, well over ten minutes. Just be patient!
after restarting, the Surface Go asked for my Bitlocker key. This is the underlying encryption key used to lock up your SSD (or hard disk, on a bigger or older PC) and it's thankfully tied to your Microsoft account. Just go to account.microsoft.com/devices/recoverykey and sign in - you'll be given a 40 digit number to type into the Go.
in the case of my Go, I had to do this twice, presumably once for each of two critical low level updates. Sigh.
The whole update took over half an hour, so do allow time. I can't say I notice any major difference in behaviour, but better safe than sorry, given the nature of the changelog, I think? The Camera application in my Surface Go does include all the document and white-board modes from the Surface Go 2, but I couldn't swear that these hadn't previously arrived in a previous application update!
Any other Surface Go fans out there? I wonder if the Surface Go 2 also got the same updates?
PS. Selected oder AAWP Surface Go content: