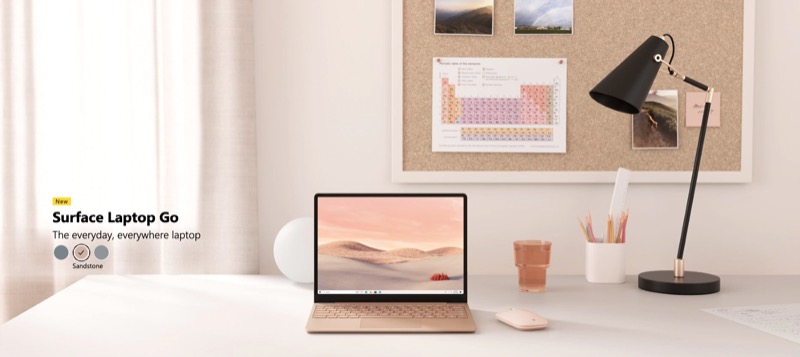 Spec notes:
12.4" 1536x1024 PixelSense touchscreen
Precision trackpad
Full-size keyboard with 1.3mm key travel
Intel 10th generation i5 Quad Core processor
Up to 16GB RAM
Up to 256GB storage (the base model has only 4GB RAM and a 64GB eMMC drive so isn't recommended for general use).
Fingerprint reader integrated into the power button for Windows Hello authentication (not available on the cheapest 4GB RAM model)
USB-C port
USB-A port
3.5 mm headphone jack
Surface Connect port
Stereo 'Omnisonic Speakers' and Dolby Audio
720p HD front camera.
You can pre-order the Surface Laptop Go here, with the main options being £700 (the most common) and then a whopping £900 (no-one's going to go for this) for just an upgrade to 256GB internal SSD.
To be fair, the Surface Laptop Go does fill a price hole in Microsoft's line-up, which now goes something like this in terms of ascending price order (though complicated by variants, of course):
Surface Go
Surface Laptop Go
Surface Pro
Surface Laptop
Surface Book
Surface Studio
What do you think?
PS. There's now a longer intro video online (which also includes details on the new Surface Pro X variant.