Debunking myths
Those who comment on the industry often get hung up on technical and niche matters that ordinary consumers aren't even aware of, and so the conversation about any mobile platform can soon get wound up in matters that non-enthusiasts simply don't care about. That's not to say that such specialist concerns are not valid – while ordinary consumers may not care about them at first, there are plenty of issues that may present themselves at a later time. That is indeed why the press looks at these matters, because we've gained experience by going through the pain of technical drawbacks and glitches many times.
Consumer perception of simplicity
The general perception of Android vs iOS is that the former is the geekier option with far more customisation, while the latter is less customisable and is easier for non-smartphone users to learn how to use. Windows Phone is attempting to position itself between those two propositions, giving itself the customisability of Android and the simplicity of iOS.
In reality though, things are more complicated. The iPhone is only simpler to use at a surface level, once you dig down into its settings menu structure, things become much more obtuse and dare I say, more like the byzantine settings structure of Symbian.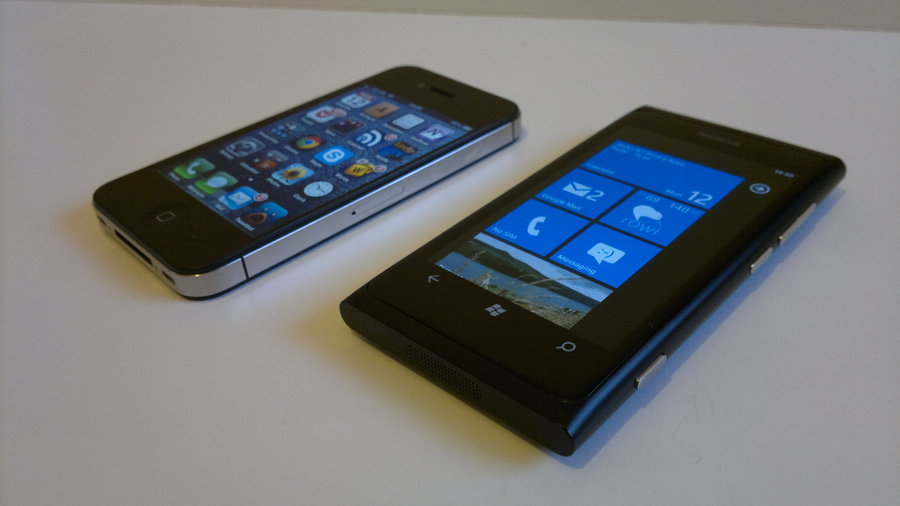 iOS versus Windows Phone
By comparison to all the rest, Windows Phone is actually easier to use with its relatively flat settings menu structure and ease of customisability of its tiles. The only way in which novice users can get mis-footed by Windows Phone is not realising the full application list is positioned off-screen to the right of the Start Screen.
In my anecdotal experience, many novice smartphone users have been able to use Windows Phone, at least at a basic level, without inordinate difficulty. It has certainly passed the "parent test" in my family, and see our All About Symbian Lumia 710 user stories.
So, we've established that Windows Phone is easy to use – can this help its sales? Unlikely because Android is far more technical in its nature, and yet it is by far the biggest selling type of smartphone.
Windows Phone has the "right apps"
At the Windows Phone 8 launch, Joe Belfiore stated that Windows Phone had 46 of the top 50 most used apps from iOS and Android. This was clearly tapping into the argument that says it doesn't matter how many apps your app store has, it's whether it has the right apps or not. While there is some truth to this, there's a counter argument that doesn't work in Windows Phone's favour.
Attracting new users with the latest games
There is no one set of right apps, the right apps are often different for everybody. The larger the application catalogue, the higher the probability that someone will find, not just the apps they want, but discover the apps the eventually need. Having used an iPhone 4S for a while, when I switch to something else it is the iOS-only apps that I'll miss the most.
Windows Phone is the best phone for Windows
This is the line that Steve Ballmer, Microsoft CEO, was repeating at the Windows Phone 8 launch. If you have a Windows 8 PC, then Windows Phone 8 is the best smartphone to use. Unfortunately for Microsoft, there's very little to substantiate that claim.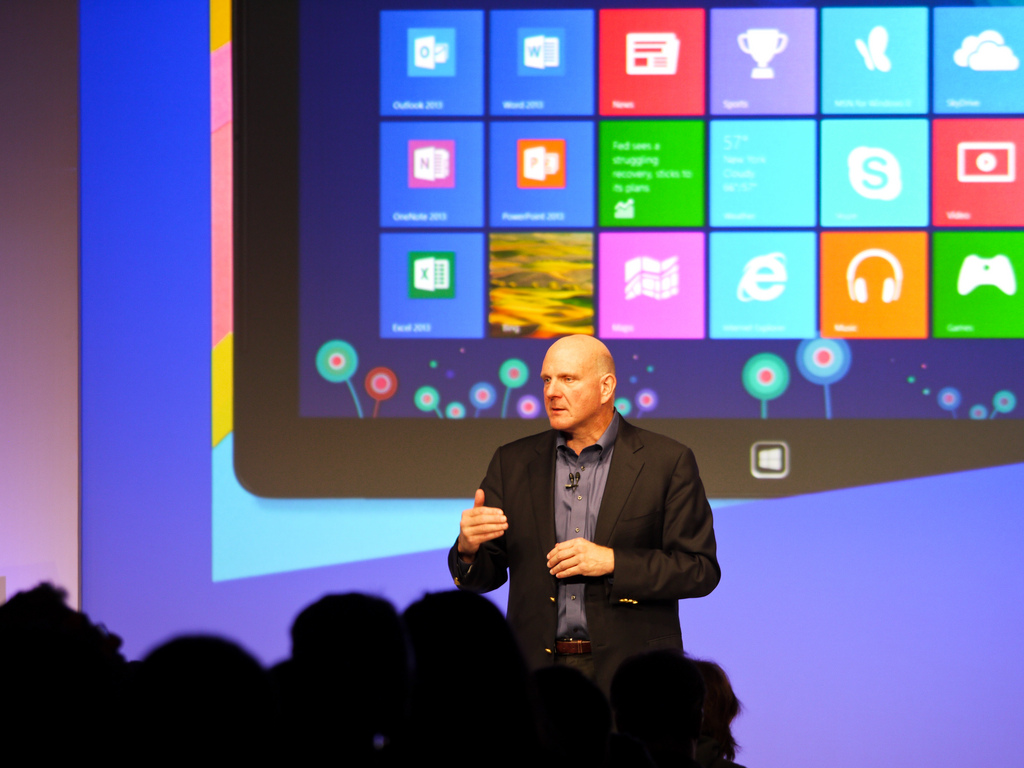 Steve Ballmer at the Windows 8 launch (source)
Microsoft has already made OneNote and Smartglass available on all smartphone platforms, and it will do the same with Xbox Music and Microsoft Office. This is actually a smart move for the company, but it doesn't help Windows Phone. Moreover, were Microsoft to do anything other than not lock people into using Windows Phone, it could quite rightly face allegations of anti-competitive behaviour, based on leveraging of its massive desktop market share.
What does Microsoft have to do to drive more sales?
We should acknowledge that one could compare the market share of Windows Phone against Android and iOS at the same points in their respective histories. However, this provides little objective insight as, in each case, the sales were made in a completely different market environment. The iPhone was released with RIM, Windows Mobile and Symbian as its competition, while Android was launched as a competitor to the iPhone. By the time Windows Phone came along, the market was much more saturated. Where one would like to simply plot a chart of the growth of all three platforms, a mire of ifs and buts arises.
Winning the arguments against Android and iOS
In its advertising, Microsoft and its partners should compete against Android by (tactfully) exploiting the simplicity line. Windows Phone is easier to use than Android. Competing on hardware isn't a problem given the wide quality spectrum of Android handsets.
On the other hand, it is very much on hardware with which Windows Phone OEMs should compete against Apple's iPhone, which is seen as a luxury product and is generally well built. A phone with good built quality can be easily appreciated by anyone, unlike software which takes time to assess. Nokia have tried to mark the Lumia's out with colourful polycarbonate, and HTC followed suit. The iPhone is also known for having a high quality camera. Nokia are directly competing here with its long heritage of camera expertise in the Lumia 920. Even if brightly coloured phones aren't for you, the Lumia's are made in black and white, just like the iPhone too.
Address the app gap
Microsoft has been pushing hard to invite developers into the Windows Phone market. However, given the lower market share, it may prove difficult to retain developers who do not feel that Windows Phone will provide enough of a return on their time. We may yet see that the ease of conversion between Windows 8 apps and Windows Phone 8 apps will provide a virtuous circle that will encourage more development.
Get the message out
The best way to show how Windows Phone works is to educate through advertising, and put more of a drive into training sales assistants, many of whom still call Windows Phone 7 "Windows Mobile"!
And here lays the rub
The problem is that Microsoft is already doing all of those things. The advertising is working to make Windows Phone look like a more inviting prospect than the competition. In the US, the "Smoked by Windows Phone" campaign served to show how easy a system it is to use. Microsoft is already getting more apps on board with Windows Phone. Though I don't know what Microsoft is doing about training retail staff.
Yet still Windows Phone isn't yet a mainstream brand. An interesting article over on WinSupersite highlights how mainstream brands, advertising their smartphone apps, always show iOS and Android apps, with occasional Blackberry apps, but never Windows Phone apps. That's a US-centric observation, but things are just the same in the UK too.
Perhaps Microsoft needs to also focus on getting more household name brands to adopt Windows Phone. Then, consumers may be more likely to follow.
Currently, Microsoft's outreach efforts have been focused on front-line advertising to individual consumers, and to enticing individual software companies to get on board. By getting more businesses and brands to adopt Windows Phone, the work of talking to the public, and to software development companies, would be done for it.