Introduction
Data Sense was originally announced as part of the initial release of Windows Phone 8, but was only available through select operators (e.g. Verizon in the US). With the Windows Phone 8 GDR2 release, Data Sense is set to become more widely available.
However, there is a slight catch, in that it's not the full Data Sense offering that is becoming universally available. Data Sense, as it was originally announced, comprised two parts. The first was a data monitoring app (Data Sense), while the second was an operator side part that provided smart data compression via an implementation similar to a proxy server.
Microsoft say that a Data Sense-enabled connection offers up to 45% more web browsing (data activity) than a standard data connection for the same amount of data. This more efficient use of data has an impact on speed (web pages download faster), but also means your data allowance goes further. At the launch, Microsoft also talked about Data Sense being "smart" in what was compressed and in interactions with the phone (alerts, levels), although the exact details were left unspecified.
What's becoming more widely available in Windows Phone 8 GDR2 is the app part of Data Sense. This, as we shall see below, provides data monitoring, but does not offer any data compression, and is only "smart" in a limited way. However, it is still a useful addition, and, if you're on a data limited tariff, is well worth setting up and pinning to the Start Screen (Live Tile flips to show the amount of data usage remaining).
Data Sense app
The Data Sense app's overview page shows information about data usage, and, if data limits have been set, how much data remains before you go over your limit. Data limits can be set in the app's settings, with enough flexibility to allow for both pre-paid (data balance, days until data bundle expires), monthly data limits (monthly allowance, reset day), and unlimited data.
The app's settings page also contains an option to "restrict background data when I'm near my limit". This is the data equivalent of Windows Phone's built in battery saver functionality, intended to make your data allowance last a little bit longer. Restricting background data does have an impact on the phone experience (e.g. no including VoIP incoming call notifications, no background email and PIM synchronisation, no background uploads and downloads, and limited Live Tile update), but for many that will be an acceptable trade off in order to avoid overage charges.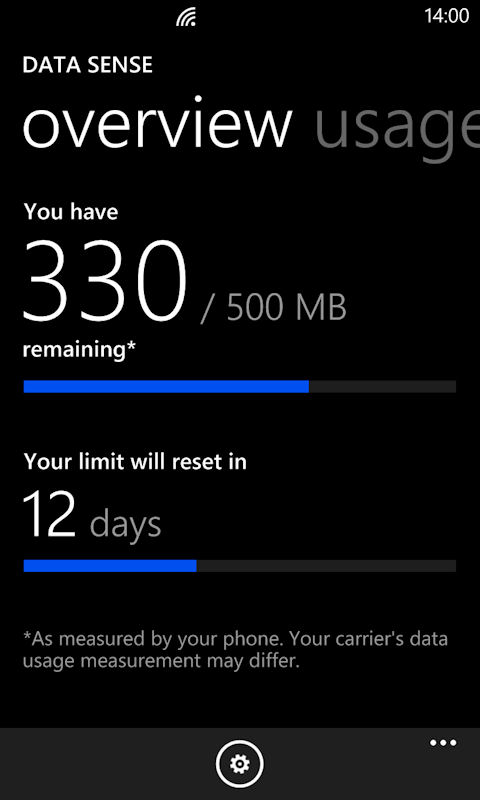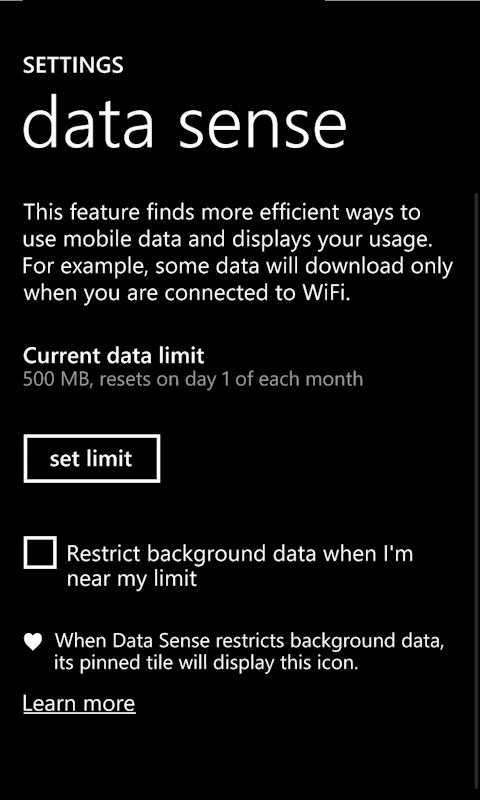 On its usage page, the Data Sense app provides a pie chart showing WiFi usage against mobile (cellular data) usage and an app-by-app breakdown on how data is being used. This allows you to see, at a glance, which apps are using the most data. Individual email accounts are listed separately, so you can see which account is responsible for most data usage, and some apps get special names (e.g. Store is shown as "App downloads"). General data usage, not linked to a particular app, is listed under a "System" entry.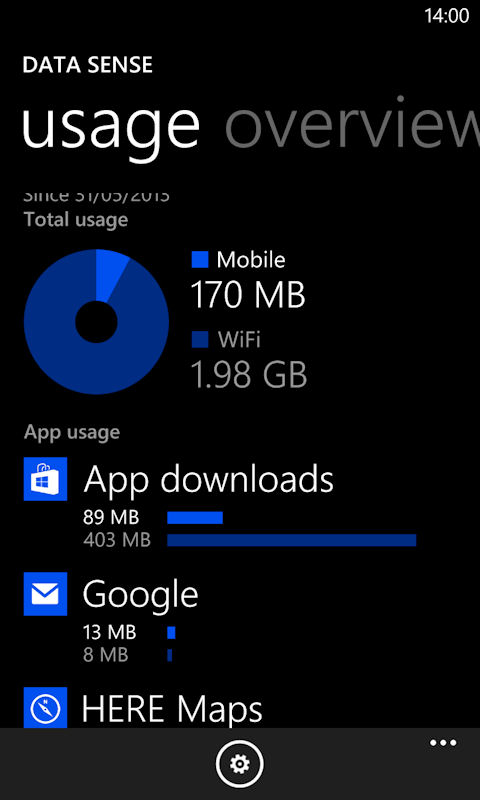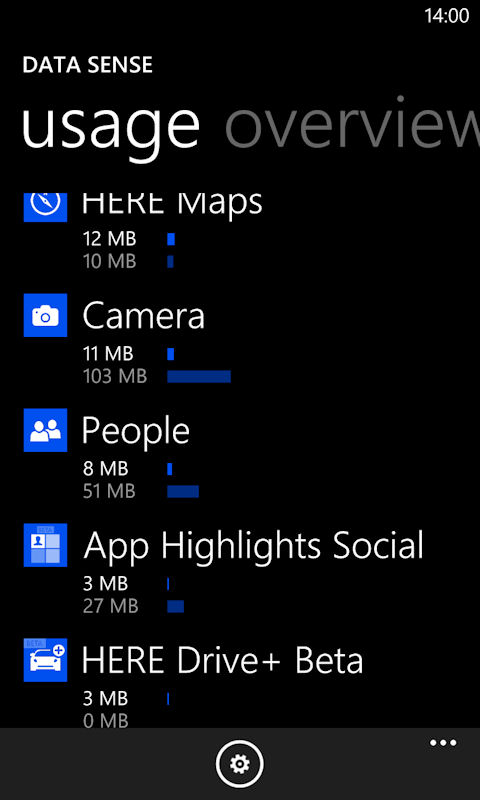 The benefit of having data usage broken down on an app-by-app basis is that it allows you to see which apps are using the most data. If you want to reduce data usage (e.g. because you're near your limit) it will offer an indication of how to modify your behaviour, either by reducing usage of a given app, or uninstalling it altogether. The latter option is really only necessary if the app is using a lot of data in the background, and bear in mind this is something that you may be able to switch off in the app itself.
At this point it's worth pointing out that it is possible for third party apps to make decisions about data usage based on the limits set in the Data Sense app. This is done through Windows Phone's Networks API, which allows a third party app to see whether you are approaching, or over, your data limit, and take action accordingly. We're not aware of many apps that actually do this at the moment, but the wider availability of Data Sense should encourage developers of data-heavy apps to add such integration to their apps' feature list.

Find WiFi hotspots
Data Sense provides strong monitoring tools for data usage, but, in the app-only implementation, only limits tools for reducing data usage. So what do you do if you want to reduce your mobile data usage? Outside of changing your usage behaviour, the easiest way to do this is to use a WiFi connection rather than a mobile network connection (usually referred to as data offloading).
Recognising this, Microsoft has added a menu option to the Data Sense app, "map nearby WiFi", something that is also available via the WiFi module of the Settings app, as "find nearby WiFi... map with Data Sense".
Both of these shortcuts will open a map showing nearby free or open WiFi hotspots, with the idea being that you move in range of these hotspots before undertaking an activity that might consume a lot of data (e.g. streaming video). Microsoft hasn't made it clear where the list of WiFi hotspots comes from, and available coverage varies widely from country to country and area to area. It's a good idea, but probably isn't as practical in reality as the dedicated WiFi provider (third party) apps available on both Windows Phone and competing platforms (e.g. BT Wi-fi and Boingo) that aim to do the same thing for commercial (closed) hotspots.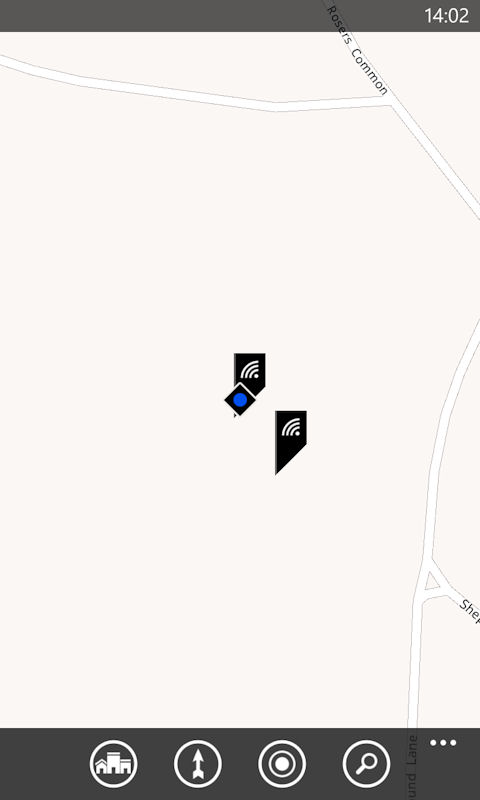 One nice touch is that the map will show WiFi hotspots that you've set up and configured yourself in the Settings app's WiFi module. In general, you'll probably be well aware where these are, but it doesn't hurt to have a reminder. Incidentally, this does suggest Microsoft is storing location information whenever you set up a WiFi connection on your Windows Phone, something you may want to keep in mind.

Availability
The wider availability of Data Sense in Windows Phone 8 is part of the Windows Phone GDR2 update.
This update will be available for all Windows Phone 8 devices. Microsoft has not provided a specific time frame, saying only that it will roll out "later this summer", which would suggest a July or August initial release date.
Do note that operator approval will be required for some variants, so, as with other software updates, it may take some time for the roll out to be completed.