App compatibility and 512MB devices
Apps and games running on Windows Phone 8 devices with 512MB of RAM, such as the HTC 8S and the Nokia Lumia 520, 521, 620 and 720, should not exceed 300MB of RAM usage. Because of this requirement, a limited number of apps and games cannot be installed to these devices.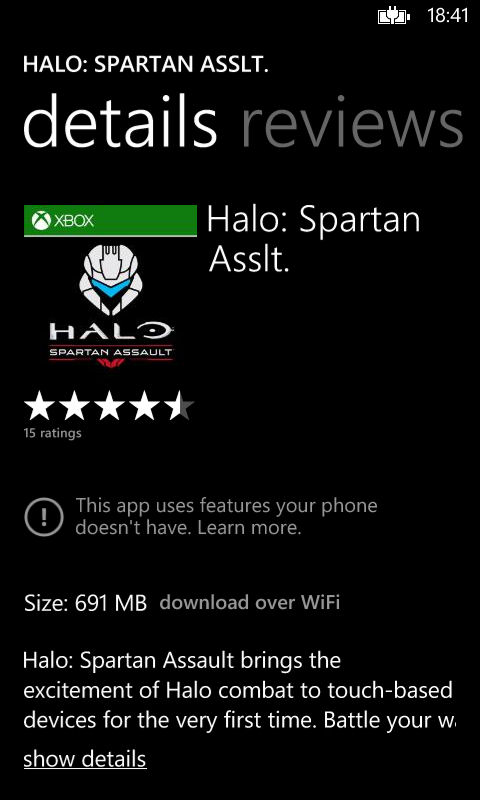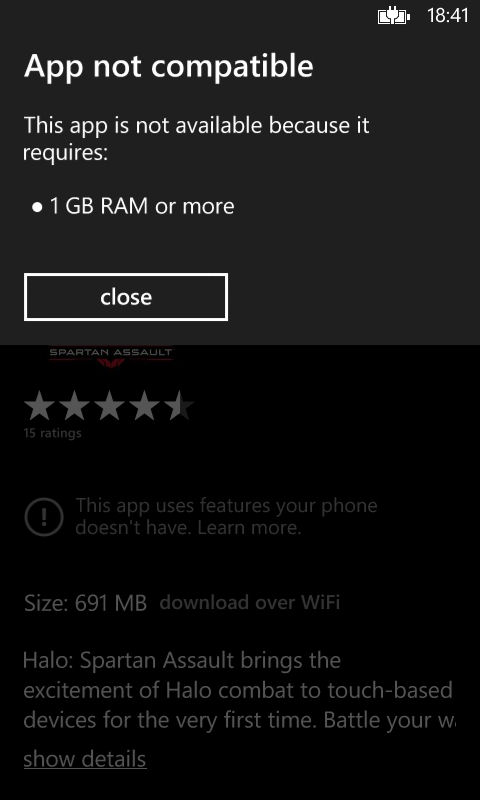 The apps and games can still be viewed in the Windows Phone Store app on 512MB devices (using a direct link), but it will not be possible to download and install them. On the details page for such content, a message is shown:
This app uses features your phone doesn't have. Learn more.
Tapping this text pops up a message window:
This app is not available because it requires: 1GB RAM
This begs two obvious questions: How many of these memory incompatible apps are there? Is this a serious factor to consider when deciding what phone to buy?

Statistics
Out of 149,078 currently live (active) content items that we are currently tracking in the Windows Phone 8 Store, 331 (0.24%) are not compatible with 512MB devices. When just looking at the games category, which has the highest proportion of incompatible content items, these figures are 65 out of 17,029 items (0.361%).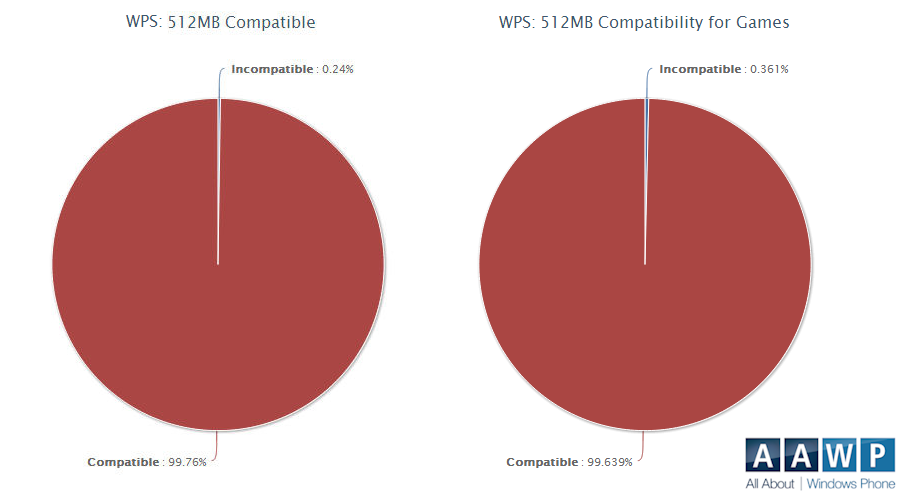 However, the absolute numbers hide some interesting details. Of the 331 incompatible items, 199 come from just two developers: Manna and AppDesigner.com. Manna provides city guides apps, while AppDesigner.com provides video-based tutorial apps. Both developers are using app templates to create multiple similar apps. There's nothing wrong with this approach, provided the apps are of reasonable quality, but apps from these developers make up nearly two thirds of the apps incompatible with lower specification devices. Excluding the results of these two developers would give an incompatibility percentage of just 0.088% (less than one in a thousand apps).
This low percentage does not mean that the 512MB RAM incompatibility issue should be ignored altogether. That's because there are some high profile games on the incompatible list (e.g. Halo: Spartan Asslt., FIFA 13, N.O.V.A.3, Tiger Woods 12, Mass Effect:Infiltrator, The Amazing Spider-Man, Cracking Sands, Gerbil Physics, MONOPOLY, Rocket Riot, and The Sims 3). For apps, the situation is almost completely clear, with Zinio the only really high profile app on the 512MB incompatible list.
It should be noted that the list of incompatible apps is not set in stone. While we have been tracking this metric, a number of games have received updates that have made them compatible with 512MB RAM devices, a trend we expect to see continue in the second half of the year. Two good examples of this are Temple Run and Drift Mania Championship 2. Both of these games are powered by the Unity engine and, when first released, were not compatible with 512MB devices. Updates to the Unity engine improved its memory footprint and updates were subsequently released for both games which made them compatible with the lower specification devices.
What's also notable is that the situation is much better than it was, and is, for 256MB RAM devices running Windows Phone 7.5 (e.g. Nokia Lumia 610), where the current incompatible percentage is 1.5%, little changed from last summer's 1.6% figure.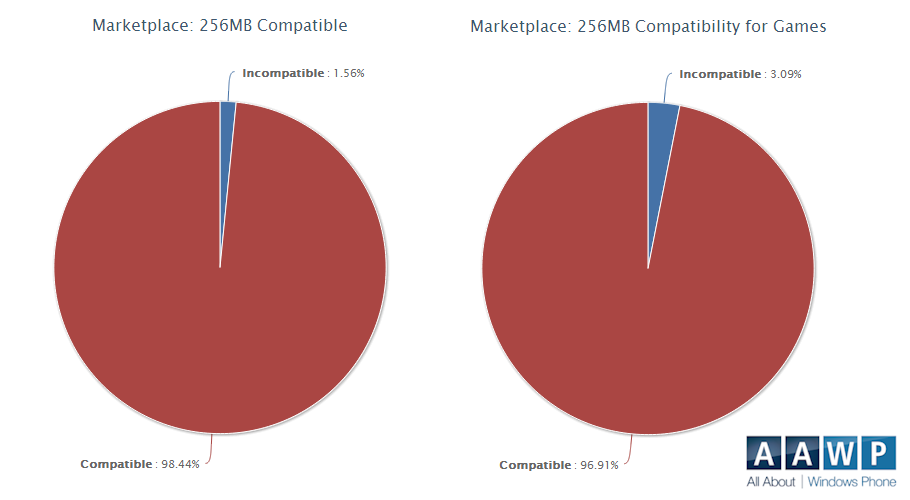 Conclusion
The statistics above make it clear that, when deciding whether to buy a low or high specification Windows Phone 8 device, outside the obvious hardware and cost differences, the only major factor you need to consider is game compatibility. If games are not a priority then memory based app compatibility is not an issue that need concern you.
The vast majority of games are still compatible with the lower specification handsets, so it is important to emphasise that these devices are not a game free zone. For every 300 games available in the Windows Phone Store only one will be incompatible with 512MB RAM devices. However, the games that are incompatible do tend to be high profile. That's not a surprise, given that such games tend to be more resource and graphics intensive, but it is something that a game-loving smartphone user should be aware of before making a purchase decision.
App and game constraints on lower specification devices is not limited to Windows Phone. A similar story is to be found on both Android and Blackberry devices. Indeed Windows Phone, especially in the light of the statistics above, is a beacon of light by comparison to its competitors, with only a very small number of incompatible apps and games. In the case of Android, this is somewhat counter balanced by the great number of apps available, but, as we've discussed previously, it does reinforce the idea that, on a relative basis, Windows Phone provides a superior software experience on low cost devices.
That said, when discussing app compatibility, it's important not to lose sight of the fact that their lower specifications (and associated lower price points) significantly increase the potential market for a device and platform. While power users may be annoyed by the absence of a favoured app, those buying a low cost device are likely to place a greater priority on the affordability of the device.

Complete listing of incompatible apps and games
You can download our custom app report, which lists all apps and games that are not compatible with 256MB devices, here (PDF, 1.0MB). There are currently 331 apps listed in this report. Some additional apps are also incompatible with 512MB devices, but these are not listed as they are no longer live on the Windows Phone Store (withdrawn by publisher, or pulled by Microsoft), and therefore cannot be downloaded to a new device.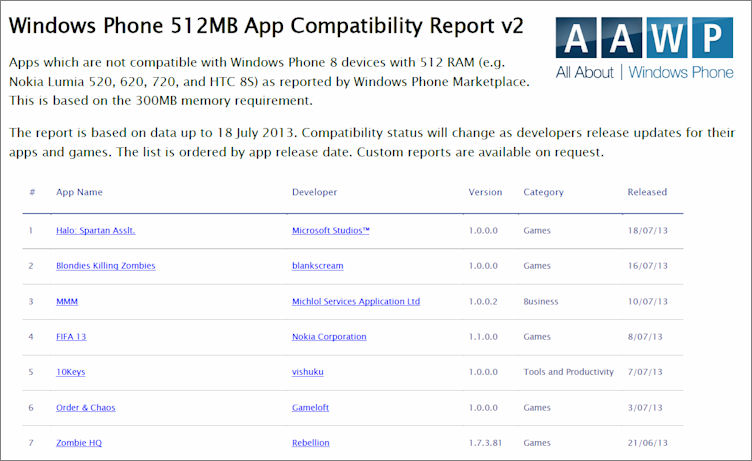 This report is current as of July18th 2013. As noted above, it is anticipated that some developers will release updates for their apps and games to make them compatible with 512MB devices - as such, this list is subject to change. Thus far, since we started tracking this metric, we noted a handful of app updates for 512MB compatibility (mainly Xbox Live games).
This is an example of the type of reports that can be created by the AAWP App Tracking service. We also use the service to generate our regular reports on Windows Phone milestones. If you're interested in getting additional insight or more detailed data, please get in touch and ask about the AAWP App Tracking service.