Availability
The Nokia Lumia 1520 is already on sale in the US with AT&T (from $99 on a two year contract). It will be available in select Western European, Middle East, and Asian markets in early December.
For example, Nokia UK yesterday announced that Nokia's large screen smartphone will be on sale with O2, Vodafone, Carphone Warehouse, Phones4u, and other independent retailers from December 6th. In the UK will be available with no up front charge ("free") on two year contracts starting at £38 per month.
Specifications
The table below lists the key specification for the Nokia Lumia 1520 (far right), compared against other recent Nokia Lumia devices. Some of the most notable specifications are the 6 inch IPS LCD screen, the 20MP PureView camera, the Snapdragon 800 processor (Quad-core 2.2GHz), and the quad directional HAAC microphones, all of which are "firsts" for a Nokia device in a variety of ways.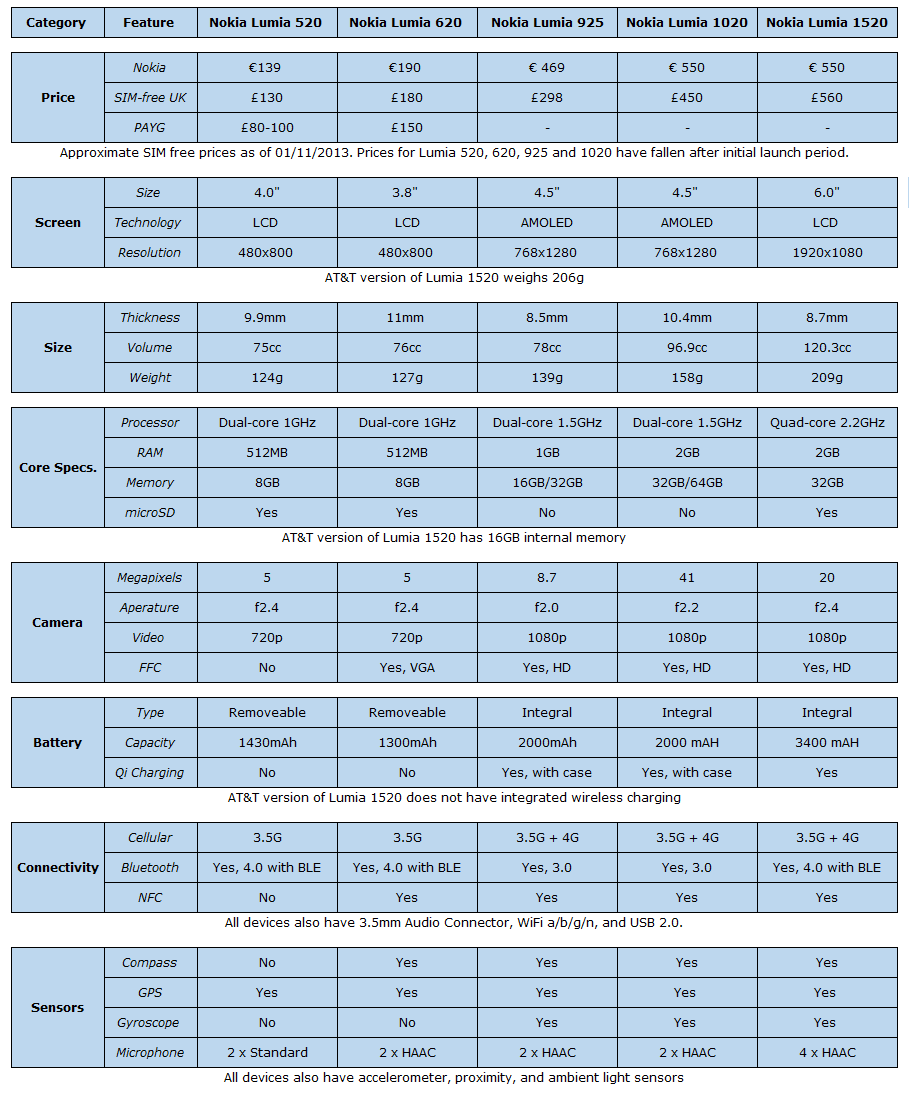 Conclusion
In our hardware review of the Lumia 1520 we concluded:
With the Lumia 1520, Nokia has once again delivered a superb piece of hardware, further burnishing the company's reputation for design excellence and innovation. The Lumia 1520's camera is something quite special, getting close to the experience and quality of the Lumia 1020, without any form factor compromises. The overall feel and design impresses too, with an attention to detail that offers moments of delight. But the biggest stand out – exactly as it should be on a device in this category – is the screen, which is, quite simply, the best we've seen on any smartphone.
We'll be continuing our Lumia 1520 coverage with a more detailed look at the device's imaging capabilities and software features in due course.