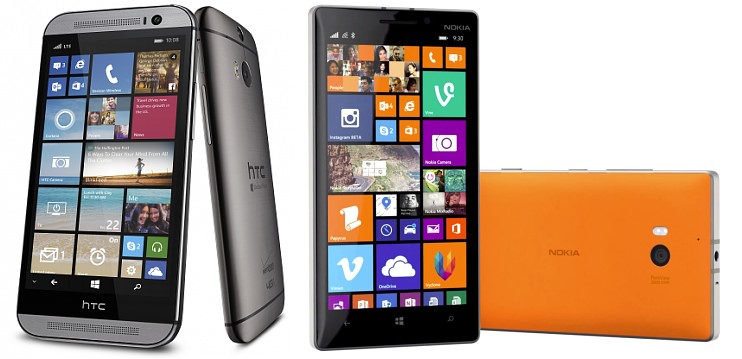 In advance of a full 'HTC One (M8) for Windows' review (we have one winging our way across the Atlantic), and bearing in mind our existing review of the Lumia 930, here's a tabular comparison that will hopefully an idea of how the two contenders stack up. As usual, I've shaded in green an obvious 'win' for either device...
| | | |
| --- | --- | --- |
| | 'HTC One (M8) for Windows' | Nokia Lumia 930 |
| Date first available | August 2014 | July 2014 |
| Current price, availability | n/a (expected £450 in the UK in a few months?), currently Verizon in the USA only | £410 (SIM-free in the UK, inc VAT), available worldwide |
| Dimensions | 146 x 71 x 9 mm | 137 x 71 x 10mm |
| Form factor, weight | Unibody aluminium design, Gorilla Glass, RF antennae embedded in case detailing. Weight is 160g | Aluminium frame, convex Gorilla Glass. Polycarbonate rear insert (for RF antennae). Weight is 167g |
| Operating system, interface | Windows Phone 8.1 Update 1 (though this is relatively immature, so expect updates through the next few months); virtual Windows Phone controls, meaning that not all the display is used for content by default, though these can be swiped away when necessary. | Windows Phone 8.1 plus Lumia Cyan tweaks. Capacitive controls below the screen, so the whole display can be used for content. |
| Display | 5.0" (1080 x 1920) 'Super LCD 3' display, RGB matrix, not bad in sunlight. | 5.0" (1080 x 1920) AMOLED with ClearBlack Display polarisers, pentile matrix, so not full 1080p on all sub-pixels. Visibility excellent in sunlight. Nokia's usual Glance screen not currently possible due to hardware technical limitations. I'm hoping that at least a 'peek' mode is enabled in a future software update! |
| Connectivity | Quad band GSM, Quad band 3G, septaband LTE (all depending on variants as the model spreads across the world), Wi-Fi b/g/n/ac, Bluetooth 4.0, integral wifi tethering, NFC | Quad band GSM, Quad band 3G, up to pentaband LTE, Bluetooth 4.0, Wi-Fi b/g/n/ac, integral wifi tethering, NFC |
| Processor, performance | 2.3GHz Snapdragon 801, 2GB RAM, any limitations are usually Windows Phone's own transitions in terms of UI speed | 2.2GHz Snapdragon 800, 2GB RAM, as fast as the One (M8), with same caveats over Windows Phone transitions. Anecdotally, from the Android world, the 800 isn't quite as power-smart as the 801, though we'll have to see what this equates to in the real world. |
| Capacity | 32GB internal storage, plus microSD expansion | 32GB internal storage, non-expandable |
| Imaging (stills, good light) | 4MP 'ultrapixel' (i.e. large pixels) 1/3" BSI sensor, dedicated imaging chip for fast processing/burst mode effects. In terms of absolute quality, disappointing results by modern standards (I've tested the Android version at length) - noise levels are fairly low, but then so is detail. Sadly. An extra depth camera collects approximate distance for each area of the photo field, with an optional 'UFocus' post-processing effect artificially blurring parts of the image deemed not to be in the same z-plane as that which the user selects. Something of a novelty feature. | 21MP PureView oversampling 1/2.5" BSI sensor, flexible software control over settings, dedicated camera shutter button and launch key, 2x lossless digital zoom, OIS. Great results, even zoomed or reframed. The larger sensor and oversampling mean that the 930 produces better results in poor light, too. |
| Imaging (video) | Decent enough 1080p capture, good stereo audio capture | Very good 1080p video capture, with 3x lossless zoom during recording and OIS helping, especially while zoomed. Four HAAC microphones mean perfect audio capture in stereo and with appropriate directional cancellation. |
| Music and Multimedia | 'BoomSound' stereo speakers, excellent fidelity and decent volume too, A2DP, 3.5mm jack, DLNA. | Decent mono speaker, 3.5mm headphones (not included in the box), DLNA |
| Gaming | An average selection of games, with the oddity that some of the early WP classics are no longer available! (e.g. Tiger Woods PGA) | Same. Disappointing overall, though I still have some WP game favourites. |
| Navigation | The HERE Maps/Drive suite is unrivalled, with the 100% offline routing and maps that don't expire. Plus live traffic, good public transport advice and innovative 'live sight' functions. This being a non-Nokia device, there are some restrictions on downloads outside the country you bought the device in (I think - we'll have to wait for confirmation once someone tests this across international borders?) | Same. Excellent, and as this is a 'Nokia', there's a guarantee of all country maps being downloadable offline for free. |
| Extras | Infrared beamer, with TV control/guide application, BlinkFeed news/feed aggregator, HTC Camera application, an optional 'Dot View' flip case that integrates with a 'super-sensitive-touch' capacitive screen to offer some swipe and tap detection through 'retro' drilled dots | Nokia Camera/interface, various Nokia imaging additions, e.g. Living Images, Creative Studio, Storyteller, PhotoBeamer |
| Cortana | Present out of the box, this being a USA exclusive at the moment, activation through the optional Dot View case too. | Present in the USA, though you'd have to sign up for the Developer Preview programme to get this in the UK and China (etc.) at the time of writing. |
| Battery, life | 2600mAh, sealed in, should easily last a day, microUSB charging, but no Qi wireless option | Sealed 2420mAh battery, easily gets through the day, microUSB or Qi wireless charging. |
| Applications and ecosystem | Windows Phone now has just about every mainstream app covered, with great strides in the last few months. Niche/boutique apps are often an issue, though... Also anything to do with Google services! | Same. Either satisfactory or frustrating, depending on what you want to run! |
| Upgrades and future | Updates should continue into 2015 and beyond - in theory - let's hope HTC is committed to the cause! | The 2GB of RAM and chipset here, plus the Microsoft/Nokia ownership, should see the 930 updated well into 2015 and even 2016. |
As you'll see from the green tints, something of a win for the Lumia 930 in my analysis then, though the two devices are really pretty close, and some of the wins, e.g. the 930 for the Qi wireless charging, are something of a subjective/personal call. Imaging is another big factor - if you ignore absolute photo and video quality and settle for 'social' snapping, then the HTC One (M8) for Windows may win out, with the better speakers and storage expansion.
So - it all depends. A cop out by me, for sure. I'd rather have the Lumia - just. But many people will swing the other way on the choice. Great to see some decent competition to the 'Nokia' brand at last though - and with the Microsoft acquisition of Nokia and the various HERE licensing, there's no reason why all the major traditional software advantages of the Nokias can't now be used on competitors.
At the risk of preaching to the choir, the winner here is the platform - Windows Phone 8.1 itself.