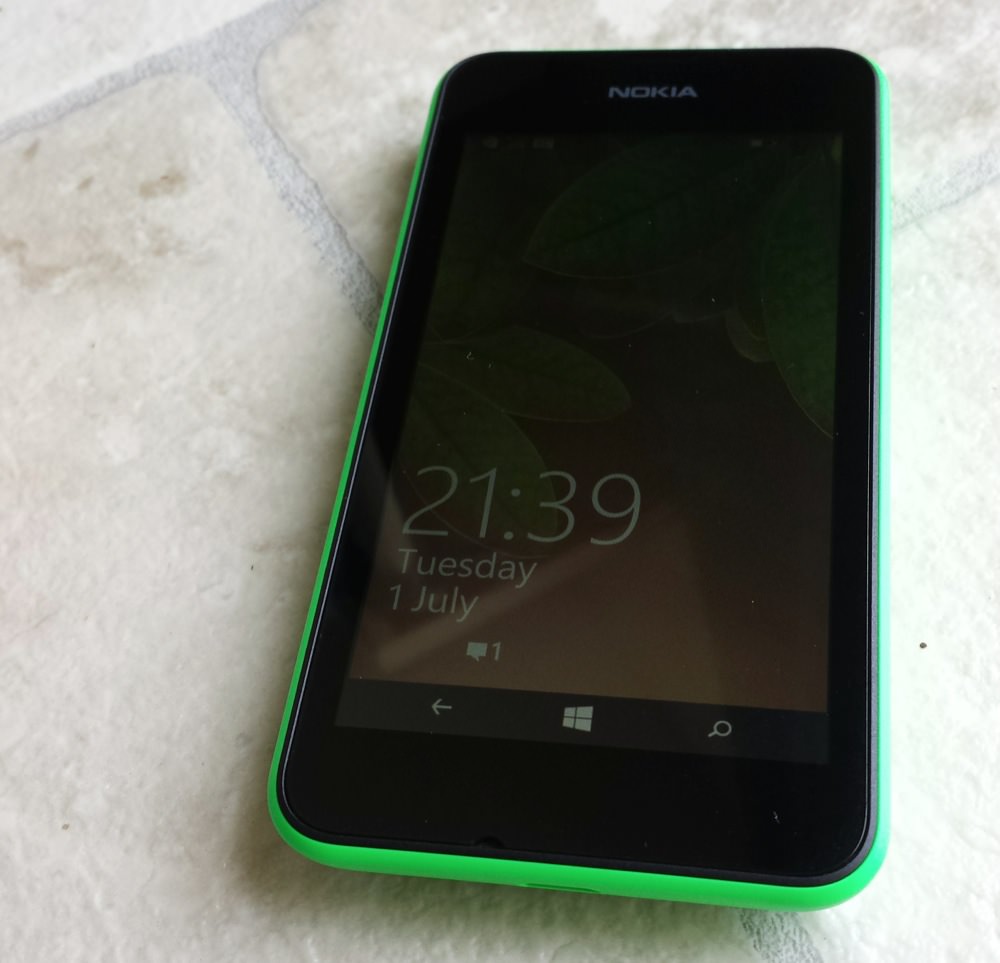 From the original NPU article (sic):
So, guys and gals!! Be ready to welcome the latest Lumia family member, the Lumia 435 to the Lumia range, soon. Yes, we can now sort of confirm that Microsoft will take the Lumia range beyond 5XX series and the latest entry-level Lumia will be called Lumia 435.

We also believe that earlier leaked Lumia variants RM-1068, RM-1070, RM-1071, RM-1032, RM-1034 and RM-1069 belong to this device only, which will arrive globally in both Single-Sim and Dual-Sim avatars.

"RM-1068, RM-1070, RM-1071, RM-1032, RM-1034 are the five variants that can be seen in above screenshots taken from FCC certifications of the device. As you can see RM-1068 and RM-1032 are Dual-Sim variants, while other three are Single-sim variants."

With its variants already passing certification in Indonesia and at FCC in USA, the 4-inch Lumia device which may have hardware touch-buttons and comes with a 800 x 480 resolution display (confirmed), looks destined for a sooner release.

The FCC report also reveals size specs of the device and it seems to have 118.1 x 64.7 mm size, which compares to Lumia 530 size specs of 119.7 x 62.3 mm.
Given the Lumia 530's existence, only launched six months ago, the similarly specced 435 would be a bit of a surprise, though the rather excellent value Lumia 535 probably has something to to with it - better to drop down to a different number series altogether for the real budget model. This would be the first time we'd seen a 4xx model and, as many have speculated, will be the Windows Phone that officially replaces the older Asha feature phones, coming in a similar prices yet with vastly greater functionality.
The Lumia 530, as I remarked in my review here on AAWP, only really exists to fill a gap in the very low end of the market (£40 on PAYG in the UK), and the 435 can be thought of a slight tweak to that design for specific markets. Quite possibly getting even lower in price thanks to commoditisation of the parts needed.
Placing the budget offerings in the Lumia range (this time) in model/price order, and again throwing in the Yezz Billy 4.7 as indicative of the non-Microsoft/Nokia OEM competition...
[As before, my approach here - and at this point I have to apologise to anyone viewing this feature ON a Windows Phone - is unashamedly table-based, something which is handled very poorly in the combination of AAWP's dynamic content resizing and Internet Explorer on a phone. Instead, anyone doing such a thing should switch over to a laptop, tablet or even a large screened Android phone, in order to see the whole table. Sorry about that, but hopefully the result is worth it. If you really must view the table on your Windows Phone right now, tap here!]
Devices:
Lumia 435
(rumoured)
Lumia 530
Lumia 535
Lumia 630/635
Lumia 735
Yezz Billy 4.7
Announced
January 2015??
July 2014
November 2014
April 2014
September 2014
May 2014
Guide price (UK or India)
Not known, but very low. RS4000 in India has been quoted
£49 (RS5300)
Not known in the UK, but RS9000 in India is common right now
£79
£149
$199? (£140?)
Dimensions, weight
118 x 65 x ??mm, ??
120 x 62 x 12mm, 129g
140 x 72 x 9mm, 146g
130 x 67 x 9mm, 134g
135 x 69 x 9mm, 134g
136 x 67 x 7mm, 120g
Screen size, tech
4" LCD, 480p RGB
4" LCD, 480p RGB
5" LCD, 540p RGB
4.5" LCD, 480p RGB, ClearBlack Display 'Lite'
4.7" AMOLED, 720p pentile, ClearBlack Display
4.7" LCD, 720p RGB
Glance screen
No
No
No
No
No (oddly, since this would be perfect for AMOLED!)
No
Materials
All plastic, matt effect
All plastic, moderate matt effect
All plastic, matt effect
All plastic, nice matt effect
All plastic, beautiful finish and styling
All plastic, decent styling but smooth finish that attracts fingerprints
Processor, speed, RAM
Snapdragon 200, 1.2GHz, 512MB RAM
Snapdragon 200, 1.2GHz, 512MB RAM
Snapdragon 200, 1.2GHz, 1GB RAM
Snapdragon 400, 1.2GHz, 512MB RAM
Snapdragon 400, 1.2GHz, 1GB RAM
Snapdragon 200, 1.2GHz, 1GB RAM, reportedly laggy due to processor/screen mismatch
Storage
4GB, plus microSD
4GB plus microSD
8GB plus microSD
8GB plus microSD
8GB plus microSD
8GB plus microSD

Stills camera
5MP, probably no flash
5MP,

fixed focus,

no flash
5MP, LED flash, plus decent secondary, front facing camera
5MP, no flash

6.7MP, LED flash, plus decent secondary, front facing camera
8MP, LED flash, plus 2MP front facing camera
Video camera
480p
480p
480p
720p
1080p, stereo recording
720p
Charging options (any Qi?)
microUSB
microUSB
microUSB
microUSB
microUSB plus Qi
microUSB
Battery capacity, life
BV-5J capacity not known, but removeable
BL-5J 1430 mAh, removeable
1905mAh, replaceable
1830 mAh, removeable
2200 mAh, removeable
1780 mAh, (probably) sealed
Speaker
Back, volume unknown
Back, moderate volume
Back, moderate volume
Back, quite loud
Back, quite loud
Not known!
Advanced comms (depending on variant)
Up to dual band 3G (probably)
Up to quad band 3G
Up to dual band 3G
Up to hexaband 4G (on the 635)
Up to tri-band 4G, NFC
Up to quad band 3G
Launching with
Lumia Denim (based on WP 8.1)
Lumia Cyan

(based on WP 8.0)

Lumia Denim

(based on WP 8.1)

Lumia Cyan

(based on WP 8.0)

Lumia Denim

(based on WP 8.1)

Vanilla Windows Phone 8.1

It's tempting to completely dismiss the (alleged) Lumia 435 and 530 here in Western markets, aside from being disposable smartphones for kids - after all, which of us wouldn't pay an extra £40 or so to pick up a 630 or 535 or similar? £40 here in the UK is about the cost of a meal for two in a modest restaurant, or the price of a tank of fuel for a small car, or perhaps a return train fare to the city and back - in other words, £40 extra isn't a huge amount for most people reading this. However, in developing markets (including India, away from the wealthiest urban areas) the equivalent of £40 extra is a week's food and living expenses - it's all a matter of context.
Also important, strategically, is that the (alleged) 435 would open up a new number series for Microsoft's OS (less confusing for both general punters and marketing managers!) and would launch with Lumia Denim, so there would be no worries over OTA updates in the short term.
Comments welcome, especially if you have any insight on the types of market in which a Lumia 435 might feature. Say what you like about the weaknesses in Windows Phone and even about the hardware compromises needed to get down to this price, a Lumia 435 at £40 on pay as you go is a heck of a lot more useable and future proof than a mashed up feature phone OS, as used by the previous Asha disasters.