I was at the G4's launch yesterday in London, to do some initial testing and some comparisons. Here's the 930 and G4 side by side, for example: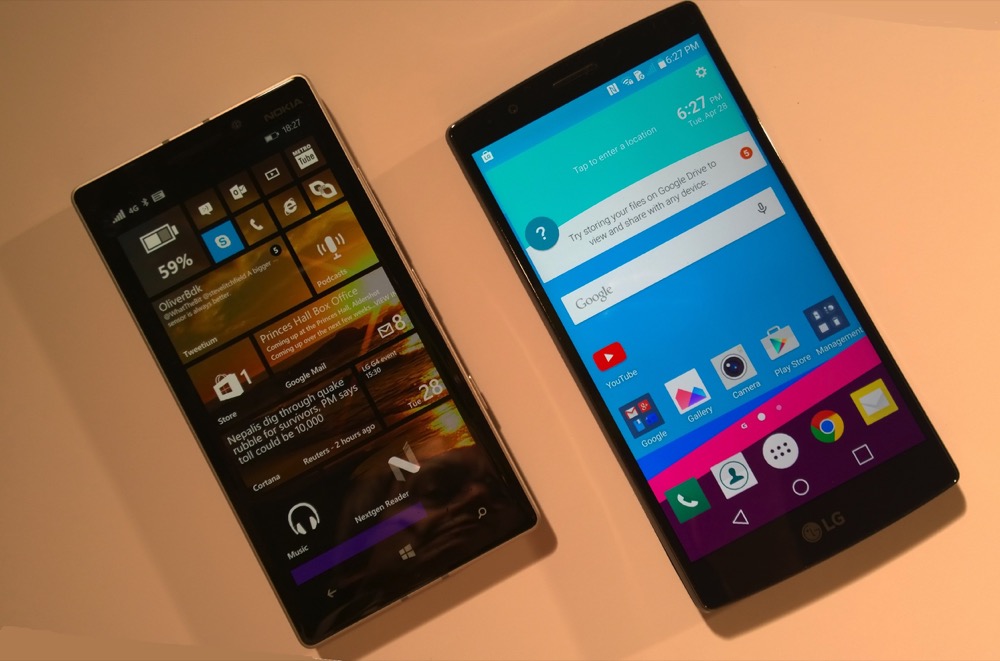 The Lumia 930 is a known quantity, of course. A flawed flagship in some ways (lack of Glance screen being the biggest), but still a very capable Windows Phone, recently made more capable with Lumia Denim, Lumia Camera 5 and even Windows Phone 8.1 Update 2 - and it's still the highest spec smartphone we have in this ecosystem (the 1520 was much larger and also not on sale). While the G4 is the very latest, state of the art slice of high tech, brand spanking new, launched only today - hence the photos.
Even though parts of this run the risk of being a little one-sided (and not in the Windows Phone's favour), there's plenty still to talk about and to pitch in this latest head to head, not least bearing the price in mind, with the 930 half, repeat half the price. As usual, I've shaded in green an obvious 'win' for either device...
[By the way, if you're viewing this feature ON a Windows Phone then the table may well cause you problems. Try viewing in landscape mode? Failing that, go view this on a laptop or tablet and then go bug Microsoft about the poor state of Internet Explorer - roll on Project Spartan and Windows 10!]
Nokia Lumia 930
LG G4
Date first available
July 2014 (the Icon was February 2014, but in the USA)

April 2015

Current price, availability
£300 (SIM-free in the UK, inc VAT), less if you shop around
£500

(SIM-free in the UK, inc VAT) for version with ceramic back, extra £20 for a leather option

Dimensions
137 x 71 x 10mm, reassuringly err... solid. Useable as an offensive weapon at a pinch(!)
149 x 75 x 9mm, felt slender-edged and light, considering what's in it...
Form factor, weight
Aluminium frame, convex Gorilla Glass. Polycarbonate rear insert (hosting NFC and Qi antennae). Weight is 167g

Plastic body, Gorilla Glass, Ceramic or leather coatings on removeable plastic back, 155g

Operating system, interface
Windows Phone 8.1 Update 2 plus Lumia Denim tweaks, animated/live tile 'Start' screen. Capacitive controls below the screen.
Android 5.1 and LG's UX 4.0 skin over the top. No surprises for an Android user - quite a few LG additions, but you don't have to use them.
Display
5.0" (1080 x 1920) AMOLED with ClearBlack Display polarisers. Visibility excellent in sunlight. Nokia's usual Glance screen not possible due to hardware technical limitations.

5.5" IPS LCD 1440p resolution, Claimed good contrast outdoors thanks to 'Quantum' technology - no one's tested this yet, but I'd be surprised if it matched CBD.

Connectivity
Up to LTE, Bluetooth 4.0 (including HID profile for Bluetooth keyboards), Wi-Fi b/g/n/ac, integral wifi tethering, NFC, nanoSIM

Up to LTE, NFC, Bluetooth 4.1 (this being Android 5, including the HID profile for Bluetooth keyboards), Wi-Fi b/g/n/ac, integral wifi tethering, microSIM



Processor, performance
2.2GHz Snapdragon 800, 2GB RAM, pretty fast, main speed limits are in Windows Phone's insistence on animations/transitions/resuming indicators.

Up to 1.8GHz (hexacore) Snapdragon 808, 3GB RAM, very fast, as Android typically is, with minimal transitions.

Capacity
32GB internal storage, non-expandable
32GB internal storage, plus microSD, crucially, up to 128GB
Imaging (stills)

20MP PureView oversampling 1/2.5" BSI sensor, flexible software control over settings, dedicated camera shutter button and launch key, genuine 2x lossless digital zoom, OIS. Great results, even zoomed or reframed. The mature oversampling mean that the 930 produces great results in most conditions. 'Rich Capture' produces customisable HDR shots with good results. Indoor shots are limited by the use of only LED flash. Camera opening now very fast with Lumia Camera 5 and shot to shot time only around half a second, or less.

8MP stills also possible (using the Lumia Moments application) from 4K video bursts from a long press on the shutter button.

1.2MP front camera seems under-specced, but actually works very well indeed.

16MP 1/2.6" BSI sensor, with shutter controls mapped to volume keys on back if needed. Really impressive results, showing how far sensor technology has come in the last few years. 'OIS 2.0' is basically the same 3-axis spec as Nokia put into the 930 and similar devices, and seems to work just as well.

Many modes available, more testing needed, obviously, for both stills and video, in due course.

8MP front camera with F/2.0 aperture.

Imaging (video)
Very good 1080p (default, 4K selectable in settings) video capture, with genuine 3x lossless zoom during recording and OIS helping, especially while zoomed. Four HAAC microphones mean directional audio capture in stereo and at rock gig levels without distortion.

4K video capture, with OIS and stereo audio.

Music and Multimedia
Decent mono speaker, 3.5mm headphones (not included in the box), A2DP, DLNA

Decent mono speaker, 3.5mm headphones (included), A2DP, DLNA

Gaming
A very average selection of games, with the oddity that some of the early WP classics are no longer available! (e.g. Tiger Woods PGA)

Great selection of games, Android's stable is now almost as fully stocked as the iPhone's!

Navigation
The HERE Maps/Drive suite is unrivalled, baked into every phone, with the 100% offline routing and maps that don't expire. Plus live traffic, good public transport advice and innovative 'live sight' functions.

Google Maps and navigation is excellent, though hampered by very limited offline capabilities still. There's HERE Maps now, if the user knows to go look for it. Honours even overall.


Cortana/Voice
Present in many countries now. Also works even with the display off, "Hey Cortana!" etc. with the recent Lumia Denim update. A generation on beyond Siri and half a generation beyond Google Now/Search, though still some rough edges. A win for Windows Phone here, but only if you live in a supported country/language.
Google Now has many voice functions, including dictation of text in some applications. Most commentators agree that its age means that it's slightly less holistic than Cortana though.
Battery, life
Sealed 2420mAh battery, easily gets through the day, microUSB or Qi wireless charging on any convenient Qi stand.

Removeable 3000mAh battery, should easily get through a day. Charging via Qi or microUSB.



Applications and ecosystem
Windows Phone now has just about every mainstream app covered, with great strides in the last year. Niche/boutique apps are often an issue, though... Also anything to do with Google services!
Fully covered, from A-Z, these days. Any application of any significance in the mobile world is available for Android.

Upgrades and future
The 2GB of RAM and chipset here, plus the Microsoft/Nokia ownership, should see the 930 updated well into 2015 and even 2016 with 'Windows 10'.
Future proof, if LG is willing - should see updates through 2016.



Verdict
A definite win for the G4 here, by 5 'greens' to 3, but perhaps not surprising given that the 930 is arguably well over a year older. The leather is interesting but purely cosmetic, of course. What surprised me in my initial hands-on was that - again - the competition seem to have caught up with Nokia/Microsoft in terms of imaging, with the high spec sensor and equally as effective OIS meaning that this crucial area of the smartphone is cutting edge. And, of course, I loved the expandable storage and removeable battery (see my photo below).
In the 930's favour, of course, is that it's £200 cheaper, i.e. 60% the price, or less if you shop around - so perhaps this helps level the comparison again. It all depends on what you want and what your budget is, as always! On that topic, I'm also going to be comparing the G4 with the Lumia 640 XL, a physically better match but with an even wider price gap. Watch this space.
PS. See also my musings on what the mythical Lumia 940 will bring - something along these lines should level the playing field again!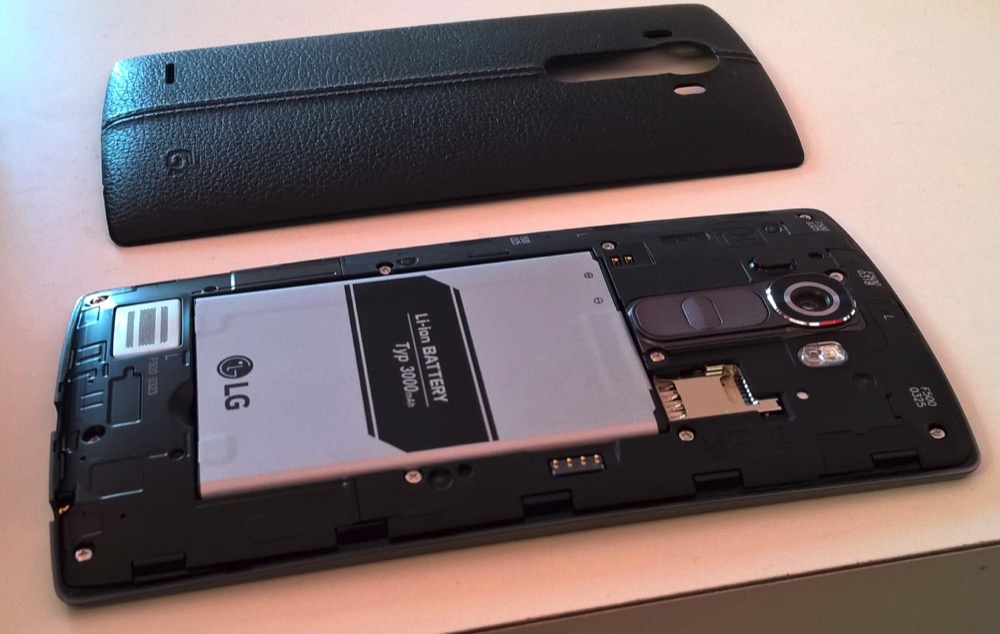 PPS. Example G4 sample photo of a pro camera set-up in almost complete darkness, and without flash. I just pointed the 930 and G4 at this in the shadows. Really impressive. I'd include the 930 version but it was rushed and the focus wasn't right. Roll on my official camera head to head in due course!