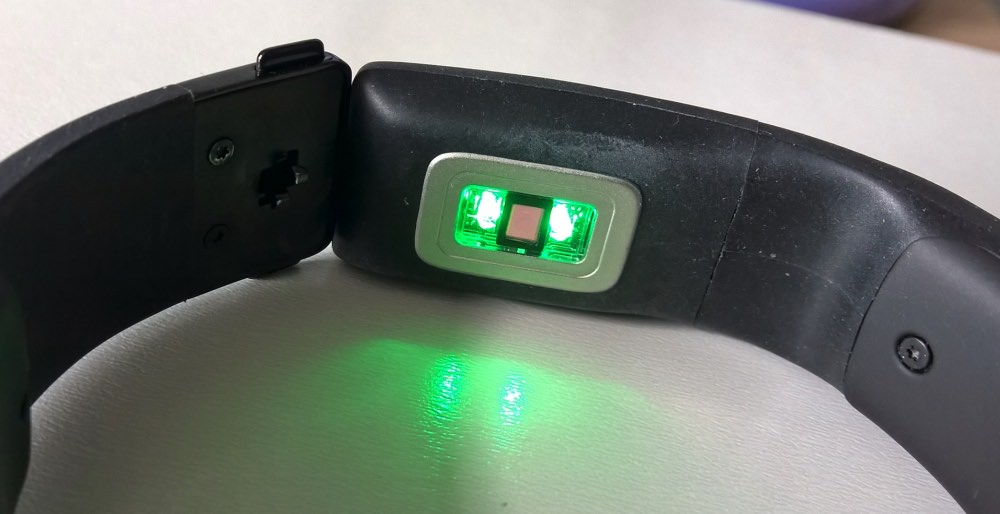 NB. As you might expect, given the nature of Leila's understandably 'party line' responses, I couldn't resist throwing in my own thoughts after each one, for readers here. I'll distinguish these from the main prose by putting them in italics and indenting them a little. See what you think!
By the way, see also my full review of the Microsoft Band from a few weeks ago and my compilation of 'top 10 apps' for the accessory.
___________________
Steve: "Smartwatch or fitness band?"
Leila (pictured right): The Microsoft Band is a smart band for the fitness enthusiast who wants to live healthier and be more productive. It's unique in that it combines the most advanced fitness tracking capabilities on the market today with the most useful features of a smart watch into one simple device.
With Microsoft Band, we believe we have a unique offering that is designed for people to live healthier lives with great scenarios like on-board GPS and heart rate for running and cycling. We also provide unique features like Guided Workouts, which are like having a personal trainer on your wrist. But we don't just stop there, we also provide a great array of productivity notifications that help people get value throughout their busy work day, and then of course, sleep tracking at night.
Additionally, by being a smart band, we are not forcing our customers to replace their watch. Microsoft Band is designed to be worn alongside a wristwatch, or to be used on the other wrist.
Fair enough, I do think the pitching of the product is about right, though I'd draw the line at wearing a traditional watch as well - the Microsoft Band is really all you need in that department!
"My testing so far confirms a gut feel that the band is something of a prototype, in terms of concept, i.e. the feedback Microsoft gets from the first thousand users will shape a version 2 Band for later this year. Does this sound about right?"
When we launched 7 months ago in the US at Microsoft stores, we took a humble and multi-phased approach to the wearable category. Already we're seeing some great feedback and, have been busy putting that feedback into action. Since the UK launch on April 15th, we've added in a new web dashboard to give people access to more insights (like weekly and monthly patterns, improvements in fitness levels, VO2 max, and more). We've added in cycling as a new experience and Strava as a partner. And we won't stop here.
'Multi-phased' sounds about right, and you'll notice that my suggestion of a 'Band 2' wasn't rebuffed too hard. Improvements so far have been in terms of the Band ecosystem and back-end, surely a revised piece of hardware is next in line?
"There seem to be mixed messages about how waterproof the Band is - shouldn't a fitness band be at least usable in the shower, i.e. you don't have to keep taking it on and off?"
The Band is water-resistant, able to endure splashes of water, including rain or snow. Although you can't take it with you into the shower, I find that this is usually the perfect opportunity to give the Band a charge during the day, especially since 20 minutes will get the Band to 80% charge.
If you're prepared to be organised enough to sync your ablutions and accessory charging, then that's fair enough. Though I find I merely put my Band to one side when bathing, since the charging cable and power points are all in another room, etc., often half a house away. Also, there's no 'swimming' tracking possible here - a Band version 2 that was fully waterproof should be able to track strokes in the pool.
"What does the temperature sensor do? Ambient? Skin?"
Skin. The Microsoft Band can measure data from multiple sensors including galvanic skin response, skin temperature and UV. The sensors used in the Microsoft Band are often used collectively in providing you the best in class experiences, ranging from steps, distance, exercise effectiveness, and calories burned to beyond. You may not see simply the individual sensor reading by itself but the experience of using them collectively.
Fair point. Most of the sensor data can be broken out by using the right apps, but the algorithms inside the Band collate data from all the sensors, in seemingly intelligent ways. After all, the auto-sleep tracking is remarkably accurate.
"What is the expected battery life per charge? I'm getting 2 or 3 days without the always-on watch display…."
Yes, that's about right. We expect battery life to be two days of normal usage on one charge if you're getting frequent notifications and carrying out daily workouts. Microsoft Band will reach a full charge in approximately 90 minutes, and can reach nearly 80% within 20 minutes of charging.
I'd noticed that - it gets to 80% very quickly, though it's then tempting to yank it off charge and wear it again, meaning that you're never really seeing the full battery life. Still, two days on a charge is very practical as long as you don't have the always-on clock option enabled.
"What about double-tap to activate? And a way to activate Cortana recognition on-screen rather than having to long press an awkward button, e.g. when driving…"
Thanks for the feedback – these kind of user insights are really valuable.
"What's the display made of? Mine already has scratches after only 72 hours - Surely Gorilla Glass should have been used??"
Microsoft Band has been designed to be a robust and rugged device for those who are active in the gym and on the job. While it was designed to withstand even the most extreme fitness regimes, it is susceptible to scratches and damage through normal usage patterns like any wrist worn device. The band was designed for all-day use, and we believe the benefits and insights users will derive from its advanced suite of sensors will far outweigh any displeasure due to cosmetic damage caused by normal wear and tear.
No, I don't buy this at all. It was hardly 'designed to withstand even the most extreme fitness regimes'. Use the Band rock climbing or kayaking and the plain glass face will be scratched to oblivion very quickly. And I think the users will indeed experience 'displeasure due to cosmetic damage. Gorilla Glass 4 for the Band 2, please, Microsoft.
"What about other colours than black?"
The Microsoft Band is only available in black.
'Only available', ok. But your designers would have loved to have done coloured versions, had the budget been there? Again, cyan and green options please, for Band v2!
"I also get the impression that the Microsoft Health application for Windows Phone is still primitive, there's not that much in the way of analysing the data collected, what plans do you have for this?"
Since launch back at the end of October, we've brought MS Health to market across Windows Phone, iOS and Android, that provides a comprehensive activity view. However, one thing consumers told us they wanted was even more insights and with the addition of the web dashboard on April 22nd, we have added in a set of new insights.
Comparative Insights: Measures data such as daily steps, sleep, workout frequency and calorie burn and compares it to similar Microsoft Health customers based on body type (height and weight). Customers looking for motivation can use comparative insights as a benchmark to understand their health relative to similar people.

Sleep Recovery: Good sleep is the foundation of health, and something everybody does and needs. Microsoft Band tracks the length and quality of sleep. Use the Microsoft Health web dashboard to analyze sleep restoration, sleep efficiency, and wake-ups, to find out how well the body restores its resources during sleep.

Fitness Benefit: Track fitness progress using historical data to measure improvement over time.

VO2 Max: VO2 max refers to the maximum volume of oxygen used during exercise, and is the primary indicator of cardiovascular fitness. Traditionally, measuring VO2 Max is cumbersome. Not anymore. Microsoft Band estimates VO2 max based on heart rate information. Now customers can track how their VO2 max increases as they improve fitness level and achieve their wellness goals, simply.

Run/Exercise Observations: Get more out of run and workout data with in-depth observations and insights. With a week of data, customers can determine which day of the week and at what time of day they perform best. Using historical data from as far back as five weeks, customers can track whether they're maintaining, progressing, or need to re-dedicate themselves. Analyze detailed stats to find specific aspects of runs and workouts that can be improved.
Ah, well said. And a huge recommendation to use the companion web dashboard (partly shown below) on a bigger-screened device and with more intelligence at the back end (i.e. on Microsoft's servers). I can feel another of my tutorials coming on....!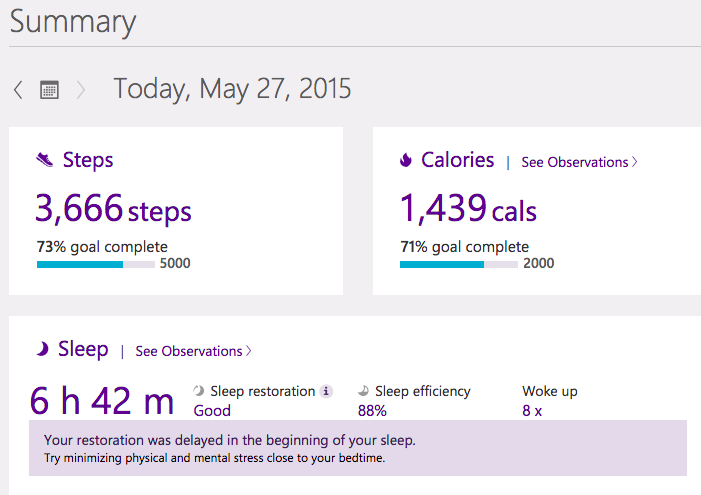 "What about the MSN Health and Fitness application? There seems to be a lot of overlap here - will they be merged?"
MSN Health & Wellness provides the latest in health and wellness news, information and count calories, while Microsoft Health intends to help you draw insights from your fitness data. We intend to integrate these services further as we work to continuously improve upon the Microsoft Health platform.
Ah, good. Or keep them separate and cross-link where needed? Anyway, sounds like plans are afoot!
________
Thanks Leila!
Any comments on all this? Have any of you picked up a Microsoft Band and been impressed, as I was, with the vision at least?