Review:
Microsoft Band: prototype and proud?
Score:
78%
Microsoft's own reviewer's guide for this, the Band, talks about it being 'the first device powered by Microsoft Health', and this is the key to understanding the accessory itself. Introduced initially in the USA at the end of last year, there was a feeling that it might never reach the rest of the world in that form, since the Band was quite clearly a 'version 1' and with many flaws. That it has made it to the UK in late April 2015 is handy because it means we get to play with it - and appreciate it, but don't be fooled that the Band is attempting to be a serious mass market product yet. Wait for 'Band 2', slimmer, lighter, tougher and cheaper.

Described as a 'cross-platform smart band', the Microsoft Band tries to escape direct comparisons with the Pebble, with Android Wear and the Apple Watch, or even with the likes of the Fitbit. And it succeeds in the sense that it really does sit somewhere in between - the fitness smarts are all there, plus the Cortana integration and notification system point to smartwatch functionality, yet the physical (and screen) shape mark the Band out as something different from the competition.
In theory, 'different' is good, and especially so as this is the smartest accessory we've yet seen which works seamlessly with Windows Phone, though the 'prototype' nature of the Microsoft Band does keep getting in the way. It's arguably too expensive (for what it is), it's too fragile (mainly the display), too heavy, and so on....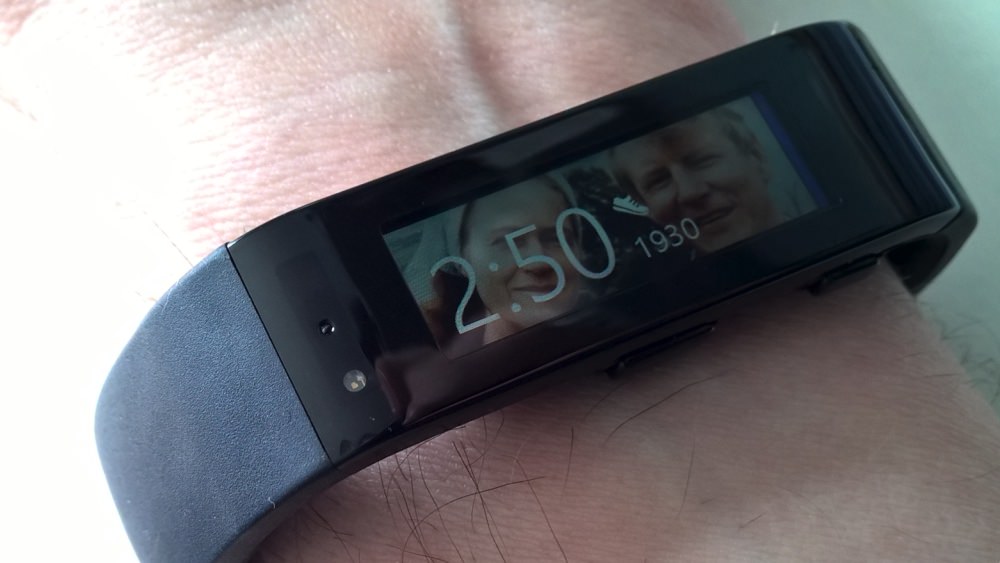 First impressions are excellent though - the wire and sensor-filled 'strap' is rubberised and grippy and the frame seems very solid, here all in black (I'm guessing that a 'Band 2' would start to open up the colour spectrum a little more), with the large (50 x 18 x 8mm) and flat display section seeming out of place until you realise that the Band is designed to be worn with the display on the inside of the wrist, unusually and innovatively. You can wear it on the outside, but then the controls don't make as much sense and the flat section looks extremely odd on the typical wrist, which is more rounded on the top surface. So inside it is.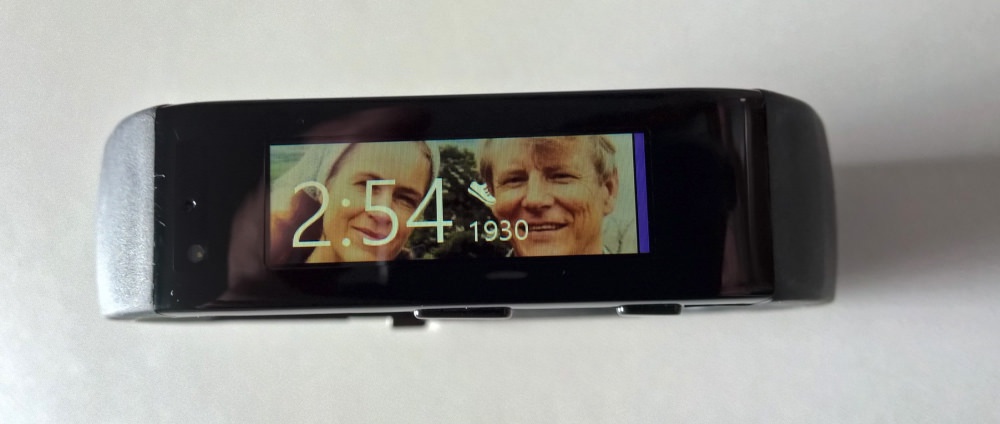 The display itself is colour, though not massively high resolution (320 x 106 pixels). The aspect ratio is, of course, the unusual bit, working well for strips of icons, times and stats, but more limited for notifications of email and SMS - these do come up and you can swipe 'up' to read more, a few lines at a time, but it's all a bit tortuous. Still, we're in the middle ground between recognised smartwatches and fitness bands, so....
One of the reasons for the price (£170 in the UK right now) is the sheer amount of tech that's built-in under the hood, mind you. It's easy to see Microsoft's vision here, in terms of sensors that map every aspect of your life, even if not all of them are used by the software yet, either on the Band or in the accompanying phone apps. Incidentally, the same is true of the new Apple Watch, i.e. there are sensors (e.g. O2 saturation) which aren't used at all - yet.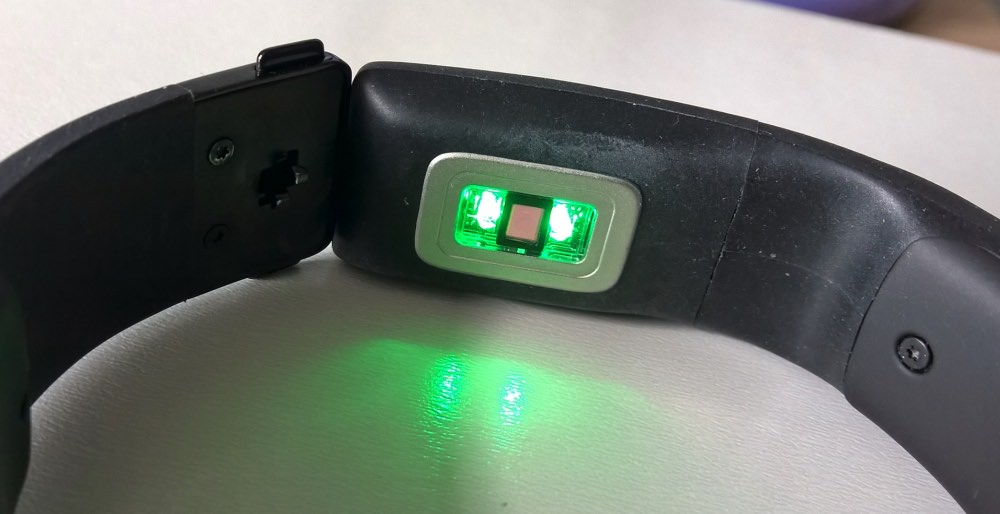 So early days. For completeness sake, here's the full list of sensors in the Microsoft Band:
Optical heart rate sensor
3-axis accelerometer
Gyrometer
GPS
Ambient light sensor
UV sensor
Skin temperature sensor
Capacitive sensor
Galvanic skin response
The last five are either not used much or somewhat misleading. For example, the UV sensor can't do much when it's facing inwards to your body most of the time, so it's only manually used once when asked to check via its own tile. Ambient light detection can be a little hit and miss, and the skin response items may be used but it's not clear how or where. The Microsoft Band had a firmware update fairly recently and it's to be expected that it'll get further updates that use more of the sensors and more obviously. Maybe 'prototype' is going too far, but it's certainly very early days.
Charging the Band is done every few days, as needed, via a proprietary cable that ends in a magnetic connector that snaps (either way round) onto the port on the back of the Band display: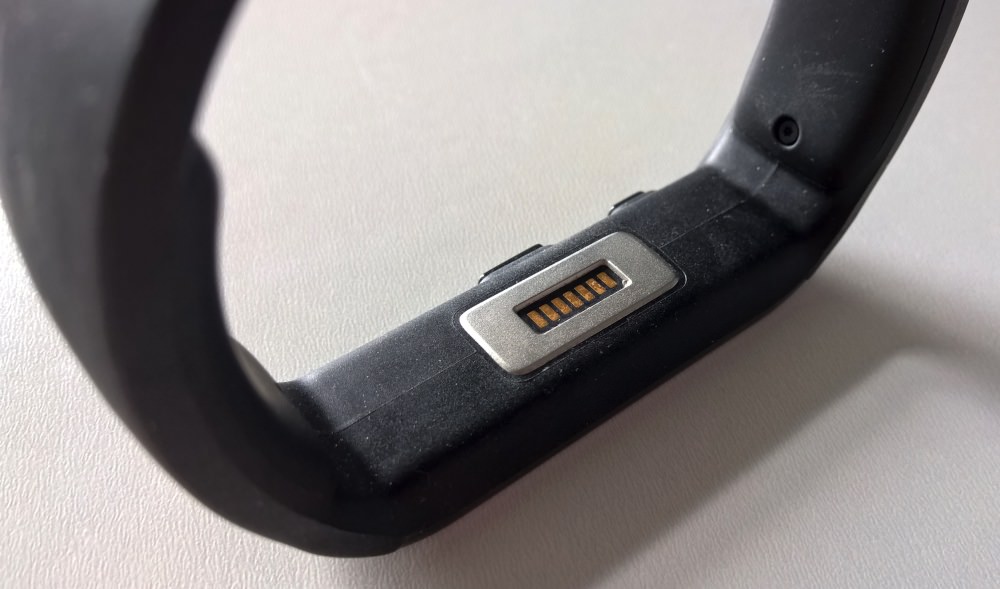 The 'strap' itself is very robust, has a wonderfully secure locking mechanism (that's cleverly adjustable in situ, i.e. when being worn), and the whole thing comes in three sizes, so that part at least is well thought out.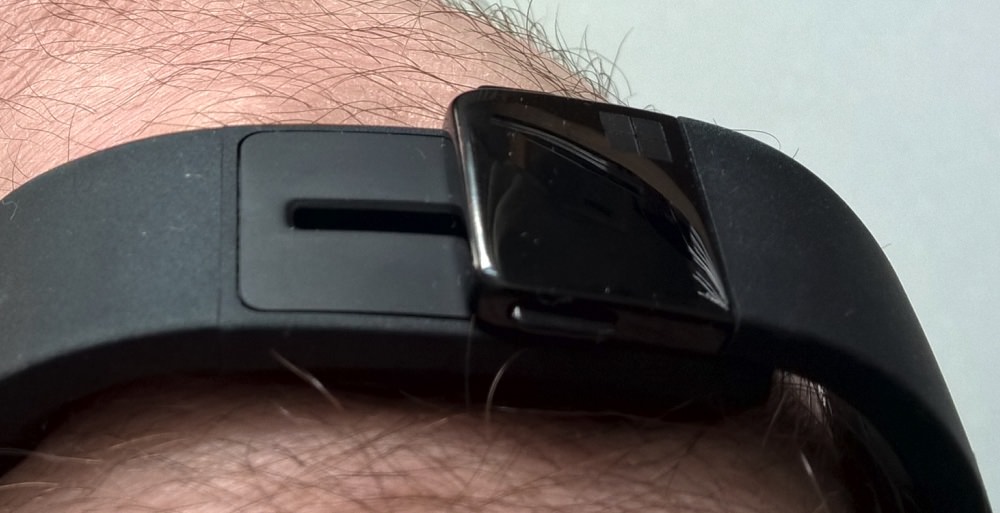 What's not so well conceived are the display material and the degree of sealing. Finished in plain glass, as far as I can tell, mine had light scratches after only 72 hours use - wearing the Band on the inside of the wrist, as designed, means that the display gets rubbed a lot on clothing and other surfaces - it needs to be Gorilla Glass (if not Sapphire) and it's not. Band users round the world swear by putting on plastic screen protectors, apparently, but this is an obvious kludge. The display should simply be more hardy.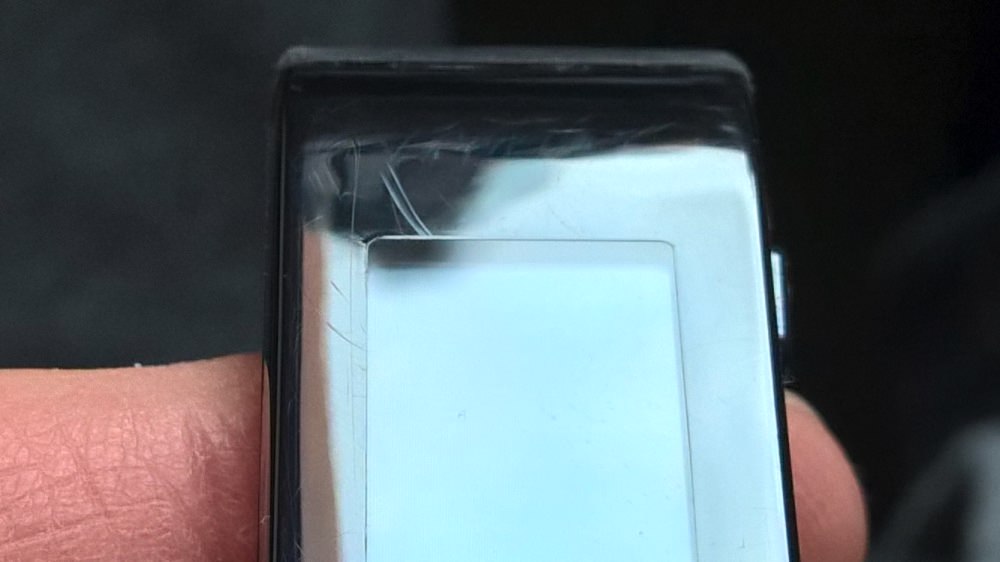 Along similar lines, the sealing around the screen and buttons is rated as 'water resistant' only. Any prolonged exposure to liquid water in any quantity is not recommended. Which means that you have to remove the Microsoft Band to take a shower or bath or similar, something of a pain. With every other fitness band or smartwatch, there's the expectation that it's monitoring you 24 hours a day and so it needs to survive on your wrist non-stop.
In fairness, after wearing a Pebble or other fitness band in the shower, I always feel the need to take it off afterwards, to let the skin underneath dry properly, so the lack of official waterproofing isn't a huge issue - for me, personally. The band will survive jogging or cycling in the rain, at least, which is the most water I'd subject it to. In addition, at the risk of being an apologist, with any watch or band, the skin underneath the deice and strap can get a little compressed and very mildly irritated, so perhaps it's good to take it off a few times a day anyway?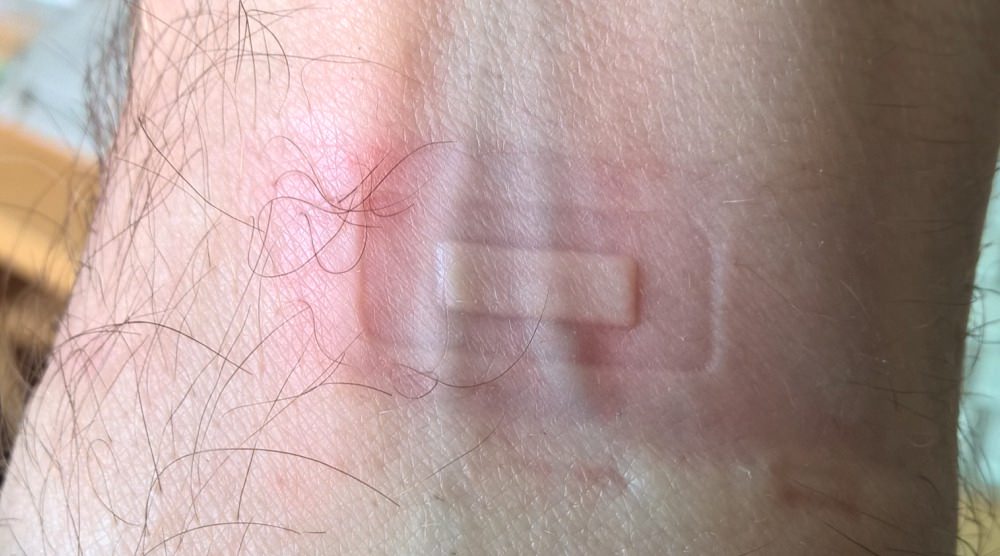 The Microsoft pages do quote IPX7, meaning that if you drop the Band in a puddle (or basin or toilet) and then retrieve it, you'll probably be OK - it's just not 'recommended'. Microsoft playing it safe?
These two hardware quirks are almost certainly part of the prototype nature of the device. I imagine the thought process at Microsoft in 2014 was "Let's build a band to define how we'd like Microsoft Health to be implemented. Don't worry too much about robustness or waterproofing since this is mainly only going to be used by developers." That the Band has been in demand enough to make it to retail in the UK is somewhat err... interesting, at least from this hardware standpoint. I'd recommend the Band, as it stands, to any tech enthusiast, but I'd hesitate to recommend it to a non-techy family member - they'd scratch the heck out of it and then drown it in the first month!
It's easy to imagine that 'Band 2' must be in development, with:
higher resolution, higher contrast display with Gorilla Glass 3
fully IP68 ratified (completely waterproof)
slimmer profile, lower weight
greater colour selection

But let's work with what we've got. The Band works closely with the 'Microsoft Health' app on the phone, of which more in a moment. The interface on the accessory itself is side-swipeable, with up to 13 tiles, most of which are customisable/removeable from the app. A larger palette is available, and growing as Microsoft updates things, but a dozen or so is more than enough - you wouldn't want to keep swiping over and over again to get to, say, a 26th tile!
We live in a world where, on the one hand, the Apple Watch exists and is effectively another mobile computer on your wrist, needing daily charging and attention, with so much to tweak and customise, while at the other end, the basic fitness bands are 'wear and forget' on the whole. The Band sits - again - in the middle, with 10 minutes of initial set-up sufficient to get things how you like them and there's not much to manage after that, short of charging it every two or three days.
The tiles available are, in the default order (you can re-order all of them, apart from the first, in the Microsoft Health app):
Me (your desktop/wallpaper/time, plus a stat of your choice - e.g. heart rate or date or calories burned)
Messaging
Mail
Cortana
Calls
Calendar
Run
Bike
Exercise (e.g. in a gym)
Sleep
Alarm and Timer
Guided workouts
Weather
Finance (e.g. stocks)
UV (UltraViolet radiation)
Starbucks (storage of your card as a bar code)
Facebook (notifications of updates)
Facebook Messenger
Twitter (notifications)
Notification Centre (any other notifications from WP's Action Center)
Quite a list, and more than 13 already, so you'll have to pick what's important to you. The curation effort is worthwhile though - anyone who's tried a smartwatch knows how anniying it is for the gadget to be buzzing every minute with some notification or another. What you want with the Microsoft Band is for just the important stuff to 'get through'. And the defaults here are pretty sensible.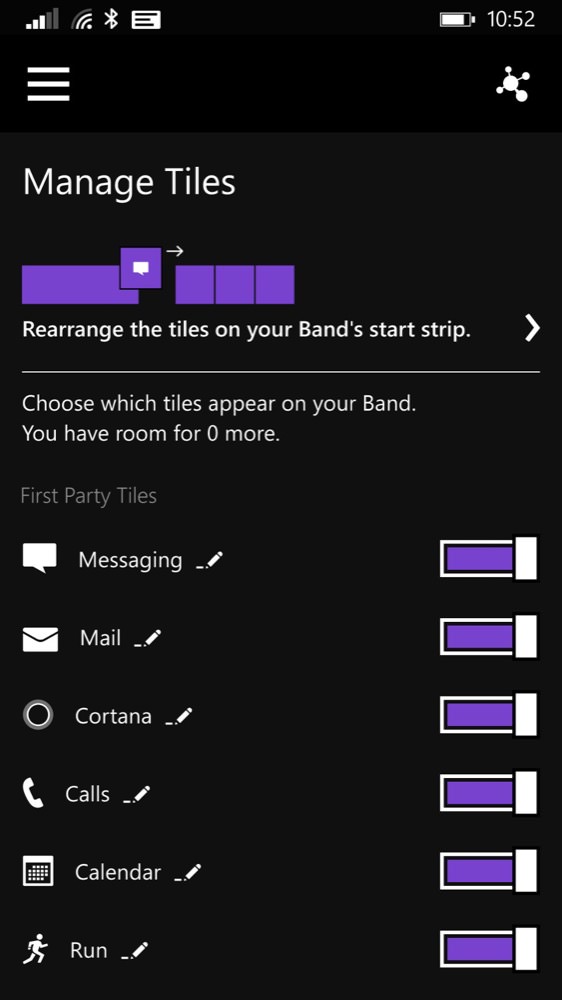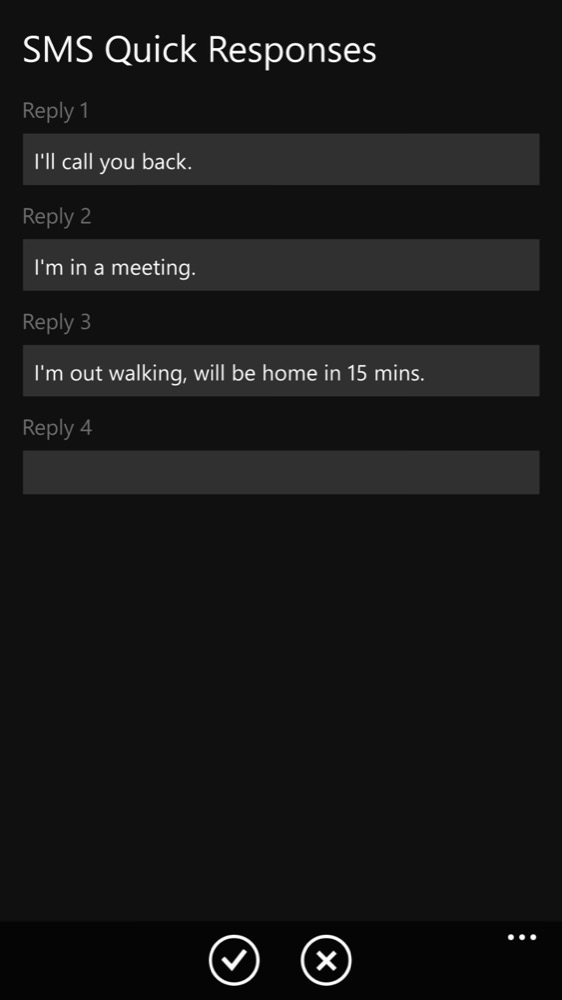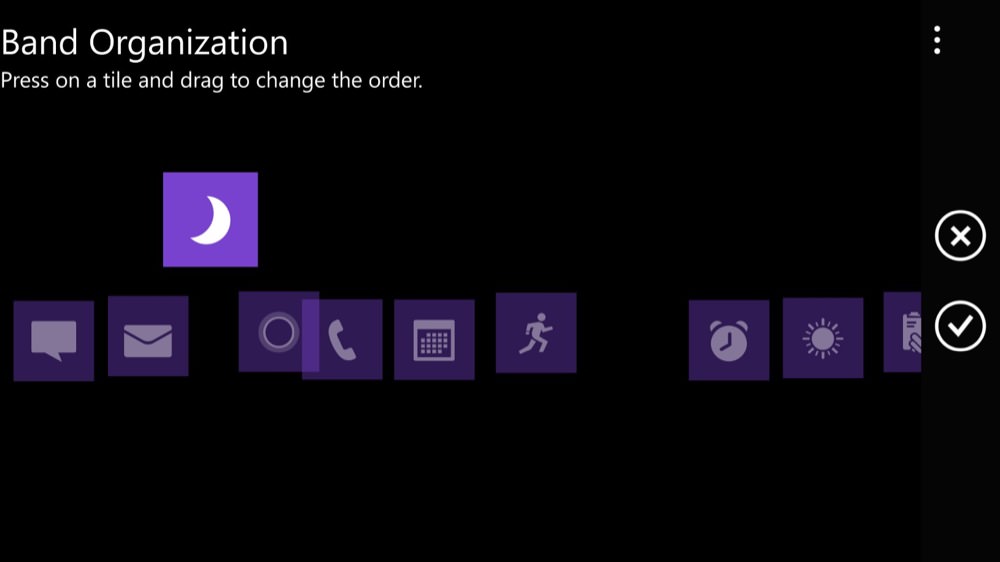 __________________
Here's a video demo of my Microsoft Band, set up how I like it, with tiles and notifications:
You get the idea - within the constraints of the physical 'band' form factor, it's all quite well worked out. The one big addition I'd make would be to add 'double-tap to wake', since it's not always convenient to reach across with one's other hand's thumb and forefinger to press the main wake button - a one-finger method of kicking the screen into gear would be a nice option. As featured on Android Wear and the Apple Watch.
Also then handy would be for a long press to launch Cortana (input). That's right, the Microsoft Band includes a microphone (though not a speaker). Long pressing the action button (for about 3 seconds) launches a 'Listening' pane, giving you about (up to) 10 seconds to say something to be sent across to Cortana on the phone. For example, "Navigate to Oxford". There's then a short pause while the sound sample is transmitted via Bluetooth to the phone and another couple of seconds while the phone screen activates, Cortana pops up and recognises the samples (or not). And then acts on it appropriately.
Depending on what you wanted Cortana to do, you might indeed want to see all this happening on the phone screen (e.g. mounted in front of you in a car dock - in the above example you still have to tap on 'start' on the Windows Phone to actually start navigating) or you might prefer to have it all happen without the phone screen coming on at all. This isn't currently possible and, indeed, after processing your Cortana query, the phone display stays on. In a pocket, it's possible that this might end up with unforeseen screen taps, so it would be good to have Cortana work under the lockscreen at least, as an option.
Still, for simple queries, setting reminders, and so on, the system works well enough. I didn't find that recognition of my voice was as good as when using the phone microphone directly, so perhaps this is down to microphone quality - you have to be in a pretty quiet environment for voice input to the current Microsoft Band to work well. Maybe 'Band 2' will use one of those fancy HAAC mikes from the decent Lumias?
Of course, with Microsoft Band a feeder accessory into the whole Microsoft Health ecosystem, what the Band talks to on the phone is pretty important too. Microsoft Health (last featured here) is regularly updated but still seems a little 'beta'-ish to me (a bit like the Band itself).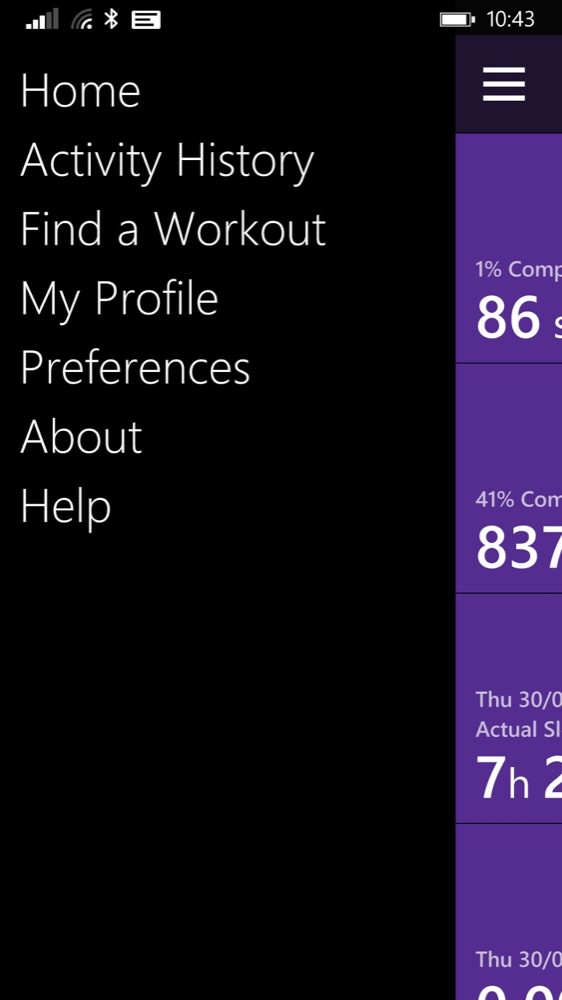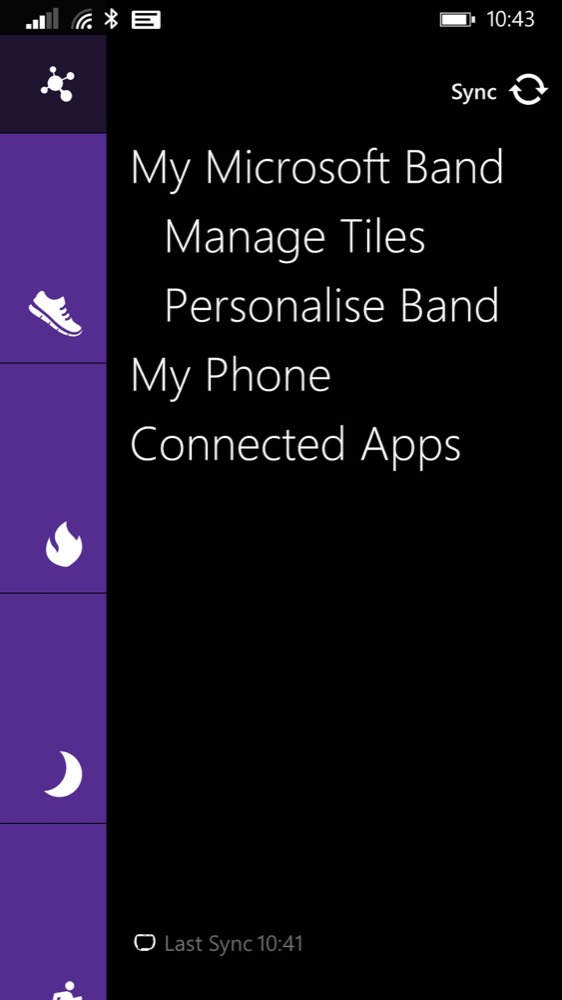 The main issue is speed - or lack of it. The syncing with the Band is slow, at up to 20 seconds, but at least there you have the excuse of the slow speed of Bluetooth LE. What's not appreciated is the speed of screen rendering when tapping into a section of Microsoft Health. Nothing says 'beta' more than a blank pane for five seconds followed by a glimpse of data and then often another few seconds of blankness before it reappears. When this is new data, being acquired from the Band, the delays are (almost) understandable, but half the time you know from the tile's headline data that the app already has the latest information, so the delay is just galling.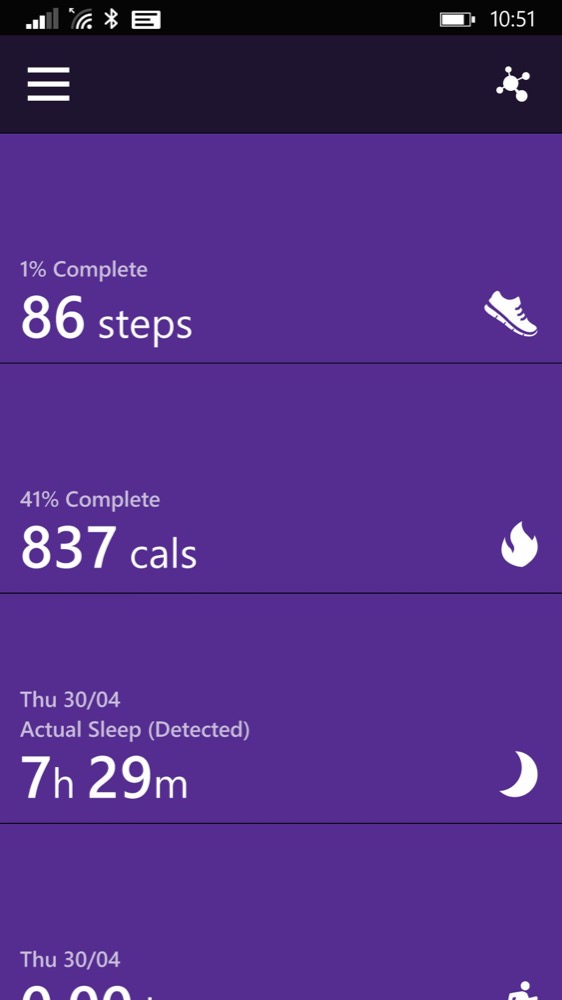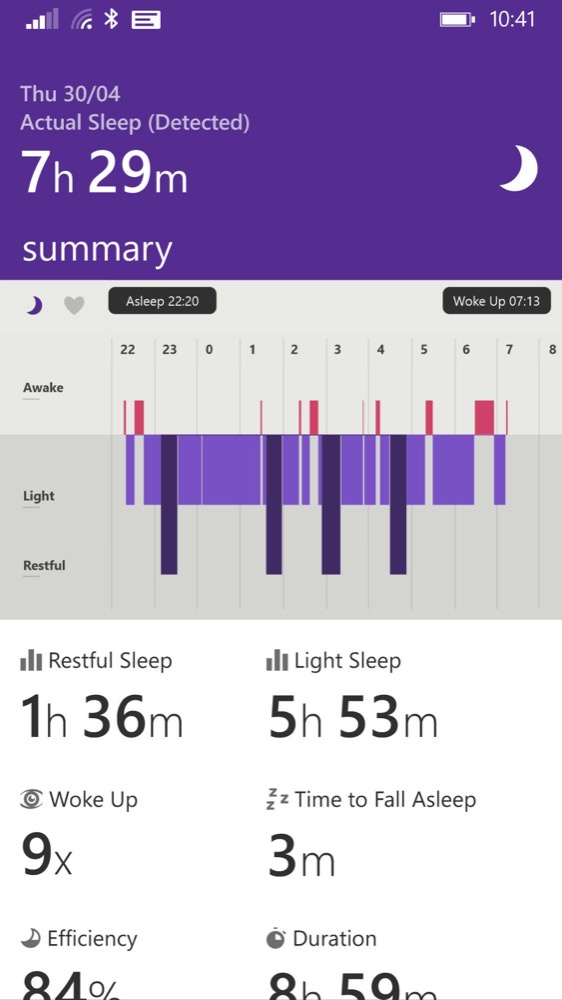 Refreshing delays apart, Microsoft Health works pretty well, with tiles that roughly mimic the order you've set for the Band (at least for those that are activity-based) - there's a lot of solid colours that could be better filled with atmospheric photos, e.g. of a runner, or cyclist, or hiker. All stuff for a future version?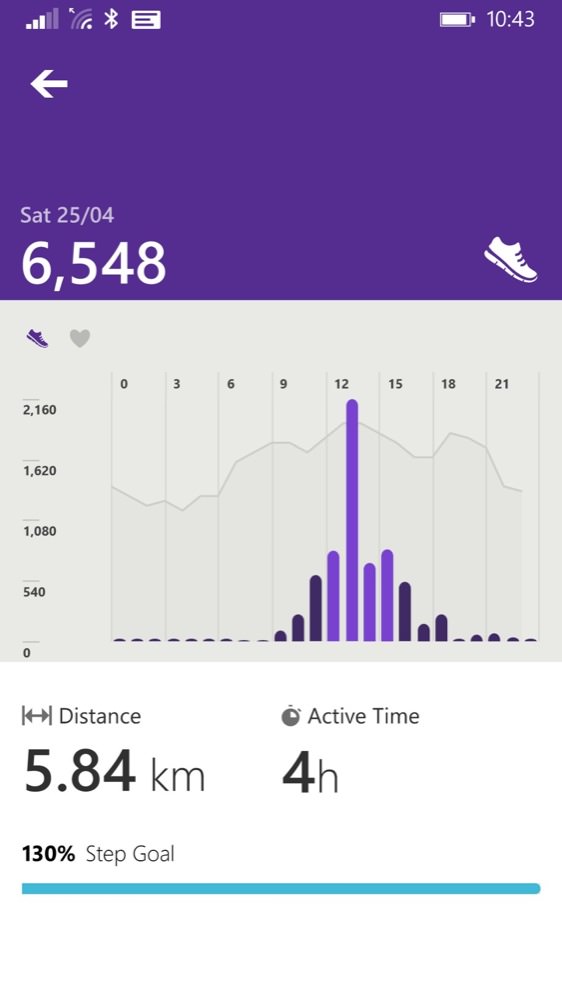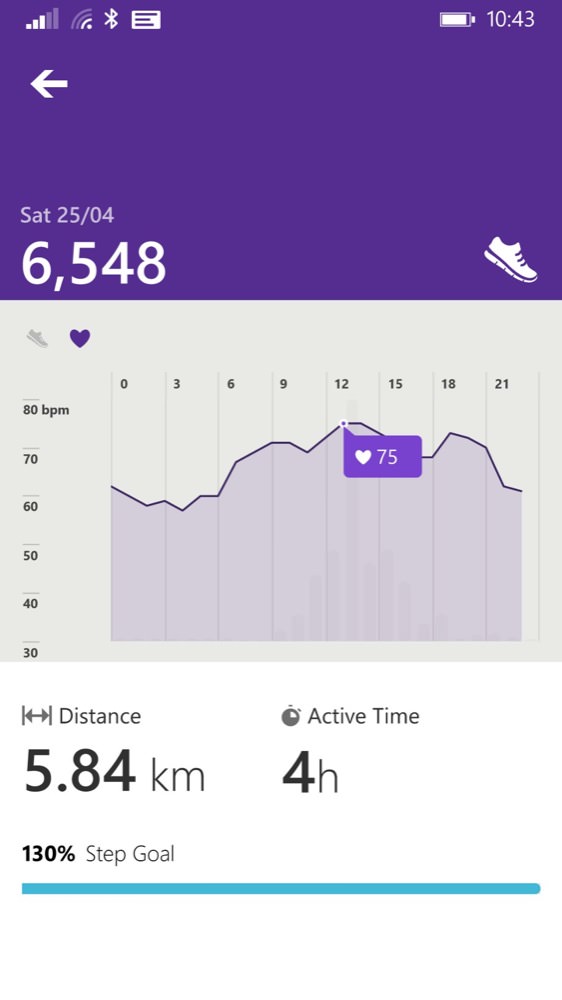 The good bit comes when you start looking through the data though, which includes charts, maps and some rather detailed stats. A couple of examples:
When just wearing the Band, your 'steps' are counted. The report gives you daily and weekly graphical breakdowns of how active you were per hour or per day, along with an estimate of how you've 'walked' as part of daily activity.

After a night's sleep (don't worry, in theory, the Band uses its sensors to auto-detect when you start and finish sleeping - clever, eh? It does work, but can sometimes get it wrong, so I prefer to start and stop the period manually, for better accuracy!), the stats are very detailed indeed. A breakdown of when you slept lightly or deeply, how long you took to fall asleep, average heart rate, and so on.
And similar for each of the other activity tiles.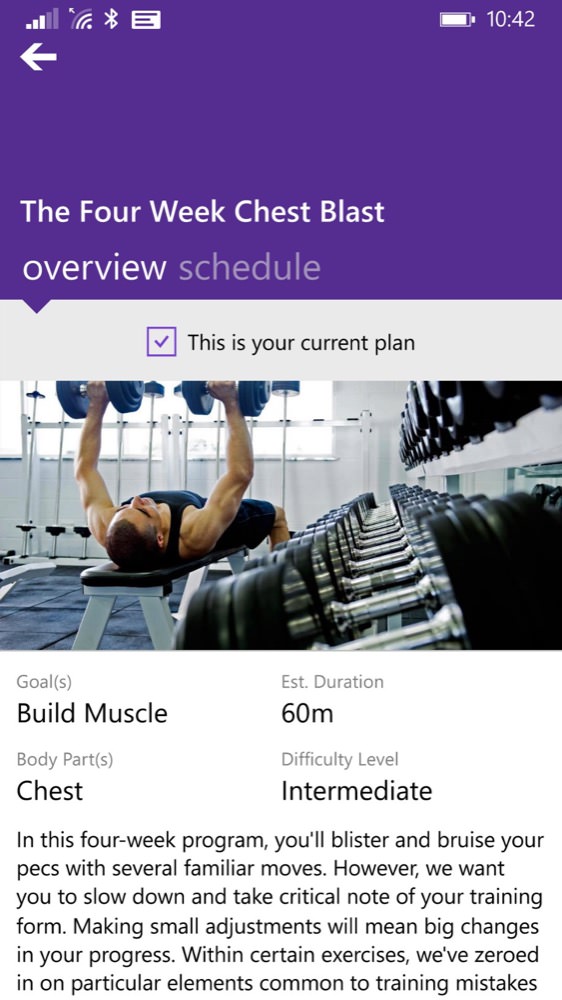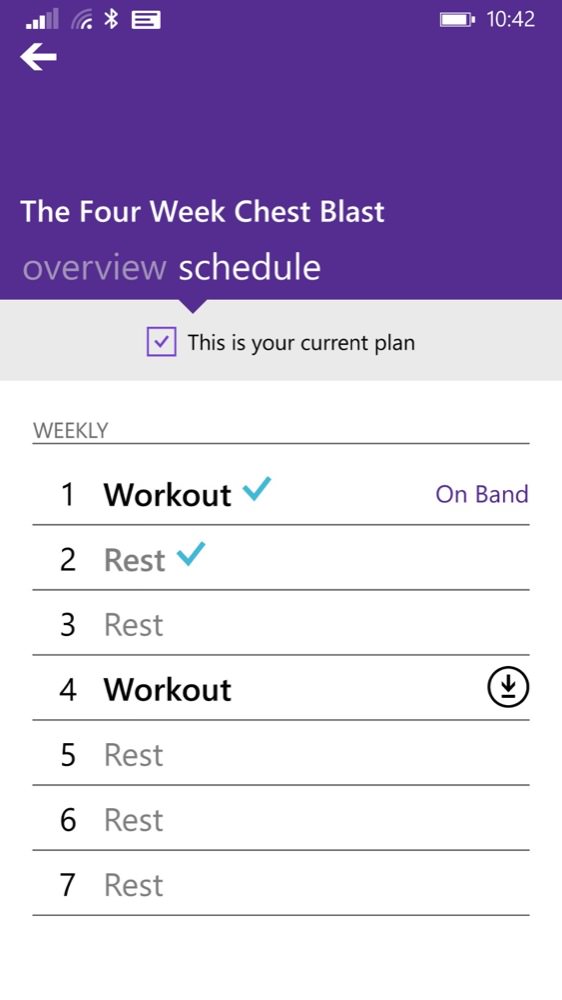 Optionally, pre-planned workouts, designed by others, can be downloaded from Microsoft's servers and side-loaded to your Band. Then, when in the gym, the Band will prompt you for each repetition and rest phase. The idea is to enjoy programmed workouts to develop specific groups of muscles or to achieve specific fitness goals. I tried out the 'Four Week Chest Blast' (don't worry, the workouts are free downloads) but quickly concluded that, in my 50s, maybe I'd left it a bit late to be anything other than a medium-framed geek(!)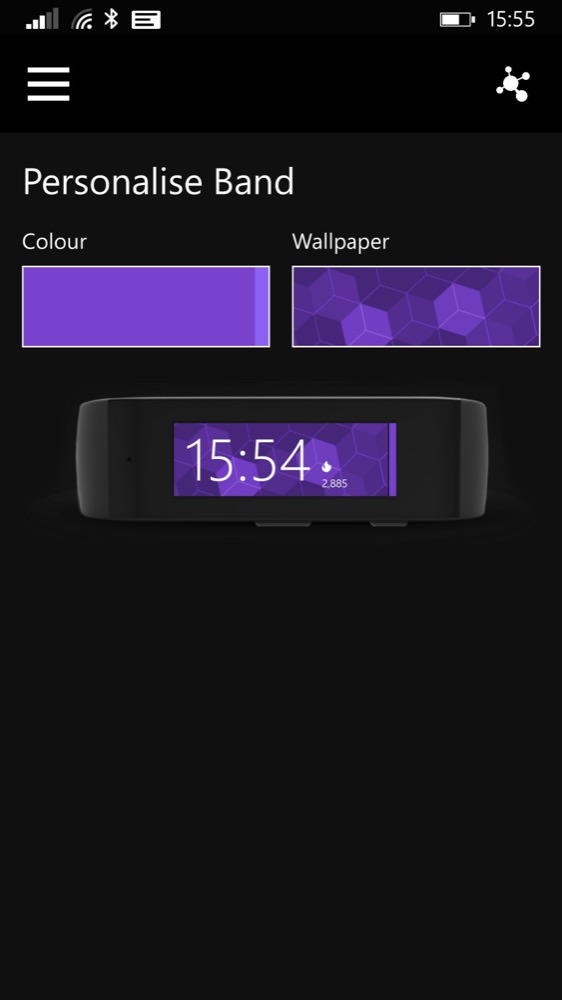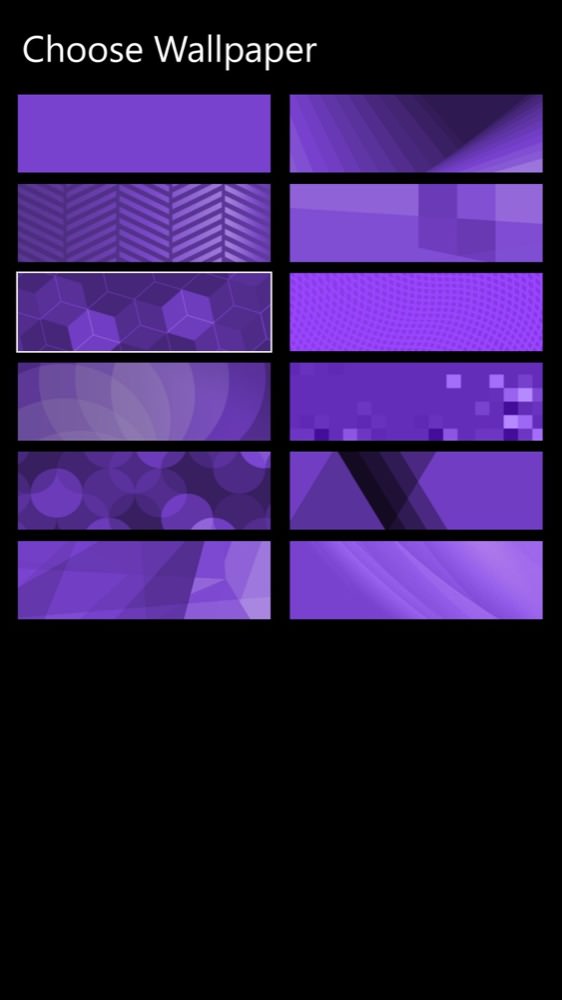 The theme and background for the Me tile and general interface of both the Band and the Microsoft Health application are just a tap away, though do note that photographic wallpaper (as demoed in my photos) needs a third party app, here.
Finally, third party applications can be hooked into the Microsoft Health application, with 'Connections' to RunKeeper, myfitnesspal, mapmyfitness and Strava, plus Microsoft's own HealthVault', of course. We'll cover some of these extra hooks into the Band and Microsoft Health in a future tutorial or review.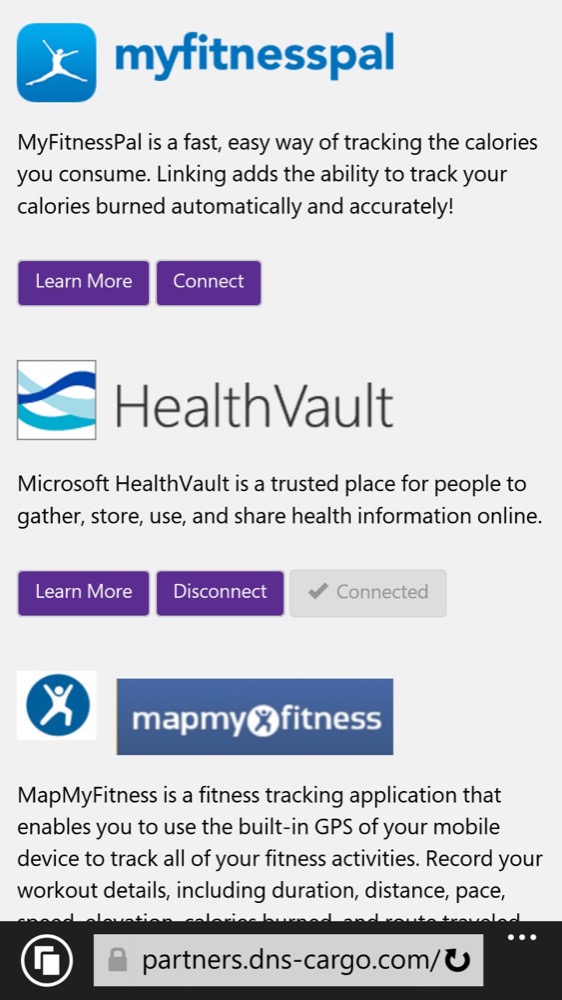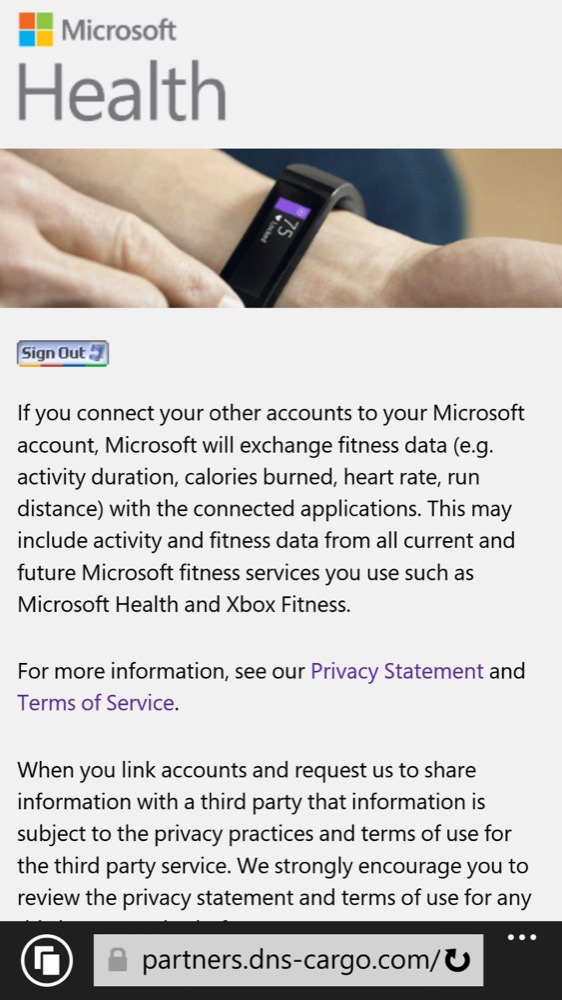 We'll also be seeing more and more third party applications hooking into the Band itself in due course, since Microsoft has now released a full SDK for the device.
__________
Smartwatches tend to see a burst of use in the first few days and then things level out as the novelty wears off. Fitness bands tend to see activity creep up as you accumulate useful data and find more things that they can do, and I'd say that the Microsoft Band is more in the latter class. After 48 hours, I was ready to put the Band to one side as not really adding to my life. But as I exercised and slept and, well, lived, I found that the information being collected was getting more and more interesting. And, with some tweaking, the tiles became more useful to me, serving up notifications that genuinely saved me getting my Windows Phone out of its case. Add in Cortana and customised quick-reply messages, and I'm more convinced.
I've tried the Apple Watch briefly, I've tried Android Wear for a lot longer, ditto Pebble, all worn on the outside of the wrist and all with their own strengths and weaknesses. The Band is different, worn differently, collecting different (additional) data, and - crucially for AAWP - different in working perfectly with Windows Phone (8.1 Update 1) and above.
That's enough for me to declare it a success, albeit within the enthusiast sphere. We need 'Band 2', as described above, for this accessory to really work in the mainstream. Maybe later in 2015?
Reviewed by Steve Litchfield at