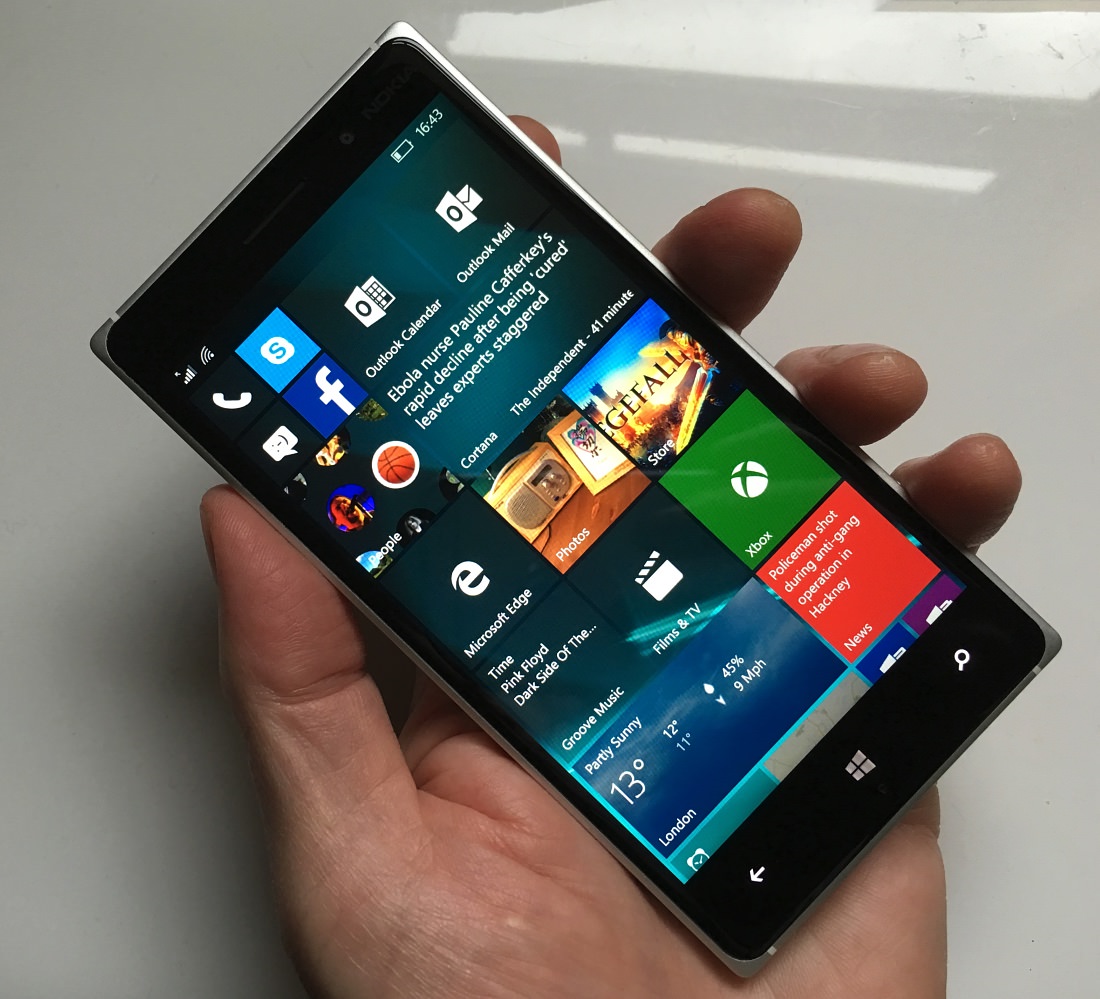 Although I had various issues with the upgrade process over vanilla 8.1 - and this was supposed to be a data point for how end users would eventually upgrade - I want to emphasise that there are two main stages to the Windows 10 Mobile rollout:
the initial phase, with it being preloaded and properly configured onto production 950/950 XL phones. All fully controlled and tested as such.

the OTA (Over The Air) rollout phase, wherein real world handsets of a dozen different models and with a multitude of configurations, settings, applications, languages and more, all need to be updated without issues.
As you can imagine, the latter is ten times, if not a hundred times, more difficult than the former. And so I shouldn't have been surprised at my rocky upgrade experience, even from a fairly vanilla Windows Phone 8.1 installation. The OTA phase won't start until the end of the year and that for many handsets and variants will be pushed well into 2016, so Microsoft has a lot more time to fine tune the upgrade wizards and configuration files.
So I was starting, for my test device, something nice and mid-range, the Lumia 830, from a completely 'out of the box' status, with 'reset this phone' done after the upgrade to Windows 10 Mobile. Or as close to 'out of the box' as you can get.
Startup
Notes on the startup process:
'A few more apps still need to finish installing' this stage took ages - about 5 minutes - I don't remember it being this long normally.
The Lumia then got stuck completely on the 'Almost done' (We'll walk you through....' etc) screen. After ten minutes of a nominally hung phone I powered down and restarted and set-up continued.
The default Start screen for Windows 10 Mobile is well laid out, with some sensible double width tiles and one example of a folder.
Heading into the Store for the first time, 'Downloads and updates' initially showed nothing waiting, but it was lying. Going back into the Store a minute later and checking for updates revealed 26 core application downloads, which crept in slowly over the next fifteen minutes (surely Microsoft needs to allocate faster servers to its new mobile OS?). The Store terminated at least once, I think to install a new version of itself - a neat trick if you can do it!!

Once all had completed, I tapped on 'Check for updates' again and the Store 'found' six more application updates, mainly the MSN ones, so presumably these were requested by something else that had just arrived.
As usual, 'motion data' required a restart, but then after the 32 or so application updates just completed, a restart was probably a good idea anyway!
One change that has happened gradually but only hit me just now is that if someone wants to add another account, say a Google one, they head to Settings/Accounts and... nothing. Instead, an account which involves email and PIM sync has to be added in Outlook. This is logical in a way, though a shortcut or explanatory text in Settings might help new users, I think.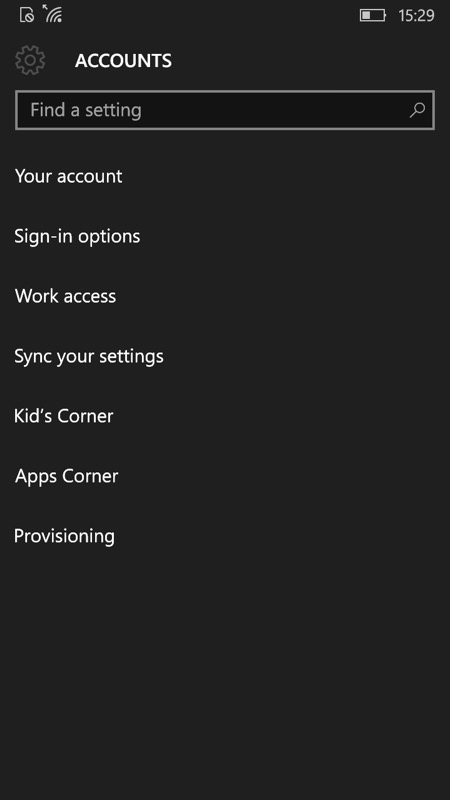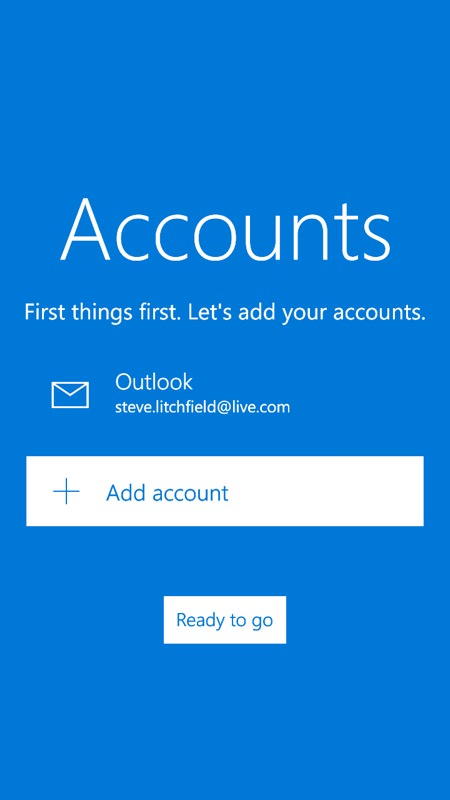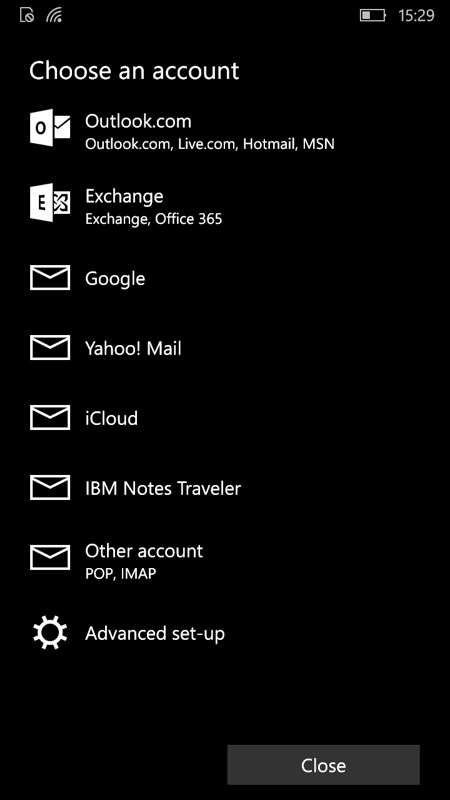 Media
The biggest quirks of build 10549 when installed over 8.1 without a full reset were that applications and content were just 'missing'. So none of my SD-hosted media were listed. And some Windows Phone built-in apps (e.g. Films & TV', the only way to play videos) were missing from the main application list. Happily everything was present and correct in this newly reset 'out of the box' state. Both Groove Music and Films & TV required a visit to the application in order to kick off the search for media the first time round, but this is fair enough.
Interestingly, in the latest update, Groove Music acquired gapless playback, something else which has been much requested over the years. Along with quite a heavy push towards Microsoft's Groove Music service, but then all the ecosystems do that, so it's not the only culprit.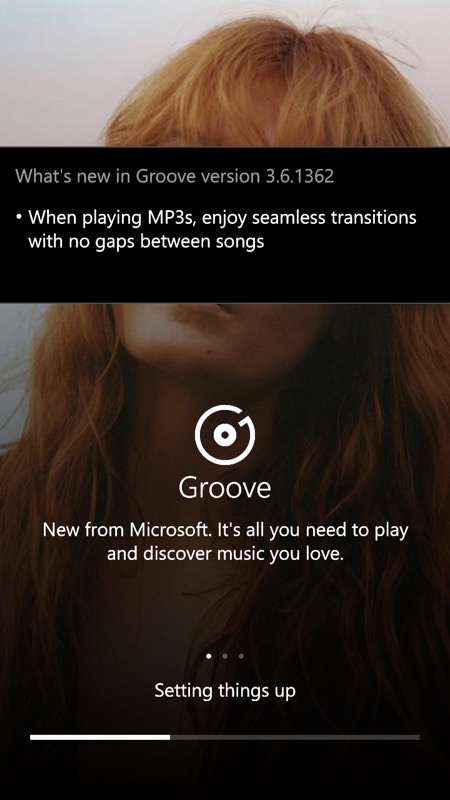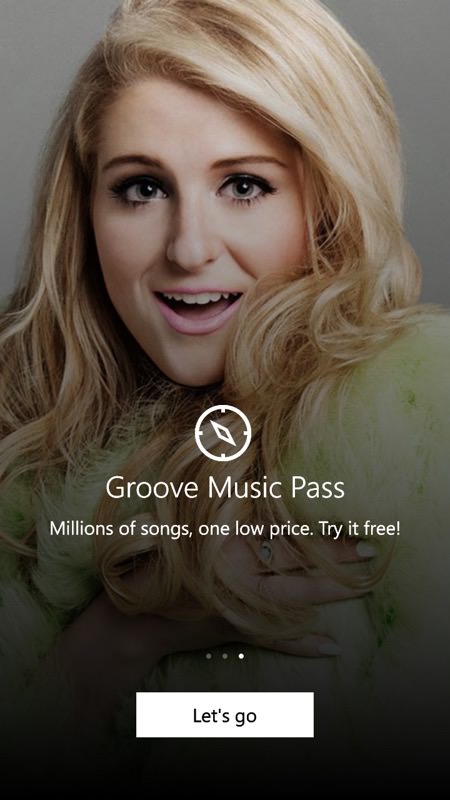 Imaging
At long, long last, you can set the 'default camera' in Windows 10 Mobile to be 'Camera'! Phew. Interestingly, not only is Lumia Camera still provisioned for, and included in the firmware for, the Lumia 830, it's still the default. Perhaps an admission that there's still work to do in the generic version? In anticipation that Lumia Camera will be retired before the end of the year, I switched the setting to default to Windows 10 Camera and then explored the workflow from there.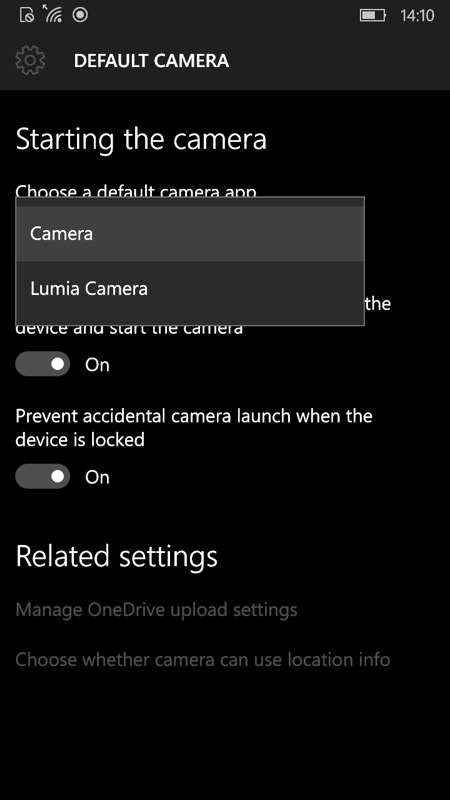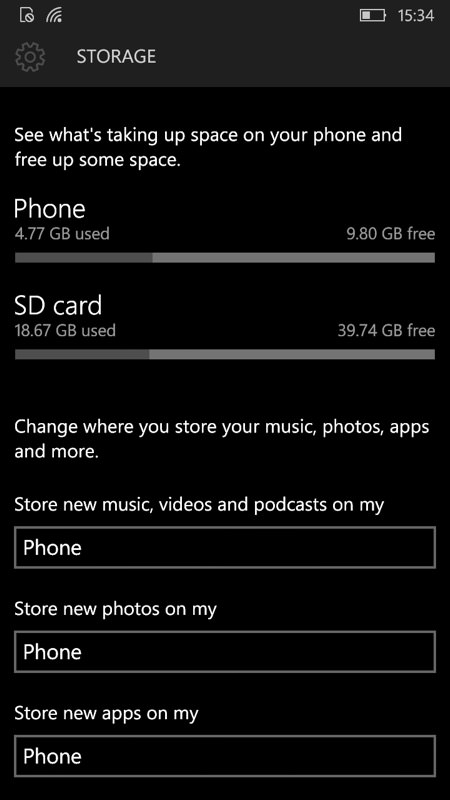 As usual, you can work your photos and videos through a microSD, if present - on the test 830 shown above, right, space isn't an issue(!)
The first time Windows 10 Mobile Camera is started, there's a three of four second delay while things get set-up, plus a question to answer about location permissions, but subsequent launches (e.g. from the shutter button) are effectively instant, since much of the Camera application stays in RAM all the time and just powers up the hardware when needed in order to be ready for action.
Lumia Creative Studio isn't included in the firmware by default, but the moment you tap on 'Edit' after taking a photo, it's suggested from the Store under 'find more editors'. Thereafter, it's found, though there are some glitches to do with landscape/portrait (all reported to Microsoft, don't worry!)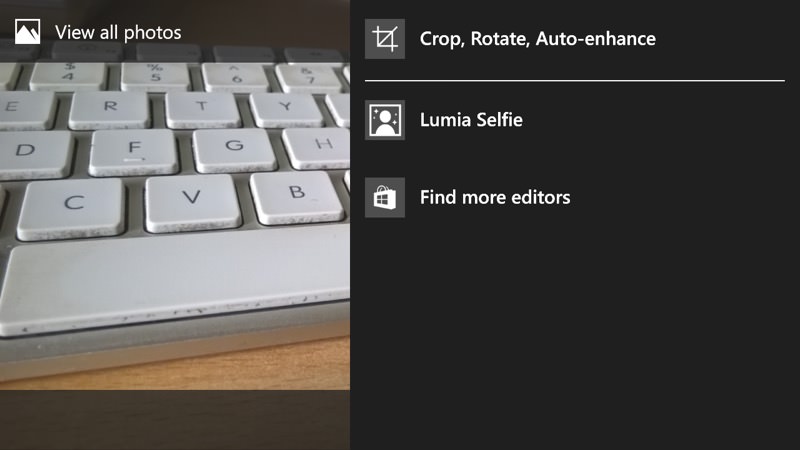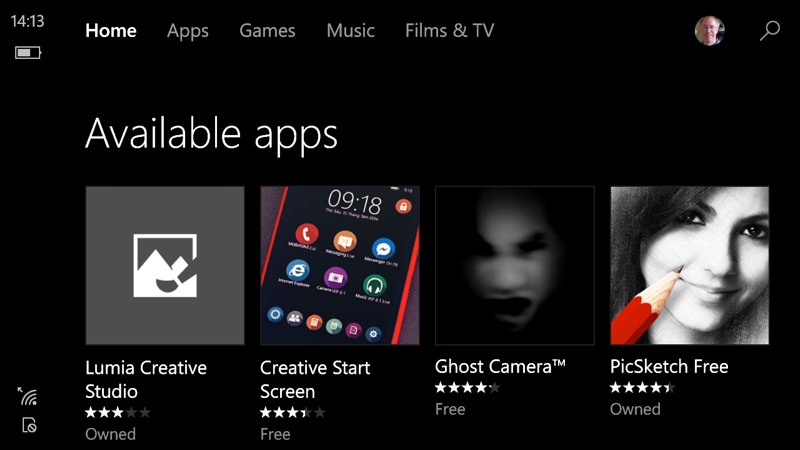 The 'Choose Best lighting' and 'Save photos from video' icons in Photos are missing yet again, but the 'blobs' do work, with the latter taking me off to the Store to grab 'Microsoft Photos plug-in'. Functinality for HDR (i.e. Best lighting) is all built-into Photos already.
The 'top left' thumbnail isn't immediately tappable, as it should be, under the current version of Camera. Curiously, it works if you exit the app and go back in. Also reported to Microsoft. Adjusting the HDR effect, i.e. customising the 'Best lighting', crashes with an error. Also reported!
As a data point, the test Lumia 830 showed '8MP' and '8MP plus 8MP DNG' as resolution options. I'll have more on camera imaging quality very shortly, on this and other devices.
Utterly bizarrely, the 'Favourites' feature which returned to Photos a few days ago doesn't show up on my 830 test device - and I can't think of a single reason for this. There's obviously some provisioning error at Microsoft's end that determines which versions of which apps go out to which product codes, and maybe my test device has fallen through the cracks - something else for the update team to look at.
Search and browsing
Cortana was flagged up by Gabe Aul as an issue in this build (and prior) as one of the culprits for battery drain, but it was perfect on the test Lumia 830 and I suspect the issues occur with the 'Hey Cortana' and always listening features on compatible phones with low power DSPs. Cortana's notebook and settings all seemed to be fleshed out and working - as they should be, given the overlap with this high profile service on the desktop. Ditto Edge - web browsing with Microsoft Edge was faultless - though I wonder whether ad blockers will be enabled in the future? - I've got used to them on other platforms! And yes, I know that AAWP is supported by web adverts, but it's good for power users to have the choice (since we never click ads anyway).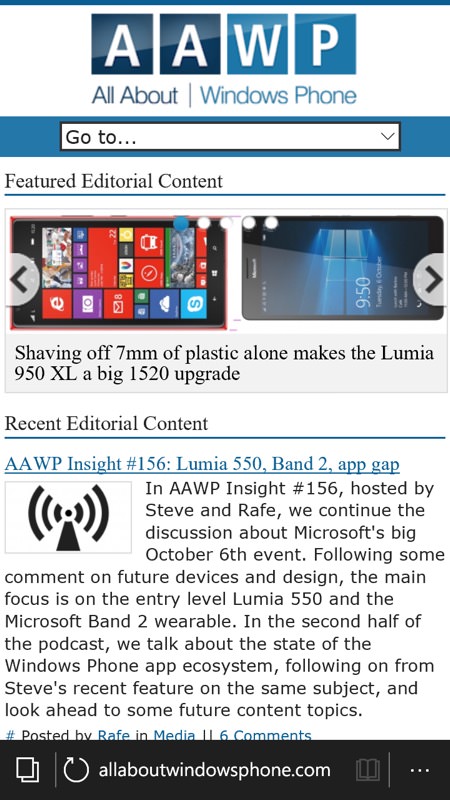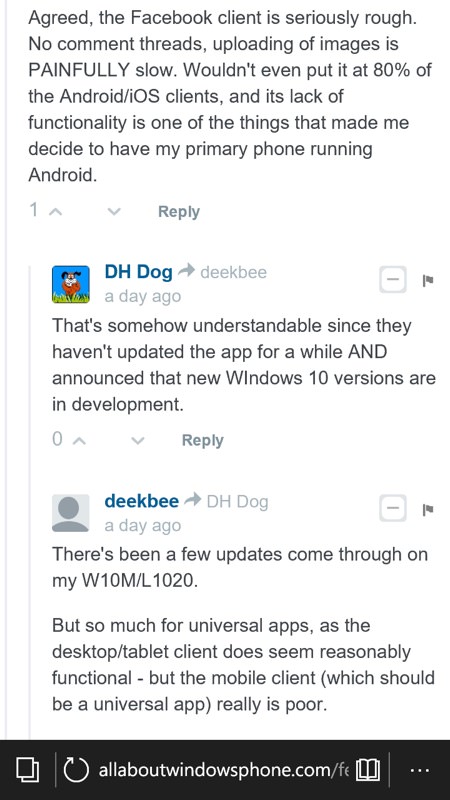 Mapping and navigation
Pinch and zoom is now smooth in Maps, which is a great relief. Live traffic seems reliable, with reported incidents that match up to my local knowledge though, as ever, it will take another of my days out in order to fully test real time navigation. I suspect that the usual limitations in terms of real time rerouting will still apply.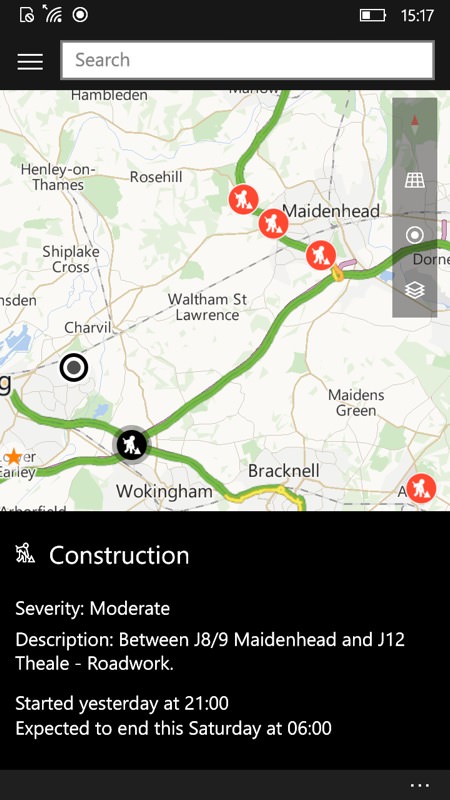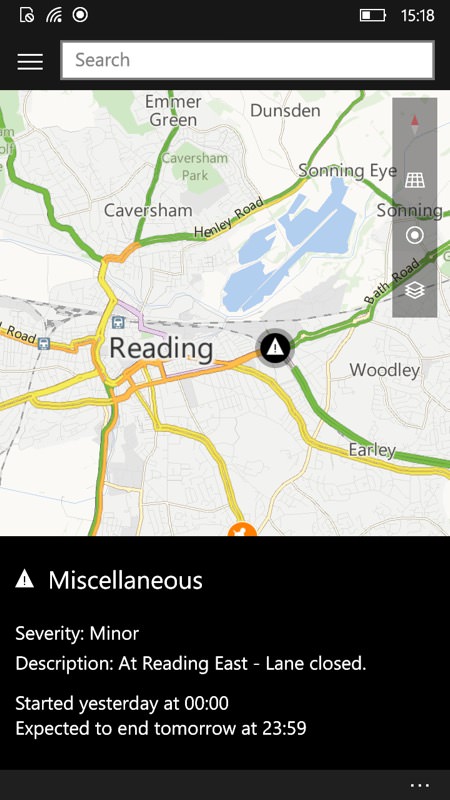 Other applications and notes
MSN News now offers to show 'breaking notifications' and I let this stay on - who knows when the world will, in fact, end?(!)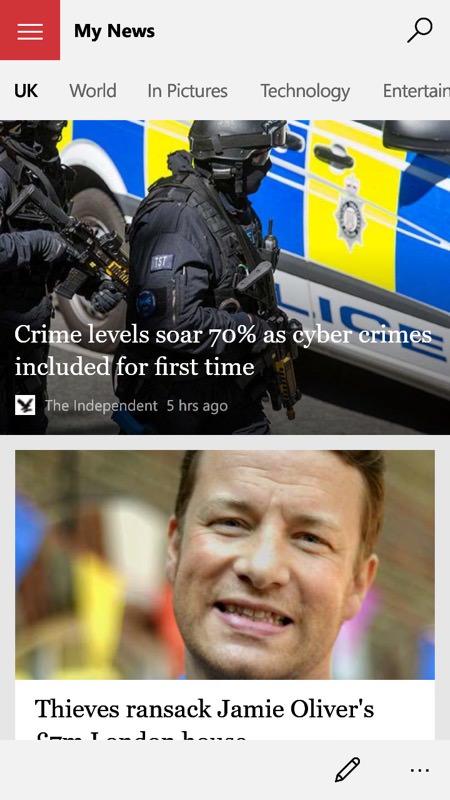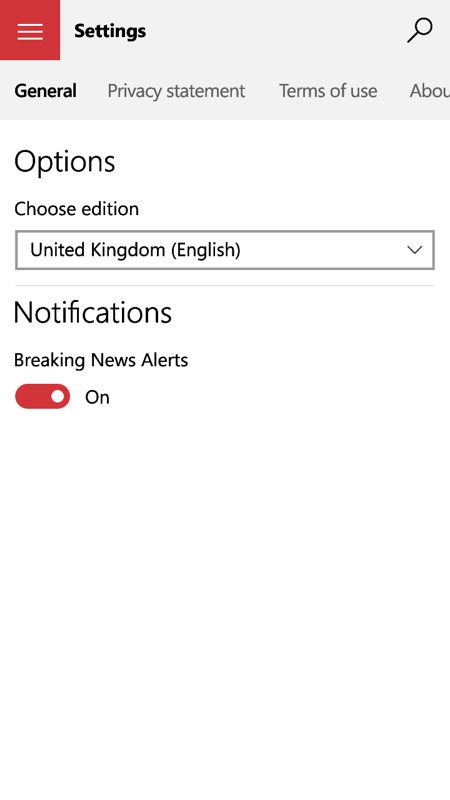 The new Skype integration with Messaging was all present and correct, even though the Start screen has a Skype client tile front and centre - I do wonder whether this will be dropped for the final release, once the Messaging/Phone/Skype Video workflow has become more familiar to users? Interestingly, Microsoft Messaging shows up as a contact store in People quite separately to 'Skype', and with a bogus tech-name. But everything seems to work, even the social link-in stuff through the 'What's new?' pane: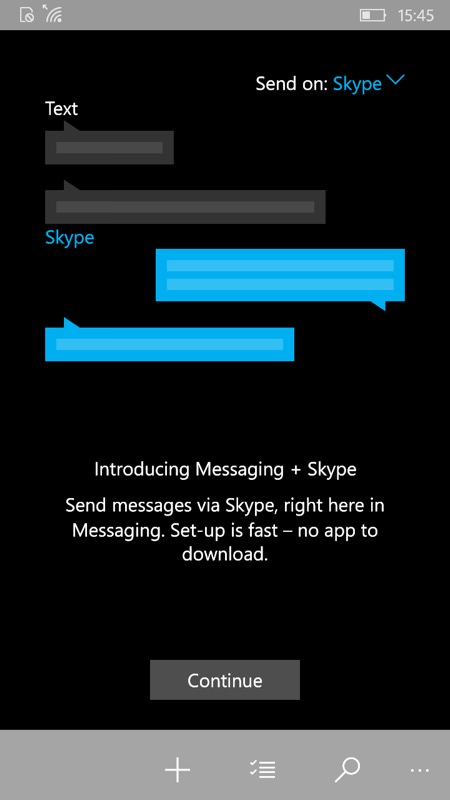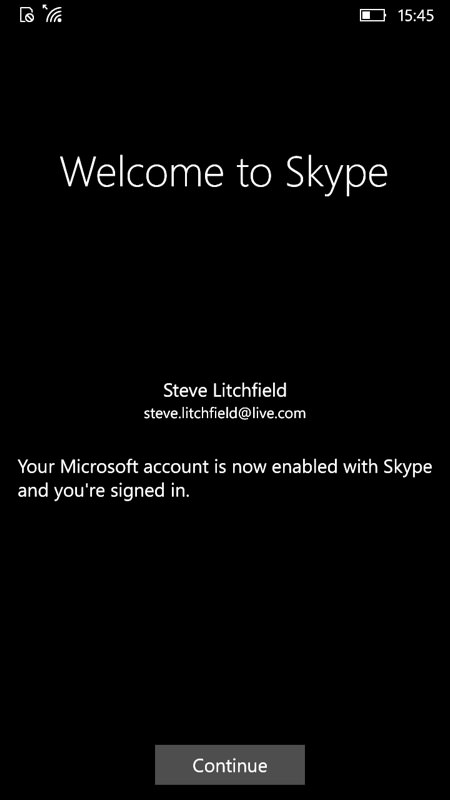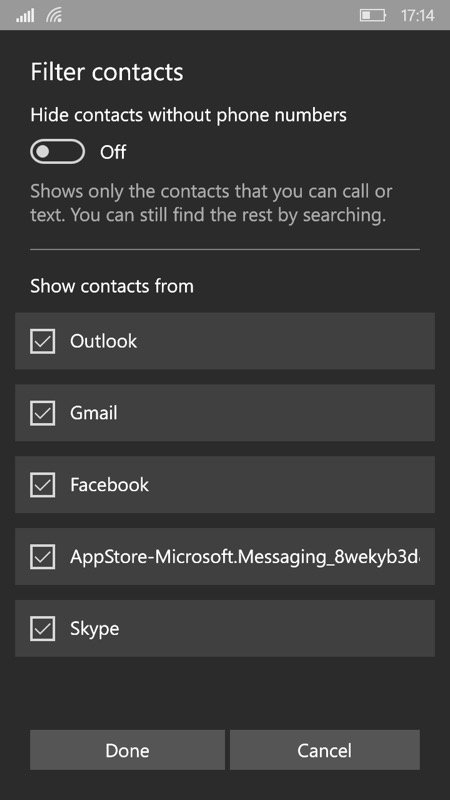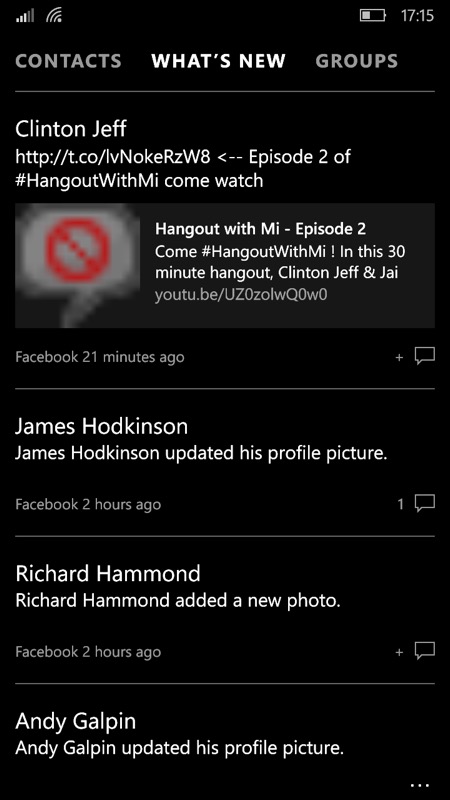 I was interested to see that the handling of subtleties like Glance screen were handled properly again - I'm not sure if this is new for build 10549 or whether this has all appeared because I took the time to do the extra reset, but there's proper Glance screen control (albeit slightly more limited here on the test Lumia 830) and lock screen population (ok, so this worked before too, but I'm experimenting with selecting 'Weather' here - on the 830 you only get a town and temperature, due to display memory restrictions. Next up are some experiments with the Lumia 1520!)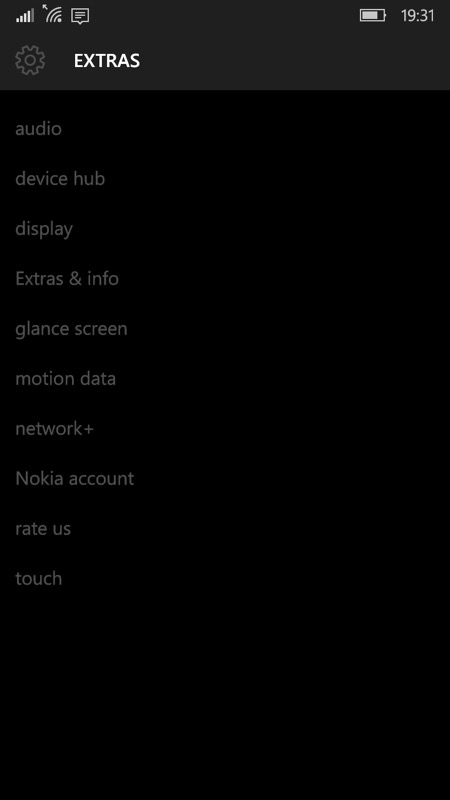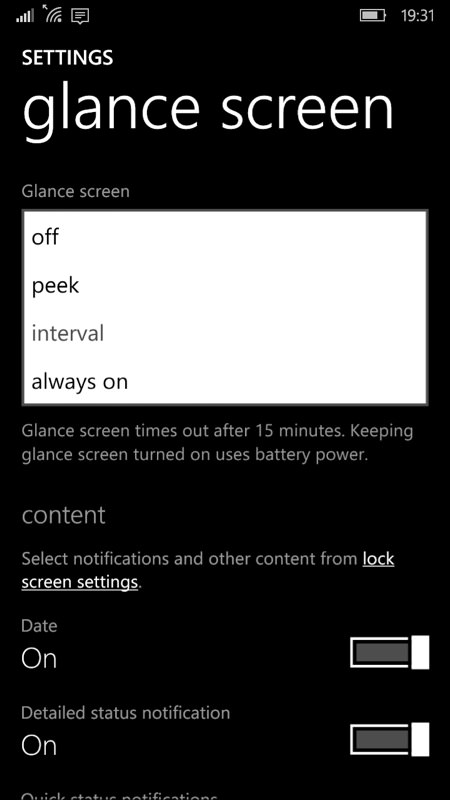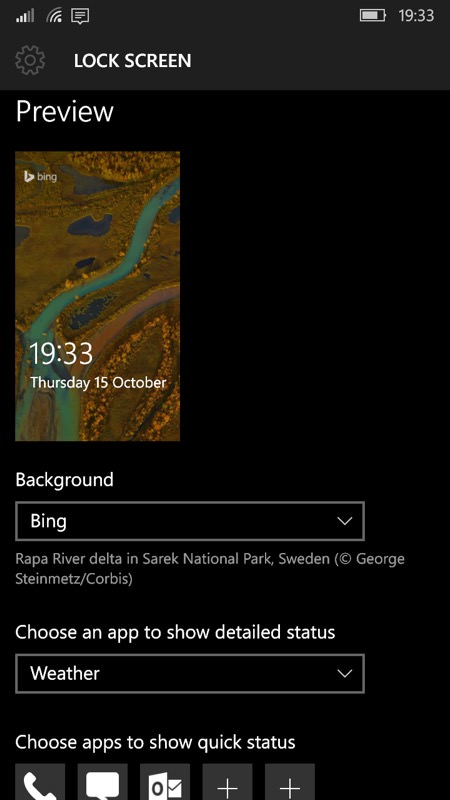 Throughout the UI, I experienced a few 'missed' taps and applications which didn't jump into action on the first try - little things, but there's clearly some way to go before everything's reliable in term of not confusing the less patient user. The test 830 only had 1GB of RAM and occasionally a screen would 'skip' or terminate, as if things were being juggled in and out of RAM - 2GB is obviously preferred for silky smooth operation in the future, though a Gig is also enough for 99% of the functionality, so no one need worry.
Comments welcome on all of this - have you been following a similar Insiders journey?
Too difficult? And is it going to be ready in time?
The obvious questions are: "Isn't all of this way too fiddly and tricky for end users to worry about?" and "Is Windows 10 Mobile even going to be ready on time?"
In response, yes, this is too fiddly even for most Insiders, which is why Microsoft has said that it's OK to wait for an Over The Air update to the 10549 that will work in-place, in a week or two. Having said that, my test device benefitted enormously from the 'fresh start' and if your phone has been through more than two Insiders builds then I strongly recommend you do your syncs and saves and then wipe in the same way I did. Your smartphone will feel fresher for it and (mostly) work!
I'm still optimistic about the time frames too. Bear in mind the points I started with - Microsoft only has to get Windows 10 Mobile rock solid for new devices, under sealed conditions, for the start of December, with no variables and no pesky users to install troublesome applications before the OS gets going. I think that's achievable. Microsoft's task is then to use a vast battery of test devices and users to harden Windows 10 Mobile in terms of over-the-top upgrades. That will take much longer (months) and I can absolutely see why the initial range of devices to be supported is quite small - this is a huge update and there's an awful lot to go wrong. As I proved above, even on a fresh install.
The cynics will say that the timescale doesn't matter that much since there aren't that many Windows Phone users out there to upgrade in the first place. In the global market that's true, though we're still talking of up to 100 million people and devices. Anyone using Windows Phone 8.1 in October 2015 is probably going to be fairly content though (if they haven't noticed the app gap by now then they never will), so whether they see an 'Update?' notice from Microsoft in January 2016 or April 2016 is probably not that relevant.
Meanwhile anyone reading this is an enthusiast and probably an Insider, in which case, welcome to the helter skelter, it's proving a heck of a ride!