I commented already on the Lumia 950 XL versus the Apple iPhone 6 Plus, i.e. the equivalent large screened phone from the iOS world, but I've had lots of requests now to compare with the best of Android, the dominant smartphone OS on the planet now by a massive margin.
Begging the question of which device to compare against. The Samsung Note 5 and S6 Edge Plus are obvious mainstream candidates, but I'm going to go with a device that I know very well, the flagship Google Nexus 6, one of the highest specified smartphones in recent years and yet running 'pure' Android, so there can be no question of manufacturer-specific tweaks tainting the comparison. In fact, there's also the newer Nexus 6P, which matches the 950 XL's form factor even better but which lacks two of the biggest bells and whistles - Qi charging and OIS in the camera - plus the 6P has been shown to be extraordinarily fragile. So I'm going to stick to the Nexus 6, nearly a year old now but with tricks up its sleeve which match the new Lumia better, and which is built like a tank and with a battery life to match.
Here are the two contenders, to scale (the Nexus 6 is slightly bigger all round):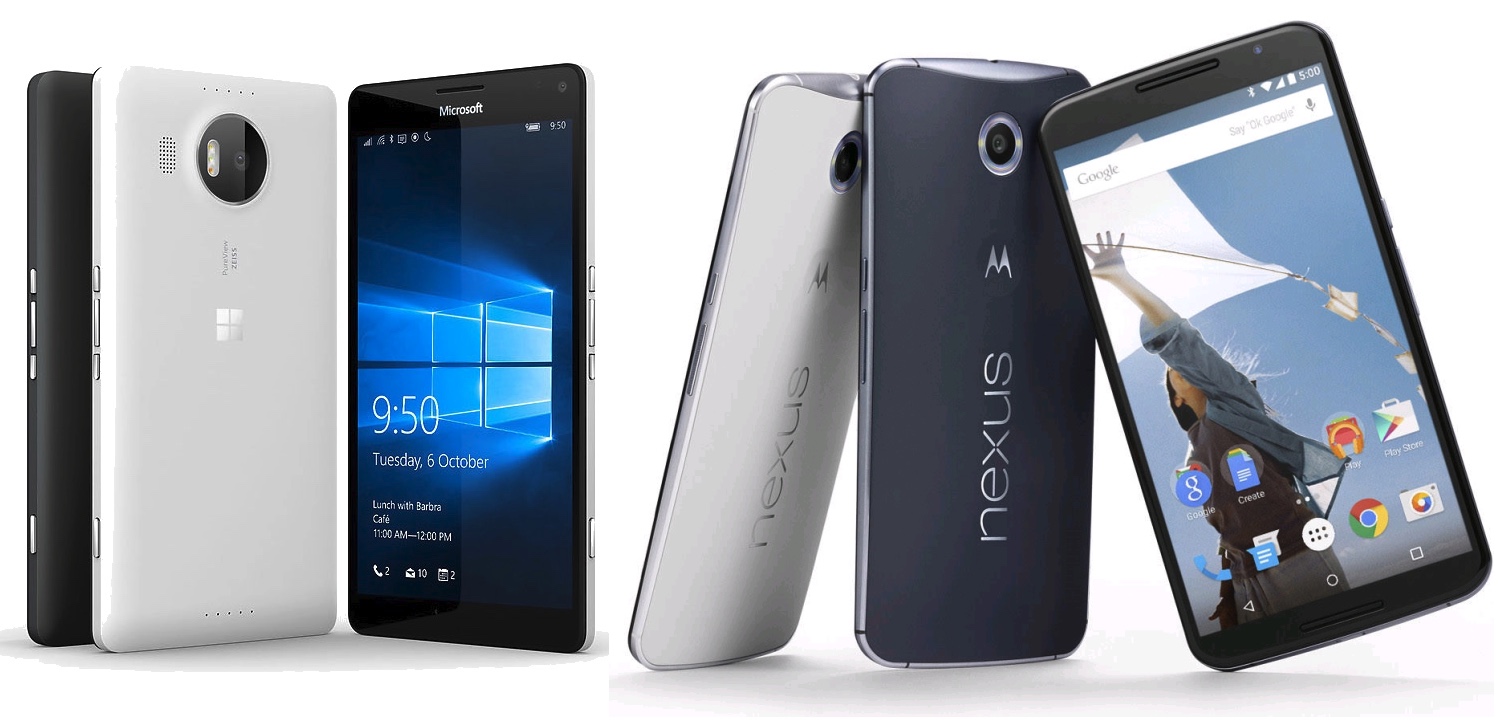 Head to head then. As usual, I pick out winning categories in green, for interest sake - though don't take these too seriously. And note that many categories simply don't HAVE a winner, either because the differences are subjective or because two or more are roughly equal overall:
[If this table is too wide for your phone browser, please try in landscape mode or - better - viewing it on a tablet or laptop? Sorry, but this sort of content just has to be in a table!]


Microsoft Lumia 950 XL
Google Nexus 6
First available
December 2015
November 2014
Typical price at end of 2015
£530 inc VAT in the UK (launch pricing)
£300, though was around £500 when launched
Form factor, weight
Matt plastic, replaceable backs, 165g, 78mm wide makes it borderline for most one-handed use.
Smooth plastic on metal chassis, sealed, heavier at 184g, plus at 83mm wide it's impractical for one-handed use. Fully water resistant though, thanks to nano-coating of everything inside.

Operating system/
interface
Windows 10 Mobile, virtual controls
Stock Android 6.0, virtual controls
Display
5.7" AMOLED with ClearBlack Display polarisers, QHD resolution, Glance screen
5.96" AMOLED, QHD resolution, Ambient display (like Glance screen, but less permanent and more interactive)
Connectivity
Up to LTE, Bluetooth 4.1, NFC
Up to LTE, Bluetooth 4.1, NFC
Processor/
performance
Snapdragon 810 chipset, 3GB RAM
Snapdragon 805 chipset, 3GB RAM
Capacity
32GB plus microSD up to 2TB
32GB or 64GB (depending which variant bought)
Rear imaging
PureView oversampling 20MP camera with OIS and Rich Capture options, triple LED flash
Decent 13MP camera with OIS and integral HDR/panorama functions, dual LED ring flash
Video capture
4K, digitally and optically stabilised, with 'Best photo' 8MP grabbing built-in, plus Rich Recording and quad HAAC microphones
4K, optically stabilised, with 8MP photo-taking mid capture (after the fact grabbing has to be done with a third party utility)
Front imaging
5MP
2MP
Music and Multimedia
(No doubt) decent mono speaker on the back 3.5mm headphones
Impressively loud - and hi-fi - front-mounted stereo speakers
Gaming
Some decent games for Windows 10 Mobile but it's a somewhat bare cupboard for the top titles when compared to Android and iOS
A bigger games catalog to choose from, many coming to life more on the higher resolution screen
Navigation
Windows 10 Maps includes most of the best of HERE Maps/Drive, uses the same data, adds a degree of live traffic awareness, plus public transport. Includes full offline maps with automatic updates
Google Navigation is very comprehensive, but aside from limited 30-day caching of modest areas, struggles mightily when out of data coverage. Live traffic support is excellent though and includes data down to almost car level, thanks to the Waze integration. Furthermore, HERE Maps is now available for knowledgable Android users who seek it out, so there's the best of all worlds, potentially?
Battery, life
Replaceable 3340mAh battery plus USB Type C and Qi wireless charging
Sealed 3220mAh battery, plus microUSB and Qi wireless charging
Applications and ecosystem
Windows Phone now has many mainstream apps and services covered, but niche/boutique apps are an issue. Also anything to do with Google services!
Android's Play Store is very fully stocked, second only to the iPhone Store for depth. Everything mainstream is here, plus some boutique/niche apps.
Cloud aids
Windows Photos syncs across all signed-in devices, though free space for these is scheduled to only be 5GB, so you'll need to join Office 365 or live within the paid-for 50GB tier.
Google Photos syncs across all Android devices, genuinely unlimited storage (with an allowance for recompression/optimisation by Google)
Voice
Cortana is now mature and well integrated.
Google Now and voice queries are good and on a par with Cortana overall. See my round-up feature.
Upgrades and future
Windows 10 Mobile will be updated through daily Store updates, plus occasional base firmware updates through 2016/2017.
This being a Nexus, and well specified at that, this will get regular security and functional updates through 2016 and probably well into 2017.
With many 'rows' uncoloured, my gut feel that these two flagships are very well matched is justified. Looking at the areas where one phone won out, the Lumia 950 XL and Nexus 6 are level pegging yet again at 6-6. It's notable though that one of biggest areas of 'win' for the 950 XL is in imaging - unsurprisingly - if absolute quality in photos and video aren't paramount to a user, then the Windows 10 Mobile device struggles rather more by way of comparison.
Which begs the question, why should a smartphone user consider the Lumia 950 XL (and its stablemate, the 950) next month?
Compatibility and common(ish) interface with Windows 10 on laptops, desktops and tablets. This extends right through the core applications to third party titles like Tweetium, thanks to the 'universal app' technology.
Continuum and being able to use the phone AS a PC - a Microsoft Display Dock is being bundled with the 950 XL in a lot of markets if you shop around.
The excellence in imaging and video is notable - I'm expecting the Microsoft flagships to come right in at the top of the worldwide smartphone photography league. Though the recent OneDrive restrictions rather put the kybosh on auto-backup, etc. Sadly.
The flexibility in terms of replaceable battery and microSD expansion, two attributes which are becoming rare in the wider smartphone world.
The Live tile interface, still the best mobile 'home screen' system I've yet seen.
Are those reasons compelling enough? A lot will depend on a prospective purchaser's needs in terms of applications and services, of course.
Comments welcome.
PS. Another possible Android match-up with the 950 XL might have been the Galaxy Note 5, but that's not even available in Europe officially yet - the Note 5 gets closer to the Lumia in terms of imaging, but would lose out on price and overall flexibility.