My testing here was on a Lumia 640 with Windows Phone 8.1 Update 2 and all patches, firmware and applications bang up to date, and with a few nominal user applications (Facebook, Twitter, etc.) installed. A minimalist set-up, admittedly, but a good baseline test.
Here's the timeline - in my case from installing the Windows Insider application and agreeing to the update, but in the future in the real world after the update appears in the regular system update channels, of course: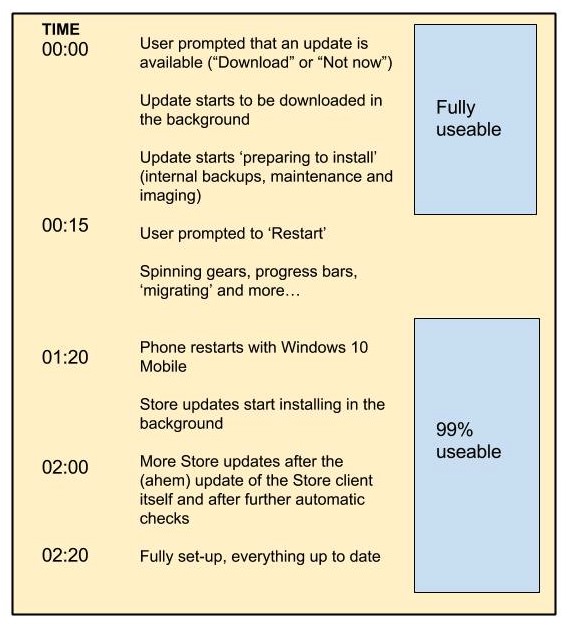 There were some surprises in store for me though, as noted by the blue panels above in the (non-linear) timeline. Yes, there was around an hour while the update was deep in internal workings and the phone was unusable ('spinning gears', progress bars, etc.), as expected, but either side of this the phone was essentially running at close to full speed - at least for basic functions like phone calls, contacts, Facebook and email. During the first period, the main resource being hammered is bandwidth, of course, with a 1.5GB (approx.) download happening, but as long as the user's on Wi-fi then this shouldn't be too crippling. Windows Phone's UI is certainly fast enough to carry on regardless.
After the enforced gear spinning and 'migrating', the Lumia reboots and the user's back in business, in terms of receiving calls, messaging and so on. Most casual applications work fine at first glance. Behind the scenes, the Store application is checking for updates and then installing over 40 of them, but at a fairly low priority. Maybe this got tweaked as the builds progressed - the impact on the main UI is certainly minimal on the test Lumia 640. The background installation of applications takes around an hour to complete, but for the most part a casual phone user may not even spot that this is happening.
Of course, as a geek, I knew full well to keep dipping into the Store to 'see how it was doing' and to watch the updates count falling. But I suspect that a casual user will just be getting on with their life once the phone was rebooted and generally looking familiar.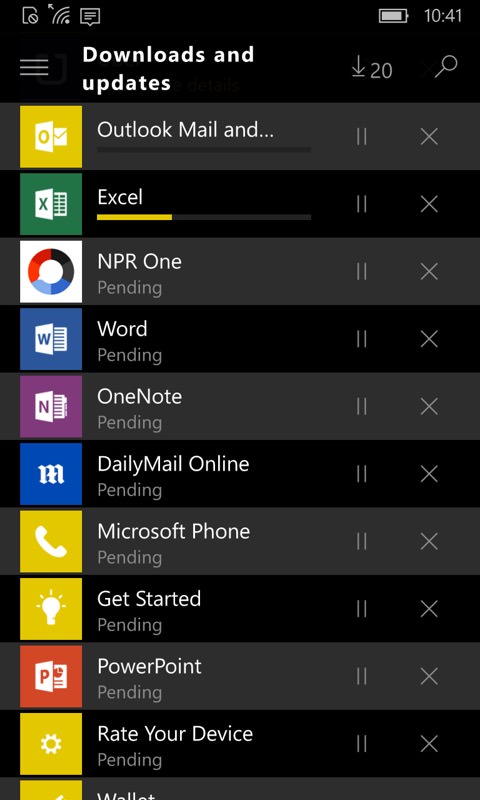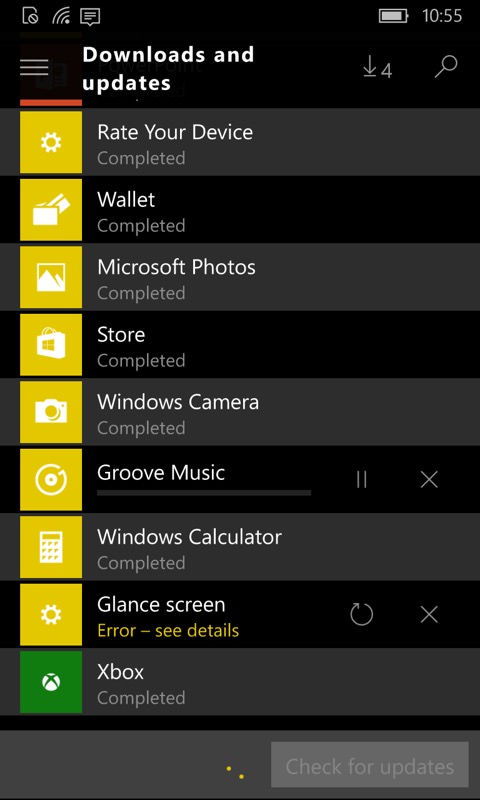 There has to be a catch, of course, and it's that certain applications - Word, Excel, Powerpoint, Groove Music, Wallet, Xbox will, when opened under Windows 10 Mobile before their updates are installed, simply bring up an interstitial pane for a few seconds before jumping the user into the Store to see the 'Update available'. It's one way to let the casual user see what's going on, I guess, and to give them a sense that not everything's in place - yet.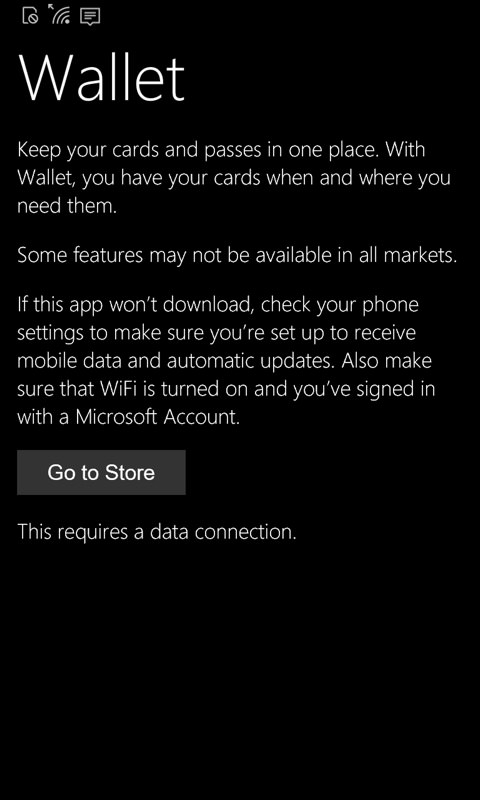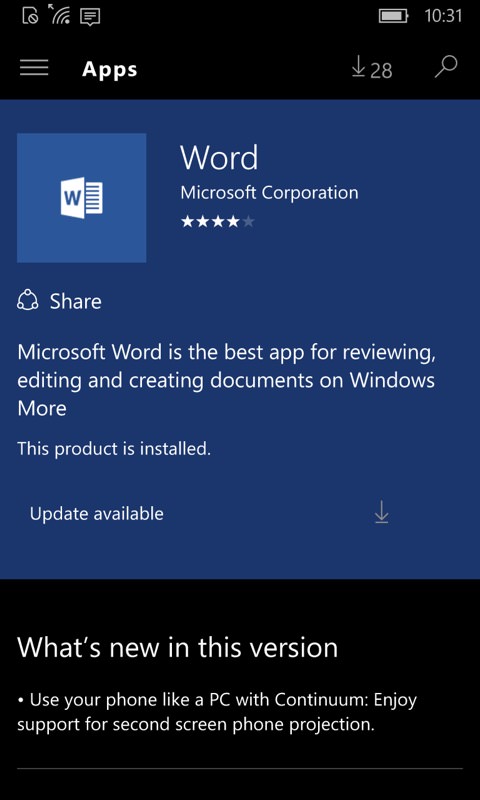 The secondary catch is that some applications have been renamed or re-imagined sufficiently for Windows 10 Mobile that their Start screen slots are now empty and the user will realise that a little tweaking will be needed to restore a full set of aethetically pleasing live tiles.
Neither of these are showstoppers though. When upgrading Lumias with earlier builds, and especially flagships with much faster processors (think Lumia 930, 1520), there were genuine concerns over heating and battery drain during the Store installation phase in particular, but on this more humble Lumia I had no issues - and neither will the average user.
Having been pessimistic about Windows 10 Mobile on older S4-based Windows Phones earlier in the week, I now want to be optimistic about the OS and the entire upgrade experience on the mass of Snapdragon 200 and 400-series-based Lumias (and above). In terms of performance and potential showstoppers, I think things could go more smoothly than many had feared.
Of course, I was testing a lightly loaded phone - there's also the far more likely scenario of a user with years of applications, game saves, settings and preferences - how much of that will be kept? I can see a situation where gamers in particular might be upset about losing where they'd got to in some titles. We'll have to wait and see how this sort of real world upgrade is handled when the time comes.