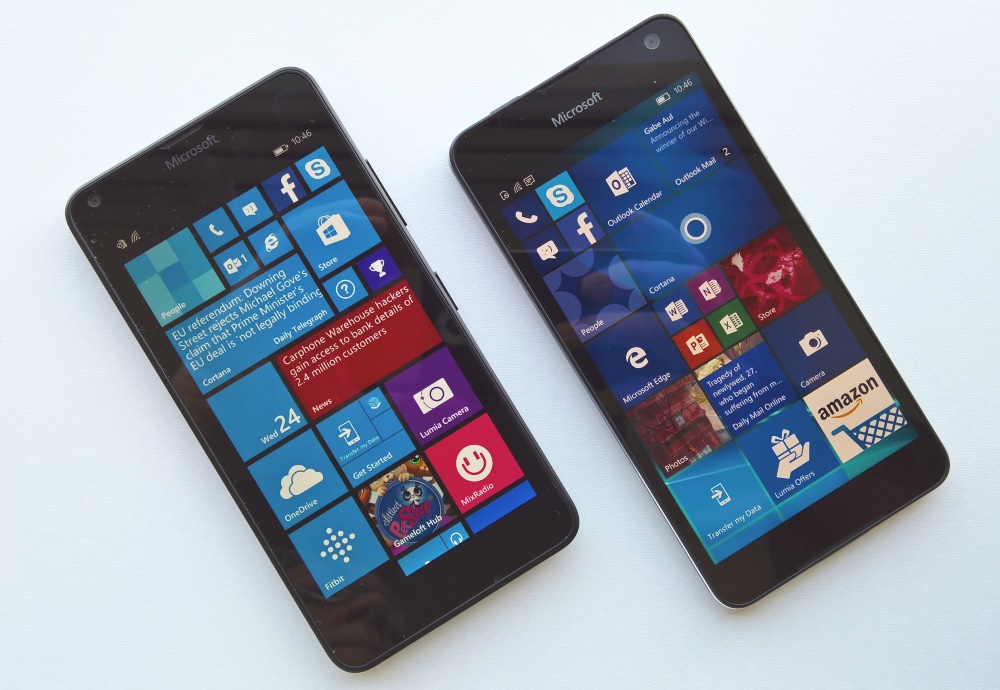 Note that I'm ignoring price considerations - yes, the 640 is now available in many network's bargain bins, and is great value as such - but here I'm purely looking at how the two smartphones stack up technically.
As usual, I pick out winning categories in green, for interest sake - though don't take these too seriously. And note that many categories simply don't HAVE a winner, either because the differences are subjective or because two or more are roughly equal overall - or, in this case, because the difference is down to OS, which the 640 will acquire shortly....
[If this table is too wide for your phone browser, please try in landscape mode or - better - viewing it on a tablet or laptop? Sorry, but this sort of content just has to be in a table!]


Microsoft Lumia 640 LTE
Microsoft Lumia 650
Date launched
April 2015
February 2016
Form factor, dimensions, weight
Touchscreen candybar, matt plastic, replaceable backs, 145g, 9mm thick
Touchscreen candybar, aluminium chassis, replaceable plastic backs, 118g, 7mm thick
Operating system/
interface
Windows Phone 8.1 Update 2, virtual controls
Windows 10 Mobile, virtual controls
Display
5" LCD with ClearBlack Display 'lite' linear polariser, 720p resolution, pretty good in sunlight when viewed head-on, contrast fades quickly away at other angles
5" AMOLED with full ClearBlack Display circular polarisers, 720p resolution, excellent visibility from all angles, and in most light

Connectivity
Up to LTE, Bluetooth 4, NFC

Up to LTE, Bluetooth 4, NFC



Processor/
performance
1.2GHz Quad core Snapdragon 400, 1GB RAM
1.3GHz Quad core Snapdragon 212, 1GB RAM, slightly slower, app for app, than the 640's Snapdragon 400 chipset, though you need a stopwatch to really tell the difference. See the rows below.

Full New York Times desktop web site, home page (minus ad banners)

17 seconds to fully render

18 seconds to fully render
Time to launch Skype
8 seconds
10 seconds
Time to launch Cortana to 'today' view
7 seconds
8 seconds
Capacity
8GB plus microSD up to 128GB

16GB plus microSD "up to 200GB" (oddly!)



Rear imaging
Good 8MP camera, f/2.2 with Lumia Camera 5 Rich Capture options, 1080p video capture.

See the sample crops below. I did try setting the 640 manually to use the same capture settings as the 650, to no avail - results weren't any better.

Good 8MP camera, f/2.2 with Windows 10 Camera Rich Capture options, 720p video capture (limited by chipset), results generally better, interestingly. See the sample crops and comments below.

Low light controlled crop sample of books on a bookcase. Automatic settings all round. Take this with a slight pinch of salt, because of the (forced) different OS/software used(!)

(Imaging comment)
The Lumia 640's Lumia Camera app went with 1/8s exposure and ISO 4000...
...while the Lumia 650 and Windows 10 Camera went with a 0.4s exposure and an ISO of 800, achieving a brighter, more detailed image. The lower noise is partly down to the parameters, partly down to W10 Camera's better noise reduction algorithms and (probably also) to a more recent physical sensor being used.
Front imaging
1MP, fixed focus
5MP, fixed focus, great quality
Music and Multimedia
Decent mono speaker, 3.5mm headphone jack

Decent mono speaker, 3.5mm headphone jack



Sensors
SensorCore (low power accelerometer handling), compass, double tap to wake (thanks to support for this in 8.1)
SensorCore (as on 640, works well with [e.g.] Microsoft Health)
Navigation
HERE Maps/Drive suite, offline routing and maps. Plus good public transport advice and innovative 'live sight' functions. Still supported.
Windows 10 Maps inherits the HERE data and much of the code, then adds in better traffic support and street view features.
Battery, life
Replaceable 2500mAh battery, up to two days average use on a charge. Tested across a 48 hours period with typical use and was down to 28% - this with Windows Phone 8.1, remember.

Replaceable 2000mAh battery, up to two days average use per charge. Tested across a 48 hours period with typical use and was down to 8%. Standby drain, connected up but with screen off, was less than 1%/hr. For Windows 10 Mobile that's pretty darned good though.



Applications and ecosystem
Windows Phone applications now withering more than they did.
Windows 10 Mobile is picking up some 'universal' applications, just about keeping the ecosystem going...
Upgrades and future
Windows 10 Mobile is now scheduled to arrive as an update in late Feb 2016

Windows 10 Mobile is being updated 'as a service' forever, going forwards. That's the theory, anyway(!)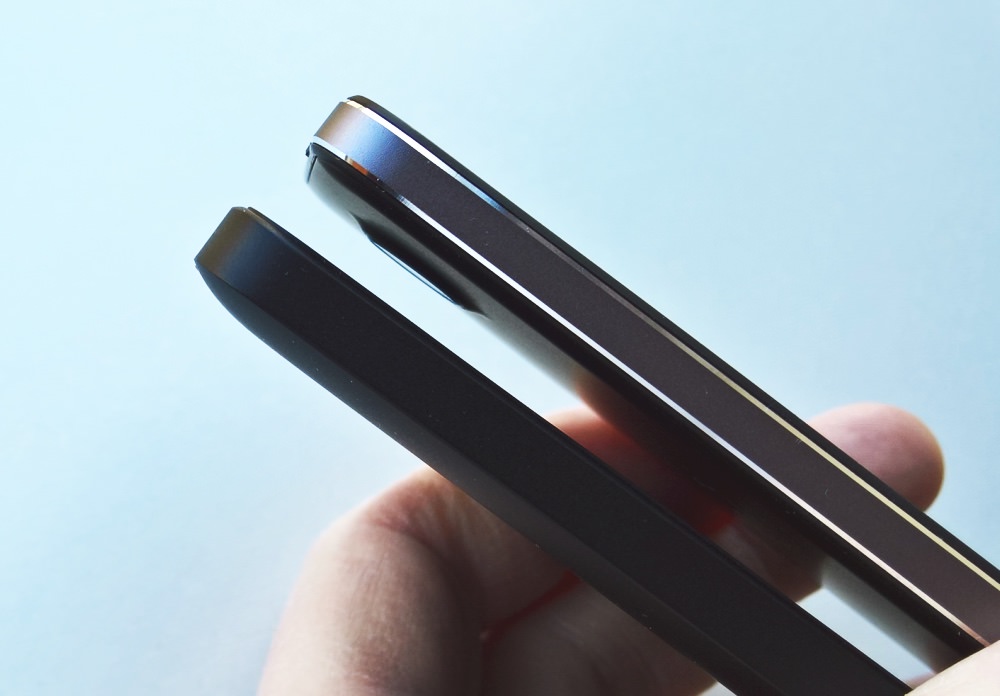 However you choose to view my scores on this, the Lumia 650 comes out on top by quite a margin. Yes, the older 640 is very slightly faster and has a bigger battery (and is available more cheaply by virtue of being a year old!), but in every other regard the newer Lumia 650 has the edge. A chamfer-cut aluminium edge. Again, see my full review.
PS. Now someone's going to say 'Why didn't you test the Lumia 640 with an Insiders build of Windows 10 Mobile, to level more of the playing field?'. It's a good questions and the answer is that the official OTA update is now so close that I'd rather test that when it arrives - I'll update this feature at that time. Not long to go now.